Hello ladies! Spring is coming, so the season of cleaning and re-organizing the home is officially open. If you are looking for some clothing storage ideas that will help you organize your home, then you are in the right place. In the article below, we are going to present you with some of the best clothing storage ideas ever. Explore how to store your clothes, shoes and heels, jewelry and accessories, scarves, or whatever items in your home. We leave you to enjoy while getting inspired.
1. Wardrobe Storage Systems for Clothes and Shoe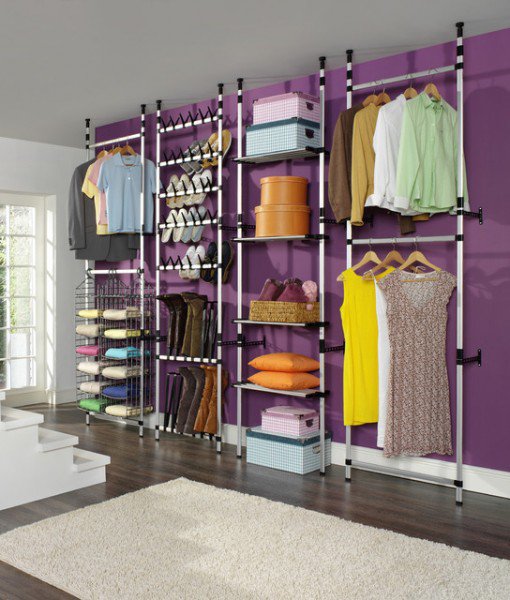 source
2. Creative storage ideas
Is there something better than a multifunctional furniture piece? Probably not, especially if the piece is providing you with a storing function as well. If it is possible, then try to choose this kind of furniture piece for your entryway. A seating item that comes with storage space is such a kind of piece. It provides you with both a sitting and a storing function. Such a wooden bench is one of the best clothing storage ideas that you can ever imagine for storing your shoes. Most of us, especially women, know how important is to get some more free space for storing all those shoes and heels. Well, this seating bench that works well as a shoe rack with doors is your life-saver. You can easily seat on it while dressing in the shoes. So wonderful!
3. Keep your shoes organized and out of the way with the STALL cabinet from the Ikea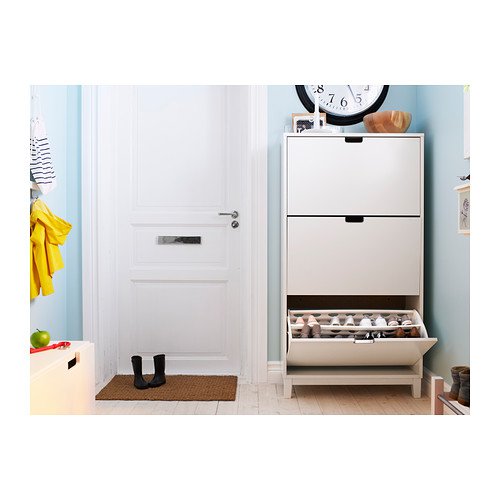 source
4. My Closet Underbed Storage Bin
Looking for some clothing storage ideas that will help you maximize your under-the-bed storage space? These under-bed storage bins are the solution that you are searching for. You will adore the ease to access that they offer. When you do not use them, you can easily collapse them so that they do not take you much space. These under-bed storage containers are ideal for packing away kids' off-season clothing, extra linens, and items that you do not use often. They have clear pockets in the front part which allows you to label the container. This will help you see what is inside without having to open it.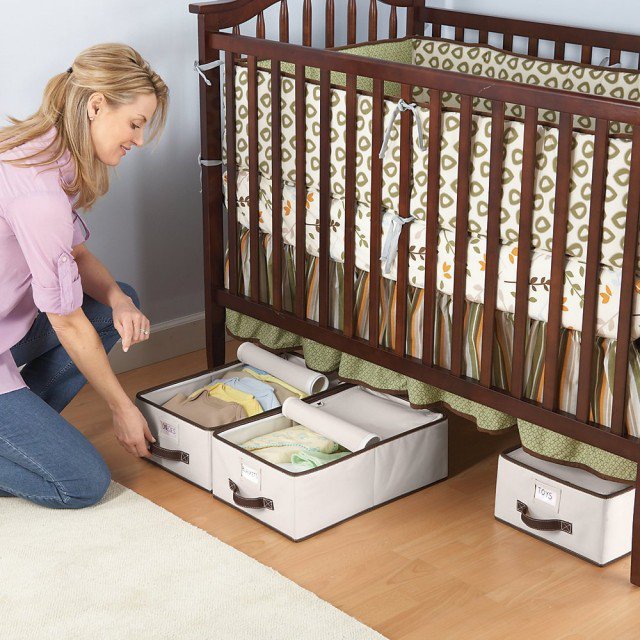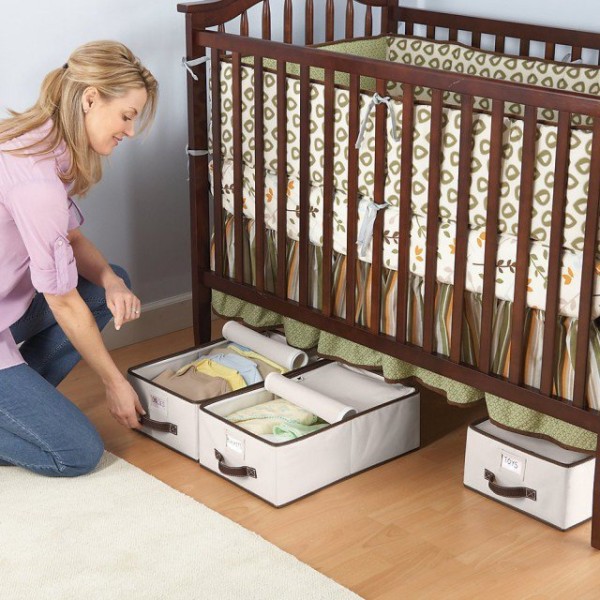 source
5. Good Looking for Personal Storage Solutions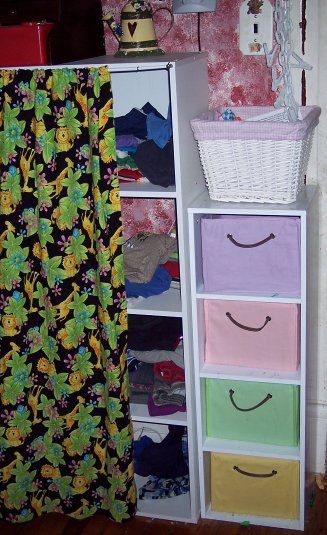 source
6. Bedroom Closet Ideas and Options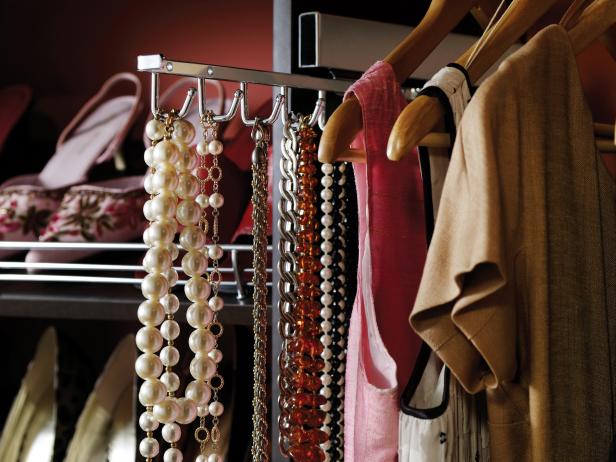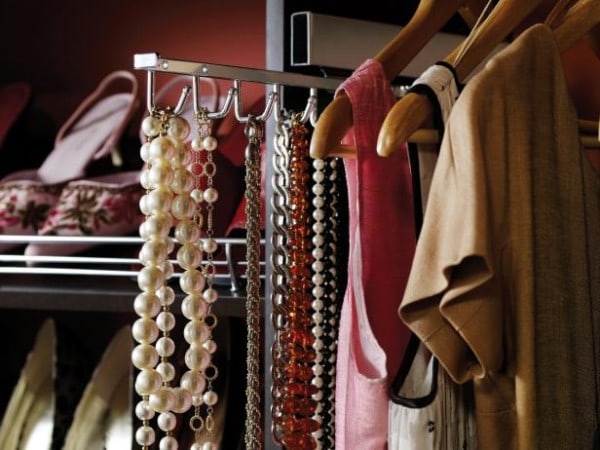 source
7. Jewelry Organizers
Say goodbye to missing earrings and messy necklaces. We are presenting you some super-practical clothing storage ideas that will help you store your jewelry pieces. These jewelry storage solutions will perfectly fit your closet space.  If you have a big collection of jewelry, then this is a must-have closet accessory for optimal organization. You may find jewelry boxes very helpful, but the jewelry stored in them can easily be messed up. On the other side, these stylish organizers that sit atop a closet shelf or set of drawers are the perfect way to keep your jewelry well displayed. This storage solution offers individual pockets for each piece of jewelry, allowing for less tangling and easier accessibility.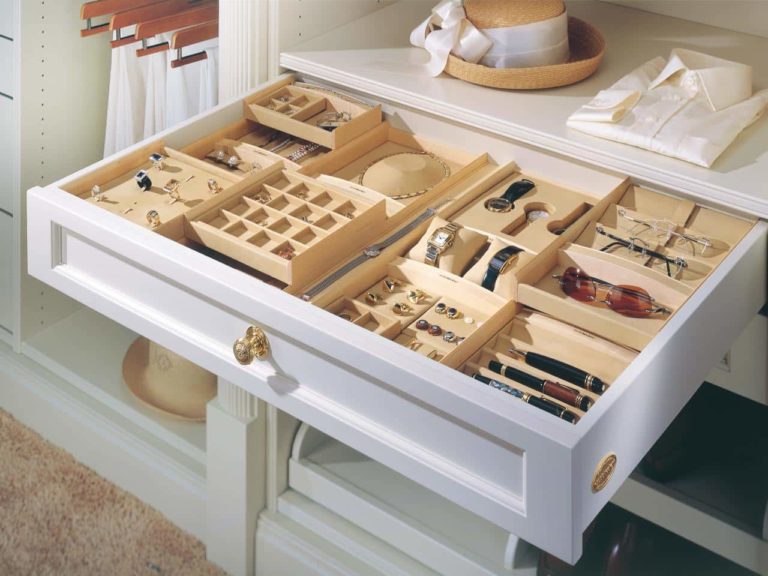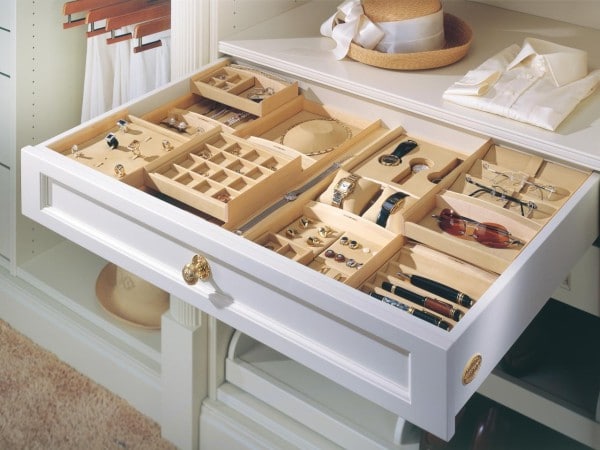 source
8. Specialty Features for Your Closet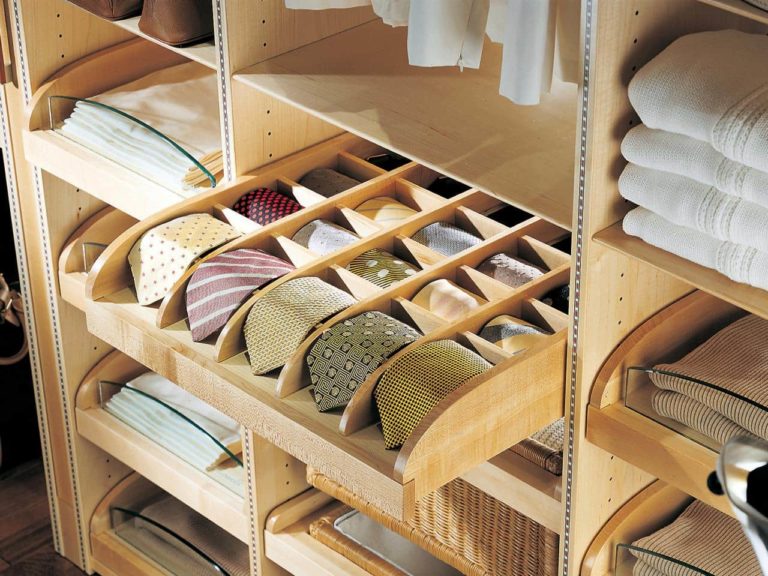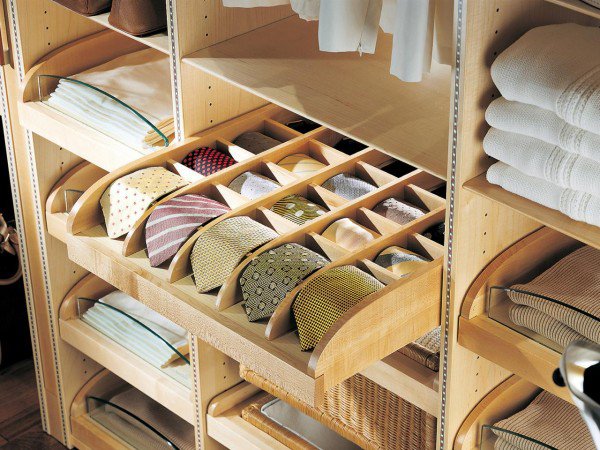 Source
9. This fashionable ottoman does double duty as shoe storage!
There is something really great about storage seats. They are the perfect décor for your living room or bedroom, and at the same time, they do a super useful storing function. Forget everything about unsightly bins toward the edge of the living room, the bedroom, or the playroom! This is one of the best clothing storage ideas that have a double benefit. A storage seat not only adds an extra chair or bench into the space but also can store so many loose items from your home. They are also a perfect and totally discreet way to store items and keep them accessible in the room.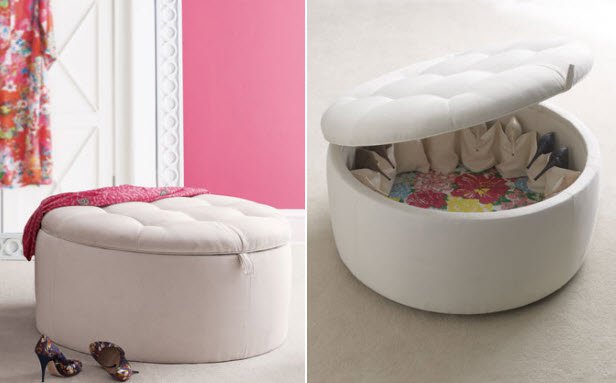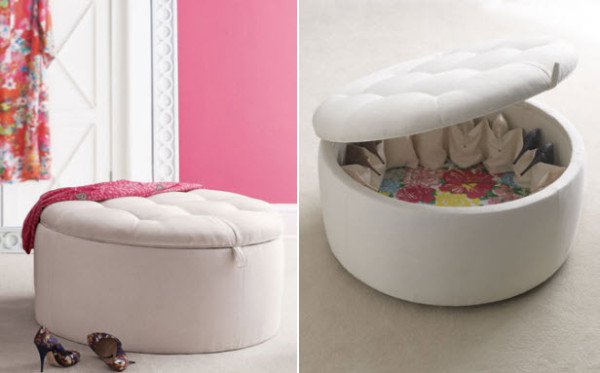 source
10.The Emily + Meritt Wardrobe Rack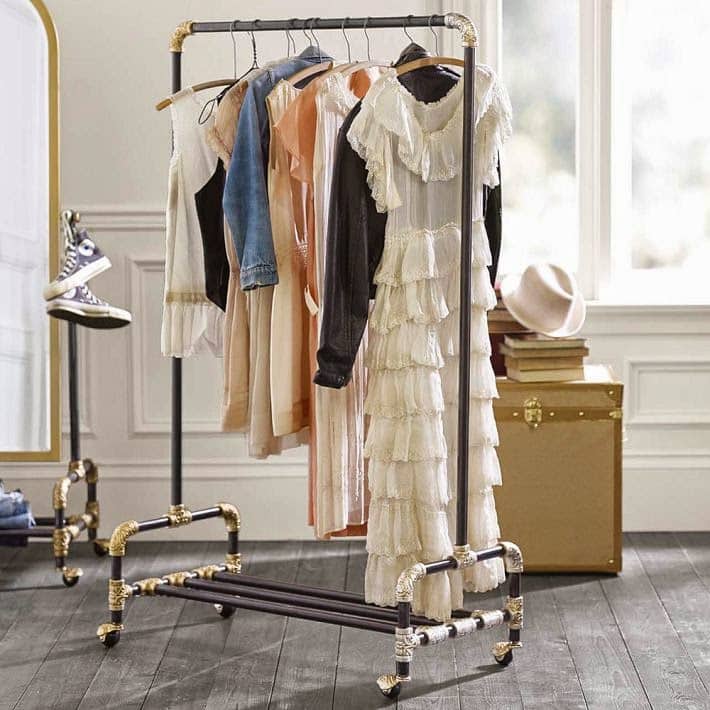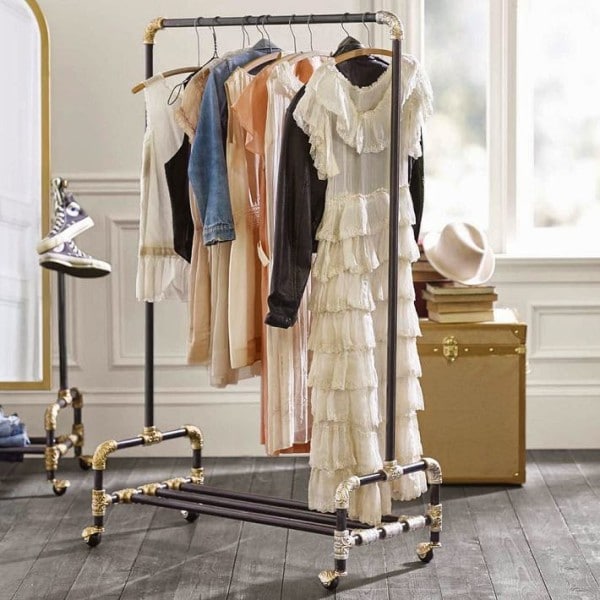 source
11. Idea to Organize Your Home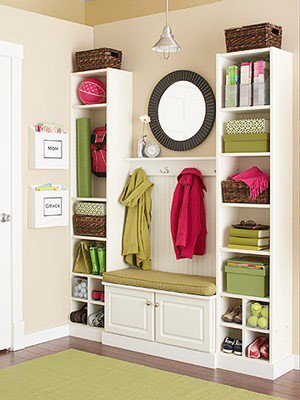 source
12. Ladders offer a rustic way to decoratively store the things that won't fit in your closet.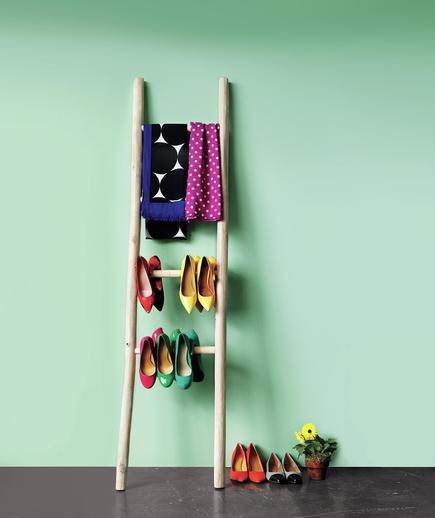 source
13. Organize your scarves!
Here is one of the most useful clothing storage ideas ever that will make your life easier if you have a lot of scarves. We all know that storing scarves can be a real nightmare, especially if you live in a small apartment and you do have not much free space in the closet. But, the good thing is that you can always experiment with some DIY ideas that can solve all your worries. One such idea is to make your own DIY wall hanger for scarves. This vertical DIY scarves hanger won't take you much space and will keep all your scarves well displayed. All you need for it is a super thin rope and a few clothespins. Place two nails on the wall and then tie up each end of the thin rope to them. Use the clothespins to hang the scarves on the rope.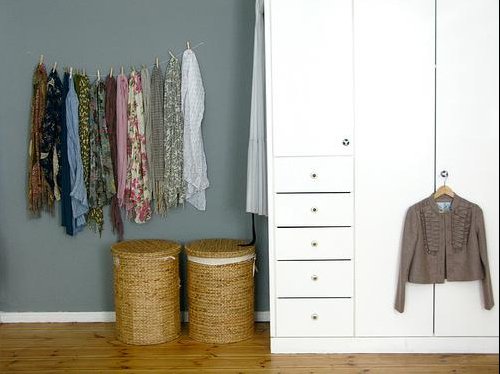 source
14. Salvaged Vintage Jewelry and Purse Display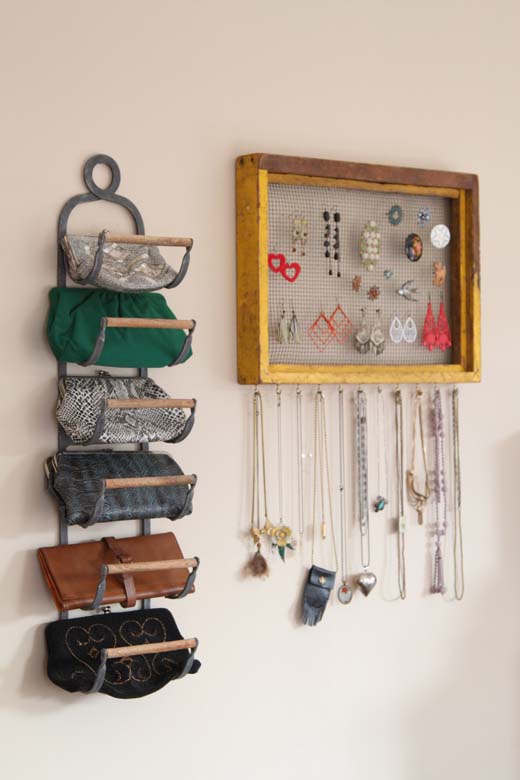 source