Is storing your shoes one of the biggest storing problems you have at home? It is problem for most women, especially for those having so many pairs of shoes and so little space to store them. If you are one of them you will be glad to see the solution to your problems. In the article below you can fund some useful shoe storage ideas that you must try. Keep scrolling the page to explore them:
Store shoes underneath a bedskirt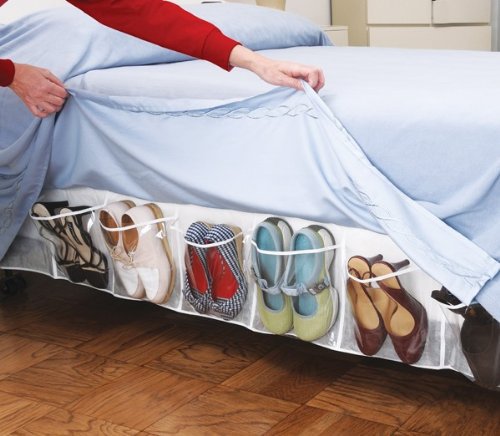 source
 Shoe Organizers for the Footwear Fashionista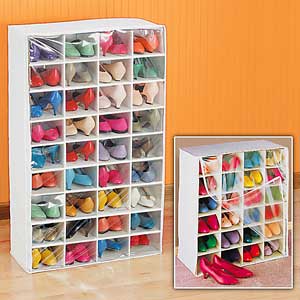 source
DIY Shoe Storage: Arranging Objects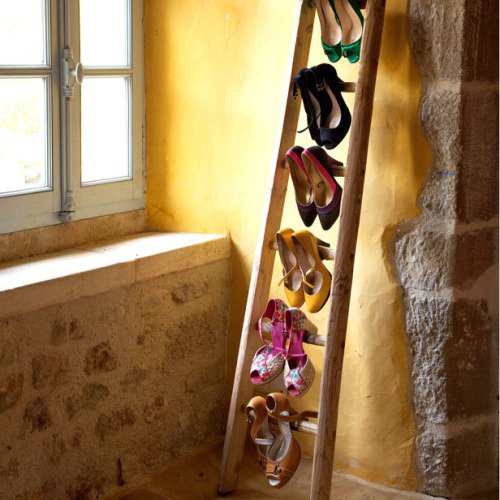 source
Smart Idea On Shoe Storage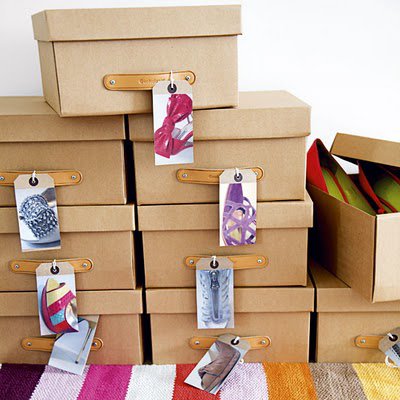 source
DIY wall-mounted hanging cloth shoe storage
If you live in a small flat then you probably have a limited floor area to store items. That means that you can afford yourself placing shoe cabinets in such a tiny space. In this case, you will need to maximize the free wall space you have and use the vertical way of storing shoes. One way to do it is to DIY a wall-mounted hanging cloth and use it as shoe storage. The best about this project is that you can DIY  out of a few supplies including a drop cloth, pins, a sewing machine, boards, a seam gauge, and disappearing fabric markers.   If you like sewing then you will surely enjoy this project.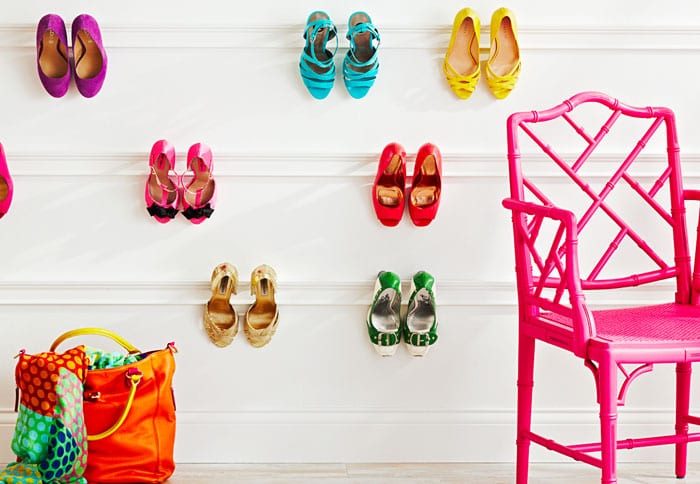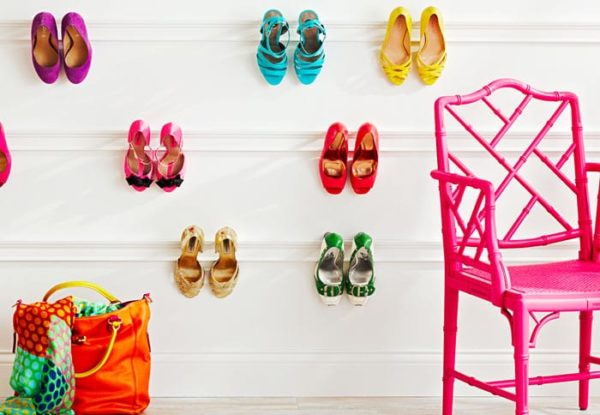 source
Wooden pallets shoe storage idea
Wooden pallets are such a versatile item that you can have in your home. There are so many creative and at the same time useful ways of using wooden pallets. One of them is to use them as shoe storage. With the use of a saw, hammer, and some nails you can transform the simple pallet into a perfect vertical shoe storing the item. You can also use your imagination and creativity and decorate the pallet according to the rest of the decor in your room.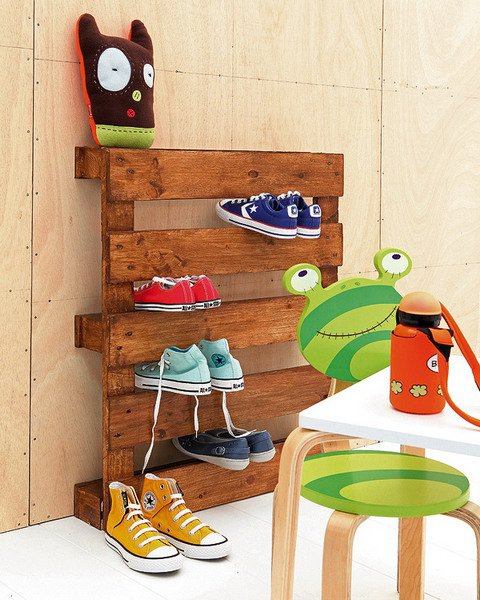 source
Shoe storage ottoman
Another brilliant shoe storage idea that you will adore is this amazing ottoman. You can store your shoes in it, as well as use it as a bench for putting on and taking off your shoes. The best about this storing idea is that it can be easily placed at the edge of the bed, if it has a rectangular shape, or can be used as a bedroom decor if it has a circle form. You can find many different options of ottoman storage ideas available out there. Some of them have exposed shelves for shores. The others, which will cost you a little more than the previous ones, will conceal your shoes without exposing them.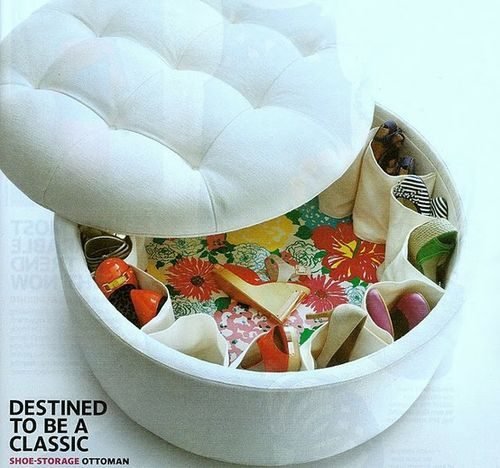 source
DIY shoe bench
If you want natural elements in the decor of your home, but still feel like a wooden shoe storage tray is not the option for you, try this amazing wooden shoe bench. This is not only an amazing eat to store your shoes, but also offers you somewhere to sit while putting in or taking off your shoes, especially boots. The best about this DIY project is that you can make it on your own and it is budget-friendly so you won't need to spend a fortune on expensive shoe storage ideas.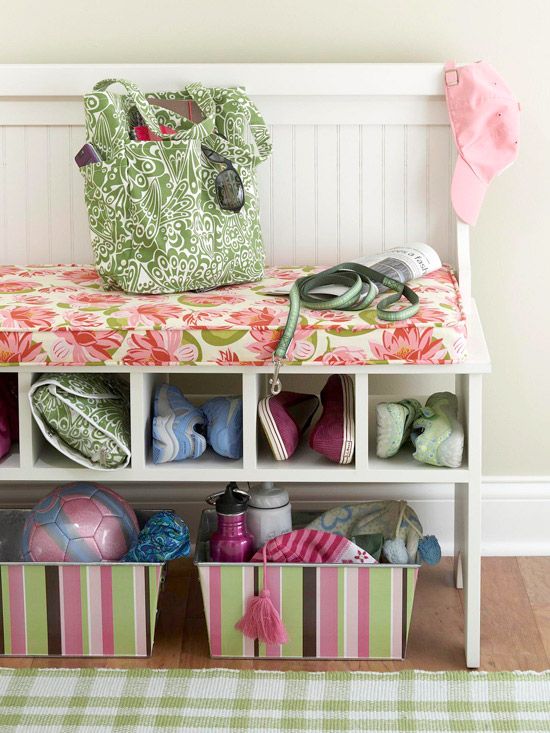 source
Shoe organizing ideas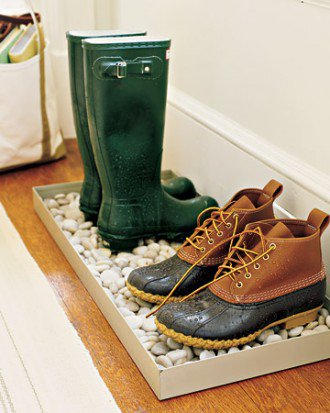 source
Shoe organizer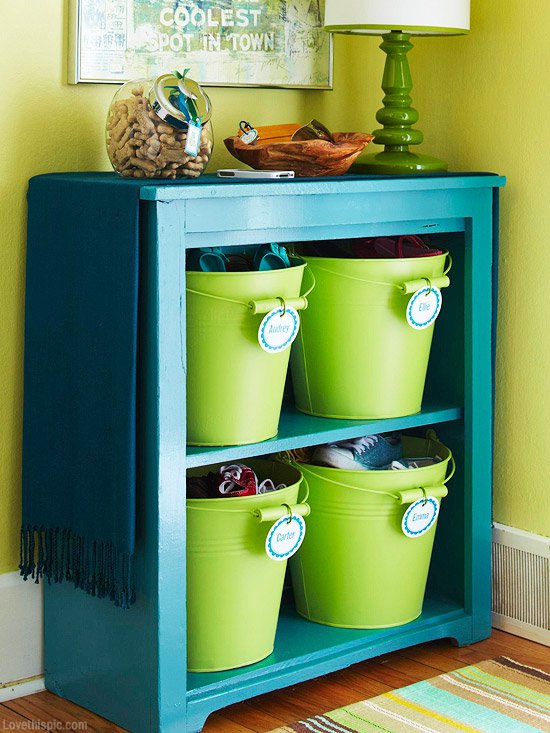 source
Wall suspended shoe hangers
Most of the small apartments have limited floor area to keep things, but still have a lot of free wall space. If this is your case too then you will adore this shoe storage idea. All you need to do is to use some suspended rails and convert them into shoe and clothing hangers. You can use this DIY shoe storing project to hang only heels. The heels will serve as hooks to hold the shores in place on the rails.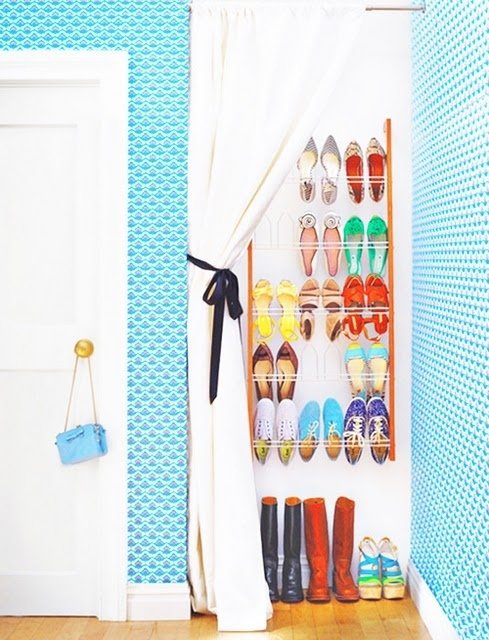 source
Shoe Box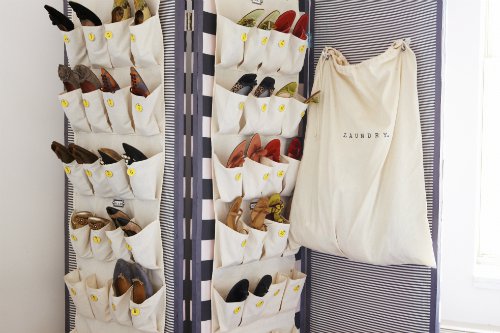 source
Under stairs secret shoe storage
This is a really wonderful shoe storage idea. But the bad thing is that it can be too hard to pull off if you already have your stairs built. If you are building new stairs in a new building or redoing the old ones in your home, you can consider this storing idea in mind. There is nothing better than secret stairs that can organize all your shoes and keep them in hand any time you need them.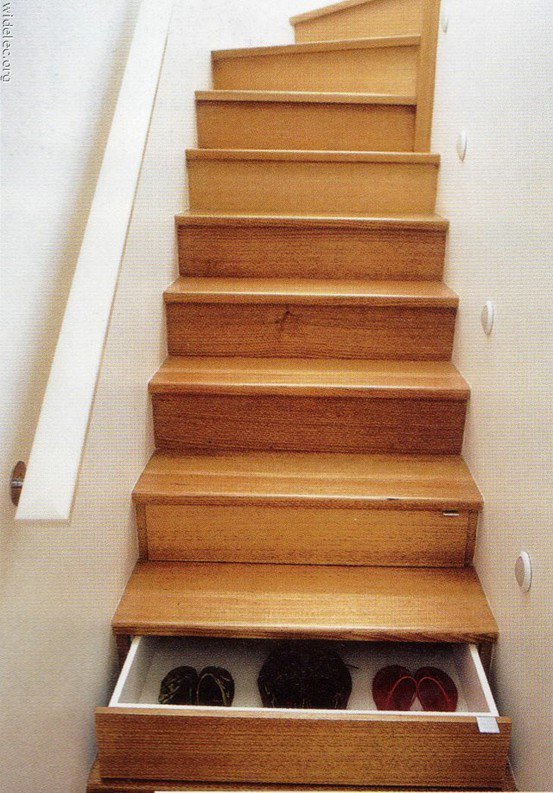 source
  Shoe Wheel & Shoe Pod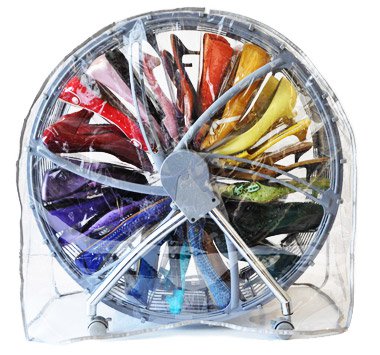 source
Cool Tools For Shoes and Boots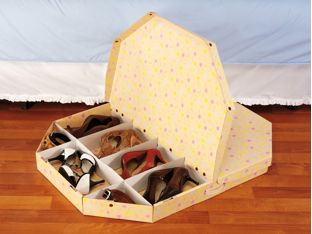 source
Layered PVC pipe shoe racks
This is an amazing and space-saving DIY shoe storage idea that you can try. For this DIY project, you will need some PVC pipes. You can find them in the local hardware. Also, you will need measuring tape and concrete glue to glue the pipes to each other. Using the measuring tape measure the length of the biggest-sized shoe in your wardrobe. Then cut the pipes according to these measurements. Layer the cut PVC tubes as you want them and create a design on your own. Use the concrete glue to attach them to each other. Voila, done!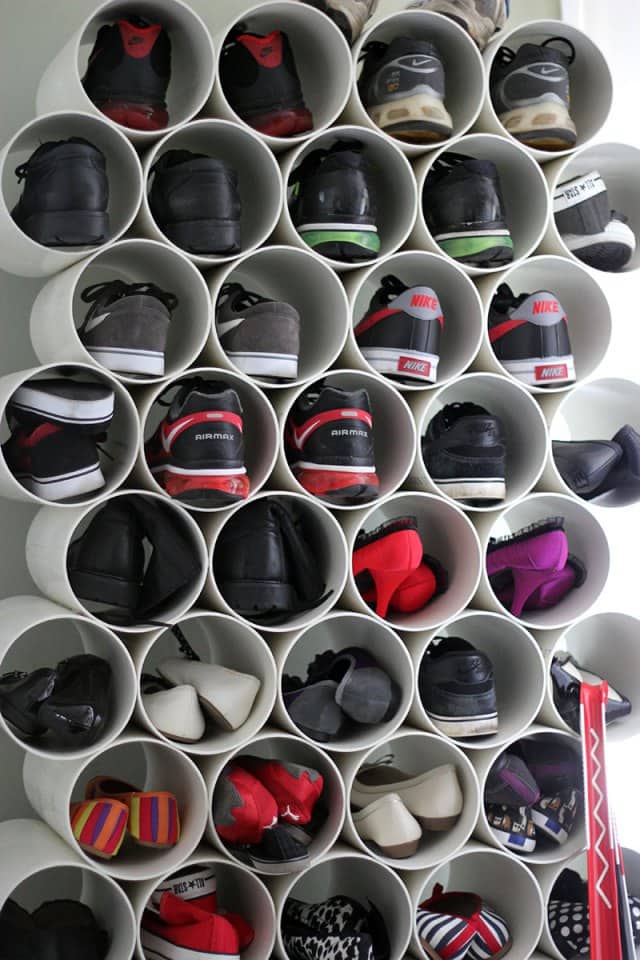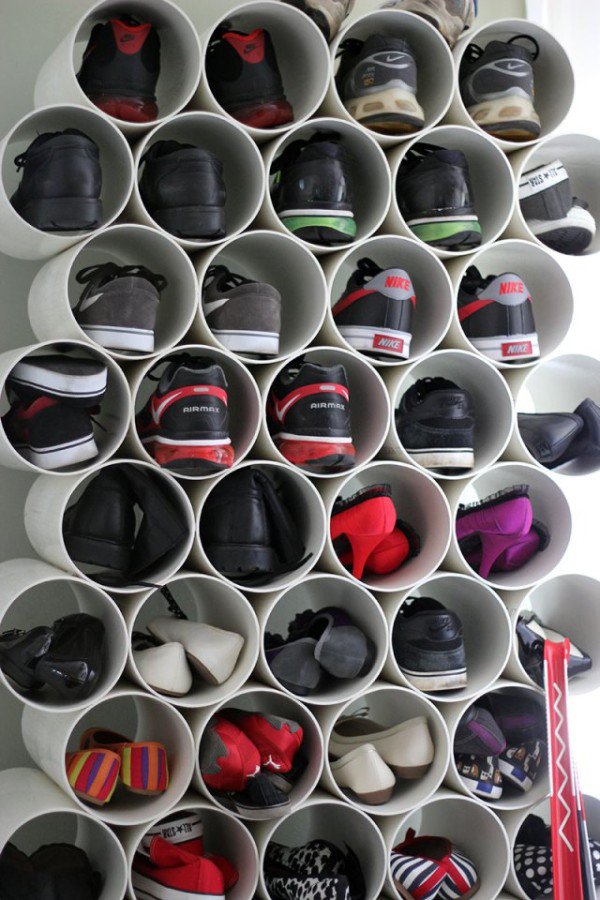 source