Organizng your closet is crucial for an organized home. Most women are in eternal research for helpful organizng tips and tricks that will help them keeo their home perfecttly organized all the time. In this article, we are going to help them in their reseacrh. We have selected some of the most helpful organizng tips and tricks that will help you organize your accessories the bets way possible.
Why to keep your closet organized?
There are so many reasons for getting your closets and storage areas organized. Here are listed only a few of them that we considered the most important ones. Once you get to know why organizing is so important, we will share with you some helpful organizing tips and tricks that every woman should know. For the moment, here we go with the list of the most important reasons for keeping your home well-organized:
Organization saves time. There should always be quick access to all the items and clothing. Everything should be visible and within reach, especially if you are looking for something in the morning when you are in rush.
Clothes management saves money. When everything is visible and on hand, it is more easily inventoried for use. That means that you won't spend time buying new clothes you already have in the closet, but you have forgotten that you for because they were hidden somewhere back in the closet.
The storage areas and closets need more space. Remember that a small closet is always a problem because most times you have no space to keep everything well-organized. If possible, always tend to choose a bigger closet.
The closets are too large. Big closets, on the other hand, tend to be filled with an array of clutter, and a lot of clothing and accessory that you never wear. Clean up the closet of all the items that you don't wear for more than a season. You don't need them to take your space!
Everything is simplified when closets are in order. If you want a closet that will work perfectly for you, then hang pants and slacks side by side. Keep your dresses altogether. Stack up your sweaters by color.
Here are listed some of the most helpful organizing tips and tricks to organize your accessories in the best way possible. Don't miss trying them!
1. DIY Clothes Pin Scarf Holder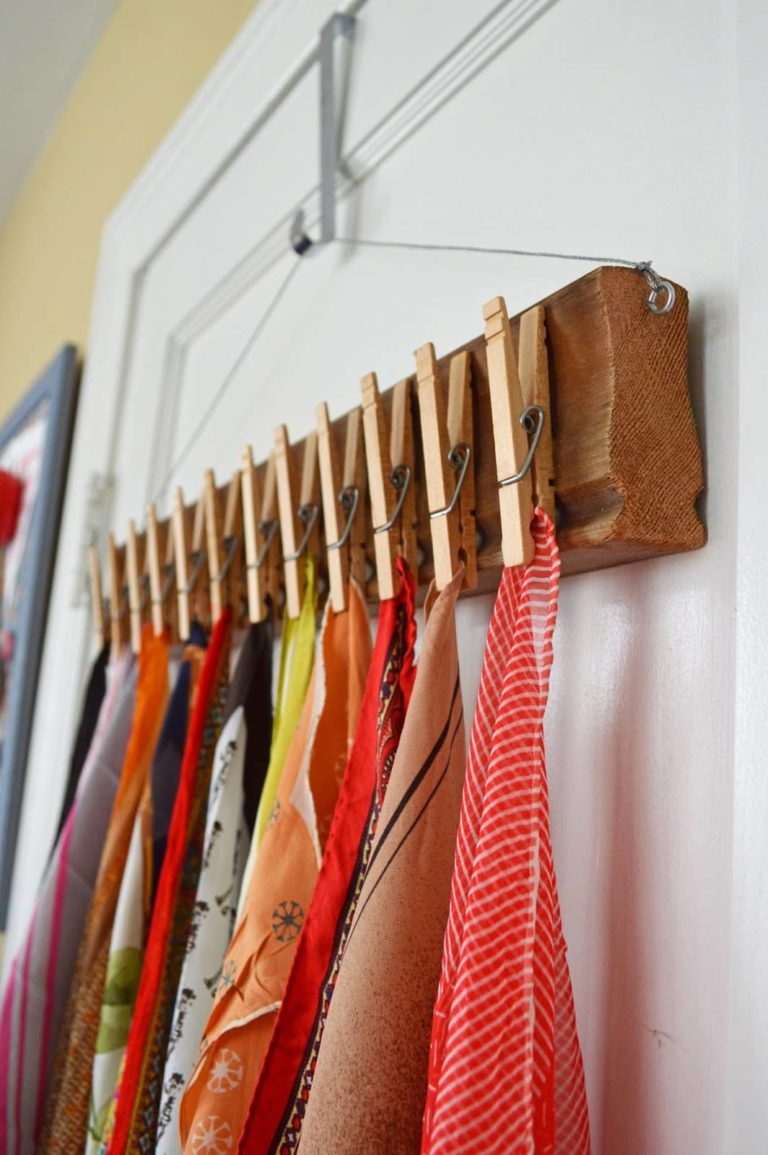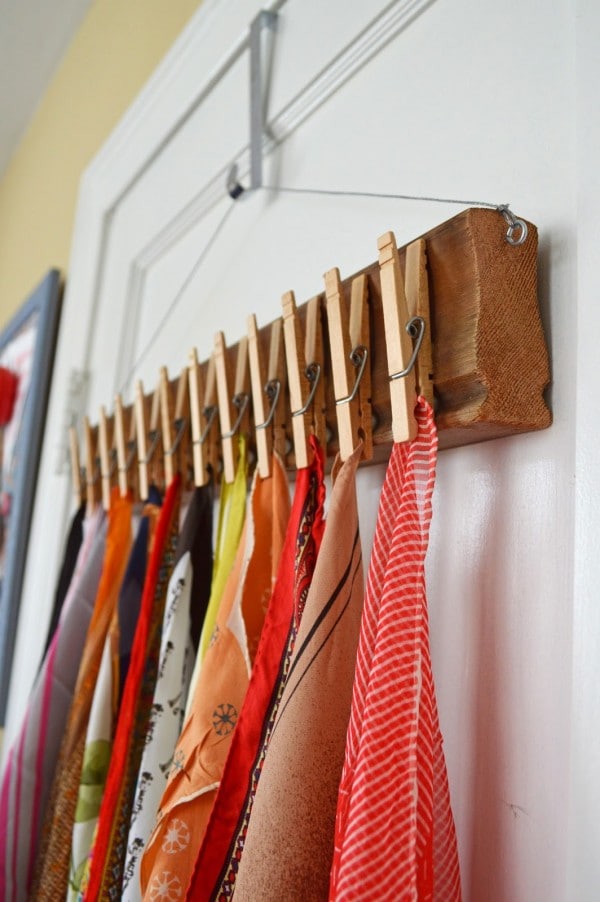 source
2. From thread rack to jewelry organizer
 source
3. Bedroom Storage Solutions
This is one of those organizing tips and tricks that will help you hide the out-of-season clothing, accessories, and shoes under the bed. Rolling plastic bins are the perfect way to store items under your bed. All you need to do is to place the items in the container, and then label the top or sides of each container with removable stickers. This way you will keep the things that you don't wear this season, and then, easily find them when their season comes again. Old drawers and crates can also be adapted for under-bed storage. You can attach a set of casters to make them easier to slide. Also, add pulls so that you will have something to grab them easily.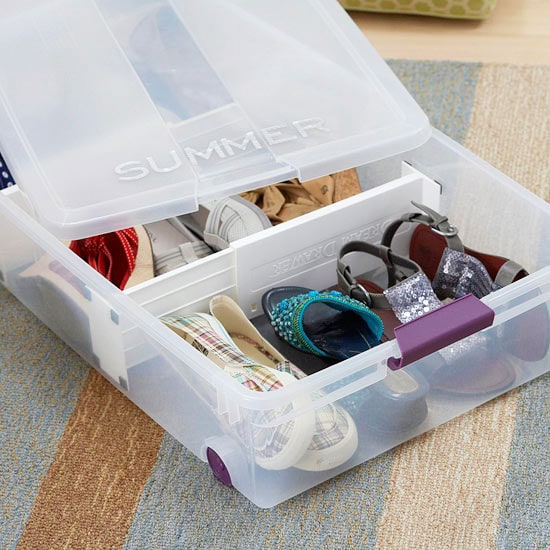 source
4. No-slip hangers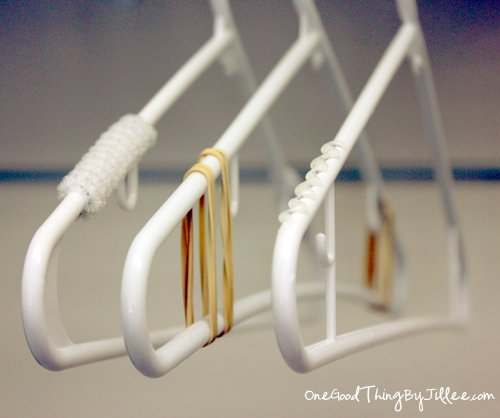 source
5. A simple belt rack/accessory organizer DIY!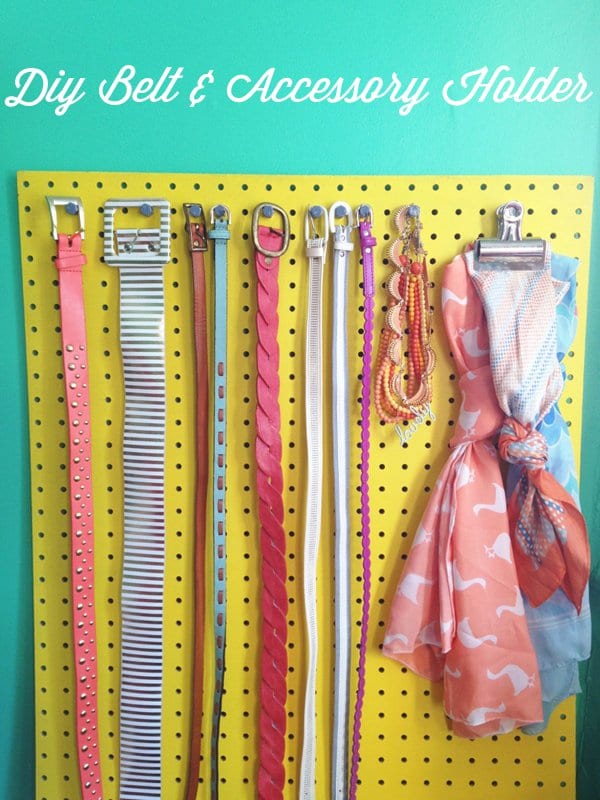 source
6. The best decorating idea
Are you searching for some organizing tips and tricks that will help you keep all your hats well-organized all the time? We have found it for you. One of the most practical ways to organize your hats is to organize your own hat wall. Small closets call for a bit more creativity when it comes to storage. If you have a small closet and not enough space to keep your hats, then dedicate a portion of your bedroom wall to display them. Hats walls are a big trend that more and more creative women follow. They serve a dual purpose. One is the functionality: they provide storage for hats. The other is decorative: they also provide inexpensive wall décor.
 source
7. Best Approach To Creating the Best Shoe Case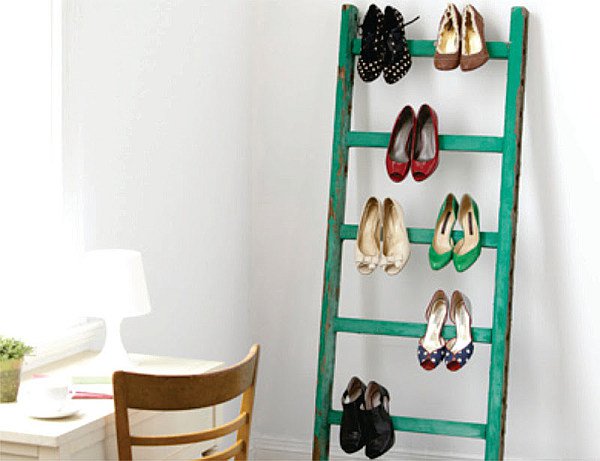 source
8. Coke Crate Tie Holder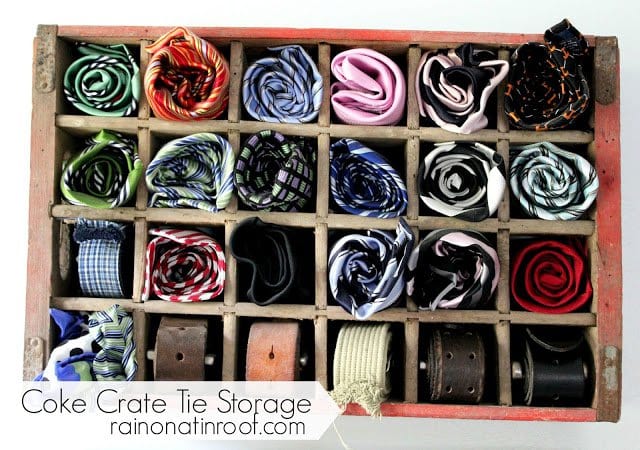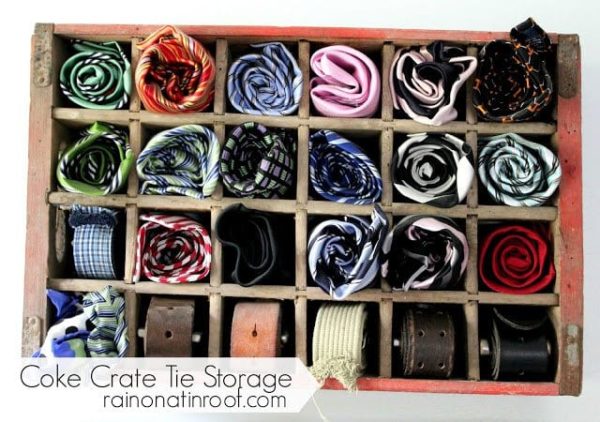 source
9. Maximize Storage Space with a DIY Wooden Bungee Organizer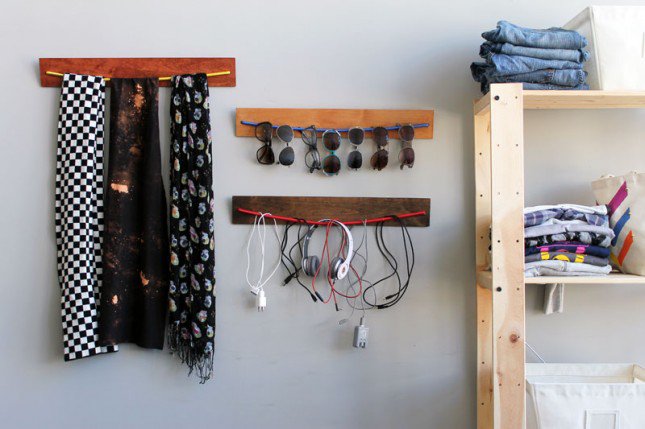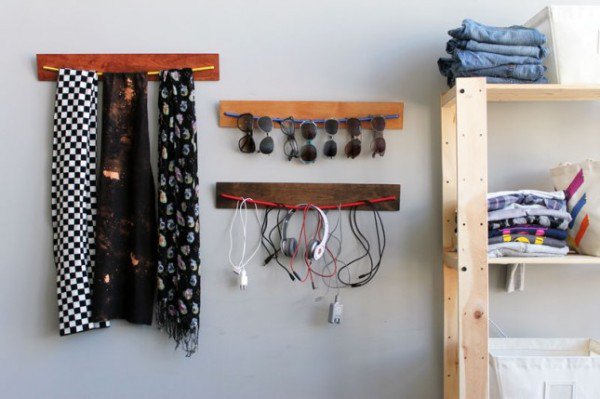 source
10. DIY: Magnetic Bathroom Rack
You will definitely adore these organizing tips and tricks especially if you find yourself looking for bobby pins anytime you need them, without the possibility to find them. This DIIY magnetic bathroom rack will help you keep small bathroom items well organized all the time. You can use your DIY magnetic bathroom rack for storing your bobby pins, nail clippers, scissors, files, tweezers, and metal manicure set. Everything will now be within arm's reach but what is most important, everything is off the countertop, which tends to get cluttered so quickly with bathroom paraphernalia.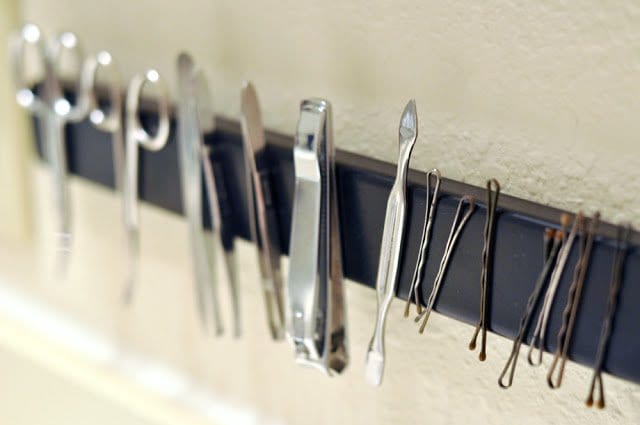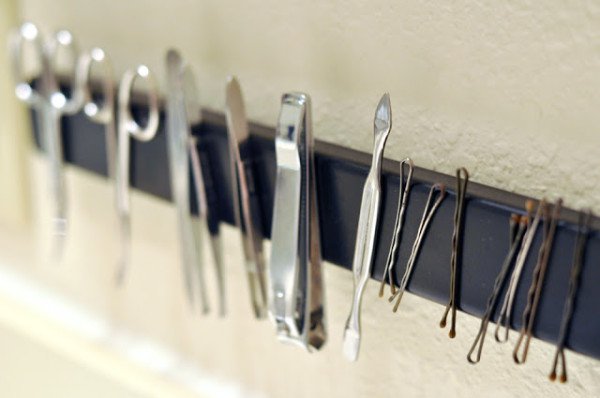 source
11. DIY Scarf Hanger
 source
12. Bathroom Update!!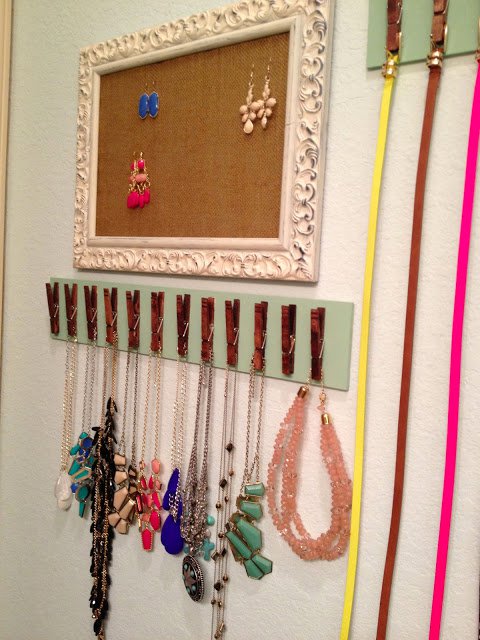 source
13. DIY Closet organization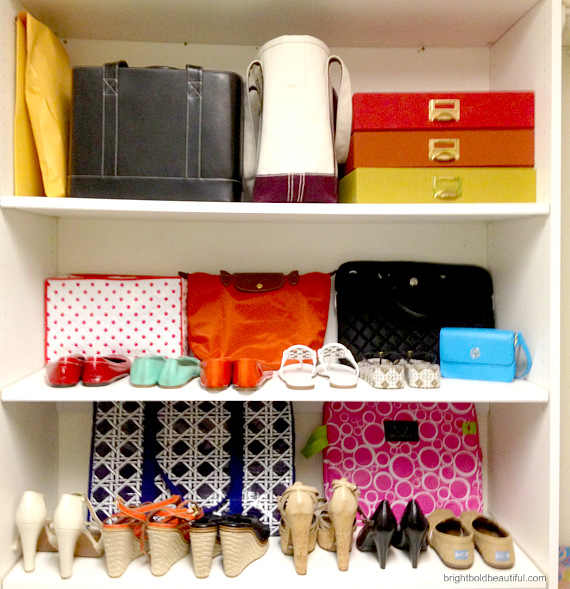 source
14. IKEA Raskog Hack: DIY Rolling Vanity
15. Diverse Storage Ideas For Your Belts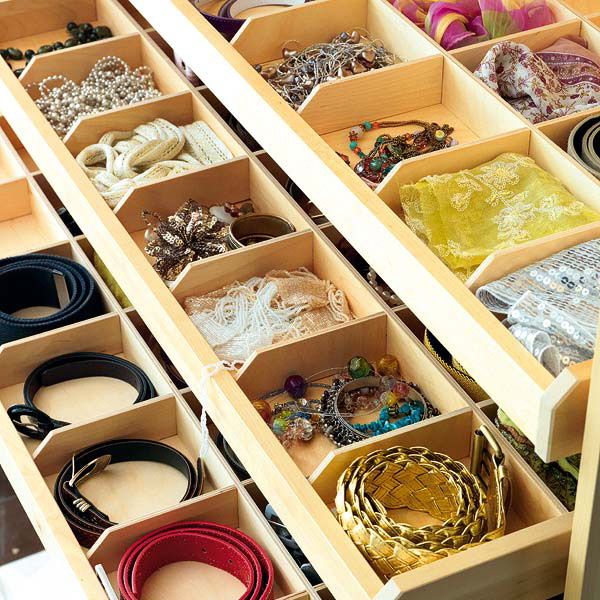 source