Hey fashion lovers! have you already rocked one of the biggest trends for the season: leather pants? If you enjoy seeing modern women wearing the biggest trend for this season, but still have some doubts about how to wear it yourself, stay with us. We are taking you on a fashion adventure in the world of leather clothing. In the article below, we have selected for you some helpful styling tips on how to wear leather pants.
Our gallery below is ready to inspire you in styling your next outfit. Scroll down the page to explore some stylish leather pants and the way fashionable women wear them. Rock the trend as a super fashion star. We are going to teach you some basic rules about styling your favorite leather pants. You don't even have a pair of them in your wardrobe yet? Put them on your shopping list immediately. This year, leather pieces of clothing are an absolute hit, so your leather pants are going to be listed among the must-have wardrobe essentials for the upcoming season. We leave you for a while to enjoy our inspiring gallery below.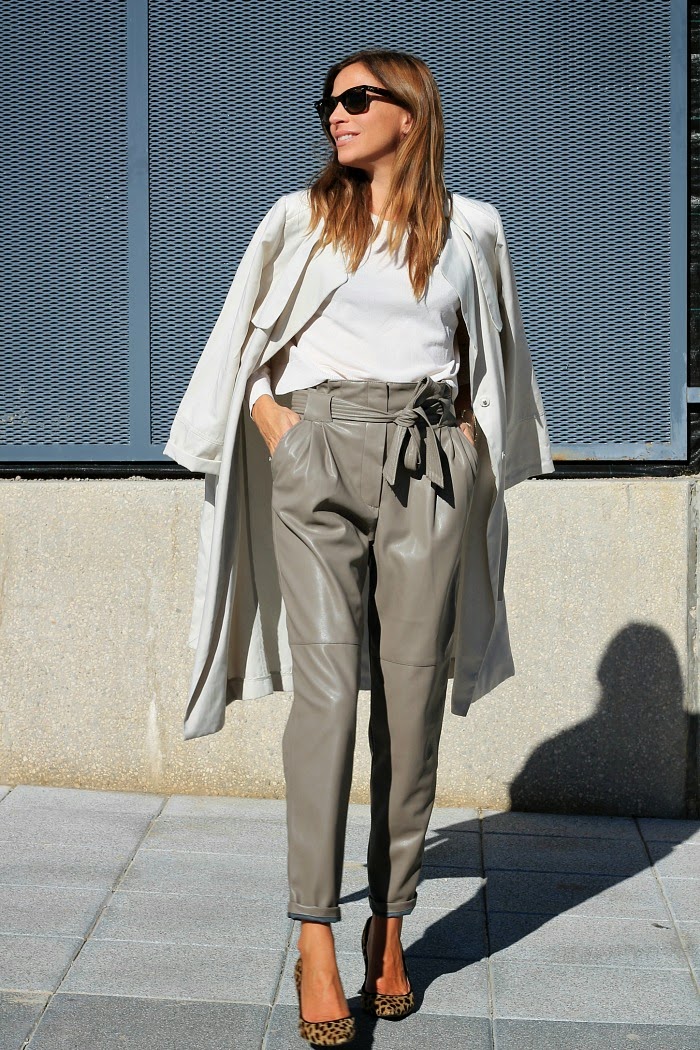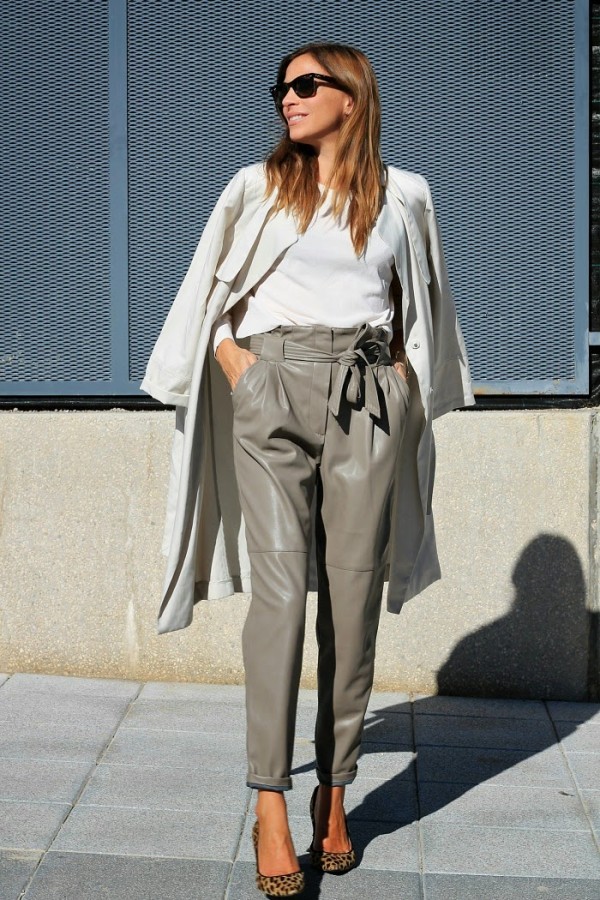 source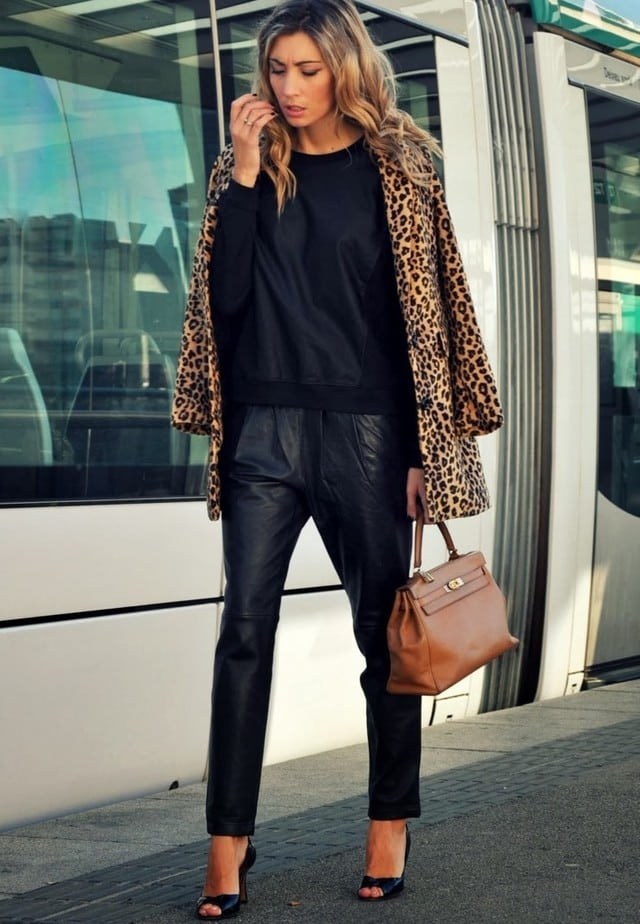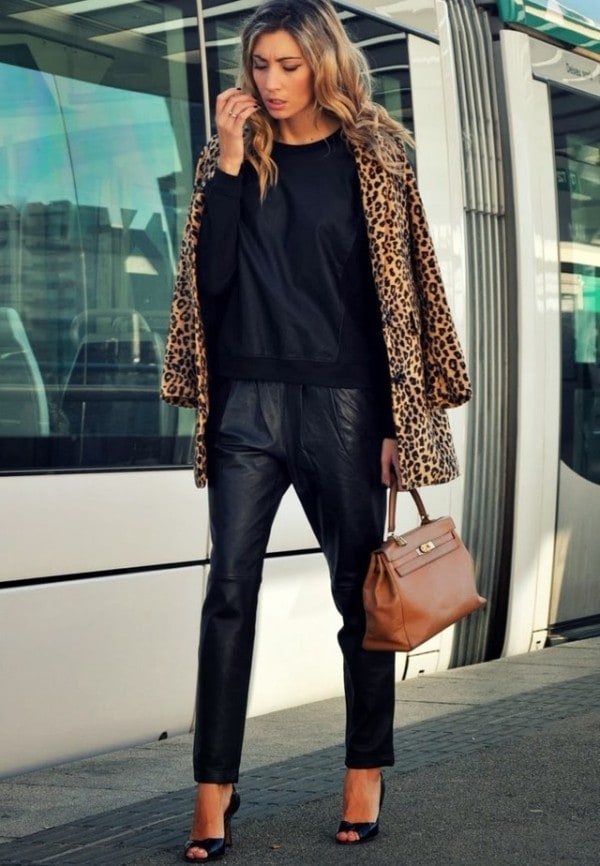 source
What Are Leather Pants?
Leather pants are pants that are made from the tanned skin of animals. They are typically made of cow skin. Faux leather pants on the other way are typically made from polyurethane and polyvinyl chloride (PVC). Today, leather clothing is becoming increasingly popular. You can see modern women wearing different leather pieces of clothing. When it comes to leather pants, we can see them in a wide range of silhouettes, including straight-leg, high-waist, slim fit, and skinny pants, such as regular pants, indeed. The most iconic between them all is definitely the black leather pants. However, you can see women wearing them in colors, especially in darker shades, too. Bright shades and light shades are less popular but can be found as well.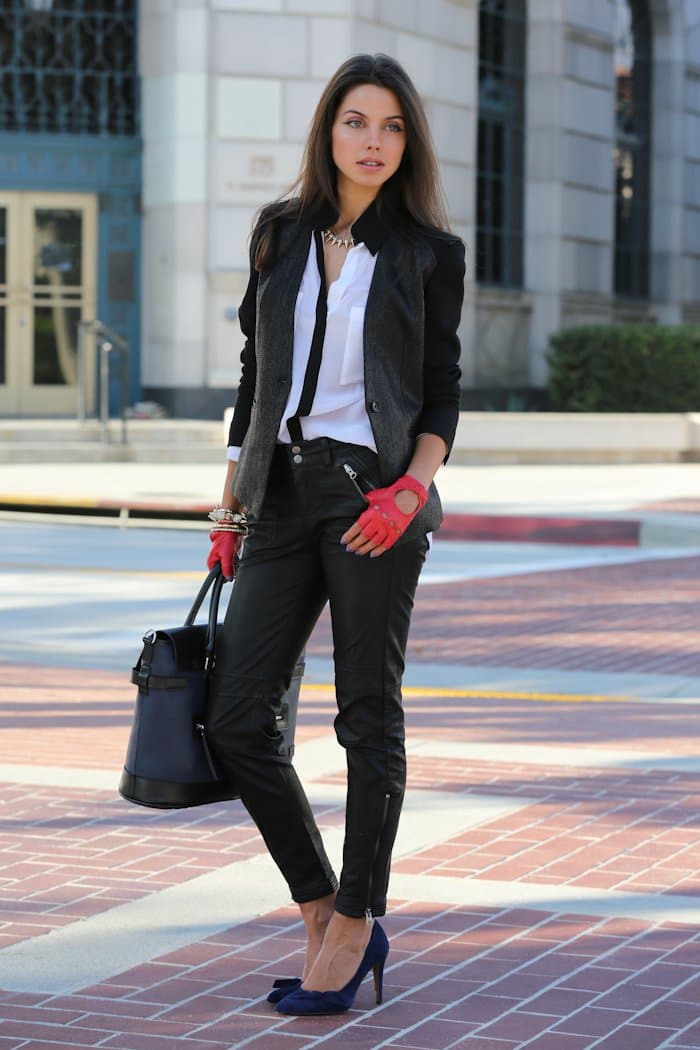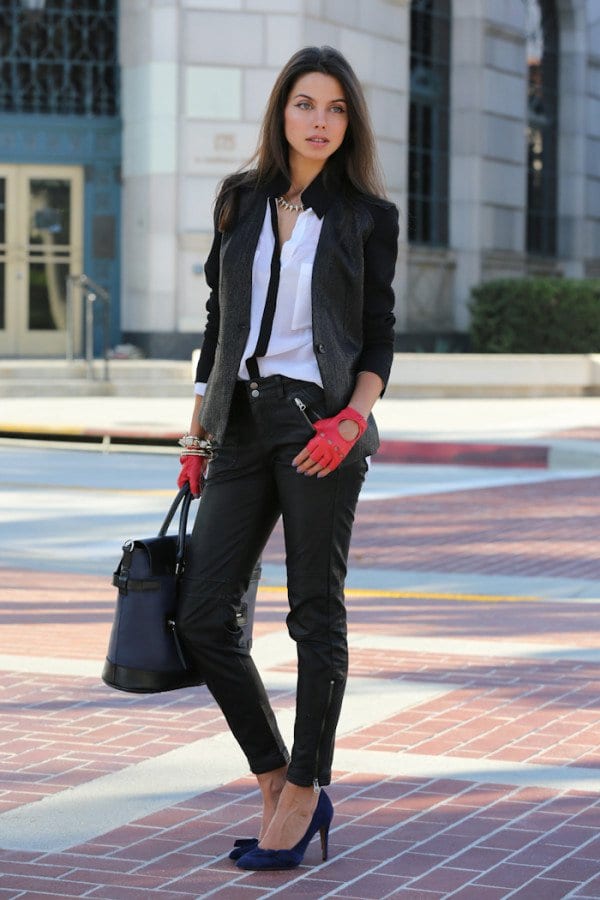 source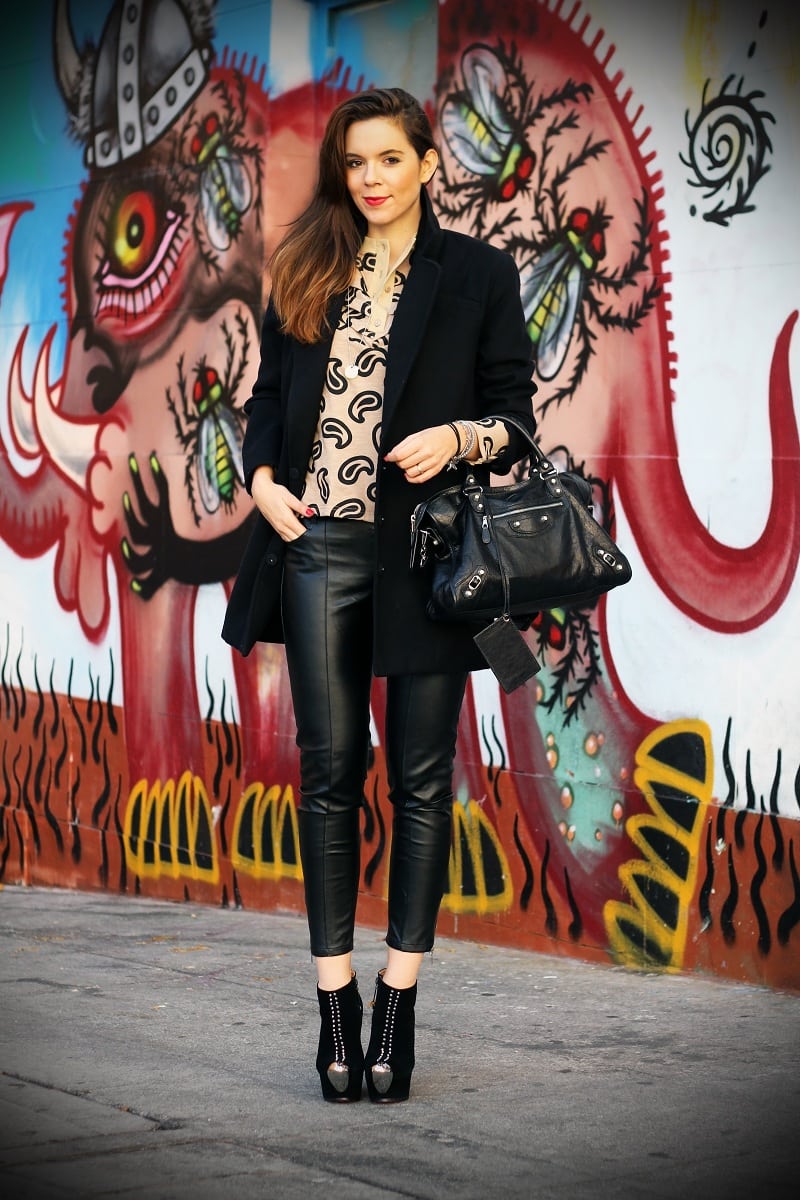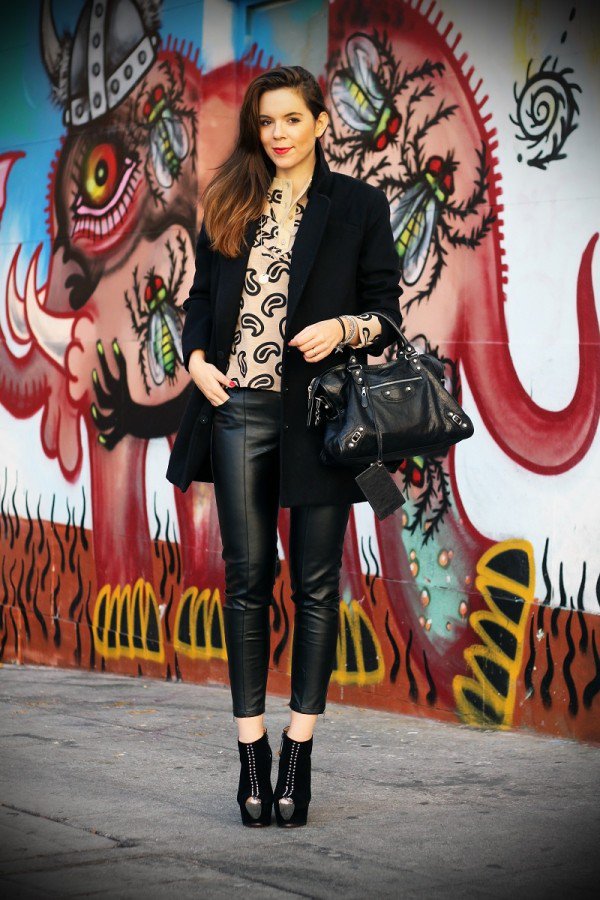 source
Leather pants styling tips
Before you get started styling your leather pants, we recommend you consider a few styling tips that will help you rock the trend in the best way possible. Here we are listing some of them:
Dress them with a tailored blazer.
One of the best ways to wear the trends is to combine the pants with a tailored blazer. You can opt for a white button-down under the blazer. This look is so professional that you can rock it even in the office. Don't forget to add a pair of ankle boots or heels.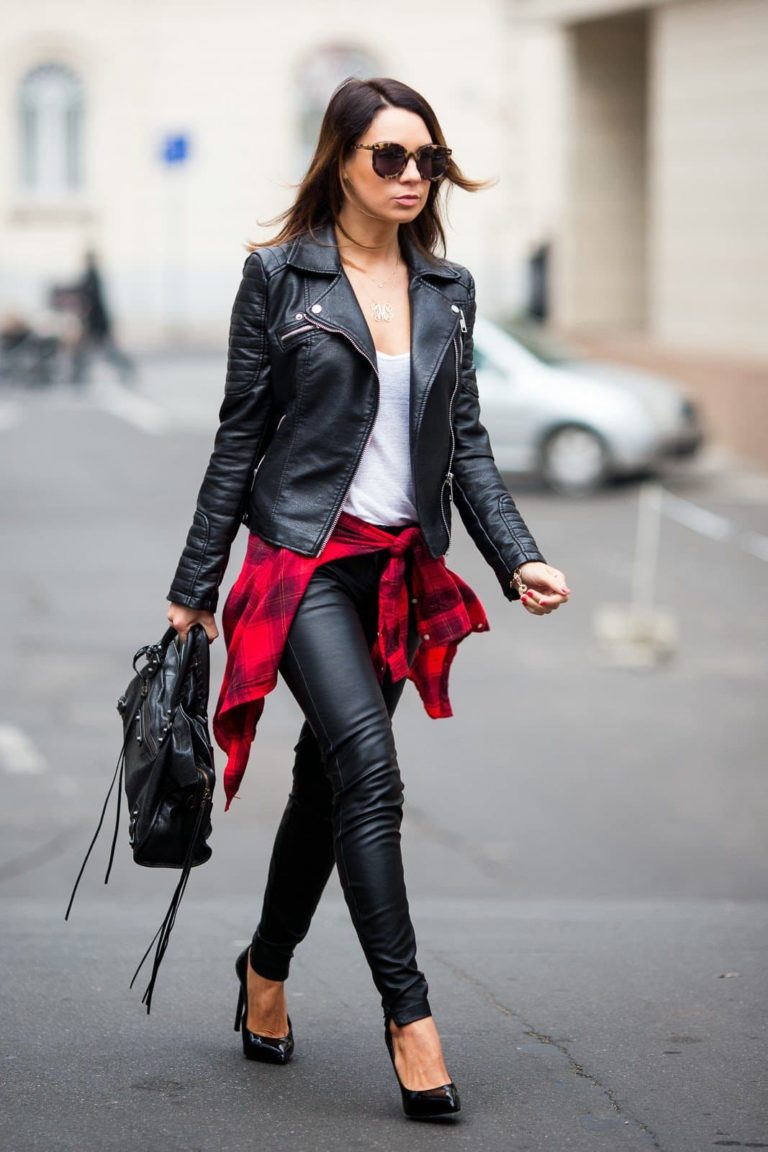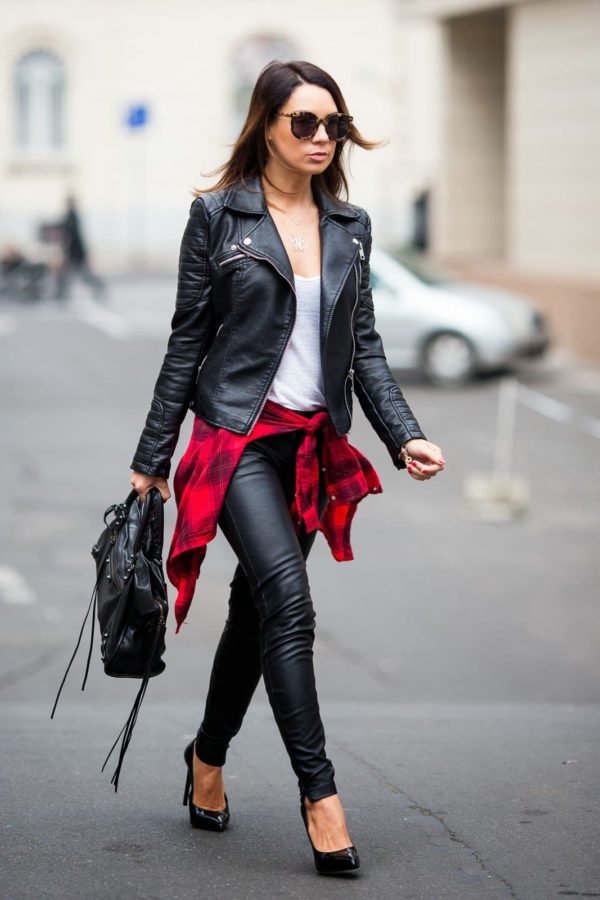 source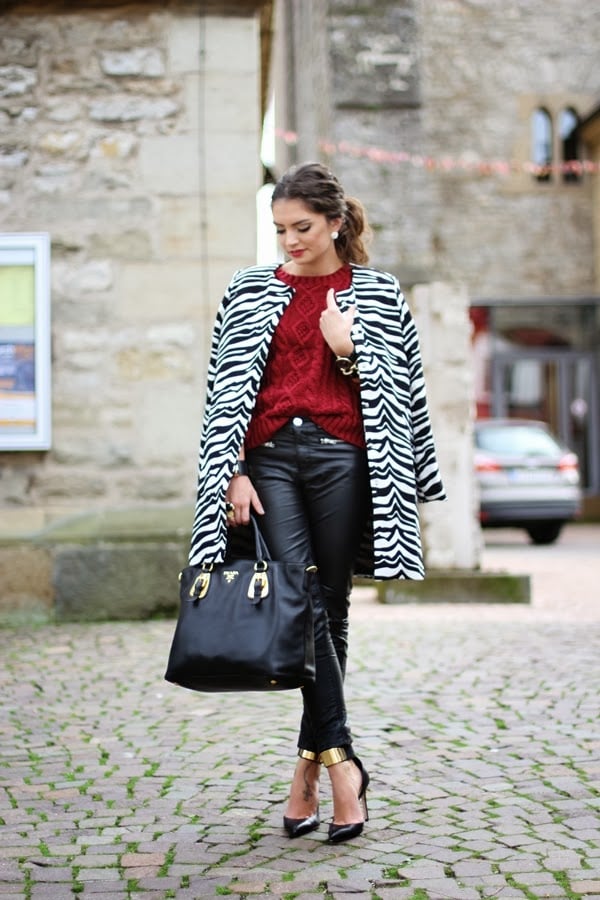 source
Wear them with a lightweight jacket.
There is nothing that can beat the denim jacket and leather pants combo. This casual combination is a perfect choice if you want to express your rebel spirit. Fashion experts recommend wearing pants made of leather with a jacket made of contrasting fabric, like denim, instead of pairing them with a leather jacket.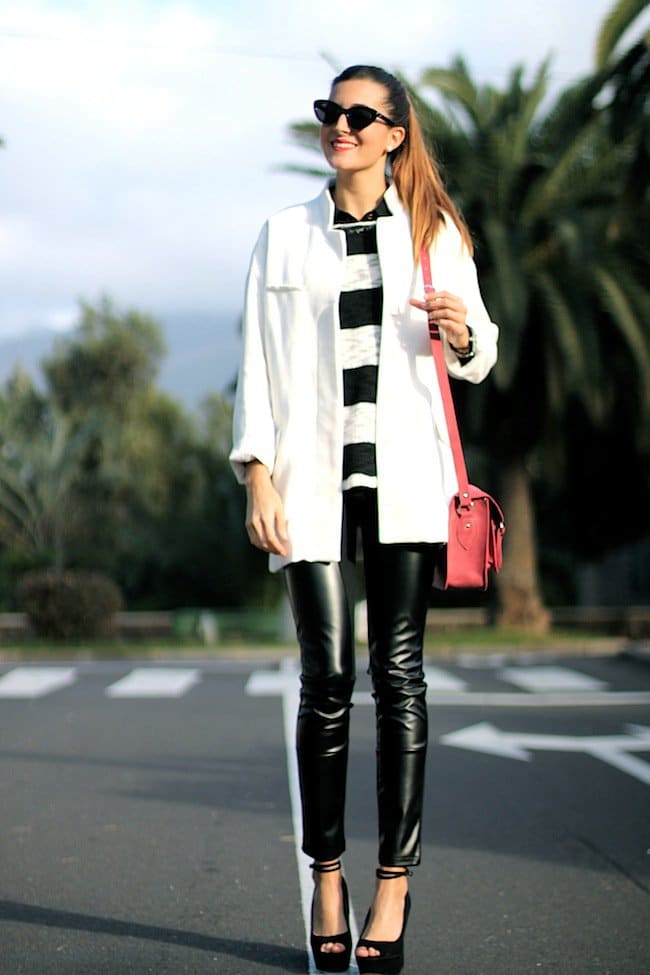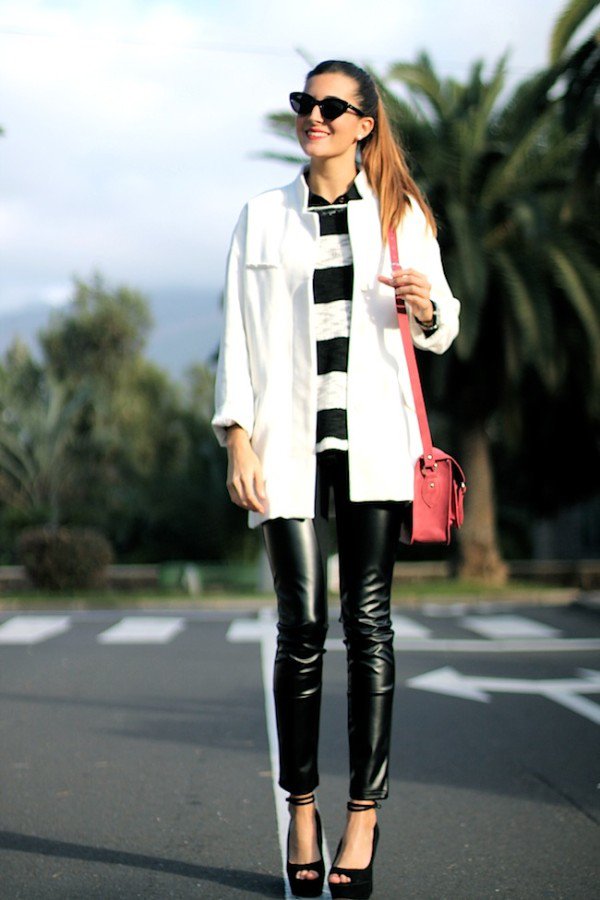 source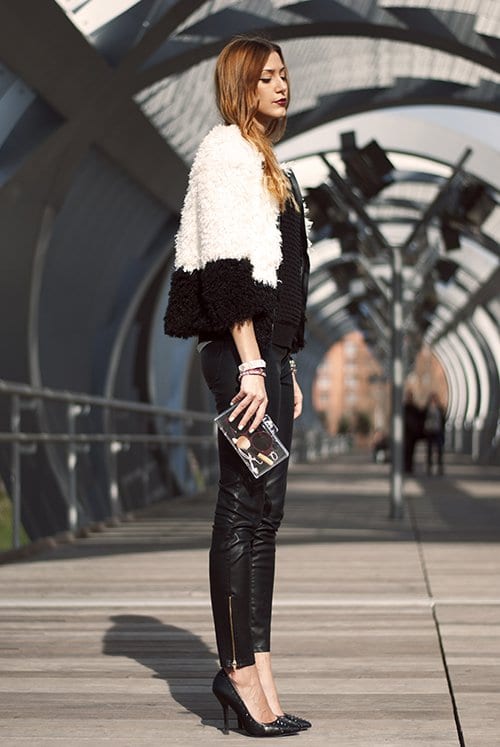 source
Pair black pants with a white tee.
Another classic outfit that women are absolutely crazy for is the combo of leather pants and a classic white tee. The outfit itself is so timeless, that you will be wearing it all year round, for years. Tuck the t-shirt in the front part of the pants and create a slightly elevated look. Add a pair of comfortable tennis shoes or a pair of suede ankle boots, according to the weather conditions.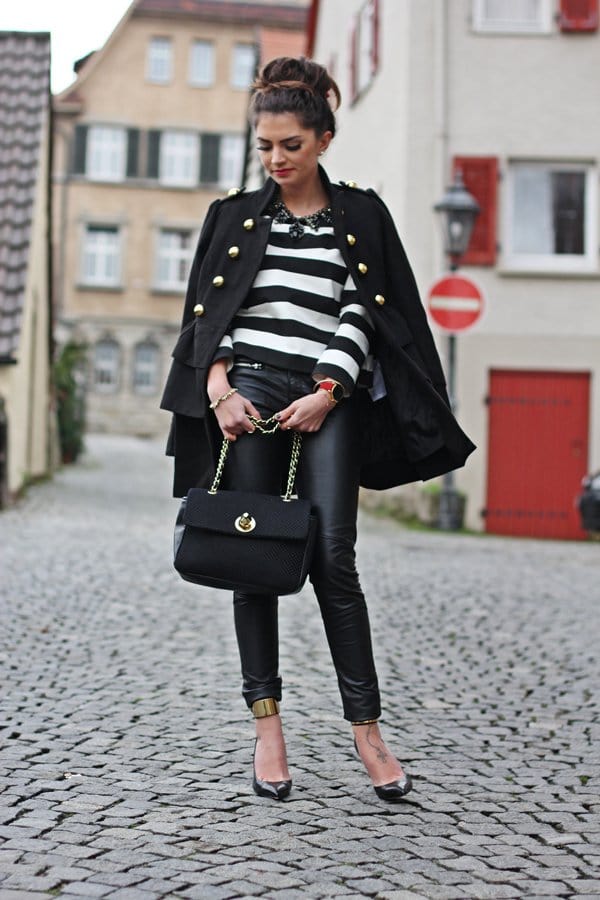 source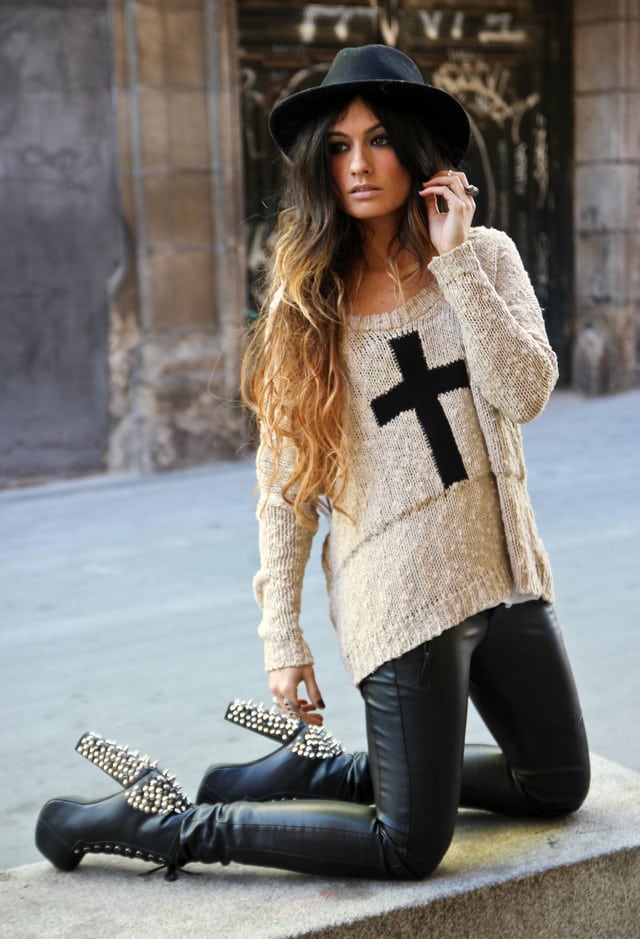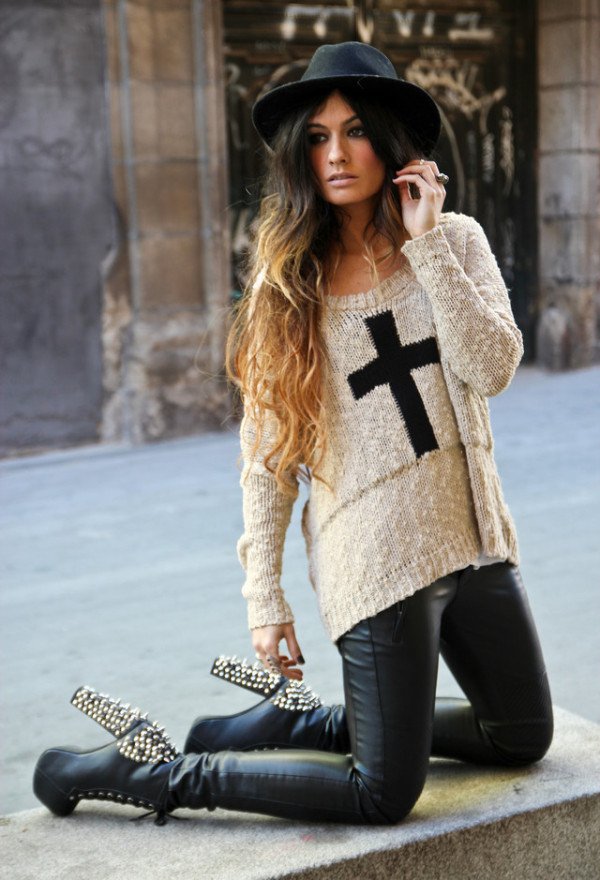 source
Wear a crop top under a cardigan.
This is a perfect casual fall look that you will adore styling again and again. When worn with leather pants, this chic look creates a flattering silhouette that will make you look stunning.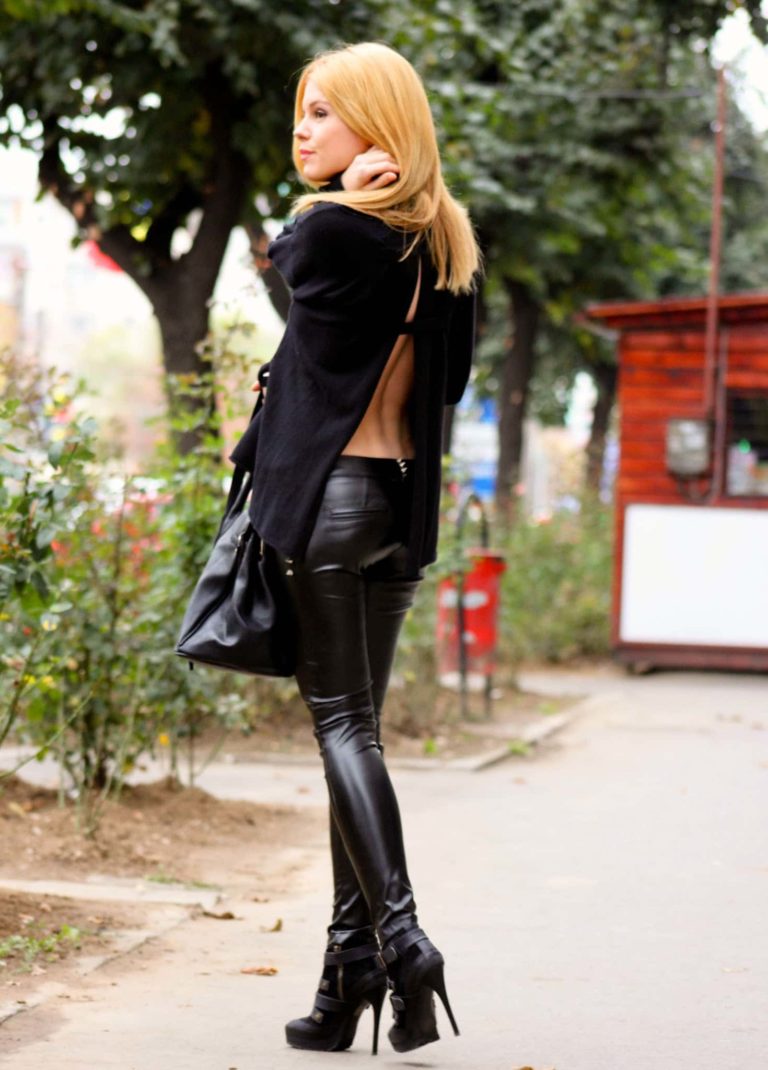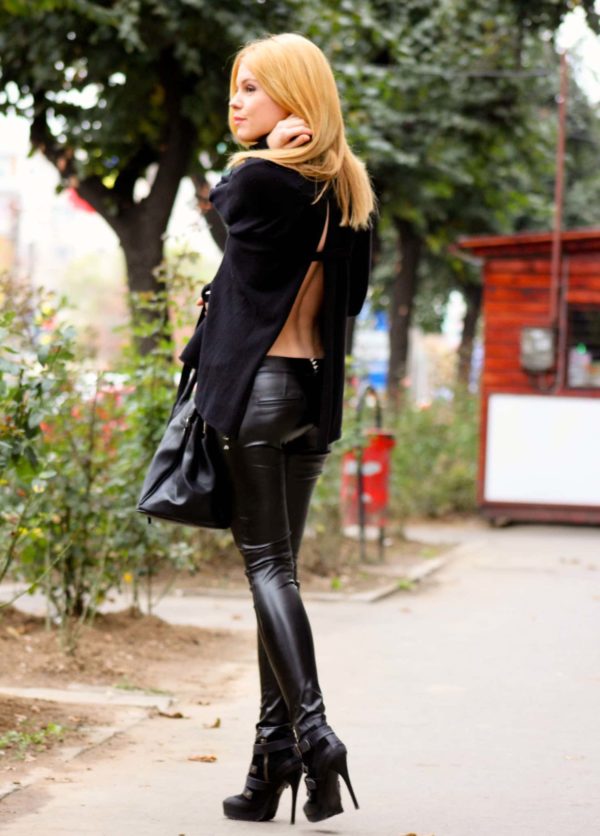 source
Pull off the biker look with a pair of combat boots.
Are you a fan of the biker look? Try it by pairing your black leather pants with a vintage T-shirt and a black leather jacket. Add your favorite combat boots, and voila, you are done!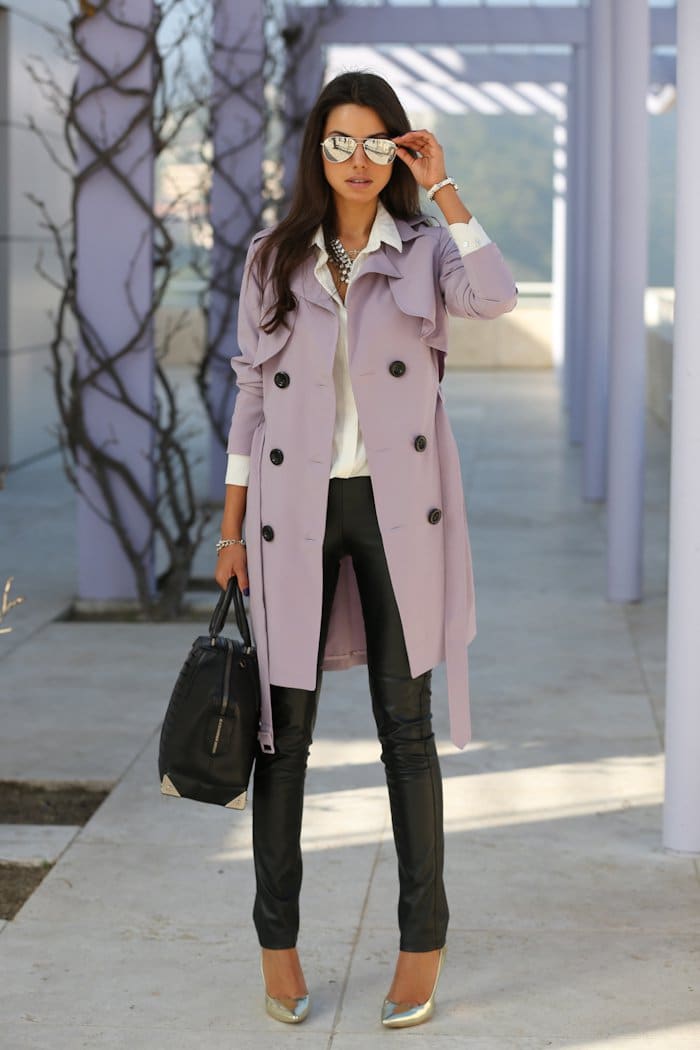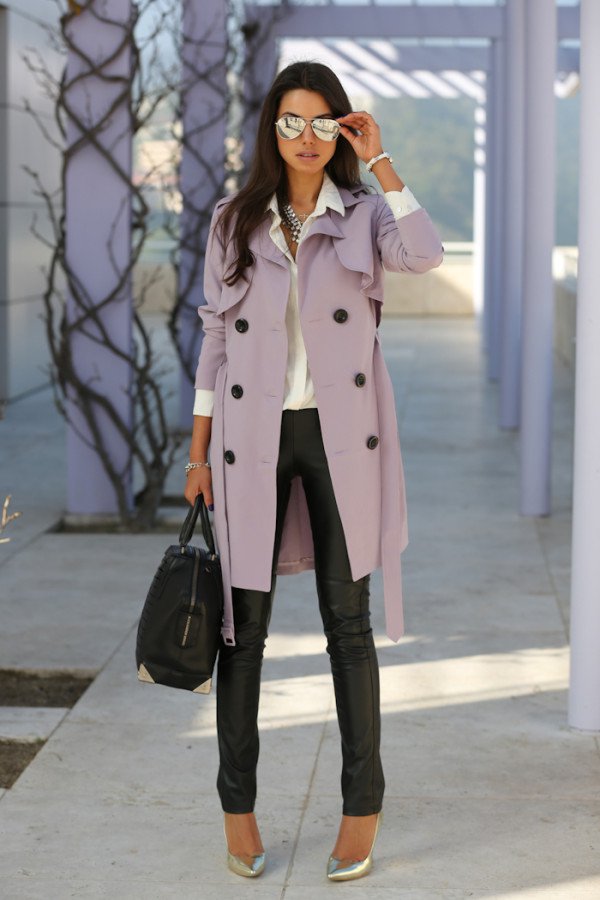 source
Tuck your pants into a pair of knee-high boots.
You will definitely adore this way of styling your leather pants during winter. All you need to do is to tuck them into a pair of knee-high boots. Choose some shoes in a black or neutral shade. Complete the look with a comfy knitted sweater and a jacket for warmer days or a coat when the temperatures start to drop.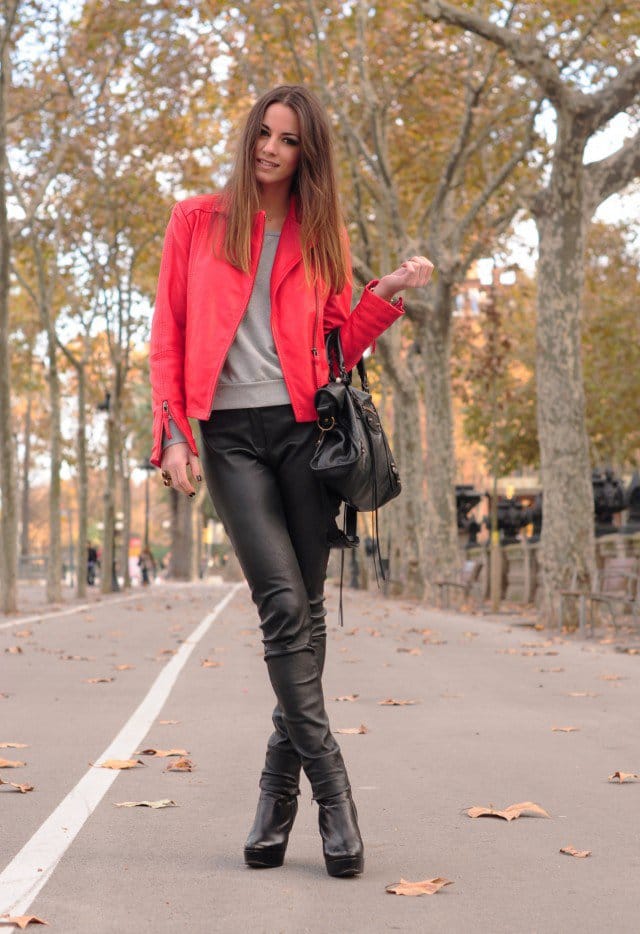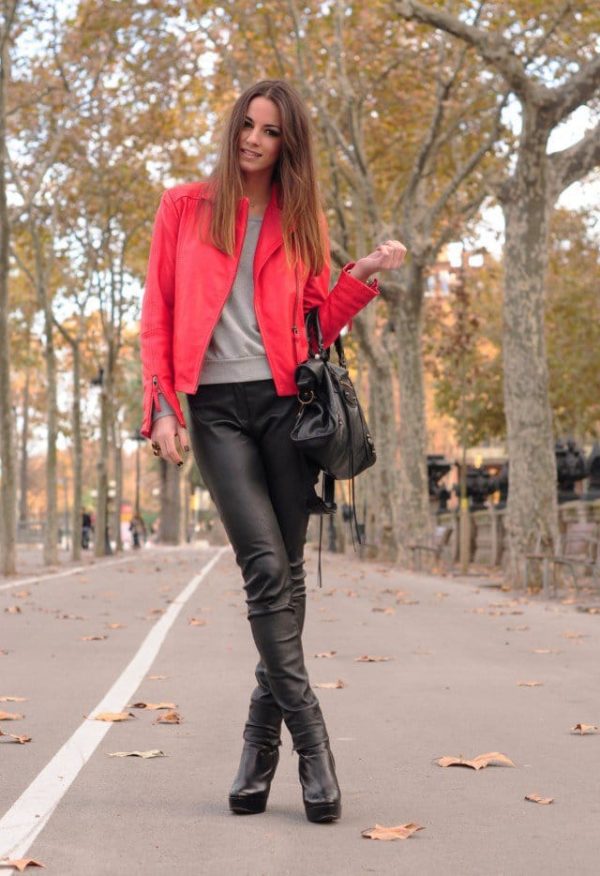 source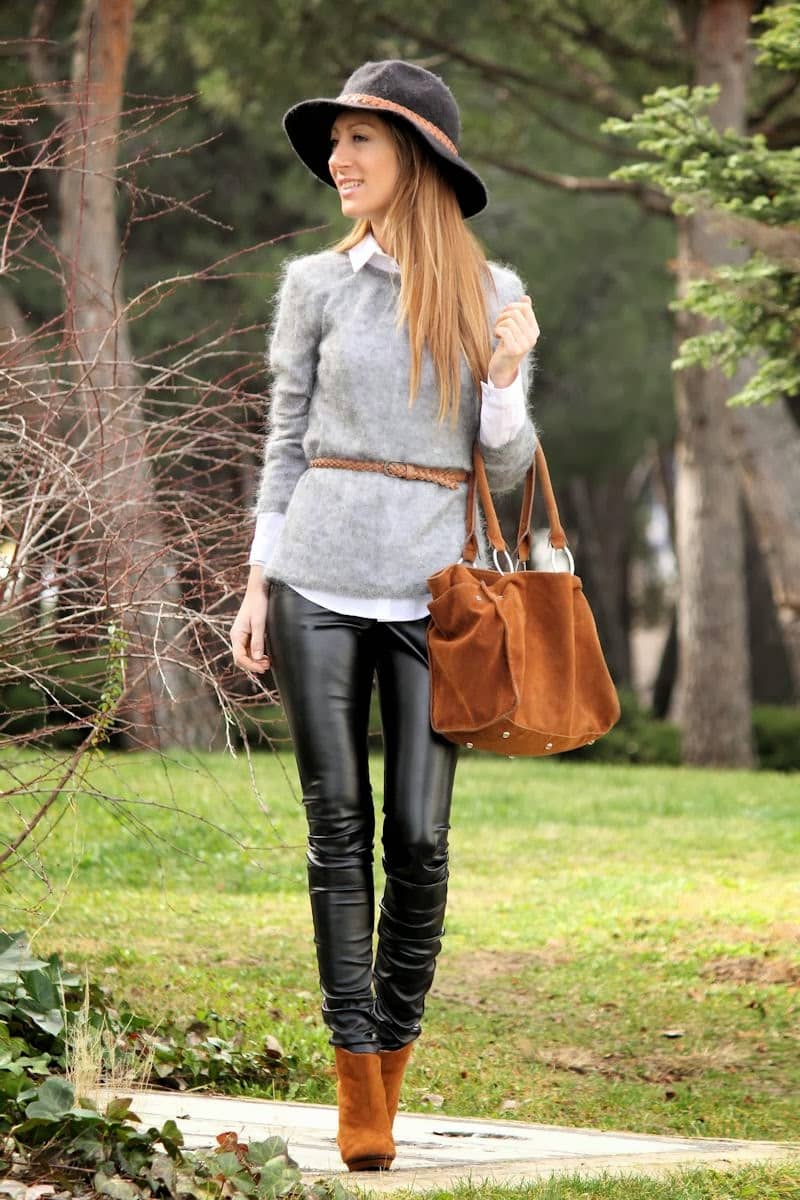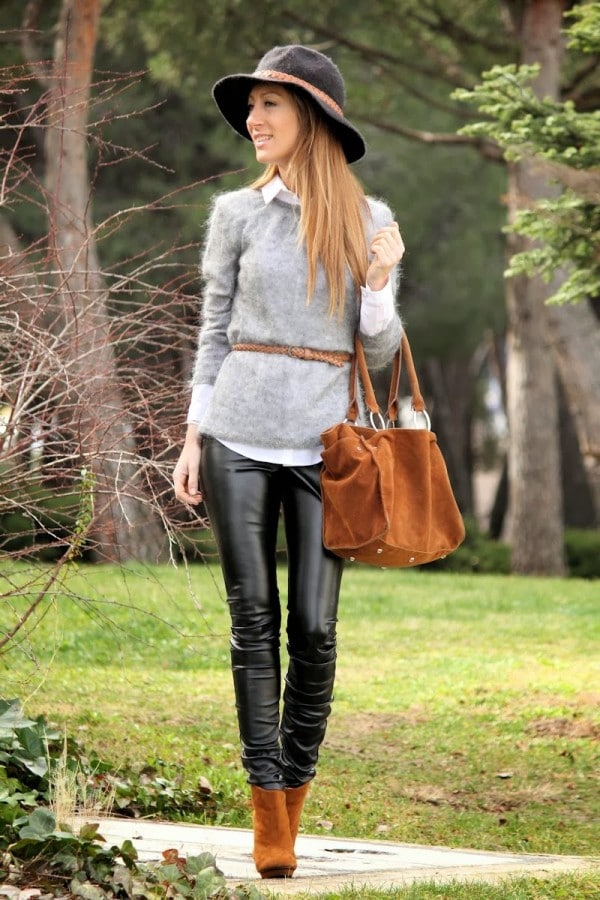 source
Pair them with a brightly colored turtleneck.
This is another inspiring way to wear your leather pants during winter. Bright daring colors are a total hit this year, so you can definitely bet on a winning combination by pairing some bold-colored turtleneck with your favorite pair of leather pants.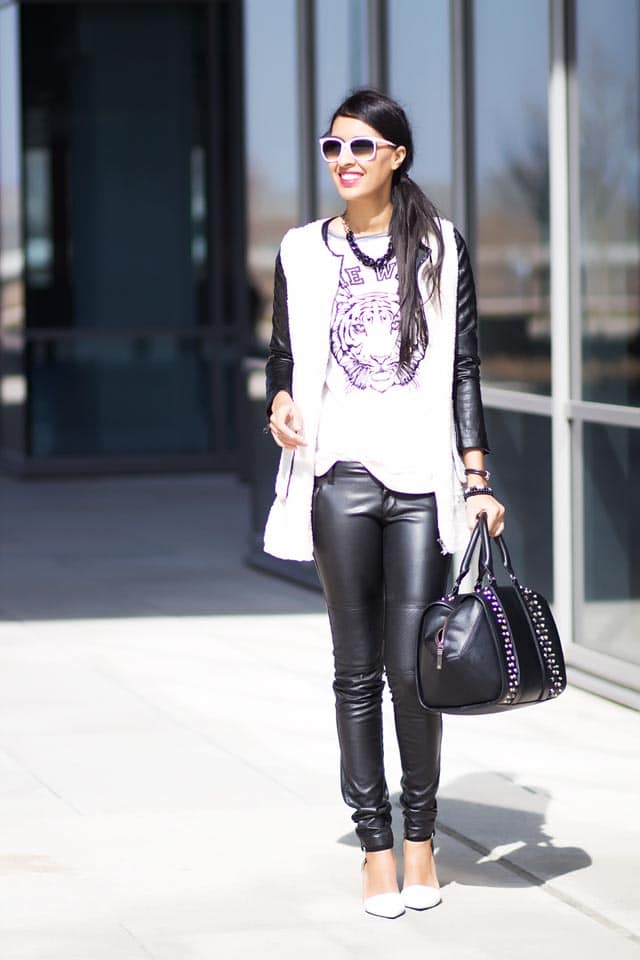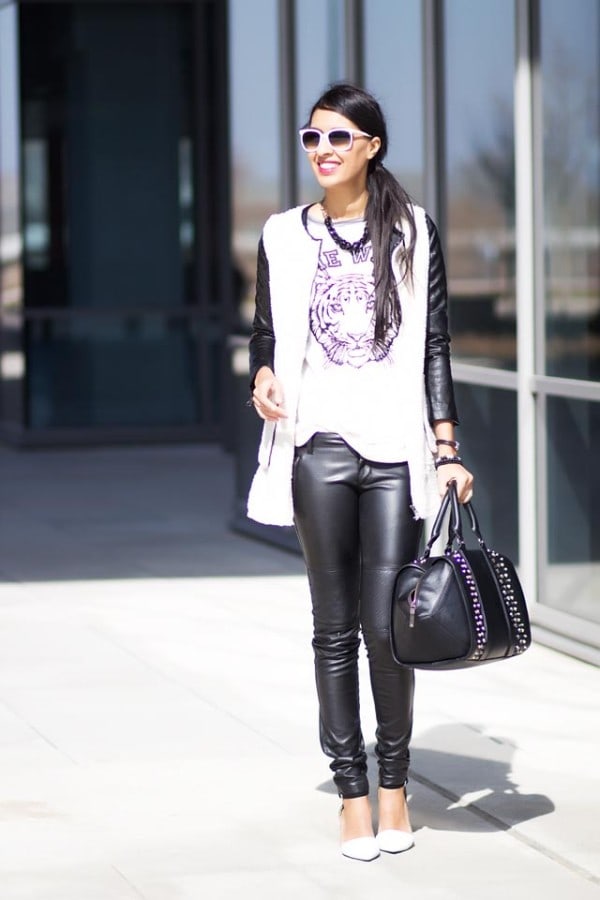 source