We are sure that you all adore wearing a scarf. The scarves are one cute fashion accessory that is good for every occasion and that makes your style more improved. That is the reason why scarves are one of the most fashionable pieces in your wardrobe no matter the season. They may be a little challenging for storing, but we have already shared with you some DIY scarves storing ideas earlier that you can copy for yourself. When it comes to wearing them, you can certainly imagine tons of different ways to wear scarves.
Wendy from the website Wendy's Lookbook has made this video which shows even 25 different ways to wear scarves. Best of all is that the video takes less than 5 minutes, and in the end, in every style, you can click the small squares if you want to see more details. After you watch the video you will get the desire to grab a scarf out of the closet and try some of these brilliant ideas. Enjoy!
Meanwhile, let us share with you some creative ways how to tie a headscarf, a scarf, or even a winter scarf. We are sure you will enjoy our word's presentation of inspiring ways to wear scarves, as well as you will enjoy the video presentation. These smart ways of wearing your scarf will help you accessorize your look in a different way every day of the week, for almost a month. Then you can repeat each of them again. Here are some ways to wear scarves to copy:
Do the basic loop and knot
If you have a silk scarf that is not too long or with fringed ends you can do a plain wrap-and-knot. Simply drape the scarf around your neck and tug the ends so that the one is hanging down about twice as long as the other. Then, take the longer end and wrap it around your neck so that you bring the tail end back to the front. Leave the ends dangling or tie them together in a regular knot.
Tie a traditional hacking knot
This is probably the most common way to wear scarves. The hacking knot works well for scarves that are a bit on the longer side. All you have to do to tie your scarf this way is to fold it in half so that you get two tail ends together and a loop on the other end. Simply wrap the scarf around your neck and pull the two ends through the loop. Voila, you are done!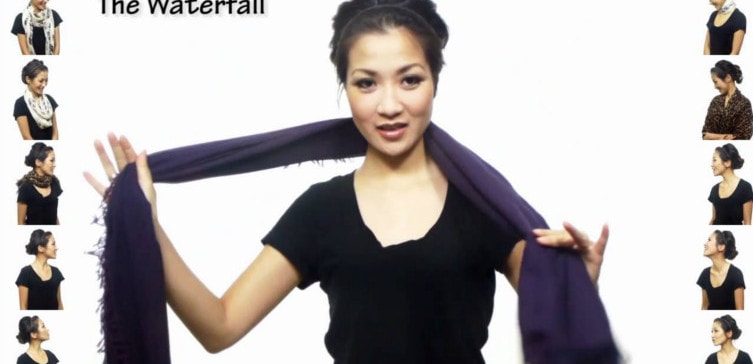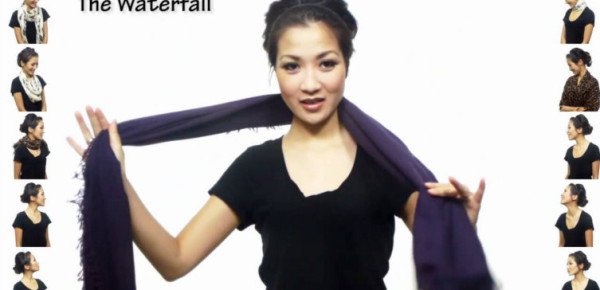 Tie a double knot
This is a perfect way to wear scarves that you want to showcase in the front. All you need to do is to wrap the scarf around your neck and leave both ends hanging down the front. Then, you should tie them together in a loose knot near the chest. Once again tie the ends together in a second knot. Leave the end to dangle down the front. You are done!
Create a bow with your scarf
Here is one of the most creative ways to wear scarves ever! All you need to do is to wrap the scarf around your neck and then tie a loose knot near your collarbone. The rest is simpler than you can imagine. Simply tie the ends of the scarf together in a big floppy bow as you would do with shoe laces. Once done, adjust the bow the way you like it and move it so it is either off to the side or in the front.
Wear your scarf as a belt
Searching for some unusual way to wear scarves? If you have a relatively short silk head scarf, then you can easily wear it as a belt. Simply fold it or roll it up to a width of your liking and then wrap it around your waist. Wearing your scarf as a bel can instantly improve your otherwise boring outfit. You can tie the ends of the scarf in the back and tuck the excess fabric back on itself. Or, you can also let the ends dangle down your legs. This could be done with longer scarves.
Drape your scarf over the hair as a head wrap
Did you know that you can wear your scarf as a hair accessory too?  This is one of the best ways to wear scarves, especially during summer, when the hair is overexposed to sun rays. Take a small silk scarf and create a lovely loose head wrap with it. Open the scarf so all the fabric is exposed. Place it over your head so that it ends near your shoulders. Tie the ends of the scarf together under your chin. Voila, you get an elegant and sophisticated look, and at the same time, you keep your hair undamaged from sun heat.