The sand, the sea, the breeze are just some of the reasons why most brides dream of a romantic beach wedding. If you are one of them, and you are already planning your beach wedding fairy tale, then there are some things you need to consider before. For stress-free wedding planning, start the planning process on time. That is crucial to saving yourself time and nerves. When it comes to outside weddings, you will need a different style and material for your wedding gown.  Beach weddings are more casual when compared to elegant ceremonies in the church. This doesn't mean that you have to skimp on style, though. Keep the beach wedding dress romantic and elegant, but still appropriate for the outside environment. You can choose a romantic or bohemian style as the most appropriate beach wedding dress style.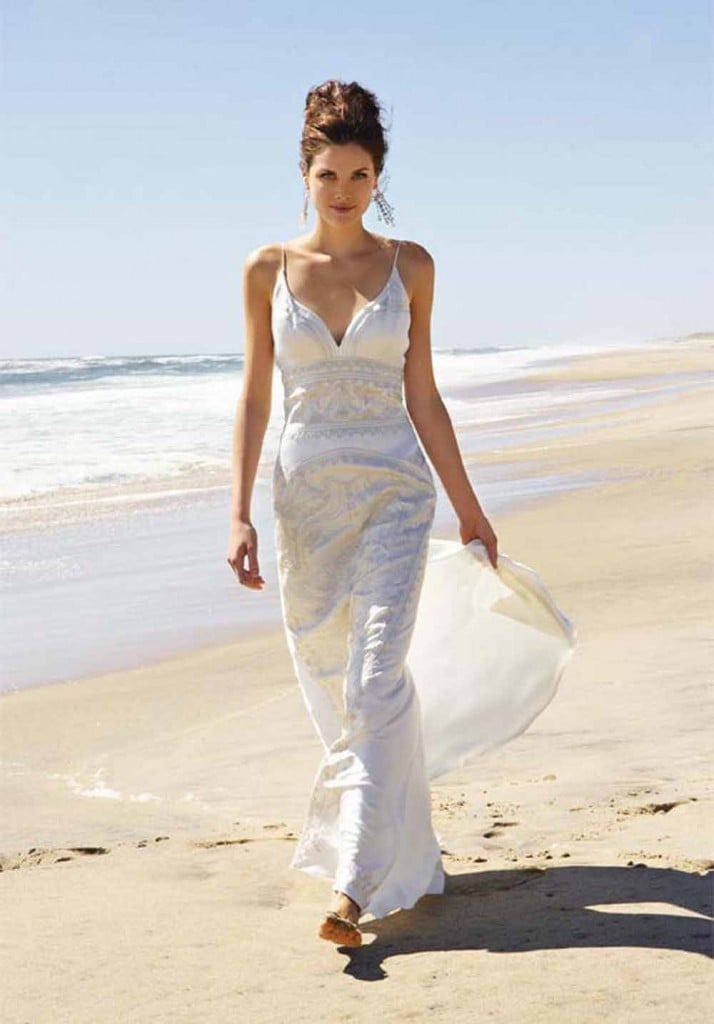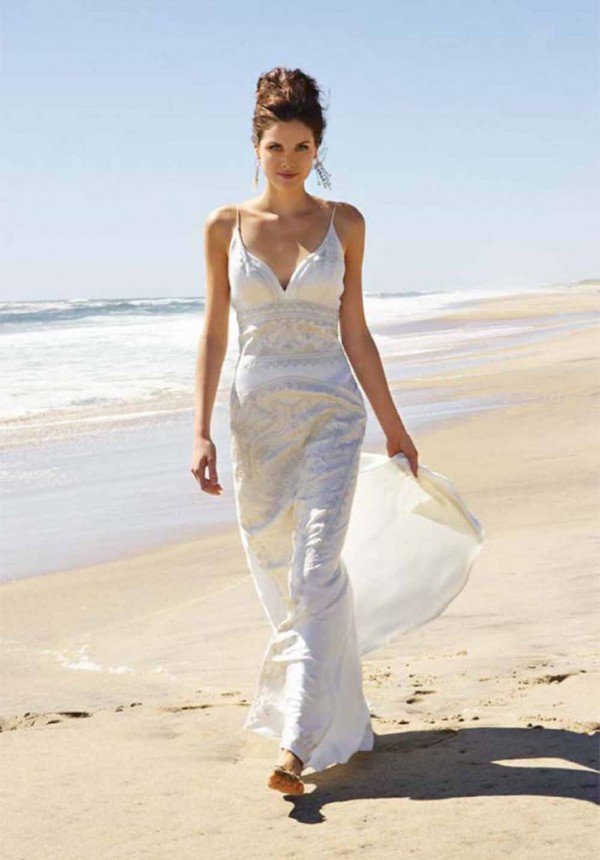 source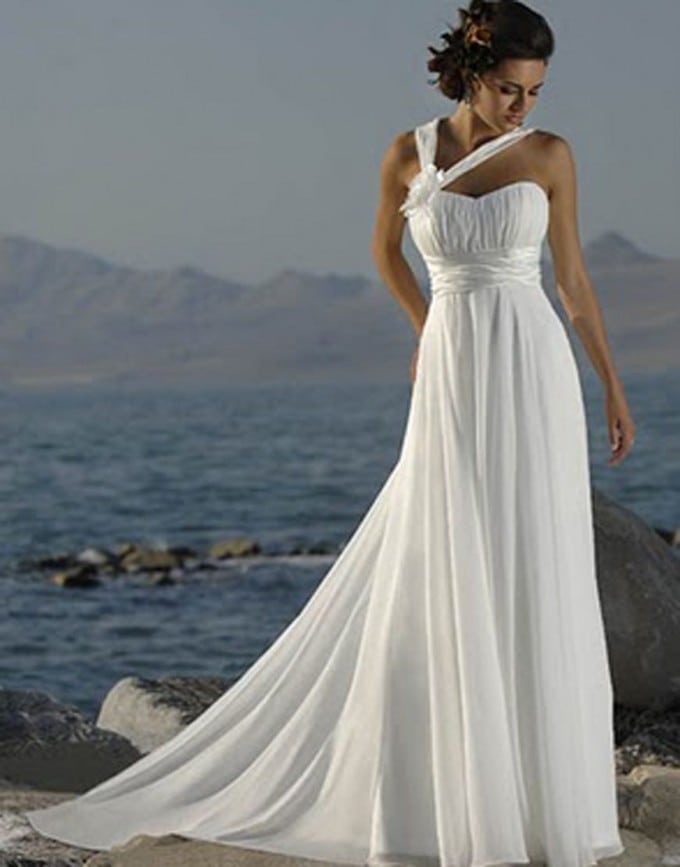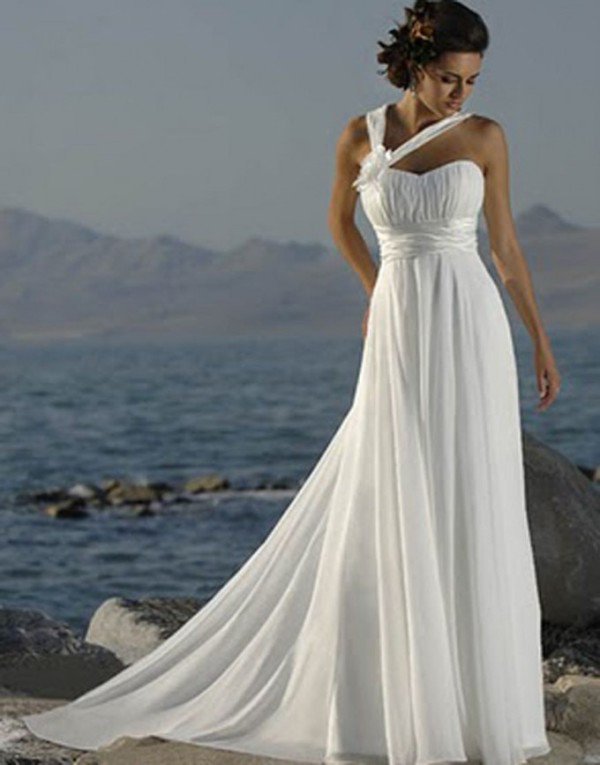 source
There are a few factors that will influence your decision for the perfect beach wedding dress. Below, we have shared with you some of the most important among them. Read all the things you need to consider in mind before choosing your dreamy beach wedding dress. We leave you to enjoy!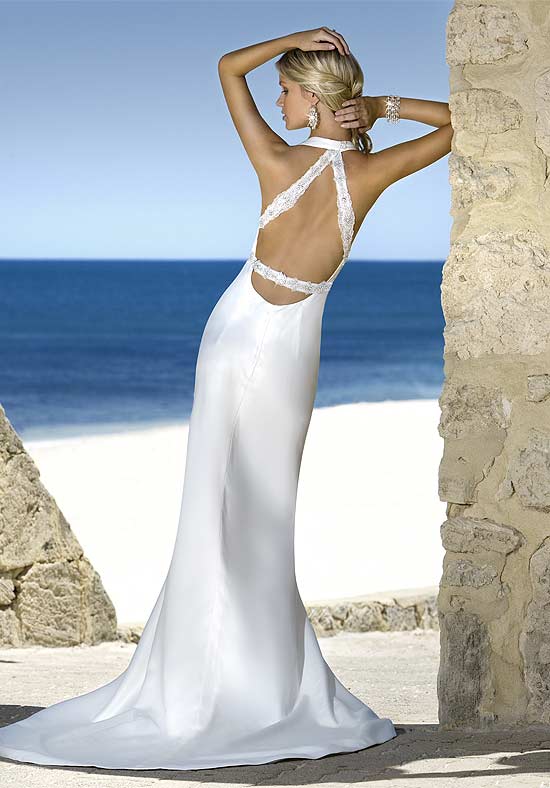 source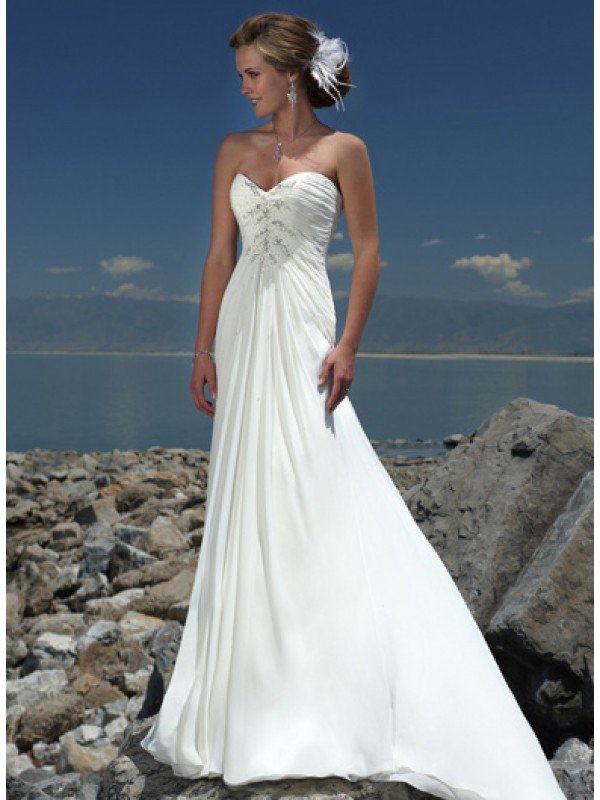 source
Types of locations for a casual beach gown
Some beach destinations will require you to walk on the sand of the beach while walking down the wedding aisle. In other destinations, you might be walking to the edge of a cliff or meadow overlooking the water. Any of these weddings will call for a casual beach bridal gown. So, before you choose your perfect beach wedding gown, you need to define the whole beach wedding concept. Then, according to the rest of the wedding party décor, you can coordinate the wedding gown too.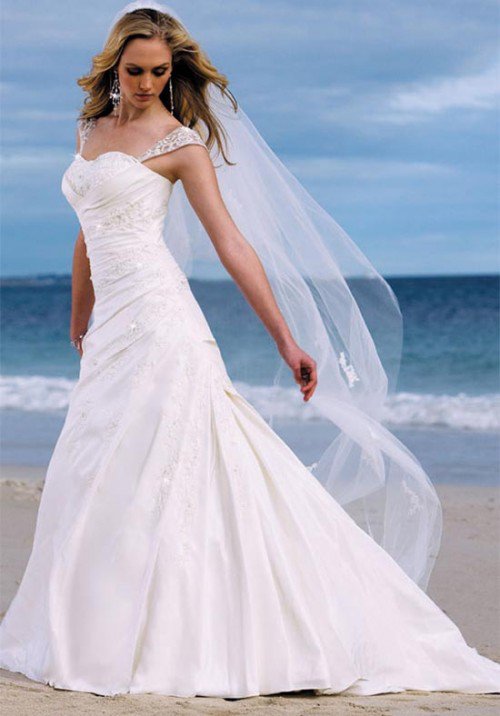 source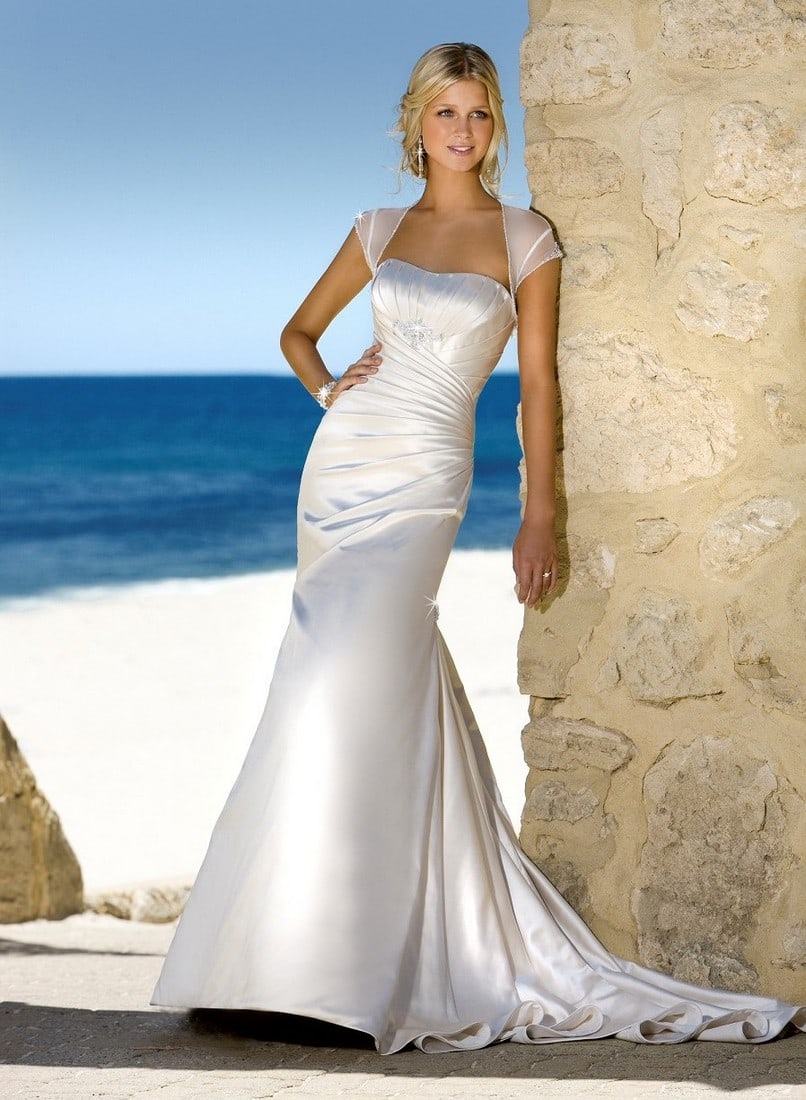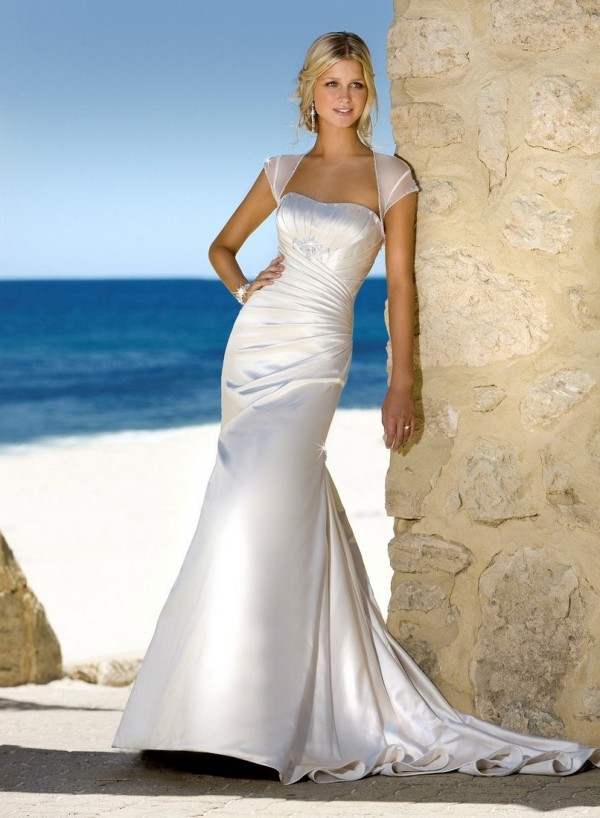 source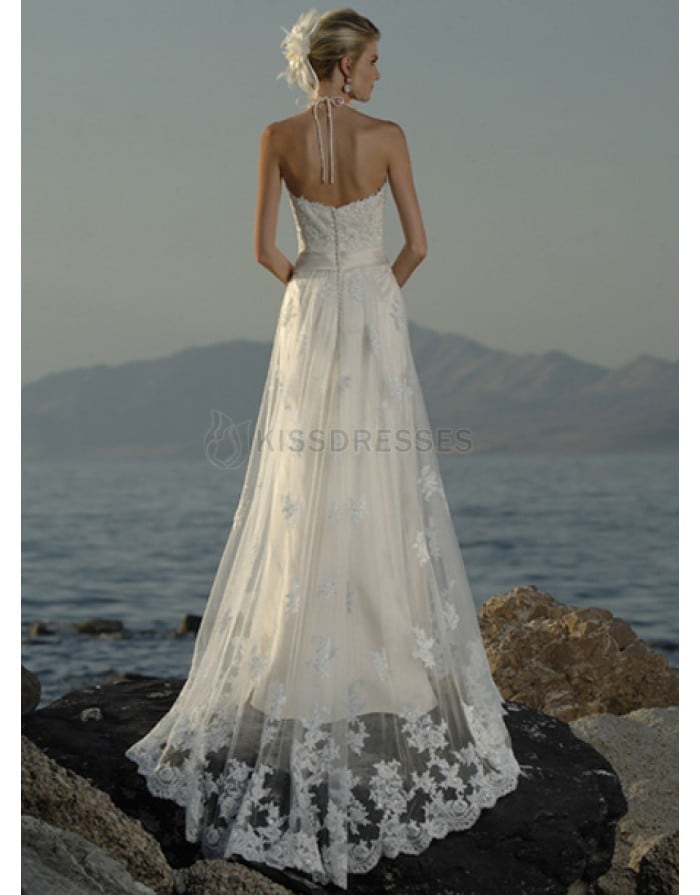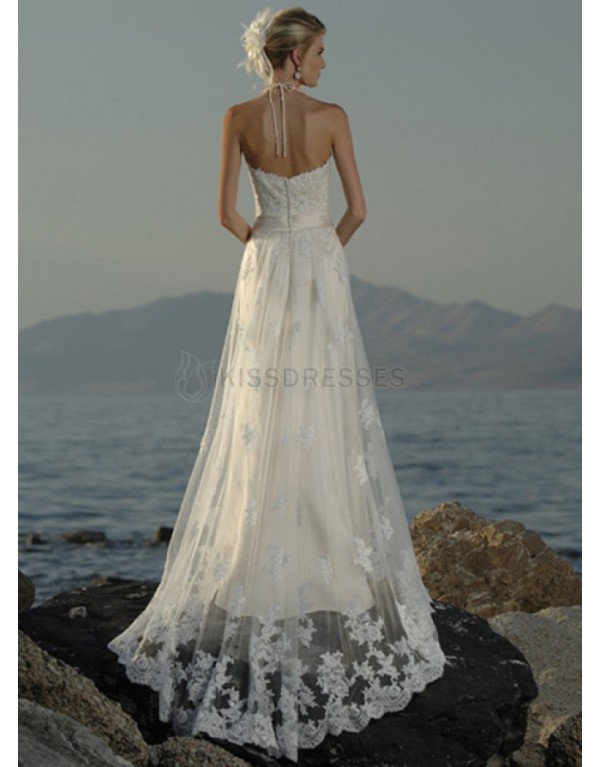 source
Based on your body shape
You should always, absolutely always choose a wedding dress that is meant to be flattering for your body type. Even when the party is going to be held on the beach! For example, if your body has an apple or pear shape, you shouldn't choose mermaid wedding dresses at all. It will hug and emphasize the problematic areas of your body, and you don't want such a thing. An A-line dress can be a perfect choice no matter your body type, as the A-line is flattering for all body types. However, before you choose the perfect dress for you, first figure out the style that calls to you.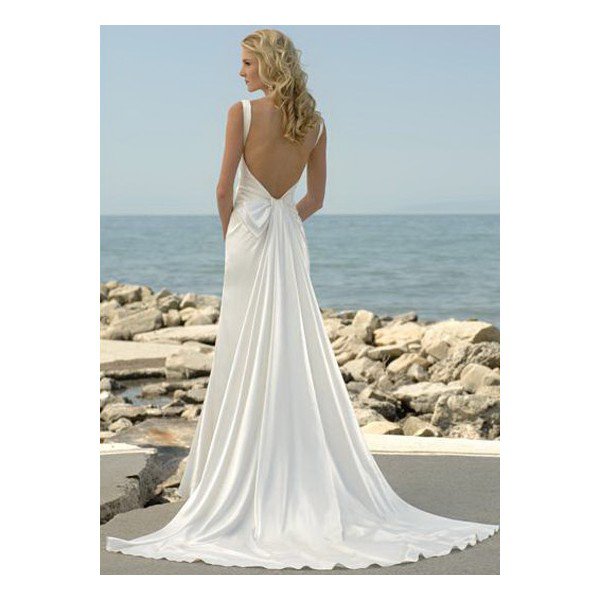 source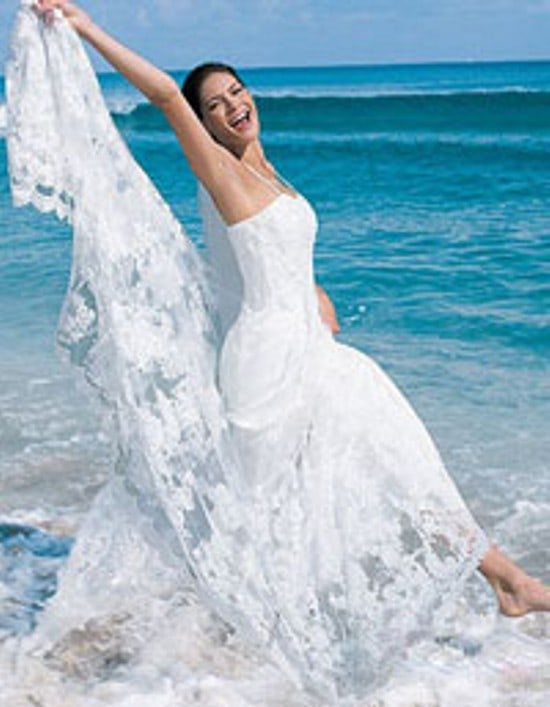 source
source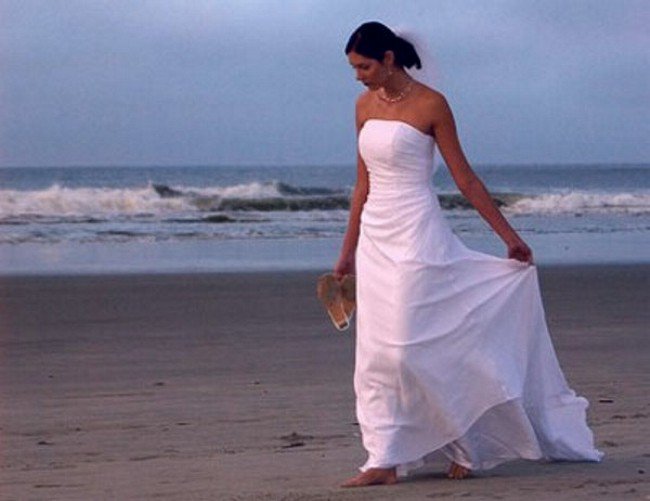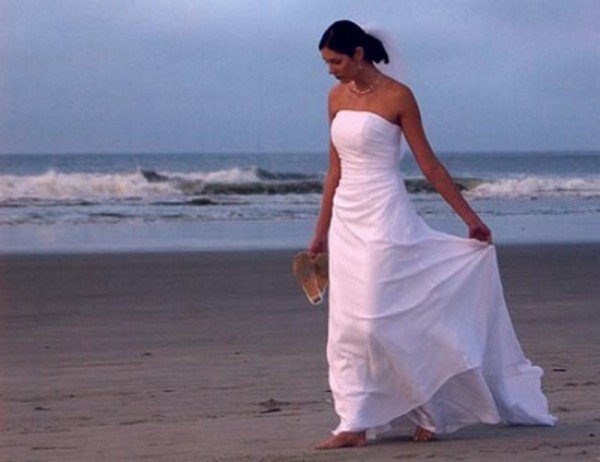 source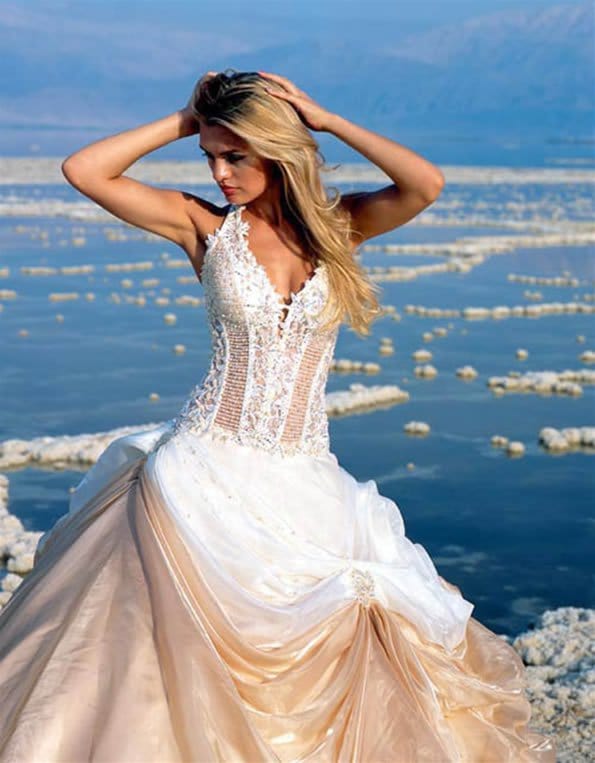 source
Fabric and style
Once you have chosen the type of dress that fills fatter you, it is time to think about the best style of a wedding dress that fits the best for a casual wedding environment. Remember that you are going to be on the beach. That fact itself requires the casual and romantic style of a wedding gown. The dress, the hairstyle and the shoes should be within the romantic theme of the beach wedding party. Don't choose a ball gown for a beach wedding party. Avoid dresses covered with too much taffeta, lace, or a huge train. Instead, choose some casual beach wedding dress that will make you feel like a goddess. Medium lengthen dresses are also a perfect choice if you are having a  beach wedding party.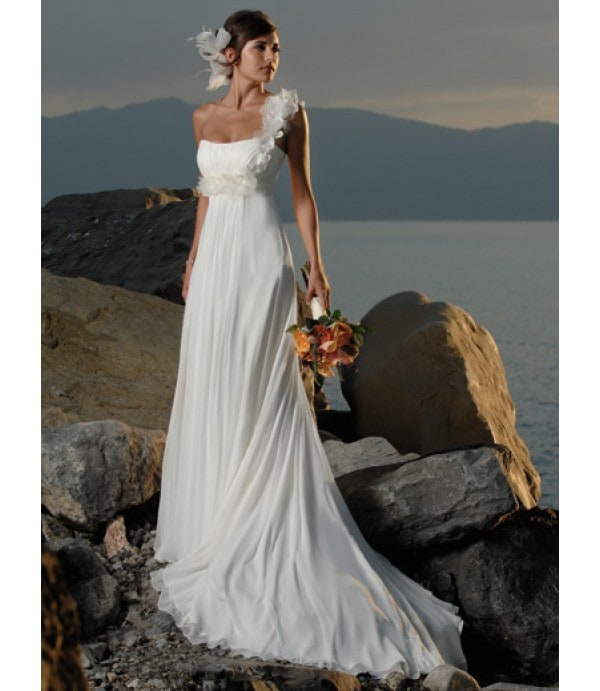 source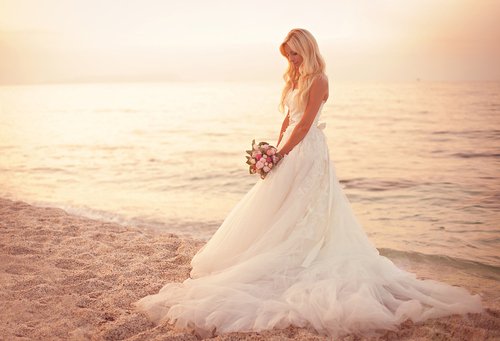 source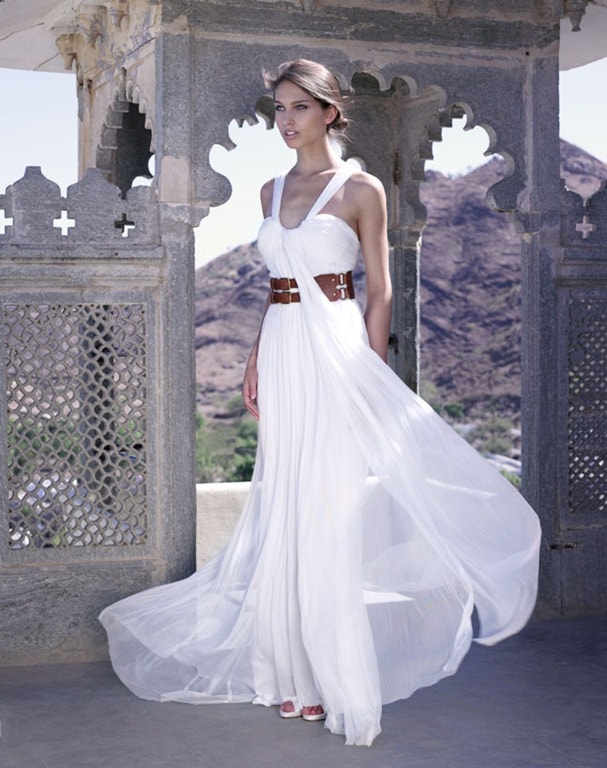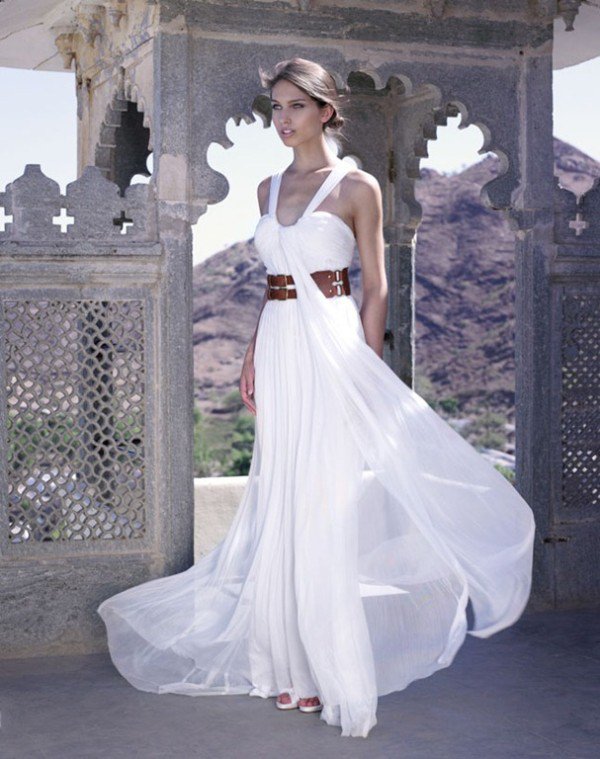 source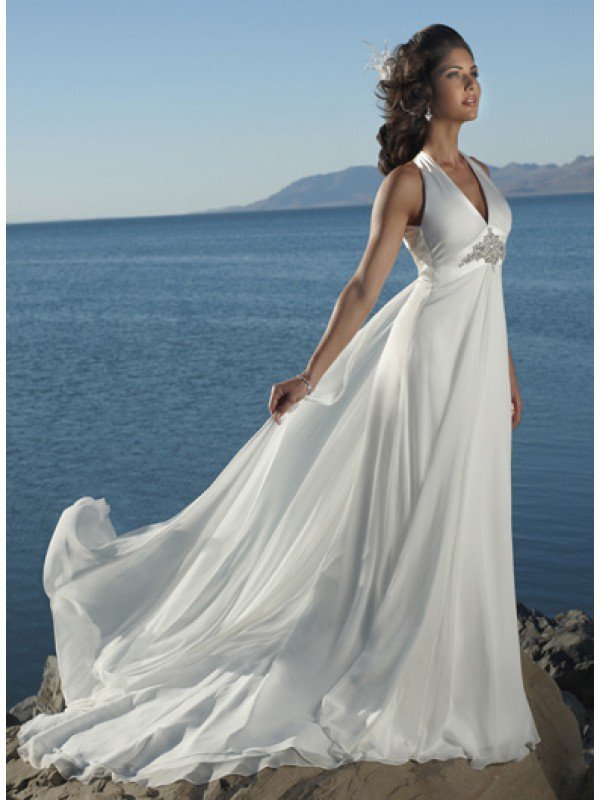 source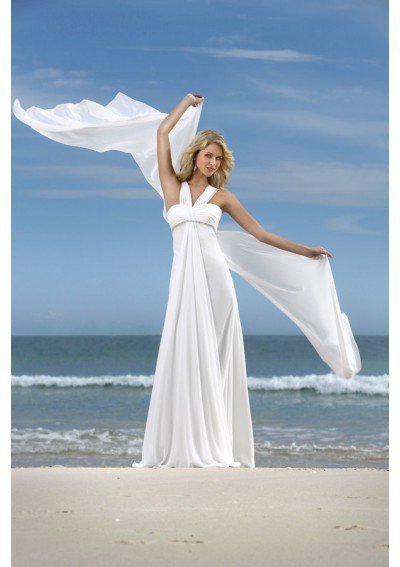 source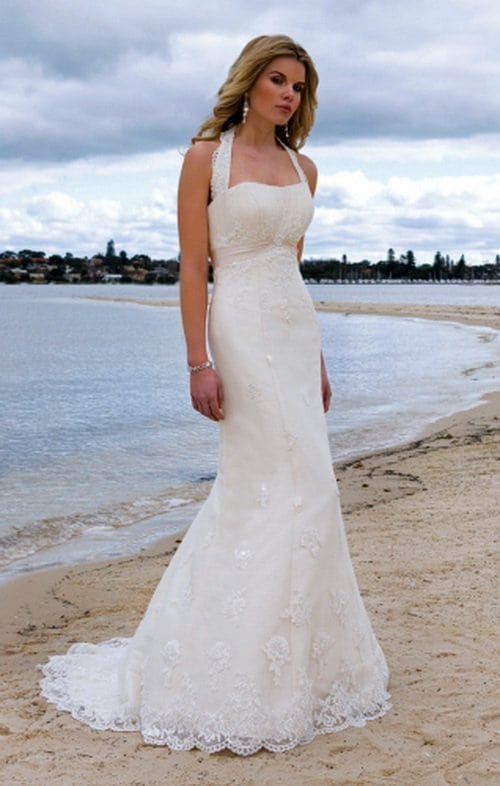 source
Ability to pack and transport
One of the things that you need to consider when choosing the perfect beach wedding dress is its ability to pack and transport. This is very important if you are having a beach wedding party away from home. For example, if you have to fly by plane to the destination to get married it is essential to choose a dress that can be easily packed in a suitcase. Choose a dress made of a fabric that shouldn't be ironed after you take-off of the suitcase. This way you will save yourself many nerves on the wedding day.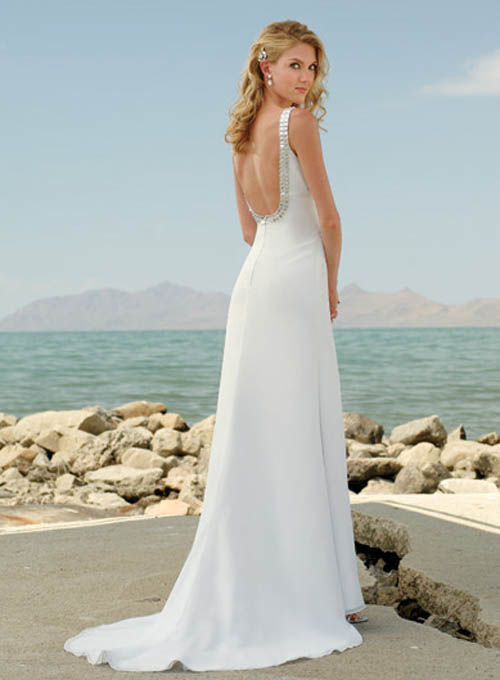 source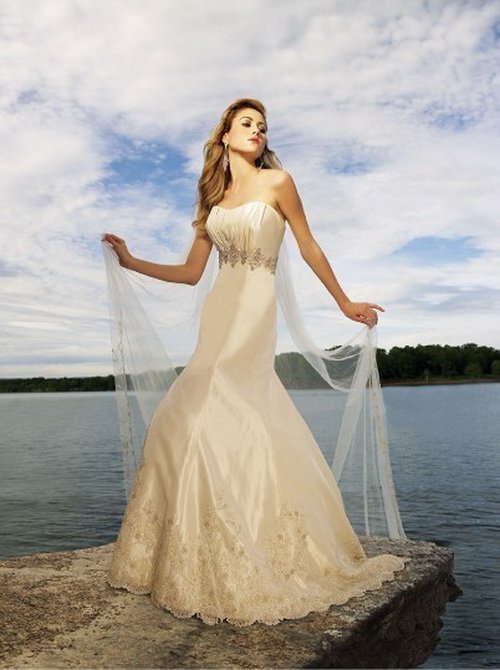 source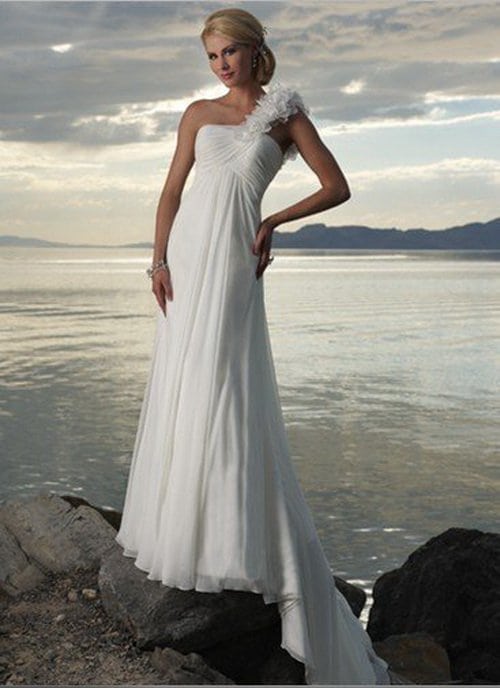 source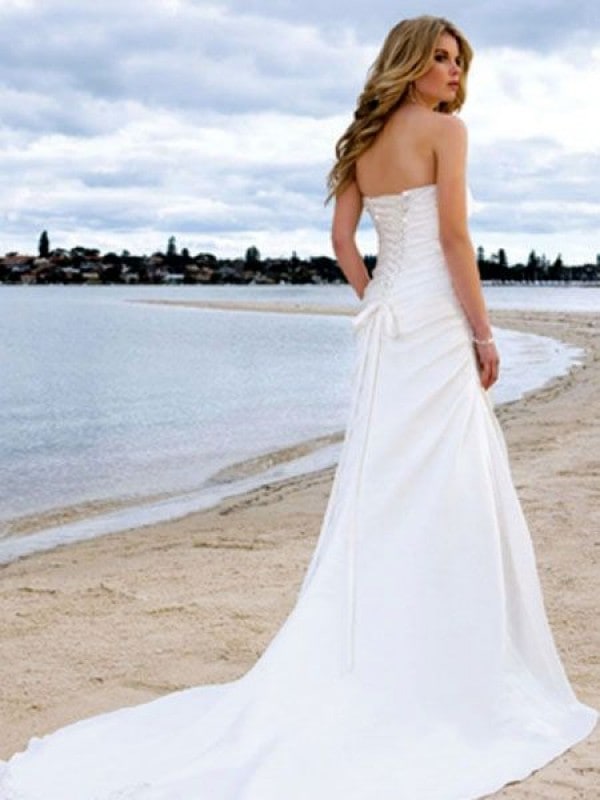 source
Lightweight and cool
The material of a beach wedding dress should be cool and lightweight. The weather on the beach is always too hot unless you are having a moonlight ceremony. Choose a material that will allow your body to breathe. The best fabrics for the beach are gauze, chiffon, light satin, georgette, or organza.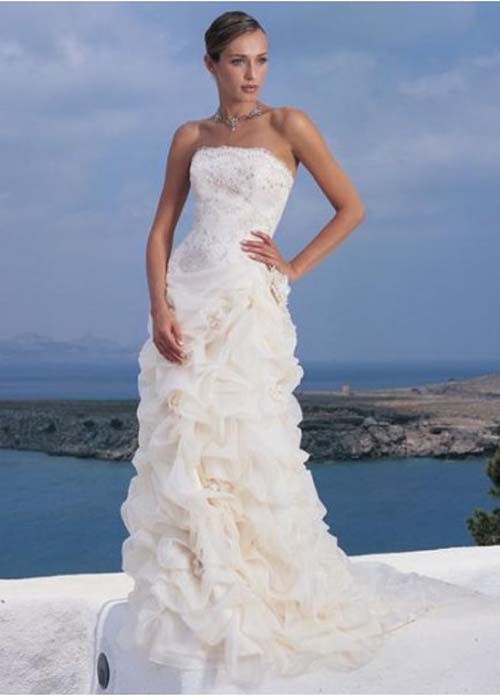 source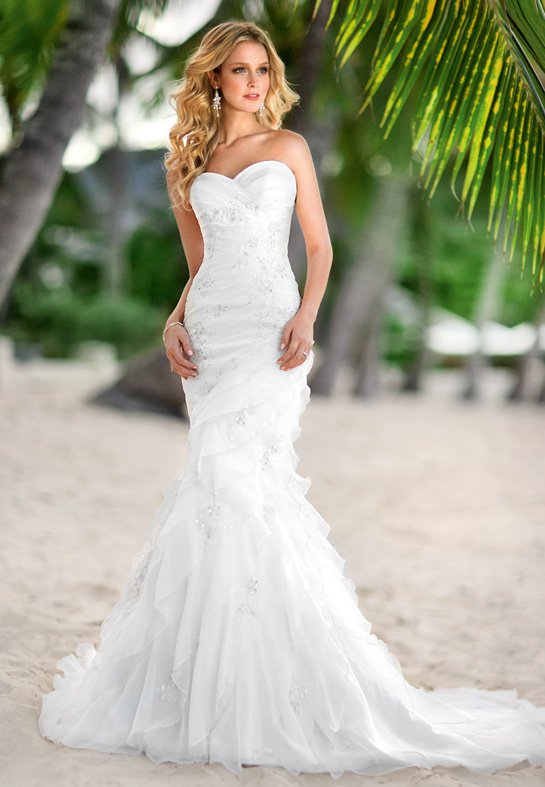 source
The venue and the train
The best is to avoid beach wedding dress with a long train. You will have to drag the train through the outdoors and it will end up with sand and dirt over it, which is not what a bride would like to happen with her dress on the happiest day of her life. So, the best is to opt for a dress made of material that allows the wind to play with the layers of the dress. A dress that won't touch the ground is also a good choice for an outdoor wedding party. It is also very practical, and at the same time so eye-catching.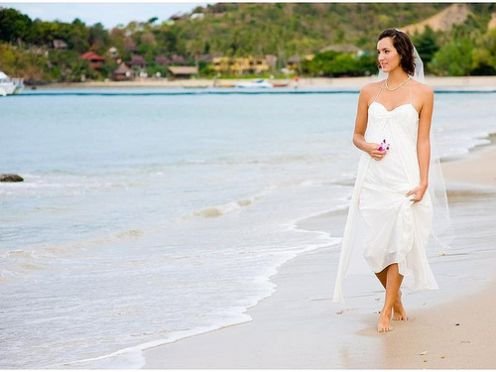 source