The season of wedding parties is officially opened. Summer wedding are definitely the most preferable ones for brides to be. And with so many things that need to be done, wedding planning can be a really stressful activity to deal with.  We have already shared some tips for stress free party planning with you before. But, please, a wedding party is not any other party; it is the most important day of your life, and everything need to be perfect.  In order to achieve it, follow the stress-free wedding planing guide we prepared for you.
You are only few steps apart from the stress-free wedding planing. Once you do follow them all, be sure you will have the wedding of your dreams.
Stay organized
Staying organized is crucial for a stress-free wedding planing.  In order to get a smooth planning process, establish a solid organizing system from the start. That means keeping all the contracts and any other documents related to the big day in one carper. Or, creating a "My wedding" inbox label to store track of any incoming and outgoing e-mails related to the wedding organization.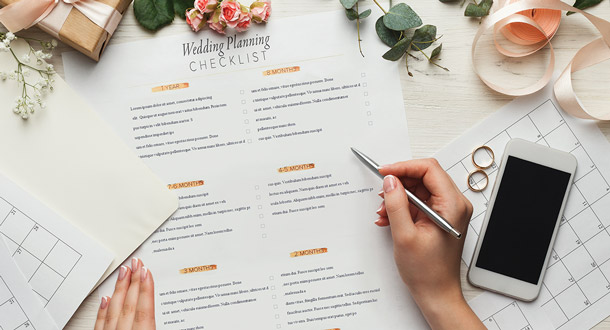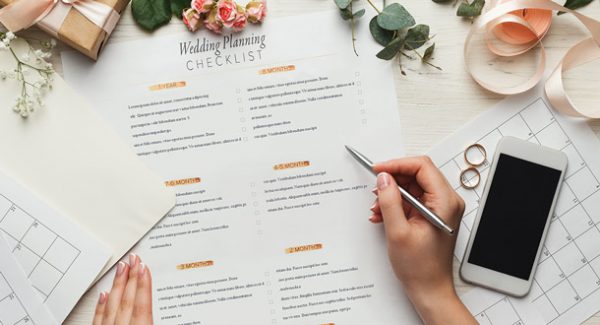 source
Identify priorities
When planning the wedding of your dreams, there may appear an endless list of details to work out. That is why you need to identify the priorities, in order to not get overwhelmed. Choose three or four elements that are really important to you, and focus all your energy there. If you have your heart set on a breathtaking bouquet or an eye-catching wedding table centerpiece, focus on getting these details to perfection. Once you plan these key elements to perfection, you will be more relaxed to tackle all the rest.
Hire wedding professionals you can trust
How to have a stress free wedding? Hire wedding professionals that you can trust to. Before you hire a florist or a photographer, or anything else you will need for a wedding dream come true, make some research to find the best wedding professionals from your area. Read reviews and previous consumers recommendation to make a better choice. Try to find the most talented among them, so that it is easier for both parties to make your wedding vision a reality. Once you have hired your team of wedding professionals, share your wedding party concept and vision, and trust their expertise in making the dream come true. Don't be afraid to ask them for any doubts you have, because they are here to take off some weight from your shoulders, and make your special day even more magical.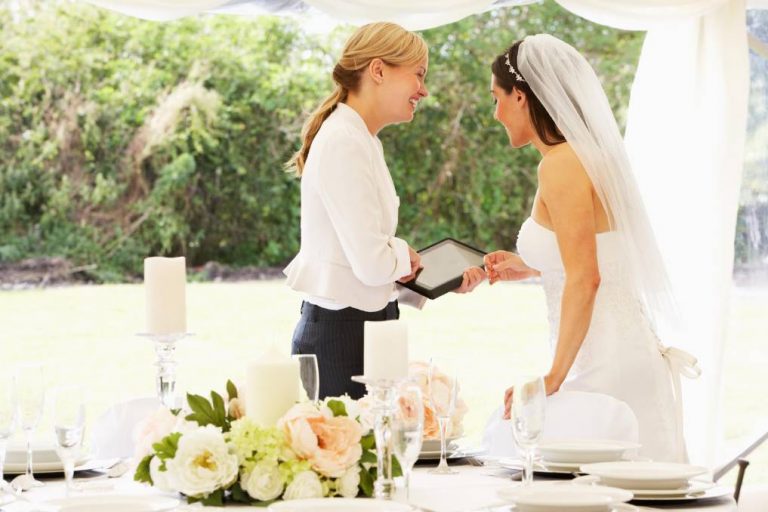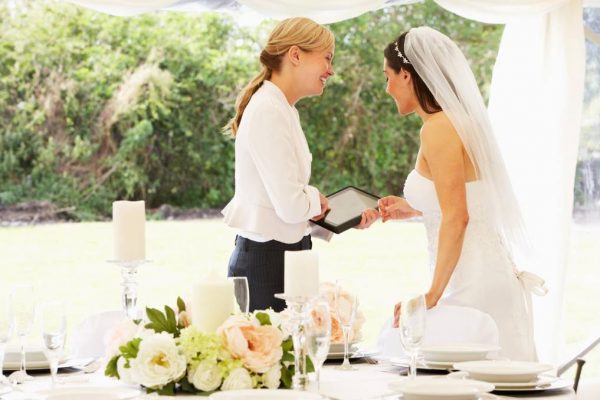 source
Set deadlines
Setting deadlines to when some task need to be done is essential. What is even more essential for a stress-free wedding planing is sticking to the deadlines you set. Make a to-do-list, and set realistic and non-negotiable deadlines  for any activity from the list. That way it will be less daunting to achieve all the plans before the big day.
Extra tip: Any time you meet a deadline, treat yourself to a little reward. This way you will insert a little fun and motivation in the wedding planning process.
Establish "No wedding talking" time
Planning your dream wedding on time is very important. But, the wedding planning is not the only activity you have in your life, so don't let it occupy all your life and time. Take a break of wedding-related discussions at least one day of the week (No talking for weddings on Mondays!), or at least an hour during the day. This way the wedding planning won't consume you and all your time, and it will be easier for you to return back to the topic refreshed.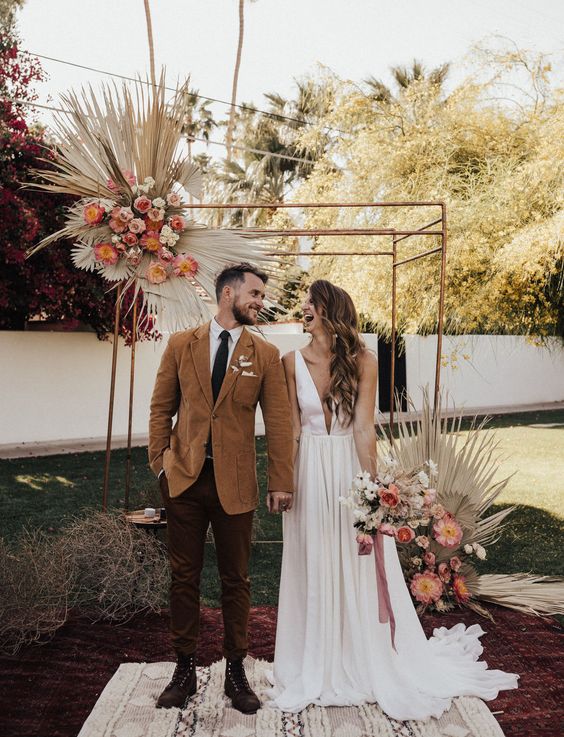 source
Delegate
For a stress-free wedding planning delegate the must-do activities. Planning a wedding party is not one wo(man) operation. Delegate the responsibilities with your husband-to-be, or even include some relatives or friends in the project. This way you will have more energy to focus on the big picture, while your dearest ones are taking care of the small details making the big picture. Be sure to show your appreciation for those that help your big day come to life. Wedding cards with a thoughtful note are a great way to say thank you for the help.
Don't second guess yourself
The wedding planning process include so many decisions to take. Some of them, like picking the shade of blush, are so easy to take. However, there are some decisions, like making the guest list for example, that can literally leave you in a mental tug-o-war. The important thing is to never second guess yourself after you have made a decision. Once you have made up your mind on some choice, never ever turn back. Reopening the old discussions and considering the pros and cons of some choice you have made, again, will only make you feel more stressed. And, no bride to be want that. So, for a stress-free wedding planing, trust your instinct and move on.
Maintain perspective
Any time you feel being a little stressed about planning your wedding party, remember that it is your big day. You are marrying the man of your life, all your family will be there to celebrate your big love, and support you, and that is all that really matters. Never forget that.