Everyone loves the nice and warm summer days, but there is something about fall that gets us excited and we simply can't wait to embrace it. With so many different outfit ideas, the season of extra layers has finally arrived.
From knitted sweaters to flared trousers and ankle booties, there is so much to play with during this season. In general, fall outfits usually include minimalistic aesthetics. However, no matter if you are looking for an all-black outfit or mixing neutrals to create a stylish look, there is so much you can do with a minimalist ensemble.
Initially, as soon as the weather gets colder and it starts to rain on a daily basis, you want an outfit that will keep you warm, dry and make you look fashionable at the same time. So, if you are looking for inspiration for what wardrobe pieces you should wear this fall, take a look at our guide which elaborates on the five essentials you need this season.
The perfect top for every outfit
Your top basically serves as the base for every outfit. No matter if it is a cardigan or a blouse, the top defines what your entire look is going to be. Due to the current situation we are living in, almost everyone is working from home. Therefore, choosing the perfect top for your Zoom meeting is very important.
You can never go wrong with a turtleneck top. It comes in many shades and prints and it is the classiest and most elegant choice out of all top pieces. Another top which is very popular among style icons is the puff-sleeved fluffy sweater. This may not be the best choice for your virtual meeting with your boss, but it works well for a coffee date with your friends. Lastly, when you are running errands, opt for a cropped knit cardigan which you can combine with a Choose Joy shirt to bring positivity on a rainy day.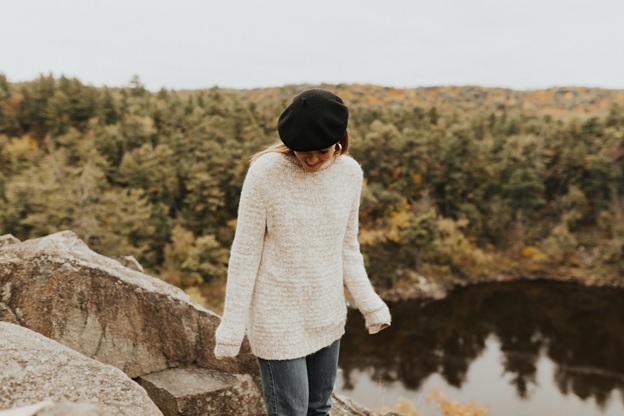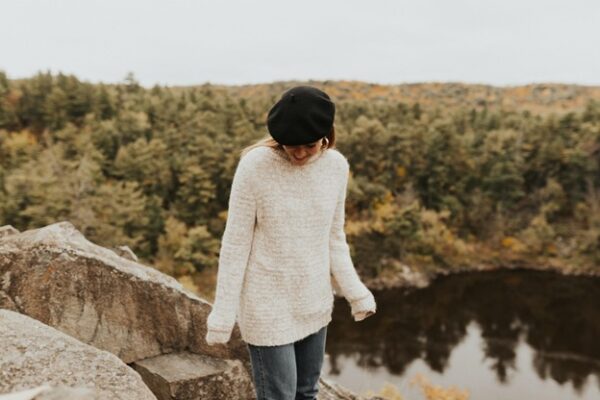 Photo by Paul Weaver from Unsplash
Stylish bottoms for a chic look
After deciding on your top, next in line are your bottoms. From trousers to skirts to sweatpants, there are so many options to choose from for your stylish autumn look.
One fall wardrobe essential are the flared bottoms. In fact, this type of bottoms can come in as flared jeans or flared trousers which are the perfect option for any fall look. For example, you can match a black pair of flared trousers with a knitted jumper for a day at the office. They will make you look tall especially if you wear them with heels.
For a stylish day outfit, you can opt for any skirt type to provide a chic look. For example, if you are going casual, a corduroy skirt will look great when paired with a striped blouse to create a simple look. Or, if you are looking to make a statement with your skirt, you can combine a black leather skirt with a printed shirt.
Staying warm with a fancy coat
Jackets are the coolest transitional wardrobe piece from summer to fall. This must-have fall wardrobe piece ranges from leather jackets to trench coats to cinched blazers. Since the weather in fall varies, there is a jacket for every weather condition.
A trench raincoat is really a year-round essential, but it comes very much in handy every time there is a downpour. It will certainly keep you dry and warm and it is the best option for every casual outfit. The beauty of trench coats is that they come in different shades like mustard yellow or dark green which are representations of the autumn season.
Next, if you are willing to experiment with your coat, you can opt for a plaid checkered coat with dramatic patterns and colors to create an elegant look for a day at the office. Lastly, the faux fur coat is considered the most comfortable type of jacket which looks great on a chilly fall night.
Photo by Laura Chouette from Unsplash
Comfy and trendy footwear
Just like your jackets, your footwear is a very important wardrobe piece which keeps you warm and dry during the fall season. From ballet flats to loafers and ankle booties, there are so many options to choose from to complement any look.
In fact, ankle booties are one of the most popular types of footwear which offer complete coverage of the feet and go with every style. For example, the black leather bootie mules can be combined with almost all types of bottoms and are the best to tackle downpour.
Another type of trendy footwear for your fall outfit are loafers. They have an elegant streamlined shape and look great for a classic look which includes tailored ankle pants or straight jeans with a blouse or V-neck sweaters. Lastly, if you are wearing a skirt or even black leggings, you could opt for chic calf-tall boots which offer a very elegant and casual look at the same time.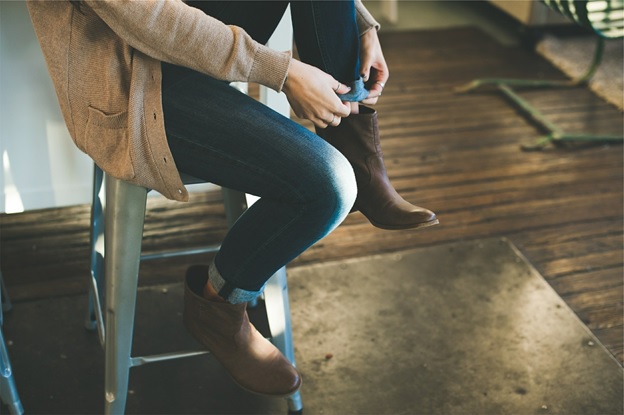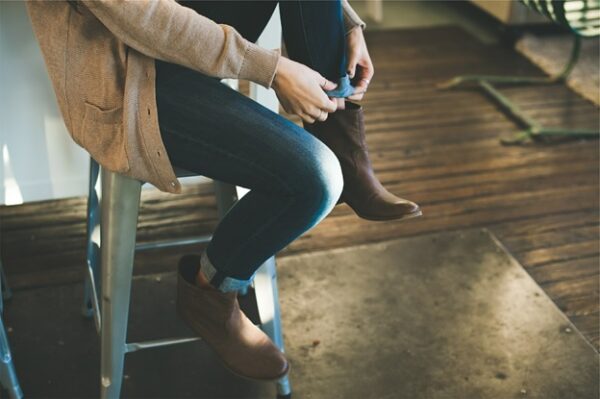 Photo by Free-Photos from Pixabay
Finish your look with accessories
After deciding on your whole fall outfit, you can complement your look with some trendy accessories. The best thing about these statement pieces is that you can be very creative and add some color and style even to the most neutral autumn look.
Adding a scarf to your outfit will not only make you look very stylish, but it will also maximize warmth. If your look includes neutral colors, you can spice it up with a striped wool-blend scarf to add a finishing touch to your outfit. Or, if you are looking for a minimalist look, you can opt for a solid color scarf to contrast your black jacket or trench coat.
Another essential that can accentuate your outfit is the fall hat which can range from chic fedoras to slim berets and cozy beanies. For example, the fedora hat is a timeless choice which can offer a stylish look to the coziest laid-back outfits.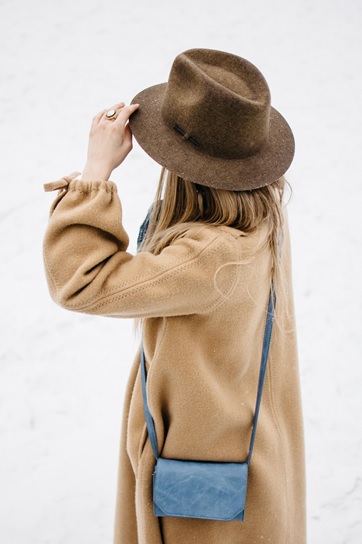 Photo by Ian Keefe from Unsplash
Final thoughts
Your fall outfit doesn't require much effort as it usually consists of neutral colors and simple patterns. However, that doesn't mean that you cannot experiment with different wardrobe pieces to create a stylish look which will also provide comfort and warmth during chilly days. Just remember that fall fashion means figuring out how to perfectly layer your clothes in order to look fashionable. So, if you are in need of some fall fashion looks, make sure you borrow some of these ideas and prepare yourself for the upcoming fall months.