Is a special occasion coming up and you're in search of present ideas? It may be Christmas, Valentine's day, a birthday or a wedding. No matter what the event is, why not consider making a creative homemade gift? A handmade gift will demonstrate that you put time, energy and effort into creating something unique and one of a kind for that person! So get ready to look through our small pick of handmade presents and find inspiration amongst them!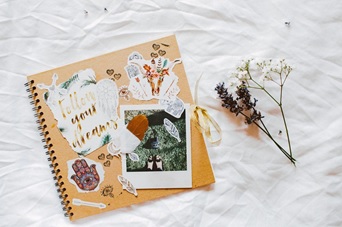 Recipe in a JarDo you have a special recipe that you love to make as a snack for any guests who come to visit you? This may be your scrumptious chocolate chip cookie recipe or a mug of cinnamon and orange hot chocolate! Whatever it is, you can place the dry ingredients of your recipe in a jar with a few instructions on a label. For example, the instructions may read, add 1 cup of hot milk, stir well and it's ready to drink! This is an easy and cute homemade gift idea to put together even at the last minute!

2. Relaxing Candles

After you get home from a long day at work you may simply just want a bit of relaxation! Lighting a few candles are a perfect way to achieve a calming and peaceful atmosphere. So keeping this in mind, why not make a few handmade candles for the person in mind? You can use essential oils and different sorts of herbs to create scented candles. These will make a fantastic gift!

3. Get Ready to Sew

If you are talented at sewing and enjoy it as well, why not create a sewn gift, out of fabric? Just a few examples include a simple pillowcase, oven mitts, clothes or a travel bag. There are dozens and dozens of fabulous things you can create using a needle, string and fabric!

4. A Scrapbook

Remind your important person how special they are to you! Create a scrapbook for them, filled with memories! You can paste photos, quotes or even old tickets from the movies or a museum that the two of you visited together. A scrapbook will make an incredibly personal gift, something that the person receiving it will be able to flip through anytime and remember all the awesome moments you had together!

5. Homemade Goods

If you love to cook or bake, you may decide on gifting some homemade goods as a present! This may come in the form of a jar of jam, flavoured butter, your own spice mix or a unique syrup. Again, there are endless possibilities to try out. Take into consideration what the person would truly appreciate and love the taste of, before giving them something!
The Perfect Pot
Maybe you have been thinking of giving the person in mind a pot plant! Whether this is a flower, a herb or a small shrub, why not decorate the pot yourself? You can use paint, Sharpies or yarn to create an amazing look for the pot! Naturally, you don't need to stick to a pot necessarily, feel free to use other items, such as a teapot to place the plant in!
Hopefully, these ideas have lent you some inspiration!