In the years gone by, turbans were exclusively seen as an accessory usually worn on the head of a person belonging to a particular culture or religion. However, in recent times, this is no longer true. Fashionistas from all over the world have been sporting turbans – and not just for religious purposes but also as a fashion statement (largely thanks to celebrities such as rapper Missy Elliot) during their respective shows or when they are out on walks. But don't think that wearing turbans will make you look out of place unless you're at some kind of Indian-themed event. You can wear these stylish turbans both indoors and outdoors and still manage to stand out from the crowd!
Whichever way you choose to wear a turban hat, you are sure to look stunning and create a lasting impression on everyone present around you.
Here are the 8 ways to wear a turban hat.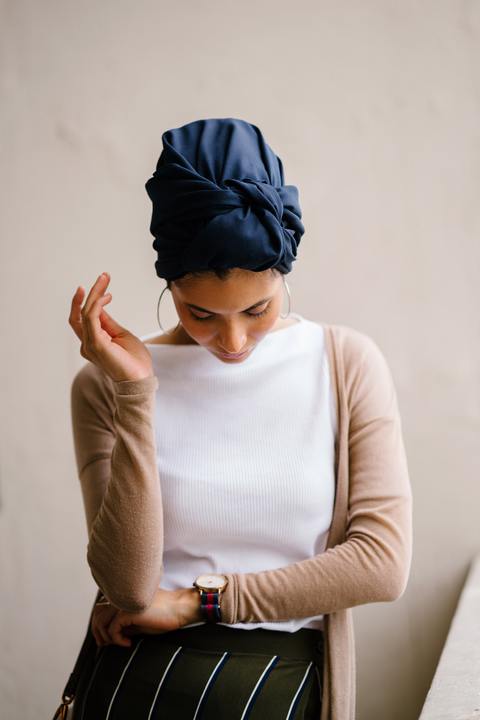 Wear a black and white check turban hat with a casual outfit
If you're wearing a casual outfit that doesn't have a lot of embellishments, nothing works better than accessorizing it with an oversized checked headpiece like this one. White, black and grey are perfect colors when it comes to matching these neutral-hued turbans with your outfits. Since the print is so loud, all you really need to do is pick out subtle accessories in complementary hues (that won't clash) and minimal makeup for a balanced look. If the weather permits it, pair up your headgear with some quirky sunglasses – Lady Gaga has set some pretty amazing trends with her avant-garde sunglasses!
Midi length pleated turban with a geometrical pattern
The use of neutral colors makes this turban perfect to be worn with both day and night time outfits. The length of the hat is also just right – not too short, not too long. You can wear it as it is or even tuck your hair in if you want to avoid that 'hat-hair' look (provided you have an updo). We suggest you style this hat with a plain white top and skirt, so no one gets distracted from your headgear!
Wear a simple knitted black and grey turban scarf during winter
Turbans are ideal accessories for winter months, because the thickness of these scarves will protect your head from the cold. The knitted texture also means that you won't have to worry about a turban hat slipping or getting blown away by strong winds! You can wear this particular scarf with a casual grey jumper and slim-fit jeans. Try accessorizing with some funky earrings and heels for an interesting ensemble.
Vintage style black felt turban hat with gold studs
Studded turbans are all the rage among celebrities nowadays, thanks to high fashion brands like Gucci bringing out their own versions of this accessory (and charging exorbitant prices for them). However, don't have to spend a fortune to get your hands on one. You can buy inexpensive turbans of different styles and colors that look as good as designer pieces from the likes of Prada and Dior. This black one features gold studs, making it a perfect accessory for festive party wear or any other formal occasion.
Wear an oversized hipster striped turban hat with boyfriend jeans
Stripes are probably the least common prints being used to accessorize turbans in recent times, but this is definitely not a reason why you should avoid sporting one! In fact, we think they look amazing worn over head wraps like this grey striped model. In addition to looking rather unique, this turban has the added advantage of being a very practical accessory. You can wear it with either jeans or a pair of culottes (to look particularly stylish) and then simply tuck your hair into the hat when you want to avoid having your locks blowing in your face.
Wear an abstract white turban style hat during winter
When it comes to womens hats, there is nothing better than accessorizing them with prints that incorporate colors like white, navy blue and grey – so they look good enough for both parties and casual outings! This particular headpiece features an abstract pattern, which means you can wear it without being concerned about clashing with any specific outfit. We suggest you pair this headpiece with a navy-blue printed dress and black ankle boots for a look that is both stylish and practical.
Style an oversized womens turban style hat with your pajamas
This womens turban hat might be one of the biggest we've ever seen! It looks like it's been made using half a bed sheet, but has still been styled in the most creative manner possible (by simply wrapping it around your hair)! This particular design is perfect to wear when you're lounging around inside your home after coming back from work or school. We suggest pairing this with tracksuit bottoms and a baggy jumper to complete your comfy yet chic look. If you want to go all out on this one then wearing your super chunky slippers is a must!
Wear an understated womens black turban style hat with your everyday look
If you want to wear womens turbans without drawing too much attention to them (and prefer something casual), then this one might be perfect for you. It doesn't come in any exciting or brightly-colored print and features very subtle gold detailing, which makes it rather versatile. You can pair this headpiece with just about anything – from high-waisted skirts and jackets , to jeans . Wearing a pair of statement stud earrings will add some glamour to the ensemble.
Women turbans are incredibly stylish accessories that are a perfect alternative to womens hat styles, especially if you're looking for something unique. If you don't want to spend your hard-earned money on buying vintage ones, then you can simply opt for inexpensive head wraps from high street brands instead – they look just as amazing and will come in a wide range of colors and prints.
You can wear these over your hair or replace womens beanie hats with them. Are you thinking of making womens turban hat the next big thing? We encourage it! Express yourself by coming up with new ways to style this accessory every day using things like womens scarves and womens cardigans .