Between sports games, dance practice and shuttling the kids to and from school, us moms know it can be really tough to find time to put together stylish outfits. When we do get the time, we're often prioritizing comfort and ease over fashion to ensure that we feel good in what we're wearing when things get chaotic. But fashion and function are not mutually exclusive! The key to super-cute and functional mom fashion? Go for trendy women's clothing that suits a busy lifestyle. Here are a few tips on how to do it.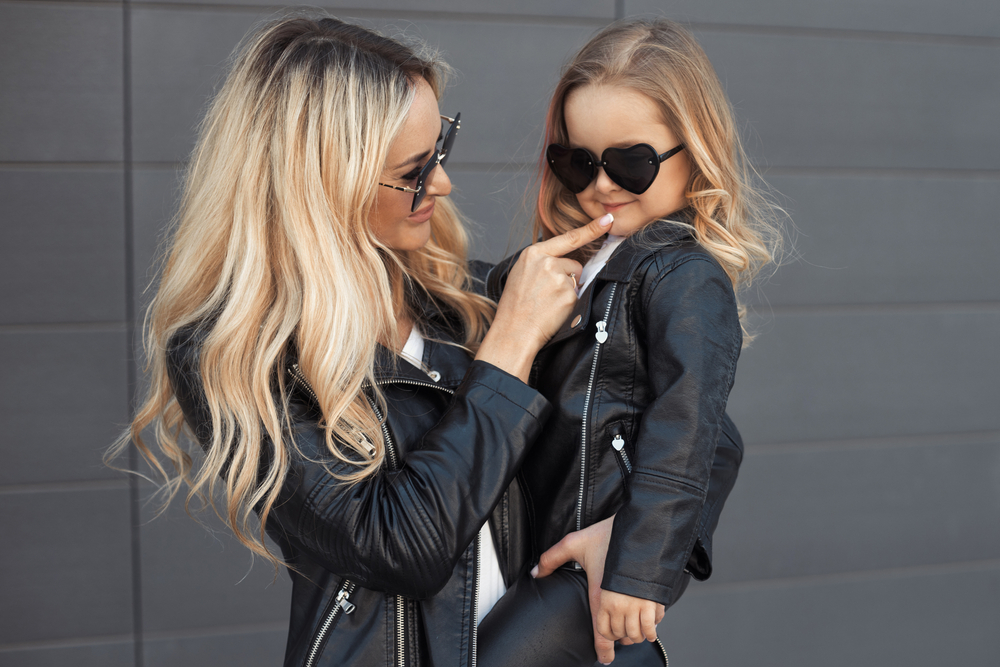 Source: Evgeniya Grande/Shutterstock.com
Invest In Cute Slip-On Shoes — We all love the convenience of flip-flops, especially when running errands or hanging out in the neighborhood, but sometimes they feel too laid-back. Luckily, there are tons of super cute slip-on shoe options that provide the same easy-breezy vibe with a bit of a dressier feel. Mules, dressy slides, strappy heels and slip-on sneakers are the best when you want to be able to quickly kick your shoes on and off.
Choose Comfy yet Chic Dresses — When you want to feel put together, consider wearing a casual dress rather than your typical jeans and tee. We love chic dresses featuring bold patterns, pretty ruffles and feminine features. Just make sure to choose styles made with relaxed fabrics so you're not fussing with it throughout the day. Dresses are great for busy moms because they don't require as much pairing and styling. Simply throw it on and you're good to go! Casual dresses are truly the embodiment of effortlessly chic.
Pair Printed Tops with Jeans — Denim is essential to your well-rounded wardrobe, but what do you do when you want to dress it up without having to put a ton of time into styling? Add bold printed tops to the mix! Perfect for everything from brunch with your girlfriends to dance recitals and business meetings, printed tops show your fun side but are easy to style with solid bottoms. Go for fun florals, stripes and abstract prints.
Elevate Your Ensemble with a Heel — If you're looking for simple ways to elevate an outfit (quite literally) then you'll want to lean on your collection of comfortable low heels, wedges, heeled booties and platform shoes. Flats are everyday essentials, of course, but something with a bit of a heel will make you feel a touch dressier for cookouts, meetings at school, recitals and more.
Don't Skip the Jewelry — Just like a stylish heel, jewelry is one of the best ways to elevate an outfit without a ton of effort. A pretty statement necklace or some dangle earrings can take relatively basic outfits and make them look chic or you can pick up a Mom ring. Switch out your jewelry depending on the occasion and vibe at hand. For example, if you want to keep it pretty and elegant, go for some dainty studs or gold hoops. If you want to add color and personality, complete your look with a brightly colored statement necklace or some beaded earrings.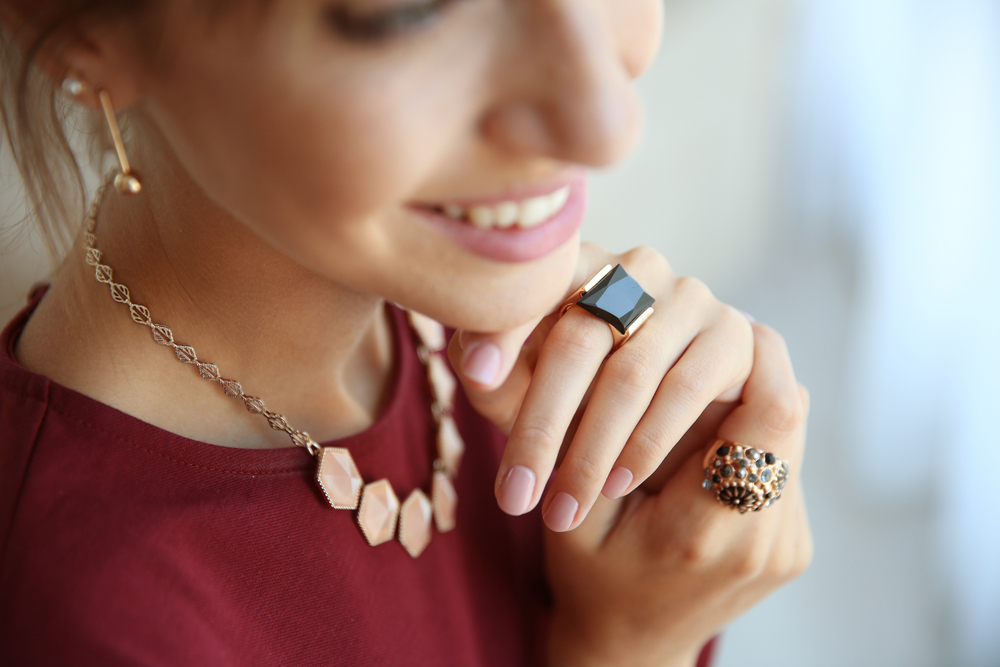 Source: Africa Studio/Shuttertsock.com
6. Build a Versatile Foundation — Our favorite tip for fashionable mamas who want to simplify their life? Build a wardrobe featuring high-quality, versatile basics and spice it up with more affordable tops and accessories throughout the season. For example, make sure to have some high-quality, well-fitting jeans; a nice wool coat; a denim jacket; a couple of high-quality sweaters and durable tees that go with everything. To give your look some personality, spice up your basics with trendy tops, statement jewelry and cute shoes throughout the year. This way, your wardrobe never goes stale!
7. Invest In a Good Pair of White Sneakers — Comfortable, stylish and a favorite of fashion-forward mamas like Princess Kate Middleton, the white sneaker is sure to become an everyday basic in your wardrobe. The key is to style it with things you would typically dress up, such as a dress or a pretty skirt, to give off that cool mom vibe. Of course, they look amazing with jeans and shorts too! If you want to go comfy, trendy and convenient, consider choosing slip-on white sneakers rather than lace-up ones.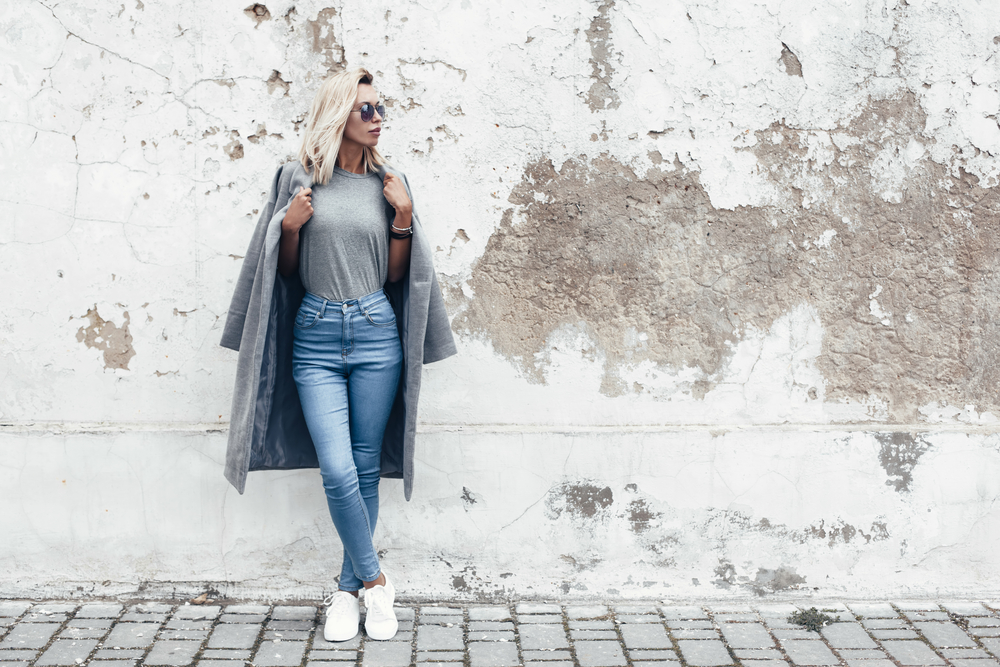 Source: Alena Ozerova/Shutterstock.com
8. Stick to Hands-Free Bags — Two hands just aren't enough for busy moms. Between carrying the kids' gear and your own stuff, you simply can't afford to waste a hand on an uncomfortable shoulder bag or clutch. Whether you're shopping or taking the little ones through the aquarium, you should opt for the crossbody or a trendy backpack to ensure that you have everything you need without having to mess with an awkward or uncomfortable bag.
Busy moms have a unique set of challenges. They need clothes that don't hold them back as they go from practice to gym to pick-up and drop-off. At the same time, comfort isn't the only consideration. Moms also want to feel cute and fashionable! These great tips will help ensure that mamas look and feel their best as they crush motherhood.