Even though it's all about sitting by the pool, sipping fruity drinks and, let's be honest, not doing much else, spring break is also high-time for fashion. That one glorious March week signifies the ultimate seasonal transition, the time you can finally put away your faithful duck boots and quilted pullovers and tag in your cutest sandals and jorts.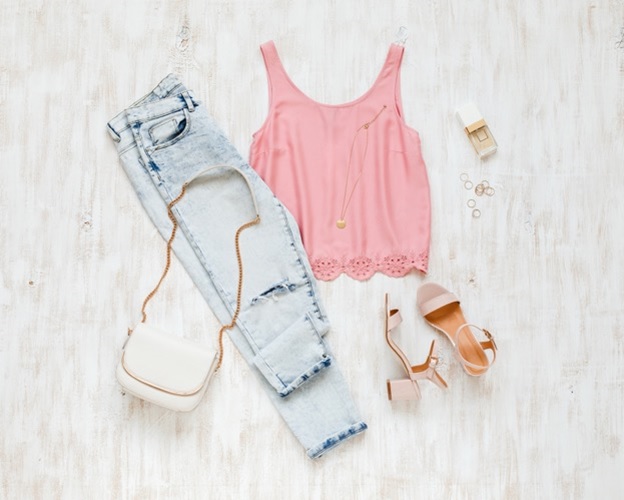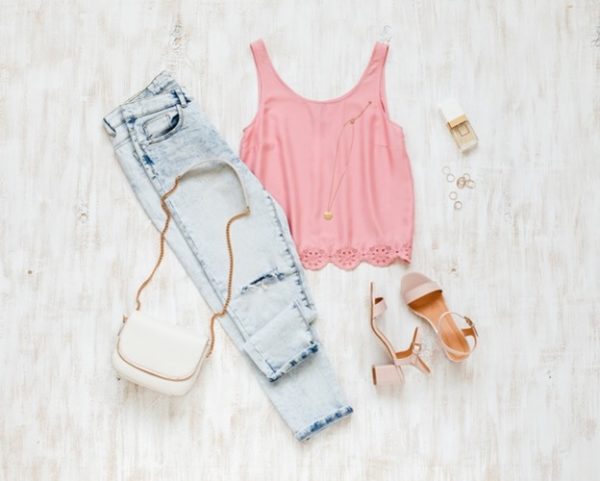 This year, spring break fashion is all about being carefree and expressing yourself through what you wear—and don't get us wrong, we are living for it—but it's also about adding a little elevated polish to otherwise extremely laid-back looks. Here are a few of our fave spring break outfit ideas that take typical beach fashion and add a little gloss.
Distressed Denim + Tank + Neutral Heels—The ripped-up denim and tank top ensemble is practically the spring break uniform for trendy vacationers this year. But it's a little bit too relaxed to be considered elevated, which means you're not going to wear it to a nicer dinner or a night out on the town with your girlfriends. But when you add in some cute shoes, like a pair of neutral-colored ankle strap heels (see outfit above), it's suddenly very posh and put-together, making it ideal for dressier occasions. A statement necklace and some dainty jewelry work, too.
Bright Colored Dress + Denim Jacket—If there's one clothing item you need this spring, it's the denim jacket. The thing is that, if you're hanging at home in a milder climate, it's not going to be quite warm enough for bare shoulders in March or April. The denim jacket helps you give your wardrobe a fresh, summery feel without the breeze.  We love the idea of styling it with a cute, casual dress and a statement handbag to jazz it up a bit for an evening out on the town.
Tie-Front Linen Pants + White Tank—Hit any trendy boutique this spring and you'll see tie-front, wide-leg pants for days. In general, we're starting to see more and more wide-leg trousers coming back in style, and we are not complaining. These comfortable, flattering bottoms scream resort-chic, especially when they're done in a linen or linen-like fabric in lighter colors. Pair them with a classic white crop top or tank and a straw hat to complete the cocktails-in-the-cabana vibe.
Button–Front Skirt + Floral Blouse—We are so obsessed with the button-front skirt trend, and we hope it doesn't die down anytime soon. This silhouette is super-flattering on basically all body types and is amazing at going from dressy to casual, depending on what you pair it with. For a more polished spring break ensemble, pair your skirt with a silky blouse in a dressier print—florals never disappoint! We also adore the juxtaposition of dressy and casual when you toss in a pair of casual, white sneakers. This option is super-comfy, too!
Denim Mini Dress + Ankle Strap Heels—You didn't think we were going to go through an entire list of spring break outfits and not mention the denim dress, did you? This 1990s revival couldn't be trendier, and spring break is the perfect time to debut yours this year. While the most popular way to rock your denim jumper at the moment is to pair it with some solid white sneakers—very cute, of course—give it a try with some dressier heels for a more elevated aesthetic appropriate for dinner or a night on the town.
Casual Dress + Suede Booties—Spring break isn't all about shorts, tanks and mini dresses! The beauty is that, realistically, it's still March, which means you can totally still rock your favorite pair of booties and the occasional cardigan, kimono or long-sleeved dress. We're crazy about wearing our trendiest suede booties well into spring, especially because they just look so good with bare legs or tights (forget those impossibly tight skinny jeans or bunching socks at the ankle).

Short-Sleeved Jumpsuit + Strappy Sandals—The short-sleeved jumpsuit is the perfect middle-ground between flirty, summer romper and warm, winter jumpsuit. In other words, it's a must-have for spring break and basically any other event you've got going on in March, April or May. If you're headed to the beach or a sunny destination, you're going to want to pair your jumpsuit with some sexy, strappy sandals or heels to pile on the beachy style and add a little dazzle.
Denim Skirt + Graphic Tee—Don't forget to have a little fun while you're styling your spring looks. In our humble opinion, the best way to infuse some serious personality into whatever you're wearing is to invest in a couple of fun graphic tees. They don't necessarily have to feature funny or clever sayings—though, if that's your thing, definitely go for it—but colorful, subtle designs are great for infusing a little spirit into your style!
Staying in Town? Don't Worry
If you're planning on hanging in town for spring break and you live somewhere where sandals and mini skirts are definitely off-limits in March, don't fret. All of these outfits are totally base-layerable, which means you can wear them with tights, jackets or cardies to warm them up. Then, when the snow finally does melt, you can debut them as fun warm-weather looks that'll make you feel like you're already on vacay.