It's important to show how much someone means to you. And, by showing a random act of kindness, it lets them know how much they're appreciated and loved. But it's about so much more than that. Random, spontaneous acts of kindness can have an effect on the receiver, but also yourself. It is essential for our well-being and can teach us and those around us to be more selfless, loving, and openly generous. This powerful act of generosity can pay it forward, if you will, and continue way beyond ourselves and a simple "just because" gift.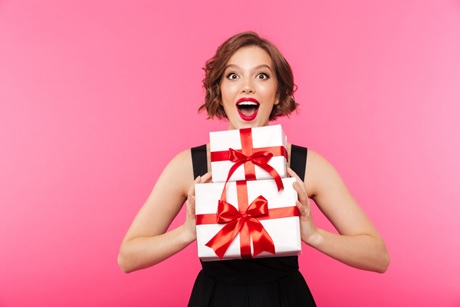 So, if you want to create a ripple effect of kindness and generosity, here are nine cute and sentimental gift ideas to brighten up someone's day. Send a spontaneous act of kindness to a long-lost friend, a neighbor down the street, or a complete stranger.
1.Self-Care Package
If you know someone in your life who just needs some "me" time, give them a gift basket with a collection of self-care items. Invite them to unwind and take a soothing bath with some bath salts and scrubs. Or give them a mani/pedi set with some colorful nail polish to brighten their day. Candles are also a great addition to a self-care package and offer calming scents that can invigorate the senses.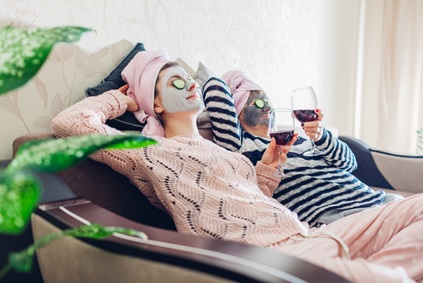 2. Bottle of Wine or Cocktail Kit
Sometimes all it takes to brighten someone's day is to lift their spirits … literally! Send a special friend or loved one a bottle of their favorite wine, or even create a gift basket that includes a few mini bottles or a cocktail shaker set that can be mixed together to make their favorite cocktail.
Make the gift go farther by adding some extra accessories and complimentary snacks. For red wine, think dark chocolate and a bottle opener. For cocktails like a margarita, consider some spicy salsa, a bag of chips, and a fancy stirrer.
3.A Movie Night Basket
A diy movie night basket is a great "just because" gift idea to brighten up an entire family's day! Pick a family-friendly movie that everyone is sure to enjoy, such as a Disney classic or something action-packed for families with older teens. Not sure what they like? Drop a gift card for a streaming service, such as Amazon Prime or Apple iTunes.
Don't forget to add more fun items from there. Treat it as a night at the drive-in theatre, adding snacks like microwavable popcorn, candies, pretzels, and sodas. You could even add a throw blanket to curl up under. It's a great way to let those you love know you're thinking of them while bringing their family closer together.
4.New Mug with Their Favorite Coffee or Tea
Have a coffee lover or tea aficionado in your life? Buy them a colorful new mug to brighten their day, and stuff it with a bag of their favorite roasted beans or tea leaves. Better yet, make it an assortment so they can sample! Or course, be sure to add some cookies, biscotti, muffins, or coffee cake.
This is an especially affordable gift that you can give to just about anyone you know! And not only will they enjoy their warm soothing drink, but the mug will always remind them of the kind gesture.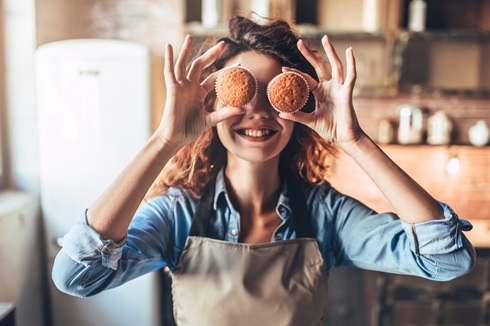 5.A Recipe and Baking Kit
If you know someone who loves to bake, send them a prepared baking kit. Find a delicious recipe they are sure to enjoy and collect all the ingredients they need, adding these to a mixing bowl, along with a cute spatula, cookie cutters from Flycalf, or any other kitchen accessory like a cute mixing spoon or a fun shaped cookie cutter that will brighten their day.
Even if they don't have a baking bone in their body, you can mix the dry ingredients, such as flour, sugar, cocoa, salt, et cetera, and place them in a mason jar. That way, all they have to do is add wet ingredients like eggs or milk.
6.A Book Bundle
Book bundles are a great "just because" gift for brightening up an avid reader's day. If you know their favorite author, buy them a few books to complete their collection. If not, give them a gift card so they can pick a novel out themselves. Include with it a bookmark or mini booklight (unless, of course, they use a Kindle or another handheld reading device). To go along with this, you could also add a lovely scented candle or a mug, like mentioned above, to complete the gift set.
7.Games and Puzzles
Games and puzzles make an exciting gift for just about anyone! Brighten someone's day with a challenging 1000-piece puzzle to keep their brain engaged and stimulated. You can even create custom puzzles with an image of your choice, such as a photo of their pet or a favorite destination. And, like a movie night basket, games also make a wonderful gift for families with kids or teens, inviting a little friendly competition during game night along with some pizza and ice cream.
8.Ice Cream Sundae Kit
Speaking of ice cream, there's nothing better or more nostalgic than sweet ice cream to brighten someone's day! So, why not create an ice cream sundae kit, complete with all the toppings too? Grab a cute cooler and stuff it with some festive paper cups or cones, as well as an ice cream scoop, sauces, and toppings. Think of colorful sprinkles, cookie dough, nuts, and ooey-gooey caramel and chocolate sauces. Even better, make it a banana split kit and add a boat with a few bananas, cherries, and a can of whipped cream. Yummm!
9.Photo Albums
If you have a friend or parents whose day you'd love to brighten up, you can't go wrong with a self crafted photo album. You can either have it printed digitally or cut and paste a scrapbook all yourself. Just be sure to capture your fondest memories together and write little notes about something funny or touching about the moment. A photo album makes a sweet, sentimental "just because" gift that they're sure to treasure.