2020 is everything but a normal year. Because of the global pandemic which canceled almost everything about life as we know it before, things are now done in the new "normal way". Absolutely every aspect of people's living was touched by the pandemic caused by the COVID-19 virus. Weddings as one of the most important moments in people's lives were touched too. From canceling wedding parties to restrictions and completely new protocols for civil weddings and wedding parties, everything is changed. If before, the first thing that we related to when the wedding was mentioned was the wedding dresses, today in the new reality, more and more brides start thinking about alternative wedding dresses.
Choosing the perfect wedding dress has changed a lot
People may be scared about their lives and their future, but the fact is that they are still getting married. What is new is the way weddings are held during the pandemic. Starting from the wedding dresses to absolutely everything until the smallest detail is new for the couples. The most enthusiastic moment of the wedding fairytale, the wedding dress, and the way it is chosen are different too. More and more brides nowadays start to avoid the traditional wedding dress. They change it with any of the many possible alternative wedding dresses.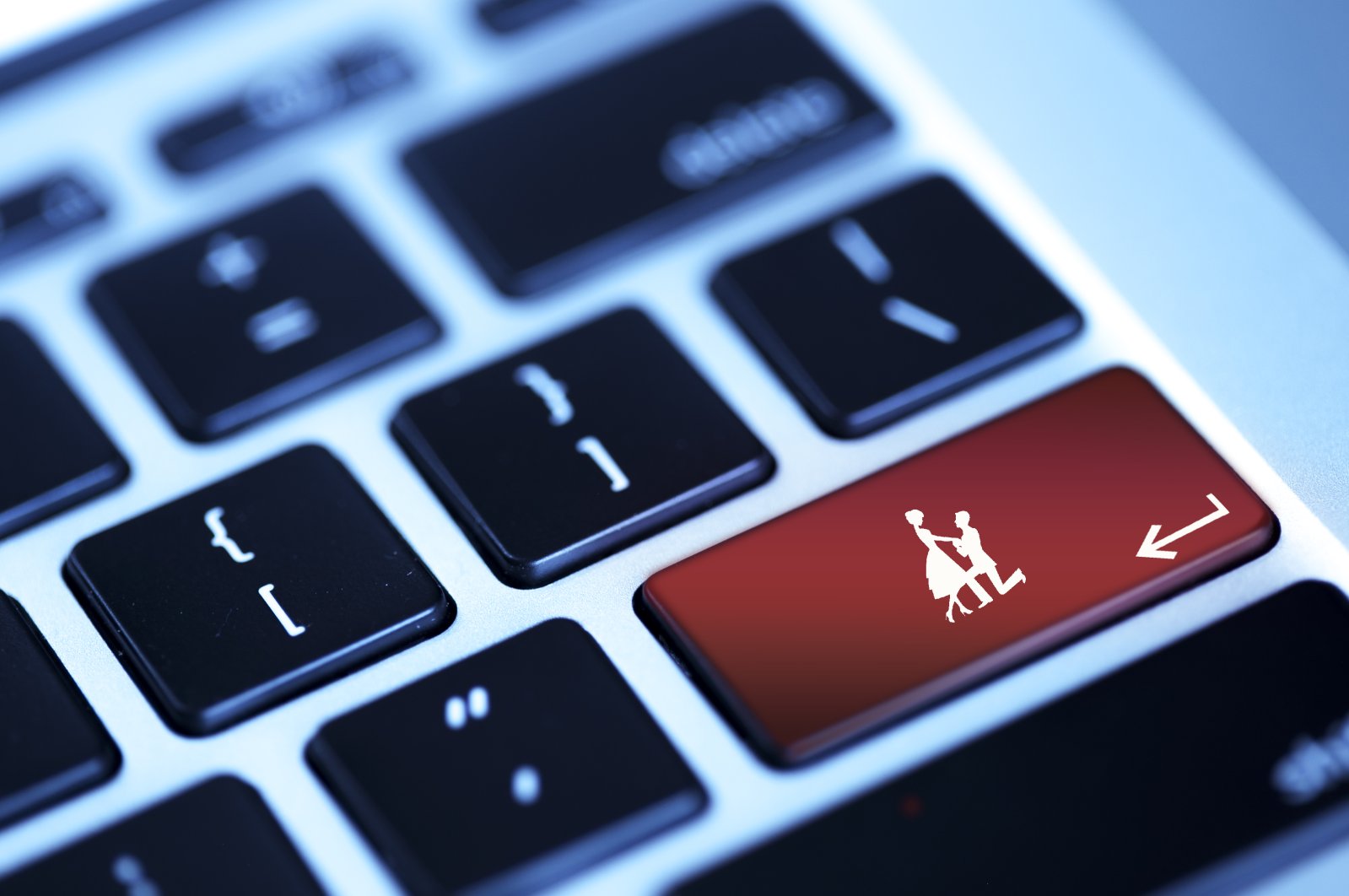 source
Wedding dresses online shopping during COVID-19
The way wedding dresses are purchased has changed a lot too. Brides avoid crowds and visiting wedding dresses boutiques to shop for the dress of their dreams. Instead, they use the new services of wedding boutiques and wedding dress designers which offer wedding dresses online shopping during COVID-19.  Wedding dresses stores have found so many creative ways to make the virtual shopping experience as special and unique as the traditional one. Designers are trying to do the best of them to help the future bride to choose The Dress. But, the COVID-19 pandemic has imposed the following question:
Is this the end of the traditional wedding dress?
The answer to this question is probably yes. Brides to nowadays try to avoid wearing the traditional wedding dresses that were used previously when big wedding parties were organized. Instead of the luxurious wedding gowns as the ones from the fairy tales, we can now be witnesses to many alternative wedding dresses options according to the small circled wedding parties. Here we are going to list some of the best alternative wedding dresses during COVID-19.
Something borrowed something blue!
There is something magical in the alternative wedding dresses not white. Cobalt or inky shades of blue wedding dresses are the best examples of that. With their symbolic meaning, blue wedding gowns can be a perfect way to change the traditional wedding dress. It may look like a simple cocktail dress, but indeed it is a perfect choice of a non-traditional wedding dress, looking both luxurious and sophisticated.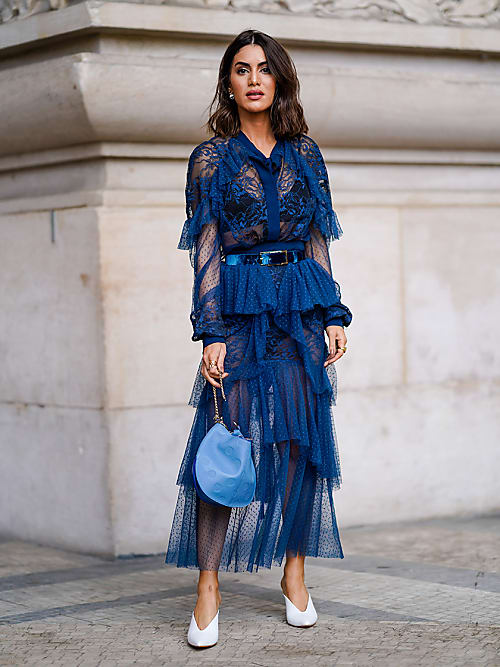 source
Be pretty in pink
Here is another alternative wedding dress which can make you feel pretty and magical. The pink wedding gown! Pale pink has been a choice for many brides even before the pandemic, so it is not strange to see the brides be during the COVID-19 to choose this charming color for the dress of their dreams. It looks like the cherry on the top of the cake with its soft and wedding-appropriate shades.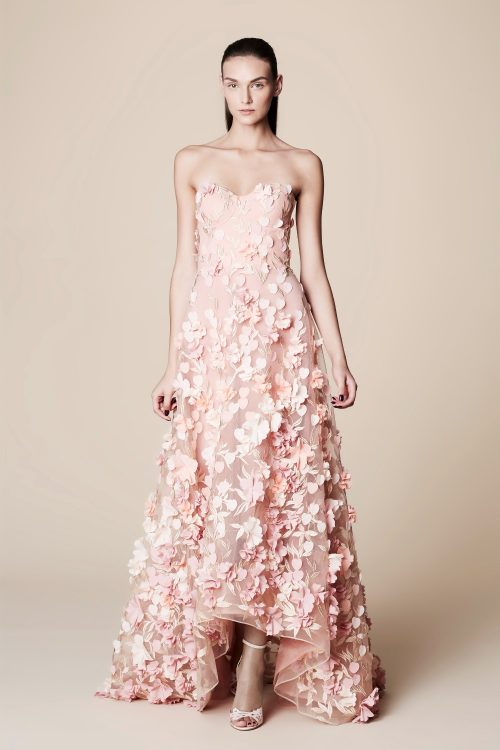 source
Ditch the skirt for a jumpsuit
Even before the pandemic, jumpsuits become part of the most eye-catching bridal designer's collections. More brave brides started to change the traditional wedding gown with a white wedding jumpsuit. And since then brides around the world continued to choose jumpsuit instead of a wedding dress anytime they could. Jumpsuits are perfect for a civil wedding or for small wedding parties such as those held during COVID-19.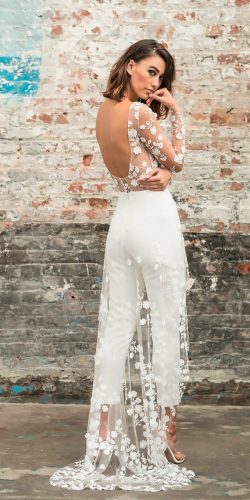 source
Mix it up with separates
Instead of wearing a traditional wedding dress, why don't you decide to wear separates? Crop tops combined with a bottom skirt in different textures can create an eye-catching contrast making the bride look stunning and brave at the same time. Combining different fabrics such as lace for the top and gold foil print skirt can be a good choice if you are deciding on separates, for example.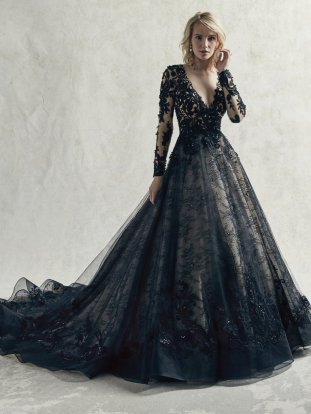 source
Be a free spirit in Boho Chic
COVID-19 pandemic is the perfect time to style your boho wedding look. It is chic enough and wedding-appropriate at the same time. Boho style is one of the most favorites for many brides to be, so they choose their boho wedding dress even when it wasn't the pandemic time. Decorate with a center slit and bell sleeves, and add the final touch needed for a sophisticated look any bride needs to have.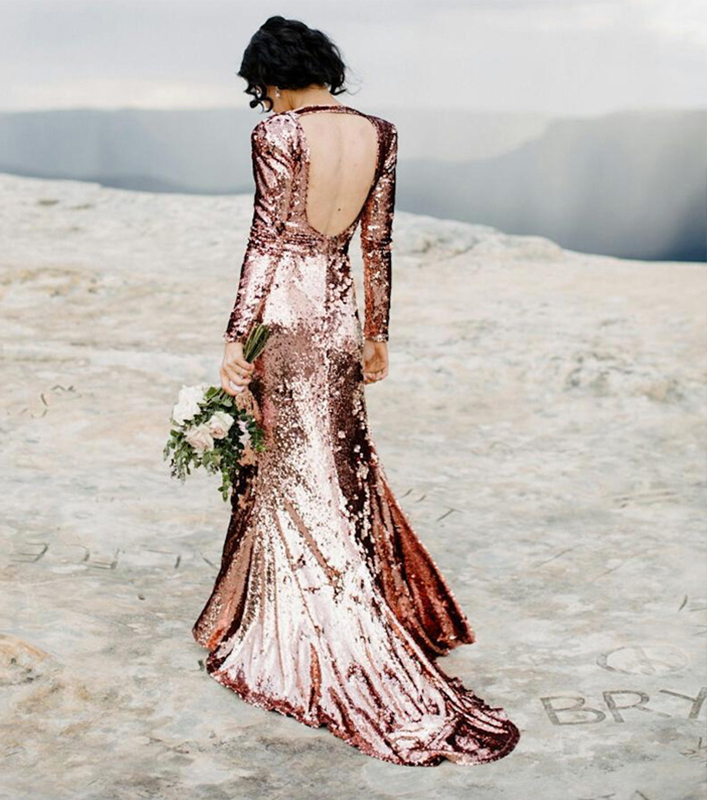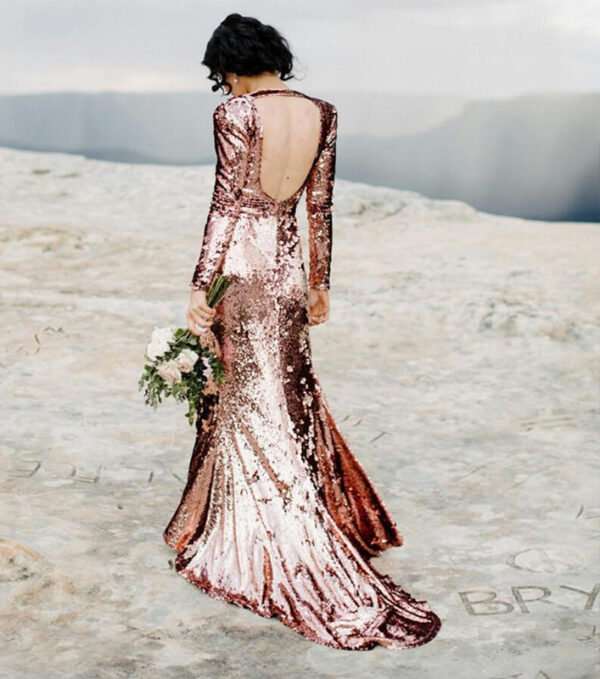 source
Choose back tie
Do you dare to go dramatic at your own wedding party? An alternative wedding dresses black is another choice of many brides during the pandemic. They choose floral prints or floral lace details and the final result is absolutely breathtaking. Black may not be the most appropriate color for a wedding dress, but when chosen with the right details it can still be the best alternative wedding dress ever.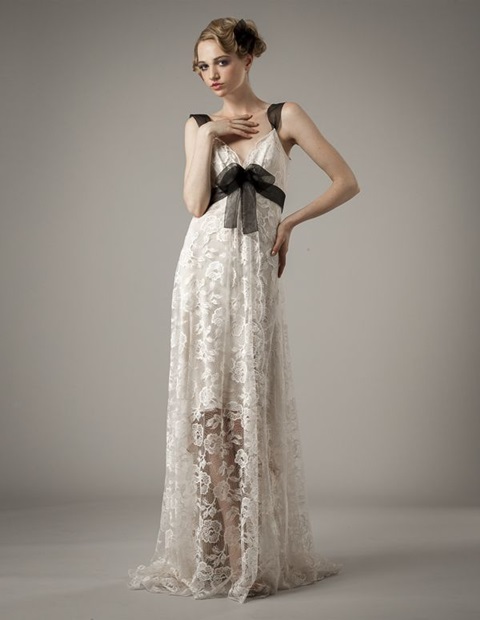 source
Make it red hot
There is no color symbolizing love and passion more than red. If you are having your wedding party during the pandemic, and you want to go bold, then choose your alternative wedding dress in red. You will catch all the eyes on you.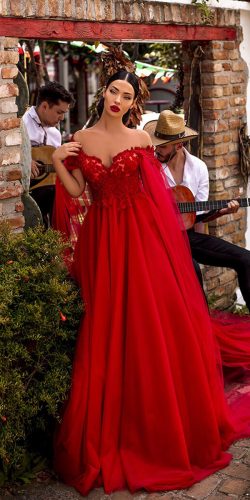 source
Play with length
Short gowns are also perfect alternative wedding dresses. There are so many great options when short wedding dresses come into question. If you are not a fan of too short dresses, you can go for a tea-length gown. Choose a flirty full-skirted tulle gown that hits above the ankle. That length evokes a vintage feel and many brides adore to combine it with the modern line of today's life.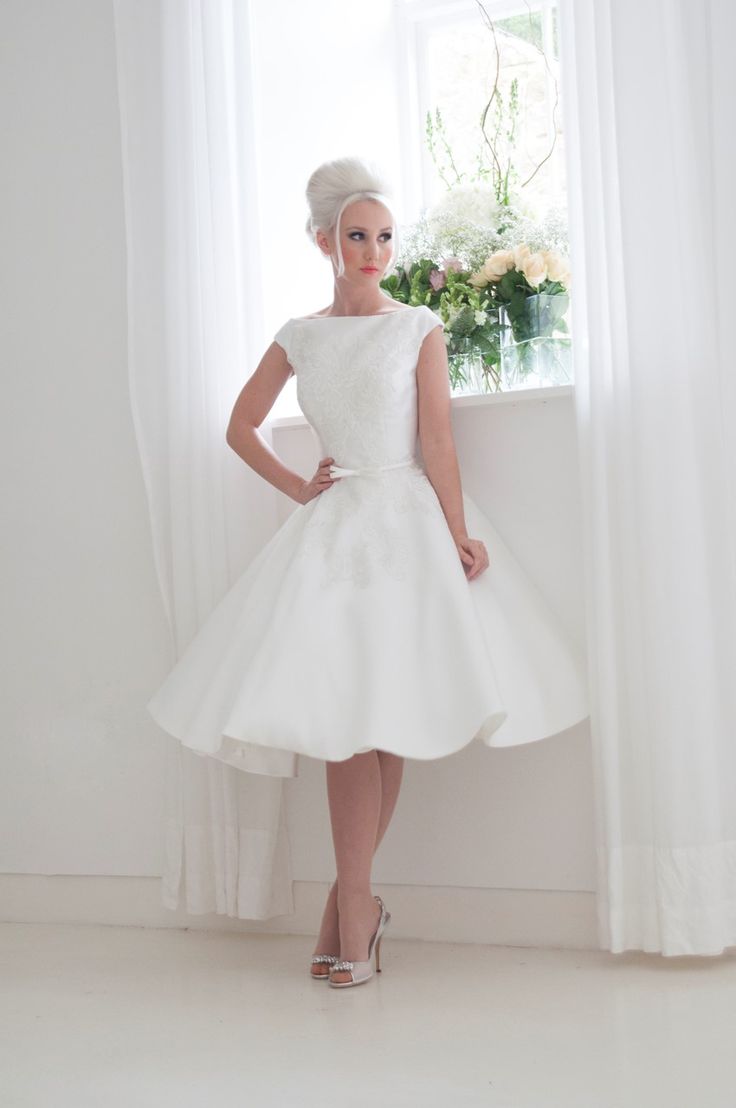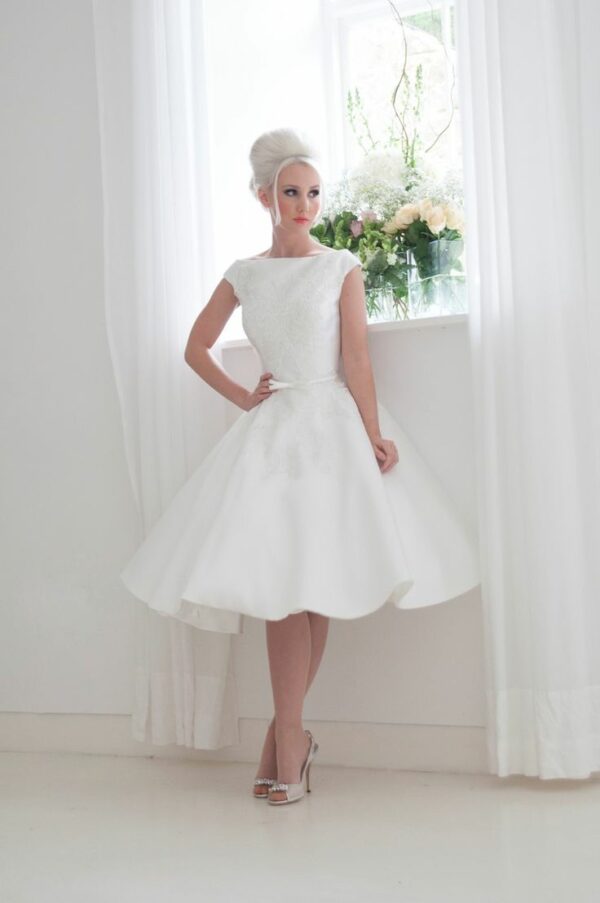 source