Dear ladies if you are stressed about losing your hair and if you are in a mood of doing everything to make your hair grow normal, then maybe you will want to try one natural way for hair growth. Because the expensive salon treatments can do more harm than good to your hair there is a cool and very effective natural ways that you need to try. We have found a good and effective hair mask with garlic oil, and we will show you how to make a garlic oil at home for faster hair growth. Garlic contains essential elements including sulfur, copper, vitamin C, selenium, and minerals that are highly beneficial for hair growth.
If we are looking for natural remedies for our hair, oils will always be great allies. In this case, we are choosing with garlic oil for hair, thanks to its many properties. It has been shown to be very effective on all types of hair, and will also strengthen it. The copper in garlic promotes hair growth, thickens your hair, and intensifies hair color. Below you can see a tutorial that shows how to make a garlic oil at home. Chop the garlic finely and soak in olive oil for at least two weeks. You can use almond oil instead if you prefer. Refrigerate between uses to prevent spoilage.
Properties Of Garlic Oil
Thanks to garlic, we will say goodbye to all kinds of infections or even fungi that we have in the scalp area. So today you will discover all its great benefits or properties, and you can make your own garlic oil for hair at home. Garlic has an ingredient that has medicinal properties called allicin. It has been used over the years thanks to its powers in the field of medicine. So now we are not so surprised that we have to use it on our hair too. It will improve the health of our hair thanks to the antioxidants it contains. At the same time, we cannot forget the antibacterial properties that we have also mentioned.
These properties are even similar or have been compared to the properties of certain drugs. If you have an itchy scalp, this will give you a lot of relief, as it will get rid of certain skin problems such as those caused by fungus. Repair damaged hair in addition to giving it more vitality, strengthening your roots as well. And last but not least, it will stimulate hair growth, activating blood circulation. What more can we ask for?
How To Prepare Garlic Oil For Hair
We don't have to spend a good amount of money for this. With only two ingredients and which you will surely have in your kitchen, you can enjoy real garlic oil. On the one hand, you will need two cloves of garlic, and on the other, 128 grams of olive oil (approximately 8 tablespoons). To prepare it, put the pan on the fire. Add oil and garlic, which will be slightly crushed. When the fire is reduced to a minimum, we let it heat up for a few minutes. We will already notice the smell of garlic impregnated in oil. Time to switch off and let it rest until it cools down and you garlic oil is ready.
Check out the video below and learn how to do it step by step. Enjoy and let your hair grow and shine!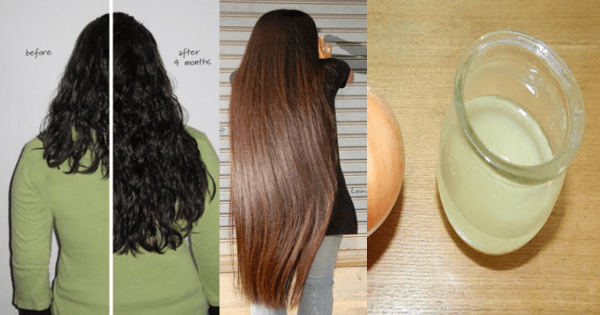 Watch the full tutorial in the video. Enjoy!
via 
beautyproductshome