Friday night is here. It's been one of those weeks, and it took all of 3 seconds for you to be convinced to head out with the girls. The endless outfit options and what shape you hair is in always seems to be the only thing considered. For makeup we rely on the tried and tested, too preoccupied to try anything daring.
Ladies, you wouldn't wear the same dress every weekend, and I daresay you don't wear a bun every day. So follow these 6 steps to wake up out of your makeup Groundhog Day, and start taking your nightlife style to the next level.
EYES
Can we all agree that eyes are the best part about doing makeup, and always leaves the biggest impression? There is so much range, and different techniques to create; feminine, moody or simply a classic look. Practise them all regularly so you have a whole library of looks up your sleeve. The best place to start would be to find the best liquid eyeliner, as this is going to underpin your entire look.
It serves to exaggerate the size of your eyes, builds on your eye shadow and it also hides lash glue really well. Prime and shadow your eyes before using liquid eyeliner, and perhaps practise on an evening where you have no real time pressures.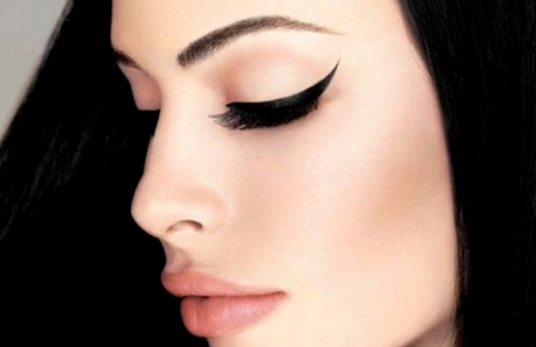 source
LIPS 
Seems simple, I know. Apply a lipstick that matches your eyes or outfit – done. Slow down sister, lets review the basics. To give your lips the look they deserve apply a very light layer of lip balm to make sure there are no crevices. Carefully apply lip liner, starting from the Cupid's bow of your lip and working your way out, and then apply the lipstick of your choice. Now to avoid being told by an attractive male later, blot your lips then with a folded tissue to avoid lipstick on your teeth. Can't decide on a colour? Find out the best lip colour for your skin tone and buy a cheap one to see if you like it, and then you can commit to a better brand.
FOUNDATION
We are all different; oily, dry and everything in between. So various brands, coverage and textures are going to work differently for all. Instead, I will impart the importance of colour matching. Foundation ain't cheap, and the person who puts through the sale has a wealth of knowledge on the brand and each specific product. Use them!
Always ask to be colour matched to avoid catching yourself in a mirror and wondering why your chest and head look like different people. Ask advice and try other applications to find what matches best. I always blend to halfway down my neck, and that provides an even coverage. If you are a fake tan fan, I would recommend getting a separate foundation for when you feel like getting the tanning mitt out.
CONTOUR + HIGHLIGHT
If there is a clinical trial in which to create permanent contouring and highlighting – sign me up! This turns any face flawless and is a testament to what can be achieved with makeup. I recommend using a liquid contouring stick and then brushing with a bronzer once you have blended. Use a highlighting powder to brush lightly.
YouTube videos are great for learning technique but note that everyone has a different shaped face and you may want to be highlighting areas that others want to contour. As we are all unique, learn to contour your face shape, and only yours.
SETTING
We don't want all our hard work to be for nothing, do we? Setting your makeup will mean you can wear it longer without having to touch up and it minimizes patchiness. After you apply your foundation, highlighter and contour, brush your face with a loose setting powder. This should really only be applied to your oily areas (T Zone), and a very light brush of the rest of your face.
Setting sprays are another way of ensuring long lasting makeup, plus they can be used in heaps of different ways. Test out with and without setting sprays to find out how much more longevity you can get.
APPLICATION + REMOVAL
This can't be the first lecture you have received on the importance of application and removal, but hopefully it's the last. Never use your hands to apply your primer, foundation, concealer, highlighter or contour. Hand applied makeup can only achieve a sheer base, whereas makeup brushes and beauty blenders give a medium to full coverage. Your foundation stained towels will thank you for the change. Use brush cleaner and shampoo to get longevity out of your tools.
Never rush the removal process, as your skin will seek revenge and break out. I use eye makeup removal, cleansing water for my face and then a face wipe. You can then follow your normal steps of cleansing, toning and moisturizing.
In your bedroom, behind a mirror is where you can create any look you desire.
Have fun with your artistry and find out what makes you feel and look great before a night out. Take snaps of looks you love, and tricks you want to try again and remember practise makes perfect.