Today, we are lucky enough to have a wide range of swimwear in all shapes and sizes available to us. There are so many styles to choose from such as retro looking high rise swim bottoms, sexy one-piece suits or even Brazilian inspired string styles if you're brave enough to wear them. However, having this much choice when it comes to swimwear has not always been the case. Many of the styles we have come to know and love have only been around for the last twenty years or so.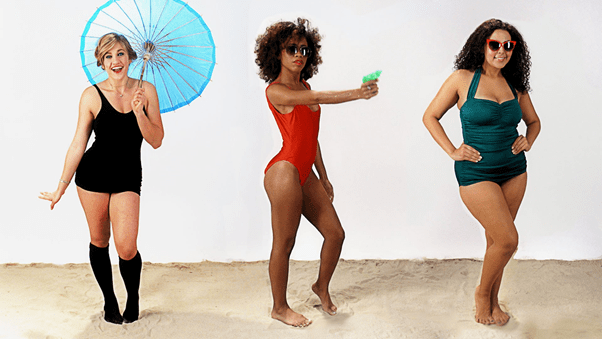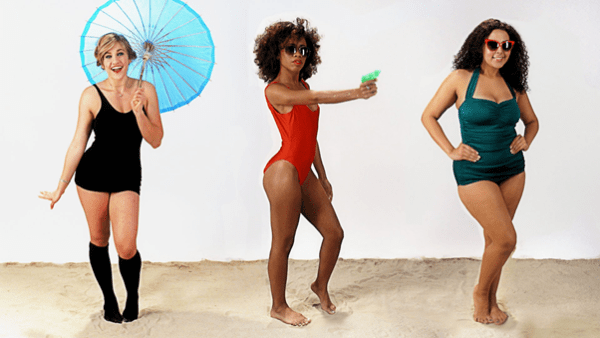 source
Below is a simple rundown of how swimwear has changed over the last 100 years.
1920's
During the 1920's, swimwear styles were very conservative.
One piece suits made from wool were all the rage and most styles featured a red diving girl logo. Most women would wear matching stockings and shoes to keep their modesty around the poolside.
The wool fabrics that were used for swimwear during this time would have been extremely uncomfortable compared to the breathable fabrics we are so used to today. Not only would the material be hot and itchy but if women decided to go for a dip in these swimsuits they would then have to sit in this wet fabric for the remainder of the day.
1930's
By the 1930's more form fitting swimwear became available. Stretch fabrics were often used and would be moulded around the bust and fitted well about the waist in order to compliment the curves of a woman's body. These styles would have been much more comfortable than those of the 1920's.
1940's
In 1946, the bikini was born.
It is said that the style was introduced because of wartime fabric conservation. Although many women chose to wear this more revealing two-piece style, high rise bottoms were common and the belly button still remained covered.
1950's
It was not until the 1950's that supportive underwire became common in swimwear. it was at this time that women began celebrating their curvy figures and were aiming to achieve the ever popular hourglass silhouette. Curves around the hips, waist and bum were exaggerated and the chest was well supported. The look was completed with glamorous accessories such as cat-eye sunglasses.
1960's
The 1960's saw a time when American rock and roll inspired much of the fashion and this was also the case when it came to swimwear. The styles were fun and flirtatious. Women were beginning to dress less modestly and so waistlines got lower and bikini tops became smaller.
1970's
By the 1970's the sexual revolution was in full force.
Women were no longer afraid of showing off and celebrating their bodies and so the trend for smaller 2 piece swimsuits continued to grow in popularity. Swimwear was becoming more fashionable and cover-up items such as complimentary shirts or caftans were commonly worn. By this time the fabrics being used were completely different to the uncomfortable wool used back in the 1920's. The colours and patterns were bright and bold.
Swimwear during the 1990's was very sports inspired and red one-pieces, similar to those worn in the TV show 'Baywatch' were all the rage. High cut legs, low backs and more Brazilian style bottoms were commonly seen.
Today swimwear is available is an array of styles to suit every type of body shape there is. It's funny to think that many of the styles mentioned above would not seem that out of place on a beach or around the poolside today. Women now have the freedom to choose swimwear that makes them feel comfortable, confident and happy.