Many couples get excited about shopping for a special engagement ring that captures their love and the bride-to-be's personality and style aesthetic. The right ring will also possess a classic design that's timeless enough to last for decades. Truly vintage engagement rings have withstood the test of time and are likely still around, available for purchase, because they were considered desirable enough to preserve and pass down through generations of happy brides.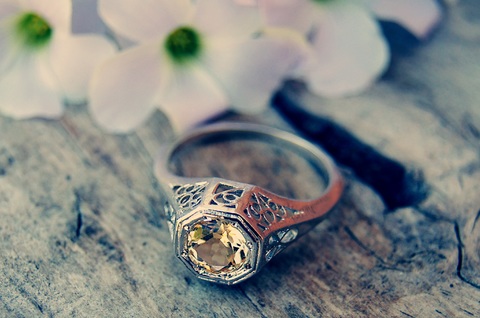 Many positives exist about buying a vintage engagement ring, although it also pays to know the potential downsides and some things to consider. As a potential buyer, you'll need to know how to get what you pay for in terms of value, as well as beauty, style and character.
Acquire an Instant Heirloom
When buying a vintage engagement ring, whether shopping at high end jewelry stores, online, or at a local shop, truly vintage rings come complete with the character acquired from years of history. Beware that jewelers might use the term "vintage" subjectively, meaning that their vintage jewelry piece could be less than 10 years old.
Some vintage jewels are over 50 years old, however, which actually qualifies them as antiques. Ask yourself how old of a ring suits your desire, and what style or design era fits your personal view of "vintage" so that you can narrow the field when shopping.
Consider the Cost
Many consumer items cost less if you're willing to buy them used. If this is one of your motivations for buying a vintage ring, you might wind up disappointed. The cost of a ring's metal, such as gold or platinum, typically depends on rates driven by the precious metals markets. Jewelers want to sell a platinum band, for example, at platinum's market rate, whether that band is new or used.
One way you might reduce costs involves the ring's gemstone or stones. Some vintage rings have gorgeous sapphires or emeralds, and could (depending on the quality) carry a price that's more reasonable than a brand-new diamond sparkler. Vintage diamonds might also command up to a 20-percent lower price because their color leans slightly warmer than that of today's whiter diamonds.
Show Off Your Unique Style
Many brides prefer vintage-style engagement rings as a way to step outside of the mass-market or trend-driven styles offered by major jewelers. Non-traditional designs can allow you to indulge in your artistic side by wearing an engagement ring with creative flair. Vintage rings offer classic styling, with many having intricate work such as hand carving, and details such as filigree or milgrain.
You can find vintage engagement rings in a variety of styles and ring metals with colored gemstones or diamonds. In the interest of getting exactly what you want, consider doing some upfront research on styles that you find most appealing before you shop.
Keep an Eye on Craftsmanship
While you might find yourself caught up in the beauty of a stunning Art Deco find or maybe a vintage Tiffany piece, hold off on getting emotionally attached to the engagement ring until you can have a jeweler check the ring's settings and structural integrity. The ring most likely won't have any documents to prove its material content, and any stone settings could be compromised after surviving wear and tear from decades of adorning someone else's hand. Your jeweler wants you to be a satisfied customer, so don't be afraid to ask in-depth questions regarding the quality details of your potential purchase.
Consider Stone Quality
When buying an older, used ring, you're not likely to receive any GIA (Gemological Institute of America) or AGS (American Gem Society) certificate to verify gemstone quality. If you love the ring this might not be important, but beware of unscrupulous jewelers who may have replaced an authentic vintage gemstone with a faux alternative before reselling the ring. Additionally, diamond preferences have changed over the years with higher demand placed on whiter stones and more brilliant cuts.
Older diamonds might score lower on the famous four Cs of diamond grading (color, cut, carat and clarity), which reduces their value. Regardless of what a jeweler tells you about a given diamond's grade, a vintage ring won't likely have any documents or certificates to verify your jeweler's claim.
Know Your Desired Era and Style
The sheer number of engagement rings for sale can easily overwhelm, especially if you don't come to the shops with at least some ideas about what you want. Vintage styles tend toward stones in four basic shapes: round brilliant, princess cut, cushion cut and oval shapes.
Additionally, a bit of knowledge on vintage-era styles can help you spot your perfect ring faster. For example, floral features were popular in the Art Deco period of the 1920s to 1930s. Rings in the Victorian styles of the late 1800s might pose more of a challenge to find, but high end jewelry stores that specialize in antique jewels might have some on offer, in addition to rings from the Edwardian period of the early 1900s.
Choose Your Jeweler Wisely
It goes without saying that you want to make an expensive purchase such as an engagement ring through a reputable vendor. Knowing the specific ways that shady jewelers could take advantage of unknowing consumers can help you prepare yourself for a better, safer buying experience.
Check any rings for hallmarks on the inside of the band. These small marks, stamped into the ring's metal, typically indicate the content of the metal. For example, a 14-karat gold ring would have "14k" stamped on the inside of its band. Older rings present a challenge because of inconsistent hallmarks or well-worn bands that no longer show their marks clearly. Consider asking a jeweler to test the ring's metal content in front of you if you have doubts. Don't take a salesperson's word for it. If he tells you the ring is 18-karat gold, check the hallmark inside the band.
Another reason to verify a ring's metal is to prevent a dealer from selling you a ring that has gold plating over another, cheaper metal, rather than being solid gold. Additionally, many colored gemstones and diamonds have tiny flaws in them that aren't visible to the naked eye. Ask a jeweler if you can borrow his magnifier, often called a jeweler's loupe, to gaze at the gemstone in question. If the stone looks perfectly clear under magnification, it's either a very pristine and expensive stone, or potentially a fake stone made of glass or another material.
Consider an Alternative
Fortunately, the vast majority of jewelers conduct reputable business and sell quality products. In this day and age, social media has given buyers the power to call out business owners that take advantage of their customers. However, if you feel a sense of unease when considering a vintage engagement ring, you have another option.
Consider buying a brand-new ring in a vintage style. Many jewelers appreciate that consumers want ring designs which evoke the beauty and style of historical eras. You might be surprised at the number of vintage-influenced new rings available online and at brick-and-mortar jewelry stores. You can find ever more creative or elaborate styles at high end jewelry stores in Beavercreek, but it's also worth asking a local jeweler about the cost to create or replicate a vintage-inspired ring using the metal and gems of your choice.
Getting engaged brings with it an excitement of embarking on the adventure of married life with your future spouse. Applying these expert tips can help you choose a beautiful, vintage ring that represents your special union as well as your personal style.