It is official: Prince Harry and Meghan Markle are expecting their second child. The couples announced the happy news using a statement family portrait. Exactly 37 years ago, on the same date, Princess Diana announced that she is pregnant with Prince Harry, her second child. Since they left the Royal Palace and moved to California, they are officially no longer senior royals. Last week they were guests at Oprah Winfrey's show, on a royal bombshell interview.  During the interview, they revealed private details about their life at Buckingham Palace. They also announced that their second child is going to be a girl. And, since Meghan announced that she is pregnant for a second time, many future moms to be, get excited about following her maternity looks.
Fashion stylists try to collect as many as possible fashion moments from her second pregnancy. In honor of the new royal baby, we are sharing with you some of the best Meghan Markle's maternity looks. The royals have always been the inspiration for many women trying to look elegant and fashionable. Kate Middleton, the Duchess of Cambridge, has been pregnant three times, and her maternity looks were also very popular among women. Take a look at the chicest at every chic ensemble Meghan wears during her pregnancies.
Dress packed a 'powerful message', on Valentine's day 
On February 14, 2021, the couple announced that they are expecting their second child this year. The announcement was made with a statement family portrait, on which Meghan wears a maxi dress with her bump in view. On their family portrait, Meghan and Harry are barefoot, embraced under a beautiful canopy of trees. She is wearing a Carolina Herrera dress that she has been wearing earlier while she was pregnant with Prince Archie. Misan Harriman, a photographer who took the portrait photo, shared a black and white image of the couple to announce the good news.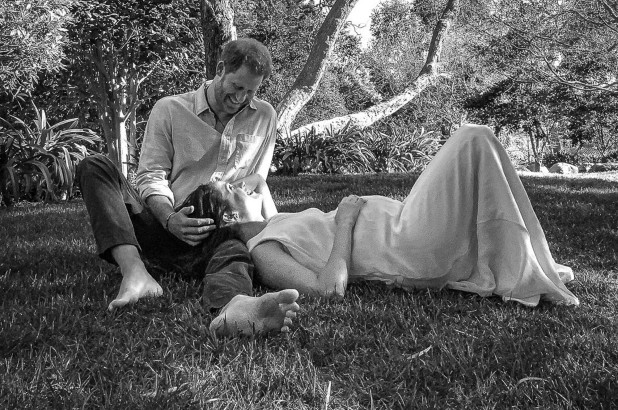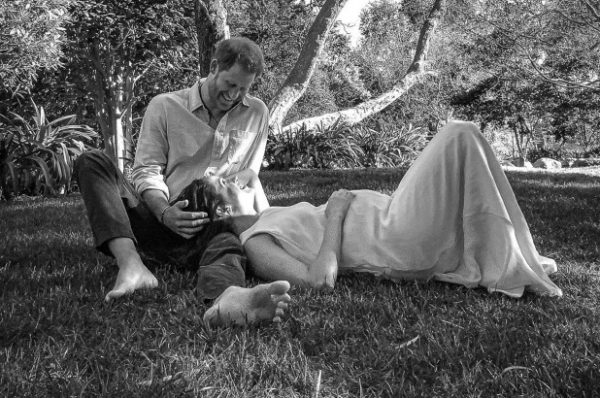 source
Family portrait to celebrate the news of their second child is a girl, March 2021
Misan Harriman released another portrait of the Duke and Duchess of Sussex, from their remote shoot. This time the portrait was released to celebrate the news of their daughter. In the photo, we can see Meghan and Harry being embraced under a beautiful canopy of trees. The difference from the last portrait is that this time they are holding their son Archie too. Meghan is wearing a palm-printed maxi dress with a shirred bodice and puff sleeves. The dress is known as the Pyper dress, and it is signature by La Ligne.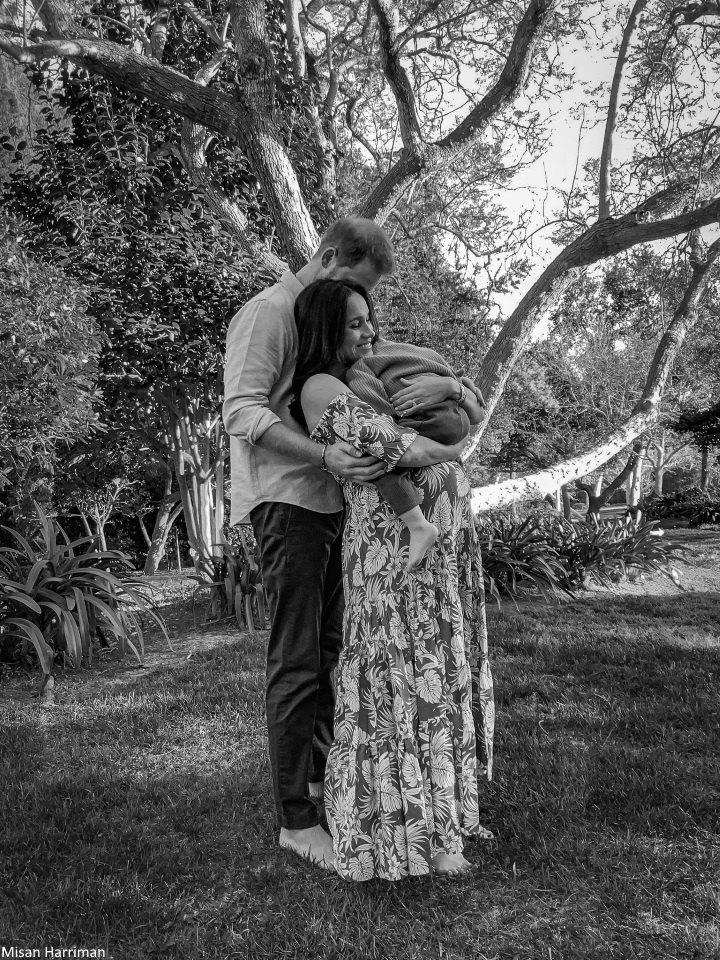 source
Oprah's interview, March 2021
During the royal bombshell interview which takes place last Sunday, Meghan was wearing a back pleated gown, with embroidered flowers by Giorgio Armani. Once again she showed the world her high fashion taste and surprised everybody with her maternity look. She combined the monochrome gown with simple black shoes. Meghan styles her hair in a messy low bun which looked absolutely perfect on her. This is without a doubt, one of her most beautiful maternity looks. She looked breathtaking while revealing many interesting details about life as a royal.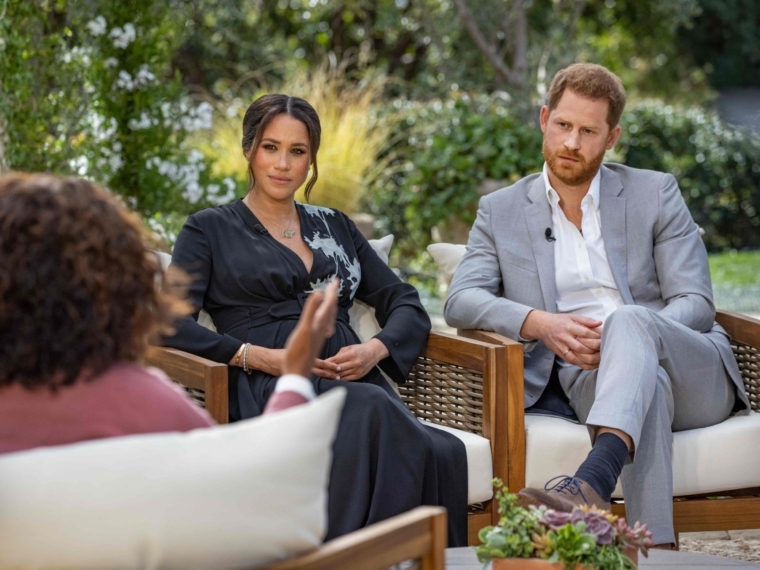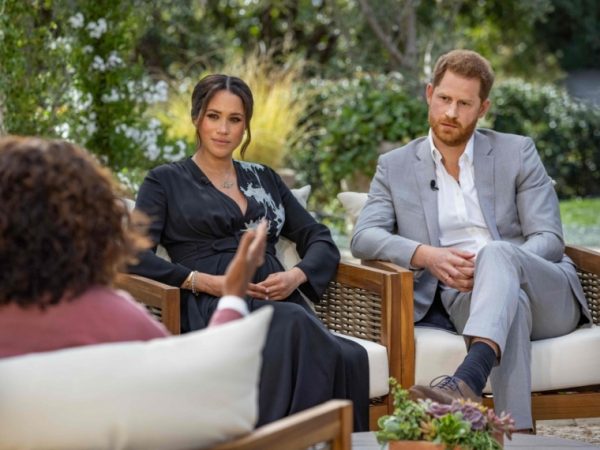 source
Lemon look
Meghan Markle's first appearance after revealing the big news about her second pregnancy was during Spotify's Stream On event. The Duke and Duchess of Sussex made a brief appearance to discuss their podcast Archewell Audio. During the event, Meghan was dressed in a peplum dress from Oscar de la Renta. The dress was all covered in lemons. No one can resist such fruity details, right?
Having in mind the fact that Meghan Markle is in her first months of pregnancy, we have been witnesses to only a few of her maternity looks. That is why we are reminding you of some of the most iconic maternity looks of the Duchess of Sussex while she was pregnant with Prince Archie.  Below you can enjoy the most stunning among them.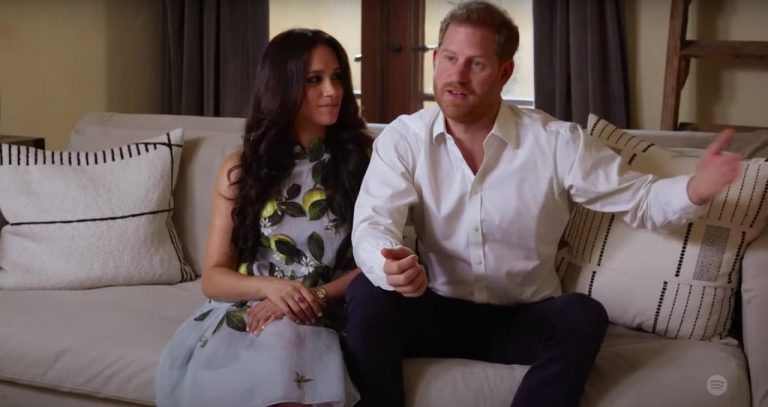 source
'The Wider Earth' Gala Performance, February 2019
We all remember Meghan's top-to-toe winter white outfit featuring a Calvin Klein dress and matching Amanda Wakeley coat for 'The Wider Earth' gala. She paired the outfit with a matching clutch bag. Her hair was styled in a messy bun which is one of her most favorite maternity hairstyles.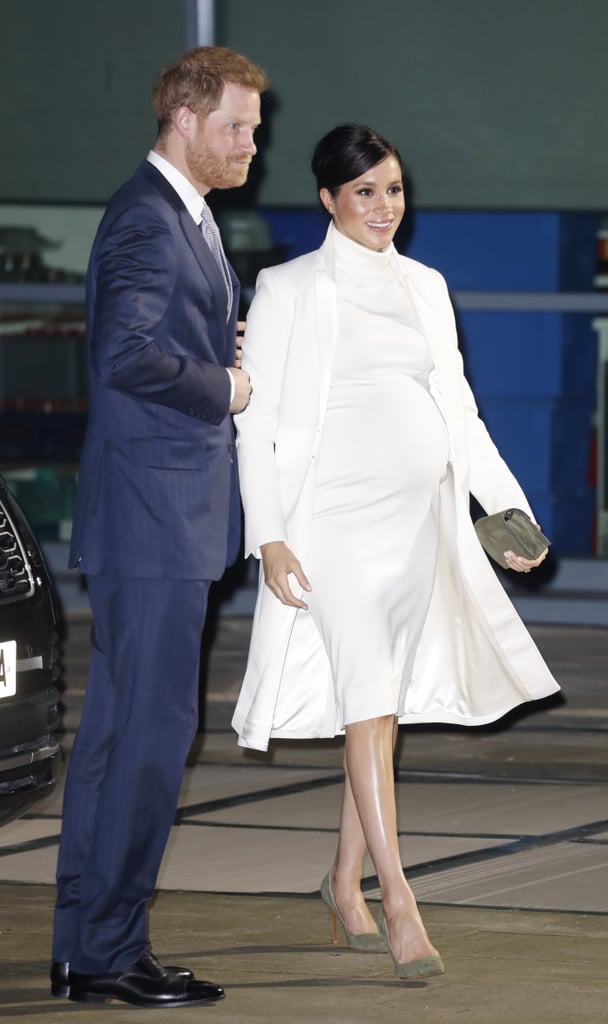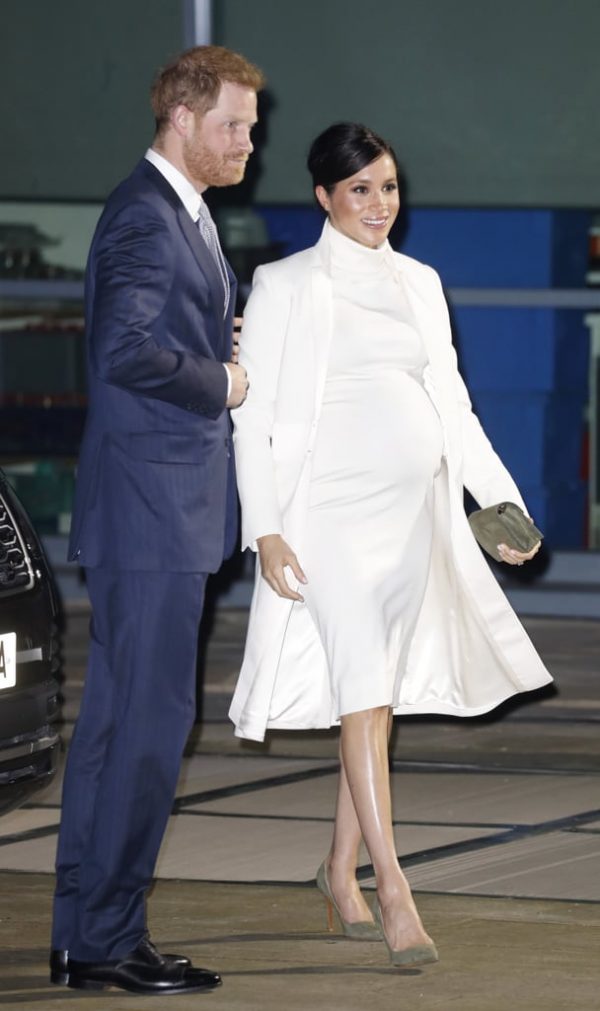 source
Birkenhead Visit, January 2019
In 2019, Meghan and Harry made their first joint appearance on a visit to Birkenhead. For the occasion, the Duchess chooses a purple Babaton by Aritizia dress and a red midi skirt-length winter coat by Sentaler. She finished the look with a tan Nina bag by Gabriella Hearst.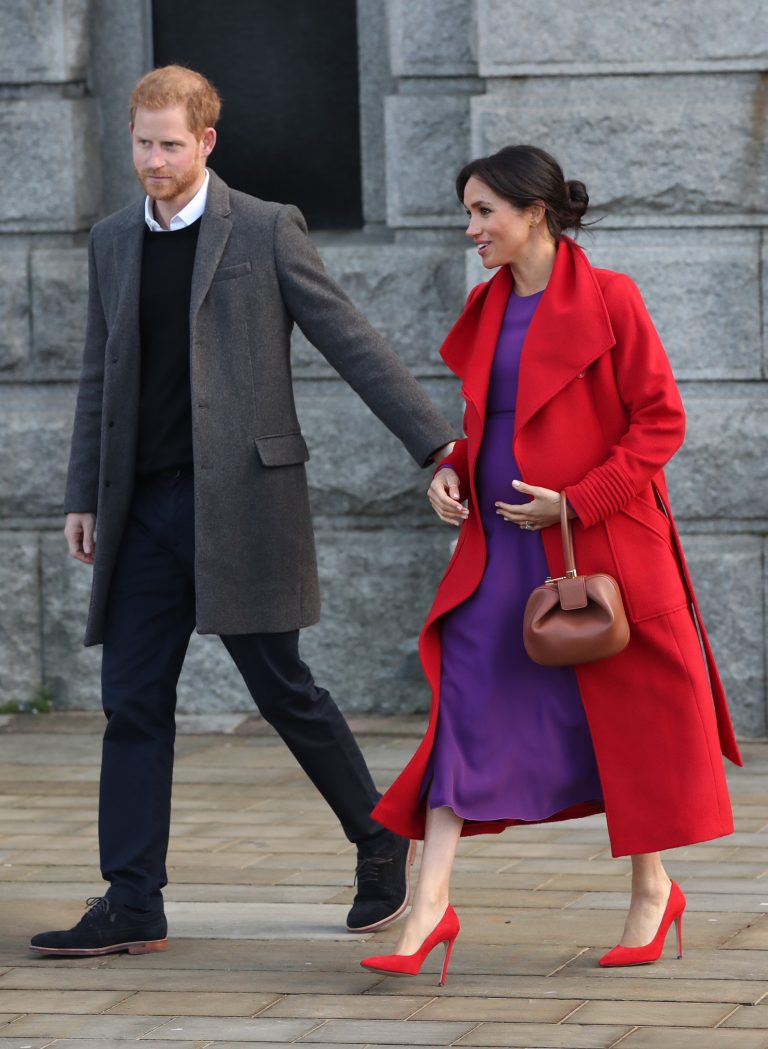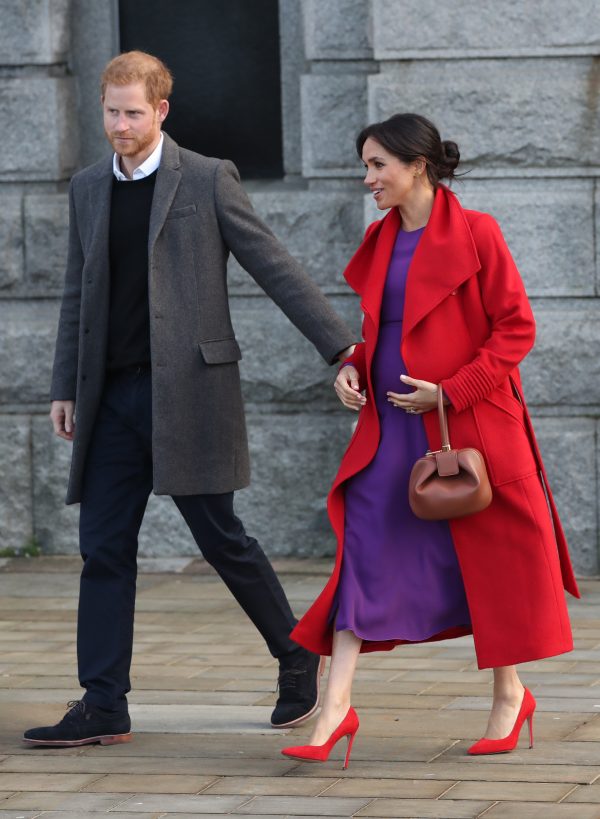 source
The Fashion Awards, December 2018
One of the most stunning maternity looks that marked Meghan Markle's first pregnancy was her appearance at the Fashion Awards, in December 2018. For that occasion, she wore a sleek, one-shouldered maxi dress by Givenchy. She paired it with gold bangles and black nail polish. She looked absolutely amazing during the show.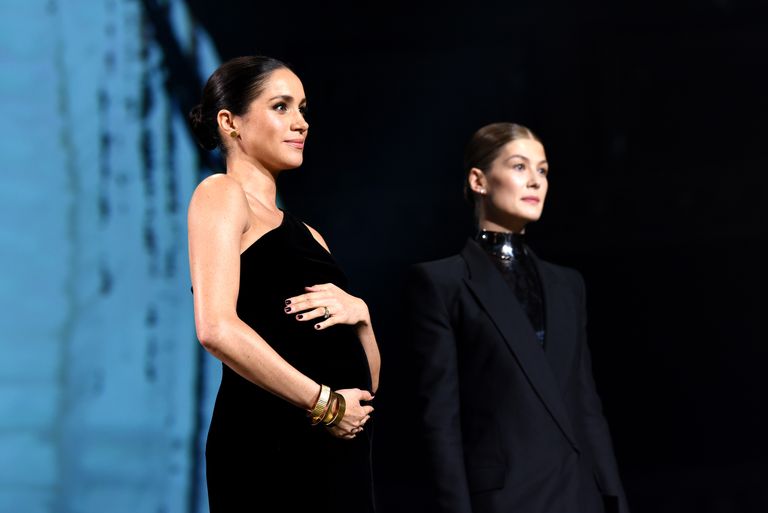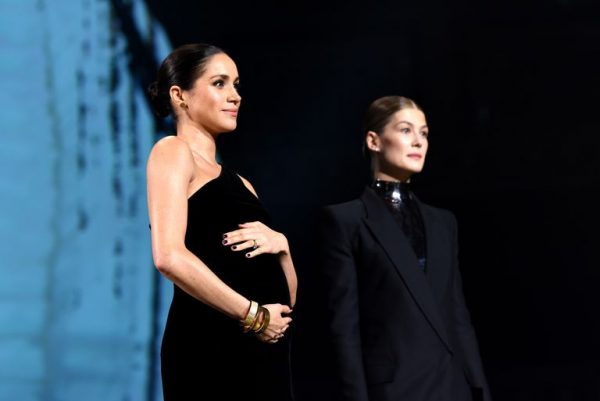 source