Three hundred and sixty-five years together, and still counting! You have been one year together, and today when counting the three hundred thirty-fifth day, it is time to celebrate. And, to celebrate big! What is the best way to celebrate such a special moment, you could ask? Definitely with a perfect and symbolic first-anniversary gift. Choosing the perfect first anniversary gift may not be as easy as it looks for the first time. You should choose a gift that will have both sentimental and special meaning for the person you are giving it to. That is why you should put a little effort into choosing the best one possible.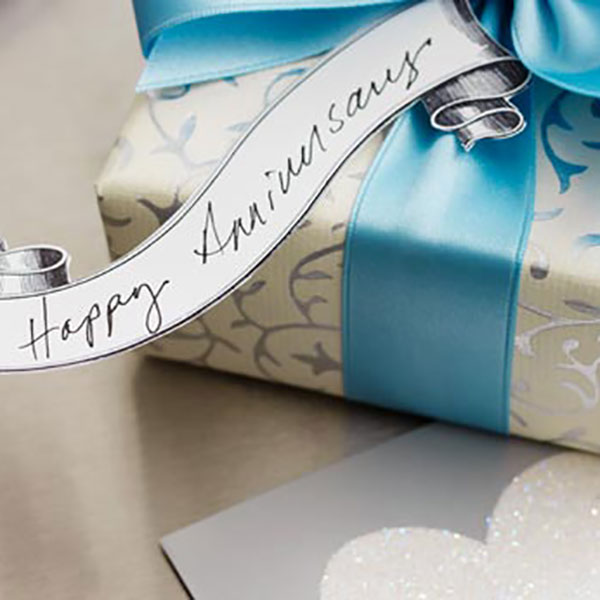 source
The traditional and the modern first-anniversary gift
When talking about the perfect first-anniversary gift, you should know that there are two different types of gifts. The first one, the traditional one, is the paper gift, fragile yet substantial, and thus so symbolic. Paper's first-anniversary gift tradition represents the newness of your young marriage. It is one of the oldest ideas for a perfect first-anniversary gift. Paper is still not the only option for a perfect first-anniversary gift. The modern one-year anniversary gift is a clock. Clocks commemorate the passage of time over this most important first year of your life as a married couple.
Personalized gifts
Consider that nowadays personalized gifts leave long-lasting impressions, so when choosing the perfect first-anniversary gift you can take them in mind too. Indeed, they may be the best choice, if you pick appropriately and according to the personal style of the person, you are giving it to.
The most important thing about the anniversaries is not forgetting the day more than the gift. But once you have remembered The Day, a gift is the best way to reflect your feelings. Especially, if it is your first anniversary. You should choose a gift that will be remembered for years. Here we present you with some of the best first-anniversary gift ideas that you can get inspired from.
First anniversary gifts for husband
Spending one year living together with your husband means that now you know him better than ever before. But, it is not helping you much in your struggle of picking the right gift for him. Don't worry, because we are going to inspire you with some creative first-anniversary gifts for a husband that will show him the much you love him.
Gold cheers rock wine glasses
We all know that men appreciate fine things such as good wines. Because wine is such a bare gift idea and has nothing special in it, what do you think about combining it with gold "cheers" rocks wine glasses? Gold is definitely the color of the first-anniversary celebration. And still, you can add some personalized details printed on the glasses which create even a better symbolic and meaningful gift.
A honeymoon trip
Is your honeymoon over? Yes, it is, but who says you only get one honeymoon? You can repeat those amazing moments spent a year ago, every next anniversary. Organize a small trip for two and celebrate the day you said the fateful YES. You can create new amazing moments together reviving the old but gold memories once again.
Personalized handy key chains
Handy key chains are another perfect choice for a man's gift. You can add some personalization details making the gift even more special. You can add some text such as your initials, your names, or even the date of your wedding day. You can choose the colors of the key chains according to your loved one's tastes. With a handy key chain, you can give him a gift that he can carry with him wherever he goes, carrying that way the memories of your first anniversary too.
A ticket for a concert or some event
Does your loved one love to go to concerts, theater, or cinema? Get him a pair of tickets to an activity or an event he wants to go to, and he will really appreciate it. The best about this kind of gift is that it is a win-win gift, as you may get some tickets for you too, and you can go together. That is even better because you can spend even more time together and create new memories and happy moments.
First-anniversary gift for wife
You have made it. One year together with your loved one. It may seem hard for you both at the beginning, but you made it and today you are celebrating your first anniversary. And, it is time to spoil your lad with something special. Here are some of the best first-anniversary gifts for her.
Flowers
Flowers are definitely the most favorite gift for any woman alive. But, there is a way to turn flowers as a first-anniversary gift into something even more unique and special. Why don't you surprise your wife with a new bouquet every single month on the same date for a year from now? That way you will remember her how much you love her not only on special days as anniversaries but all the time.
Handmade origami accessories
Women adore accessories. Why don't you give her a pair of origami earrings for example? They want to receive personalized gifts, so handmade rose-shaped origami paper earrings can make her face smile anytime she put them on.
Romantic letter
Women are big fans of romantic things. And, what is more, romantic than a love letter? You may not be natural Shakespeare, but you can find so many love books that can inspire you to express your feelings. You can also search on the Internet and