Do you have a challenging time finding the ideal socks to match a particular outfit? Selecting the right combination ought to be comfortable and straightforward. It's the tiny details that make the most considerable differences and makes one stand out. You ought to be stylish as well as classy each time you walk out of the house. Below are some simple, fashionable ways to match socks with any of your outfits;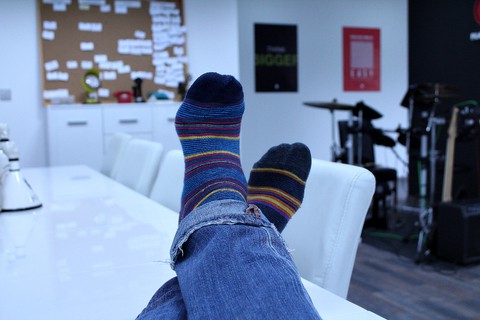 To maintain pure elegance, you must avoid wearing socks with patterns that clash your pants. Socks are a complementary factor to your pants; thus, you don't want them to overpower the main outfit.
You need to use the outfits element to choose on a specific color pallet. You can decide to use the color when to style appropriately. If you are in doubt, you can decide to go tonal.
Match the socks with the tie or pocket square
There are times when you might lack an idea on which socks go with what outfit. How about you try the complementary aspect.
You can try to match your socks to an outfit by accessorizing them with a pocket square of a tie. Check on the colors as well as the patterns.
It's a simple gesture that concisely pulls the whole outfit. You may decide to wear seasonal colors to layer your outfit.
Wear cotton socks with suits
When searching for clothes, there are various brands to select, including premium Egyptian cotton socks and underwear. The main reason to purchase cotton socks is for breathability purposes.
You must prioritize quality as well as design in any outfit or socks. It will ensure you are comfortable all day long with no stress.
Match your socks and pants
Do you prefer a simple and casual look? Then you would prefer clothes that tend to flow into each other visually. One can choose to maintain a color consistency scheme on your look throughout.
You can choose to go with pants as well as socks that fall in the same hue. It will bring out a seamless transition that you will fall in love with at any time. You can try to pull this look during formal settings.
Choose the right pair of shoes to wear with your socks
You can also decide to match your shoes to the socks in a colorful manner.
For casual shoes, you can go all out and select an outrageous socks pair. In most circumstances, it would rather be absurd to combine a black suit with bright baby pink socks.
Keep in mind that your socks colors play a significant role in matching with any of your shoes. Your socks don't have to overpower the outfit. Always dress to the occasion.
Are you looking to step up your socks game and add a little funk to your outfit? You need to consider the tips stated above. While you are out choosing various outfits, including premium Egyptian cotton socks and underwear, dare to be different. You ought to add a subtle boldness that speaks more on your personality.