Skinny, rockstar, flare leg, boyfriend, curvy — jeans these days are available in a range of different cuts and styles. You can choose different rises and different washes, too. You can even go for distressed jeans. But you'll soon learn that every style doesn't flatter every body type.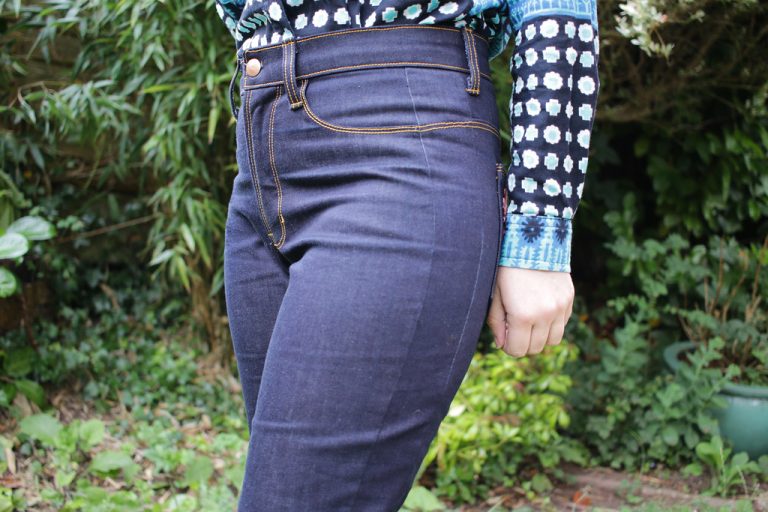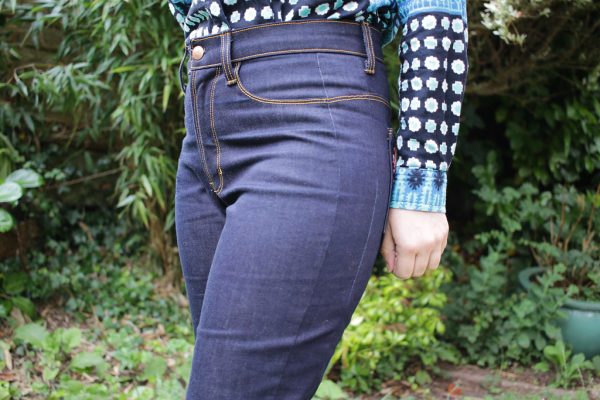 Just as you have to choose tops, dresses, and skirts that will flatter your body type, you have to choose jean styles that will make you look your best. The right jeans for your body type will give you plenty of room to move, accentuate your best features, and avoid problems like waist gapping in the back. Here's how to find the right style(s) of jeans for you, based on your body type.
Apple
If you have an apple body type, you have an ample bosom, slim legs, a short waist, and a round belly, which is where you carry most of your extra weight. If you have this body type, you'll want to dress to draw attention to your lovely bosom and nice, slender legs, while downplaying your midsection.
High-rise jeans are great for this, as they can hide a multitude of sins in the abdominal area. High-rise skinny jeans will show off your legs and hide your midsection. Pair them with a flowy top for balance and accessorize with a necklace that will draw the eye upward towards your face and away from your apple belly. If you have a slimmer apple body, though, low-rise jeans can accentuate the curve of your hips. If you want a more balanced look, go for a wide-leg trouser jean.
Strawberry
Also called inverted triangle, the strawberry body type is wide across the shoulders and chest but narrower at the hips. Your shoulders are the widest part of your body, and while your bust might be medium to large, you have slim hips with little or no extra weight on your hips and thighs.
Because you carry your extra weight in your chest, you can put just about any style of jeans on your strawberry body and look good. You will be using tops with flattering necklines and empire waists to draw attention to your bosom, so experiment with whatever style of jeans you want to offset your top. Many women with strawberry bodies go for boyfriend or trouser jeans to balance their figure. You can also give yourself the illusion of curvier hips with low-rise and ultra-low-rise jeans.
Banana
The banana, or rectangle, body shape has balanced proportions in the hips and bosom, but with a wider waist that creates more of a rectangle-shaped torso. If you have this body shape, your bust, hips, and waist are nearly the same size. You have wide shoulders and very few curves.
Your goal will be to give the illusion of a curvier physique with jeans that accentuate your waist and hips. Go for high-rise and ultra-high-rise jeans that sit at your natural waist and lengthen your torso. You can also wear low-rise and ultra-low-rise jeans to make your hips look curvier. You should avoid mid-rise jeans, and baggy styles like the boyfriend that could hide your curves instead of showcasing them.
Hourglass
Hourglass bodies combine a slim waist with a large bust and curvy hips. If you have this body type, your bosom and hips will be about the same size, and your waist will be at least 10 inches smaller. You carry your extra weight spread out pretty much evenly across your body, though you might carry a little more in your hips and thighs.
The hourglass shape is lauded as the classic female shape, but that doesn't mean you can just wear anything. You need to avoid baggy styles, like the boyfriend jean, as they can make you look bigger than you are. At the same time, clothes that are too tight will show off your problem areas. Skinny jeans are great unless you have some extra weight in your thighs that you want to hide — in that case, go for a straight-leg jean. Low-rise jeans will show off your hips, and dark denim washes are especially attractive.
Pear
Pear bodies are bottom heavy, with large hips and thighs, small bosoms, and slim shoulders. Your waist and torso are slim and you carry most of your weight in your hips.
High-rise jeans that come up to your natural waist will elongate your torso and draw attention upward, away from the junk in your trunk. Tapered legs and bootcut styles will make the legs look longer. Boyfriend jeans and relaxed fit styles offer more room for large hips and thighs, but be careful that you don't go too baggy, as it will make you look larger than you are. Flared legs can balance out your body shape, and dark denim washes will make your legs look longer and slimmer.
Finding a flattering pair of jeans can be a real mission, but it's one that's worth embarking on. The right pair of jeans will make you look and feel fabulous, no matter what your body type.