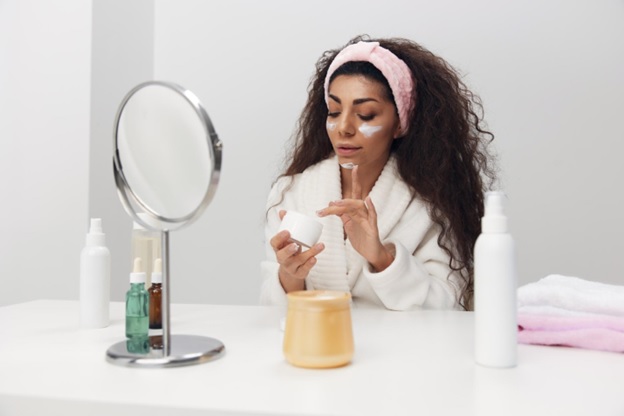 Credit: beststudio Via Freepik
The same skin care routine won't protect your skin from all weather conditions when the seasons change from cold to warm and vice versa. During colder months, your skin needs more hydration, while warmer months require closer attention to sun protection. Although some skincare routine steps are crucial for all-year-round, it's essential to learn how to transition your skincare routine between seasons.
With spring around the corner, it is the ideal time to learn how to tweak your skincare routine. Consider the following steps to seamlessly transition your skincare routine between seasons for healthy skin all year round.
Prepare for Sudden Reactions
When the season changes, your skin won't necessarily transition smoothly. You may notice your skin struggling to keep up with the change, resulting in dryness, oiliness, or breakouts. It can take your skin up to two weeks to get acclimatized to the new weather. This process is faster in response to heat but slower in the cold. Some factors that affect climate acclimatization on the skin can involve age and medication.
The best way to handle these sudden reactions is to be prepared for them. You can prepare for them before they even occur to save yourself the stress. This may involve being patient and letting your skin adapt to the change, stocking up on different skincare items ahead of time, avoiding hot showers, and rinsing off possible triggers, such as sweat or pollen.
Switch Your Moisturizer
Although it is necessary to moisturize all year round, your moisturizing needs may change over time. During warmer months, you will likely need a lighter moisturizer resistant to sweat. When it gets colder, your moisturizer should be thick enough to protect your skin from dryness and flakiness and contain hydrating ingredients.
Choose a moisturizer based on your skin type to avoid acne breakouts or other adverse effects. If you're unsure what moisturizer best suits your skin, consider consulting a dermatologist for guidance.
Focus on Specific Skin Conditions
If you have a specific skin condition that flares up during certain seasons, it's important to pay attention to them. For example, some people notice their psoriasis and eczema flare up in the winter due to cold temperatures that strip natural moisture from the skin. It's important to focus on these conditions and use products that cater to your unique skin needs.
When looking for products to add to your skincare routine, look for clinics that are authorized resellers of medical-grade products. For instance, if you want to use the SkinCeuticals product line formulated to correct signs of aging, protect healthy skin, and prevent future damage, reach out to an authorized retailer of SkinCeuticals in your area. This unique product line is helpful for those looking to find products that target their unique skin conditions and improve their skin health.
Consider Skin Treatments
Your skin may need some extra love between seasons, and a great way to take care of it between seasons is by taking advantage of skin treatments. You can lift the damage when summer ends through photo facials or chemical peels. When transitioning from cold weather, it may be helpful to get facials that rejuvenate the skin with subtle ingredients.
Dealing with sudden skin changes between seasons can be challenging, but you can prevent your skin from taking a toll on your confidence by learning how to transition your skincare routine with the help of this guide.