Many women enjoy wearing statement jewelry. Nowadays everything is in the sigh of oversized, so jewelry is too. Sometimes there can be some misunderstanding about what indeed the statement jewelry is. Some people relate it with its size, others with its color's vibrancies. One thing is sure, statement jewelry is a piece of jewelry that when is worn is the key feature of the outfit. Today we are giving you a fashion guide on how to wear a statement necklace, as one of the most important pieces of jewelry women wear.
If you adore styling necklaces, especially statement ones, there are some unwritten rules you need to follow. On the other hand, you can risk layering it with other jewelry pieces and create some "too much" effect. Below you can read how to wear a statement necklace. Here is all you need to know about rocking a statement necklace. Once you pay attention to these important rules on how to wear a statement necklace, there won't be any mistake you can make is choosing your perfect statement jewelry and styling it in the best way possible.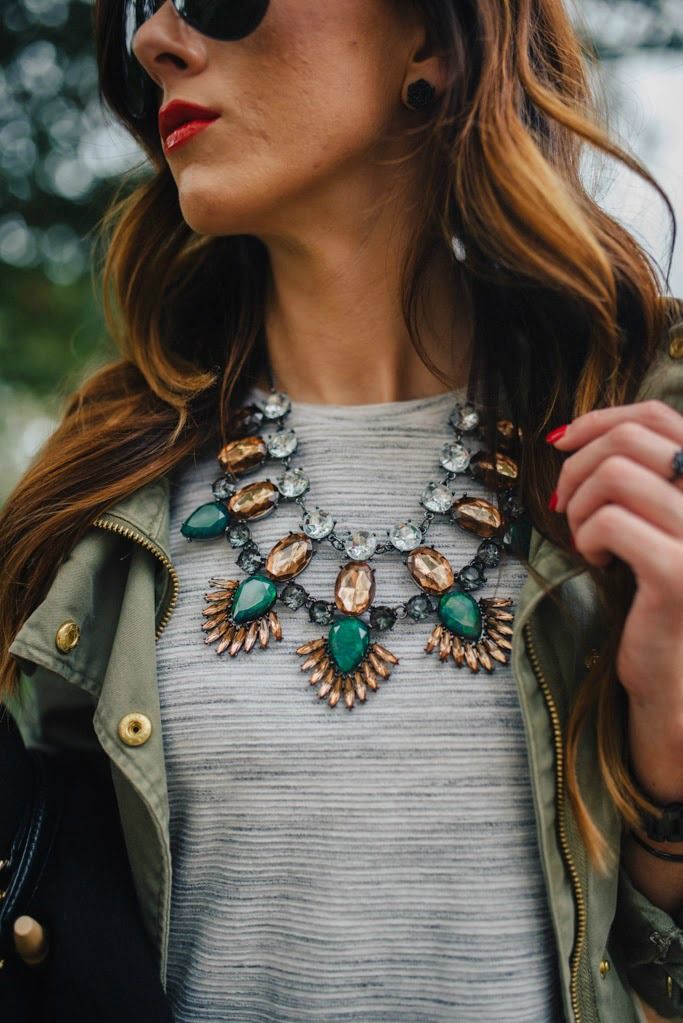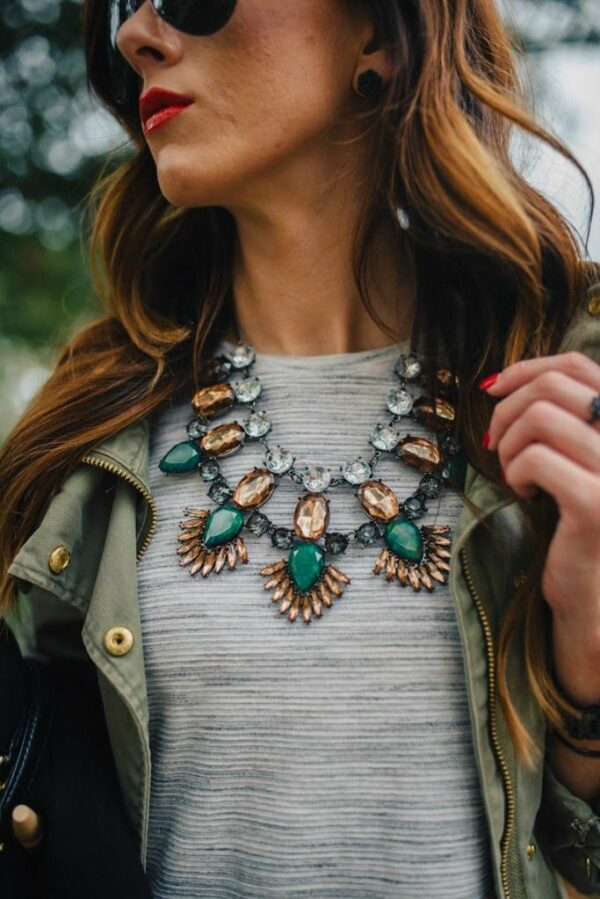 source
Time of the year- summer vs. winter
One of the best indicators of the type of clothes and jewelry to wear is the time of the year.  When choosing the right statement necklace you need to consider in mind the weather season outside. In summer, you can choose colorful jewelry pieces with vibrant colors. For the winter, you can choose a glitzy and sparkling statement necklace. It is the season of darker colors, so the crystal and sparkling necklaces can elevate your dark outfit making it ready for evening parties.
The occasion- work vs. play
Statement jewelry can be a little more difficult to be worn to the office. Bright colors can stand out and make a big impression, but at the same time, they can look too gaudy, and not appropriate for the office. If you still want to wear statement necklaces to make your work outfit less boring, you need to choose some less detailed and less colored necklace, and combine it with a crisp white shirt or black dress. You can choose a necklace that has no extra embellishment and is all metal. This way you will look both dramatic and sophisticated.  If your workplace has a less formal dress code, then you can experiment with a colorful statement necklace paired with a simple tee and jeans.
Pick your length
Another rule on how to wear a statement necklace that you need to follow is picking the right length. The statement necklace is too eye-catching by itself, so you can choose any length you like. But, if you want to get a turn heads effect, then you should definitely choose a short choker necklace. It is more noticeable and can make any outfit, even the simplest one, stand out of the crowd. A long pendant can be a wise choice to make too. The only trick to know when choosing a long pendant is which length will best suit you. If you are taller, you can choose a slightly longer necklace.  If you are petite, then you should choose a shorter pendant or neckline, so that you get the elegant look you want to achieve.
Matching a statement necklace with matching earrings
One unwritten rule is to never pair a statement necklace with large or long dangling earrings. They can be overkilling, so you should avoid them. On the other hand stud, earrings are the ideal choice to pair with a statement necklace. Some neutral earrings, such as plain metal, can be the best ones to choose from if you already have a statement piece of jewelry on you. The best, indeed, is to combine your statement necklace with a statement cocktail ring, and avid wearing earrings. But, if you still want to add earrings and complete the look, then something not too notable is the best choice to take.
Statement necklace with a black dress
Black dress, besides the fact it is the biggest classic in a woman's wardrobe, can look too boring sometimes. If you want to instantly make it look more flirting and less boring, then changing your jewelry is the fastest way to update it. Choosing a statement necklace is the best way to update your little black dress. When you choose the right statement necklace to pair with your black dress, then you should follow some rules. For example, if you are wearing a dress with heavy embellishment or pattern, then you should choose a sculptural and less colorful necklace. This way you will avoid making your outfit appear too busy. If you are wearing a plain black dress, then you can choose a more colorful statement necklace, and instantly make it grab the whole attention.