Temperatures outside start to drop giving us an unofficial sign that fall is already here. What does that mean? It's time to switch out the swimsuits and sandals for sweaters and boots. We already presented you with the fall 2020 color trends, but let us remember you that choosing the trendiest colors for the season is not enough to make an impressive outfit. What makes an outfit to have the WOW effect are the details. And when we say details we mostly refer to jewelry. It is now time to choose your favorite jewelry trend 2020 and shine.
As you have already seen on the runways, 2020 will be in the sigh of bold. Bold colors, bold jewelry… bold anything! This season, dare for more, dare for bolder. Choose from the variety of statement jewelry pieces that are going to mark the fall 2020 season. From polished and elegant to ultra-glamorous and a little bit gritty pieces, jewelry trends for 2020 are bringing out all the best you could ever imagine. Designers got inspiration from a mix of decades that span the Victorian era all the way to the early aught.  And, having that in mind, in not a surprise to see the wide range of aesthetics manifest via bracelets, earrings, rings, and necklaces.
Admit it to yourself, you cannot even imagine a perfect outfit without a necklace, ring, stack, earrings, or cuff, can you? Well, if you don't then follow the last trends and have at your jewelry wardrobe at least one of these statement jewelry pieces that grace the runways in New York City, London, Paris, and Milan. First, take a look at the most eye-catching fall jewelry trend forecast for 2020 presented below. Then make a shopping list and start planning your best fall outfits for the upcoming cold days.
Jewelry trend fall 2020: Heavy Metal
Most of the designers this fall decided to follow the bold concept of jewelry. That is why in the collections of many designers such as Balmain, Proenza Schouler, Givenchy, Alexander McQueen, and many others, we can see bold statement pieces. They choose the heavy metal as an inspiration to create chunky earrings, weighty collars, and thick cuffs that will definitely make you stay out of the crowd. Don't miss this gold jewelry trend 2020 pieces that are both bold and ultra-polished.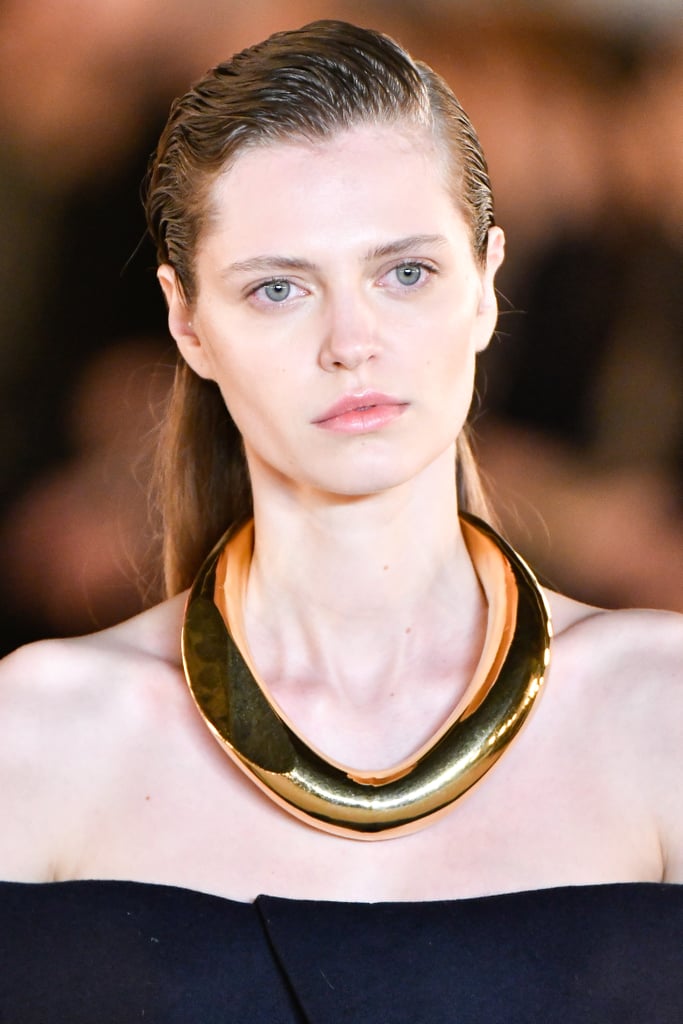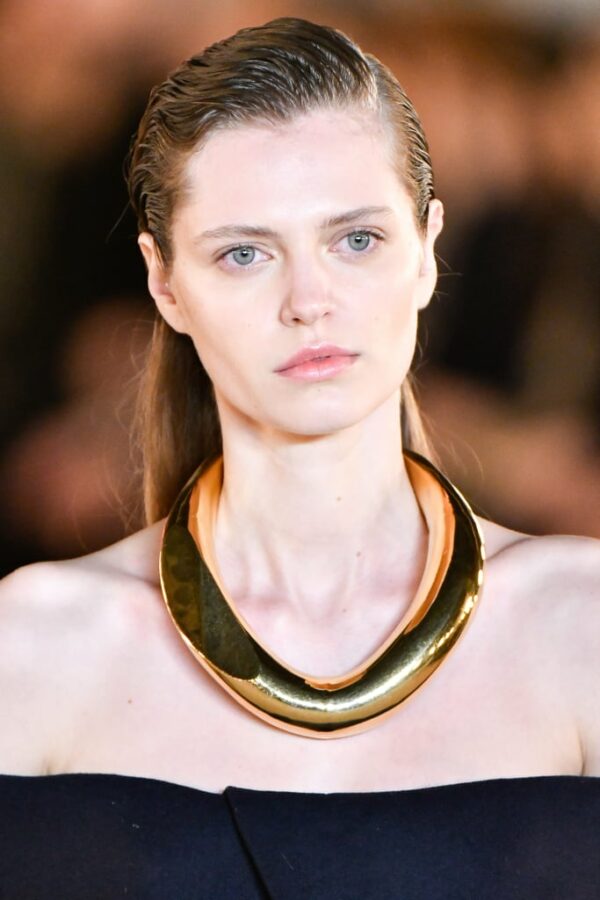 source
Jewelry trend fall 2020: Pearls
Pearl jewelry trend 2020 is definitely one of the most favorite ones seen on the runways this fall. Pretty pearls have proven once more that they can make any simple outfit stand out of the crowd. From classic standards to baroque earrings and modern ear jackets, pearls have presented themselves as the biggest friends for sophisticated women trying to catch any eyes on her. Perfectly combined with cocktail dresses pearls can be worn at any occasion where you want to make an impression of a sophisticated and tasteful woman.  They can also perfectly match a blazer-and trouser set so you can add them to your classic day outfit and make anyone looking at you stay breathless. Don't miss the pearl jewelry trend 2020!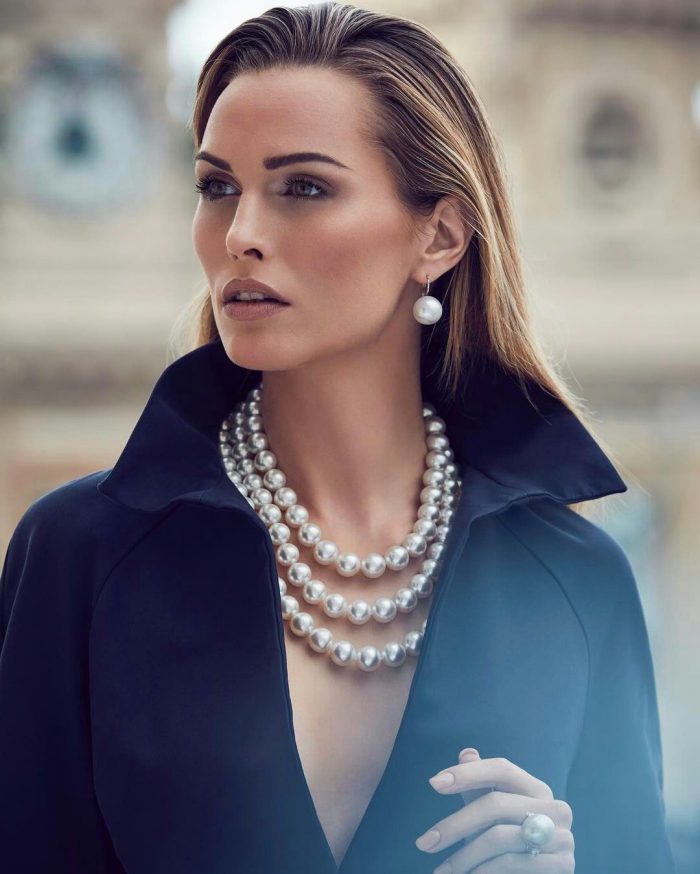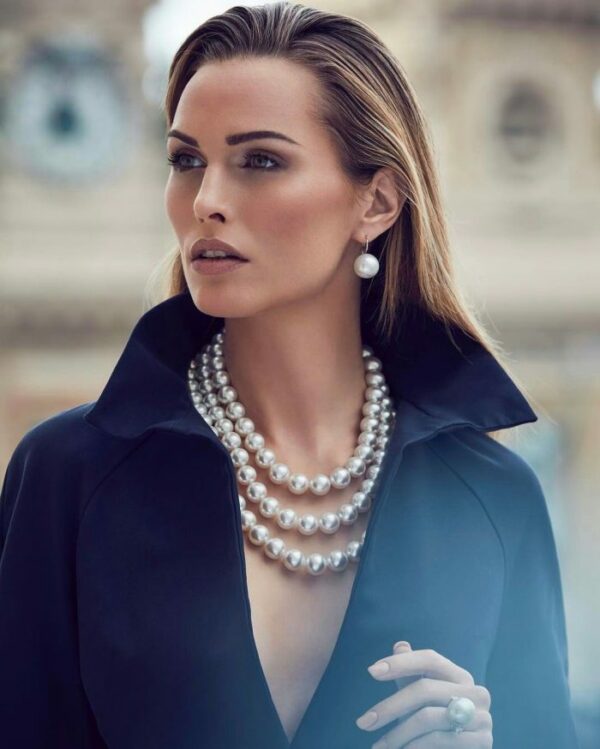 source
Jewelry trend fall 2020: Polished Chains
Chains have been on the runways since fall 2019 when Daniel Lee sent chunky chain links down the Botegga Veneta runway. Since then, you can see them everywhere. And, guess what? They are still the top gold jewelry trend in 2020 too. You can find them appearing on clothes, handbags, shoes… and as the biggest jewelry trend 2020. And you will definitely love them in any of the forms they appear. Do you want an edgy-meet-glamorous look? Polished, golden chain links are all you need for it, be it a bracelet, necklace, or a pair of glowing earrings…but you can get some jewelry made to your own requirements as well!"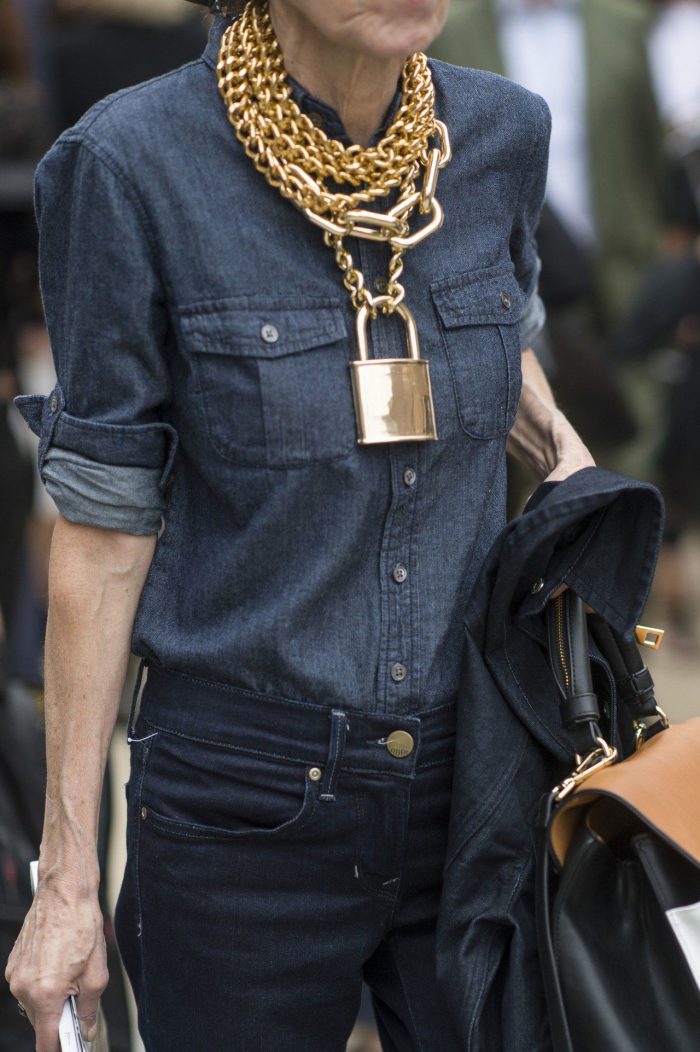 source
Jewelry trend fall 2020: Shoulder-Grazing Earrings
Another jewelry trend 2020 that is returning after many seasons: shoulder-grazing earrings. They were one of the biggest fall/winter jewelry trends many seasons ago, and they are returning to stay highest on the jewelry trend fall 2020 list. The best about these earrings is that with their statement look they are stylish enough to perfectly match both, easy basics and bold prints. Don't miss them in your jewelry box.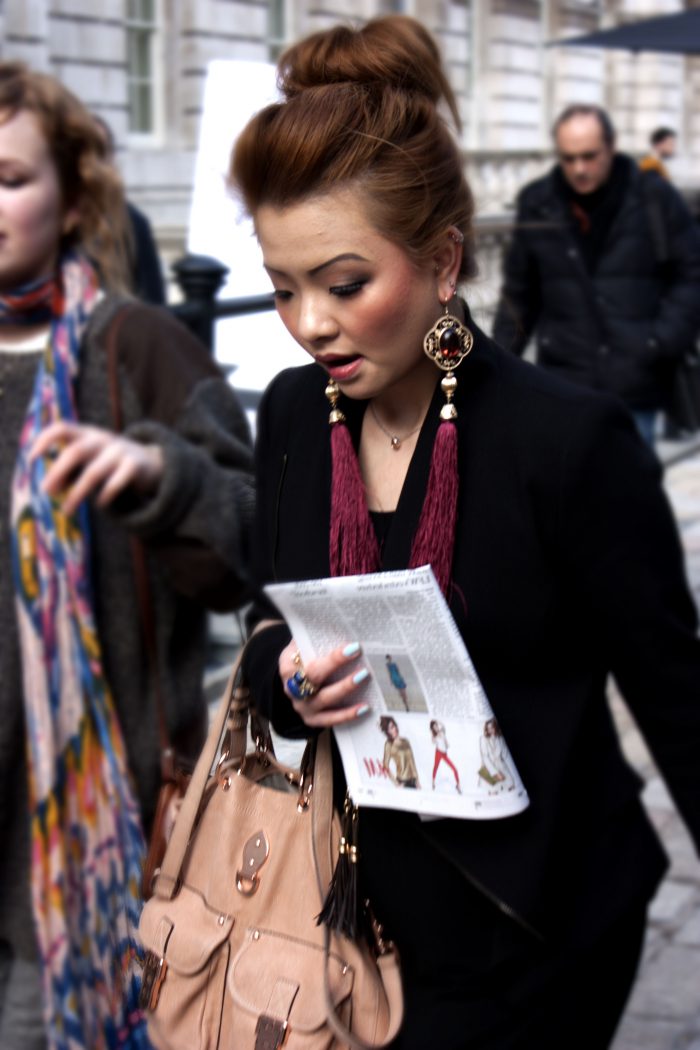 source
Jewelry trend fall 2020: Razzle-Dazzle Rhinestones
Jewelry designers once again proved that razzle-dazzle jewels are in even in fall 2020. Their collections presented on runways from New York to London and Milan were rife with seriously sparkling jewelry pieces. Don't be surprised to see all those sparkling earrings and necklaces you thought went to the history forever. No, they are back and they are more shining and sparkling than ever before. From cocktail-style earrings to woven rhinestone chokers and cascading-style earrings, you will fall in love with them all. And you will like to combine any time possible. They will give the "strawberry on the cake" effect on any outfits you create, both casual attire and eveningwear. You will simply adore this fine jewelry trend 2020. And you will wear it once and once again.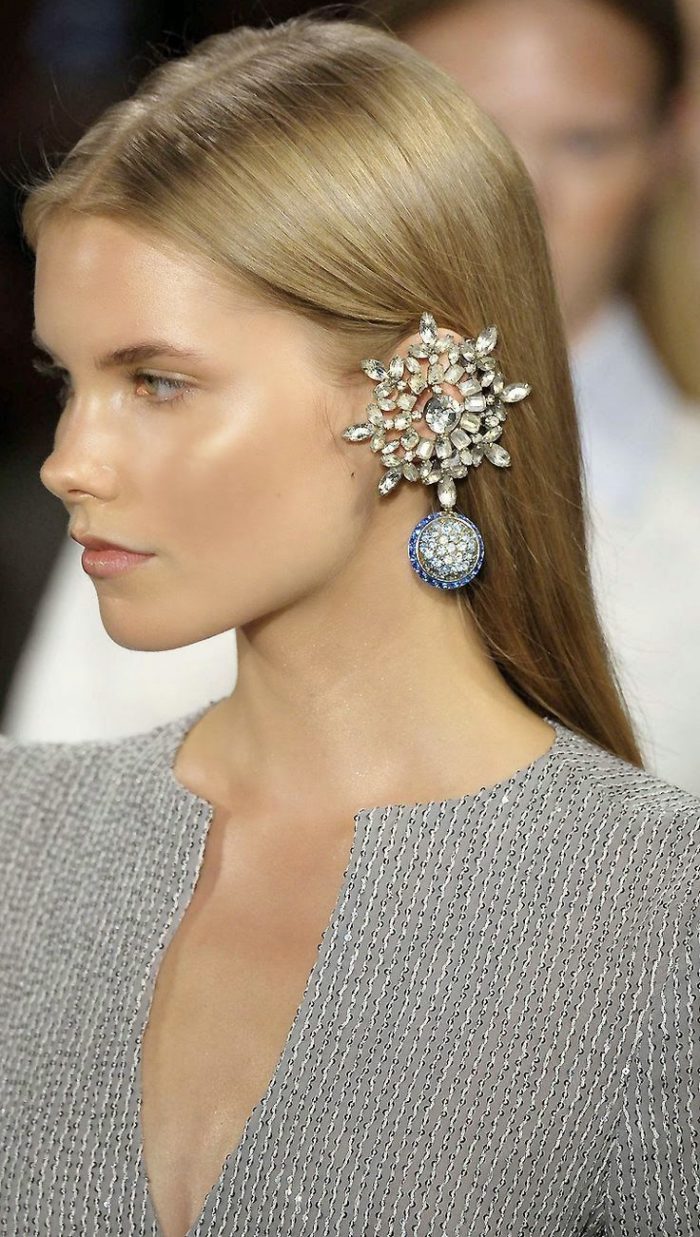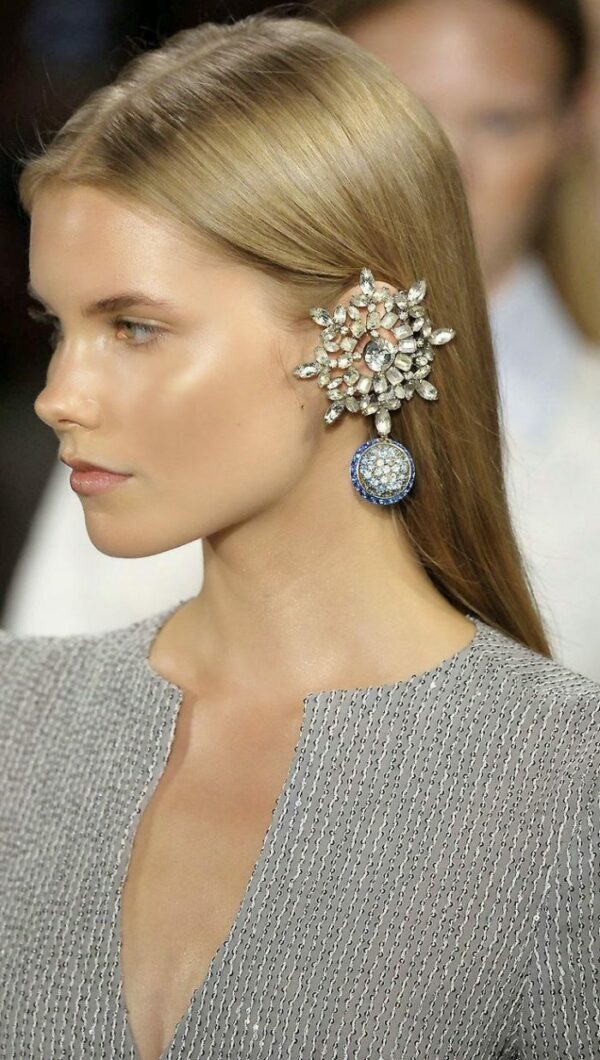 source