Tattooing is one of the oldest body arts people practice. Choosing the perfect tattoo design is a hard thing to do. When selecting the perfect tattoo for you, you should consider two things in mind: to make it look beautiful and inspirational. Remember that you are going to live with it forever. So before you take the big steep and pick your favorite tattoo, we recommend you to search on the Internet about the best tattoos or tattoo ideas gallery and their meanings. To begin with, we have made a selection of some of the most popular tattoos and their meanings that you can use as inspiration for your next tattooing project.
1. Tribal Tattoos
Tribal tattoos are one of the oldest ones in the history of tattooing. They originate from the artworks of ancient tribes such as the tribes of Celtic, the Borneo, the Haida, and the Maori. The modern form of tribal tattoos is called New Tribalism. Most of them originate from India, Hawaii, Aztec, Samoa, and Polynesia. These tattoos, in the past, were used to depict the social status of the person, and sometimes they were used even for medicinal purposes. Most of them are black. Although depending on the culture, there are different designs, techniques, and colors they are done in. Indian tattoos and their meaning are one of the most popular among the tribal tattoos. They are presented with bold line motifs, bold black lines, and repetitive patterned designs.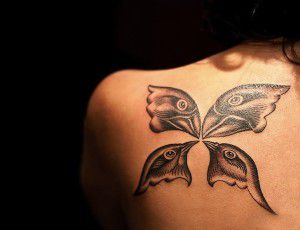 source
2. Traditional Tattoos
Traditional or so-called old-school tattoos are based on the traditional American or the Wild Western tattoo style. They are one of the oldest tattoos and are a real artistic masterpiece. In the past, sailors around the world used traditional tattoos to set themselves apart from other people. Traditional tattoos and their meanings today can also relate to their origins. The most characteristic of them is that they are not typically black. Instead, their design includes a limited palette of colors such as red, green, yellow, and black. Later, tattoo lovers added purple to their limited color palette.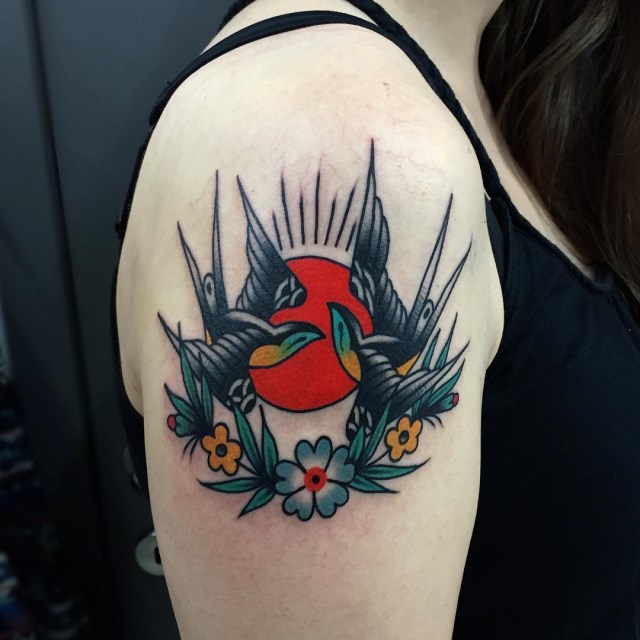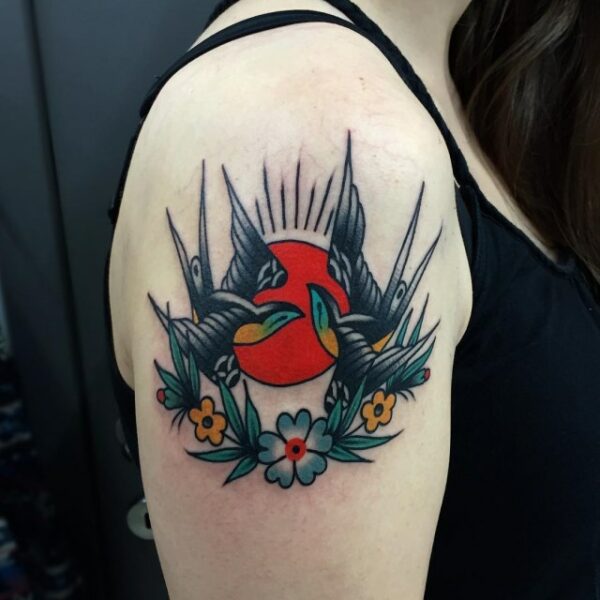 source
3. Henna Tattoos
If you make research on tattoos and their meanings for females, you will definitely find thousands of information about henna tattoos. The tradition of applying henna tattoos dates back from Ancient Egypt. Cleopatraapplied henna to adorn her body in the past. Since then many women practice it even today. Henna tattooing is traditionally used to celebrate a happy occasion such as weddings. Henna tattoos symbolize happiness, joy, beauty, and spiritual awakening. In Morocco, people paint their doors with henna. They believe it will bring prosperity to the household and the people living in it.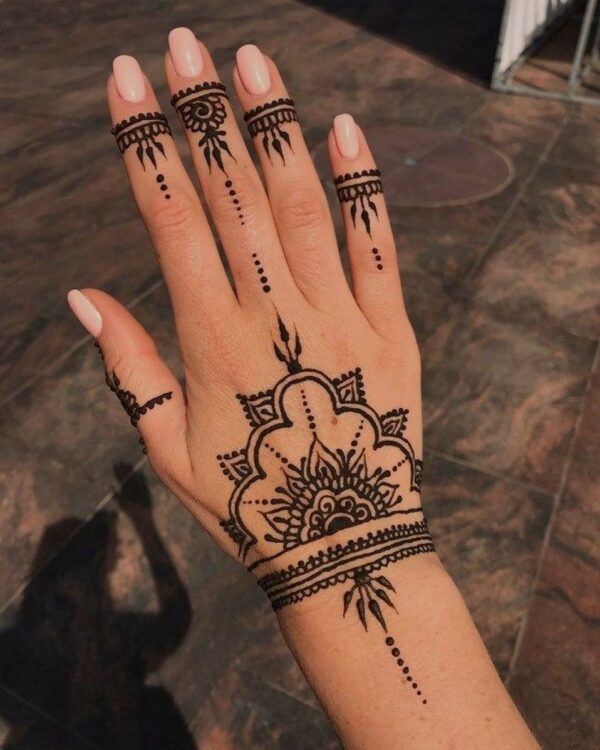 source
4. Arabic tattoos
Arabic tattoos are also one of the most popular ones. People simply can't resist the mesmerizing and exquisite look of an Arabic font. That is why they use it to make some creative writings over their body. Most of the people choose to write their names, or some spiritual phrase or quote with Arabic language font. Even Islamists who believe that tattoos are against their religion can be captivated by the magic of Arabic tattoos.  You can see them having one on their body too.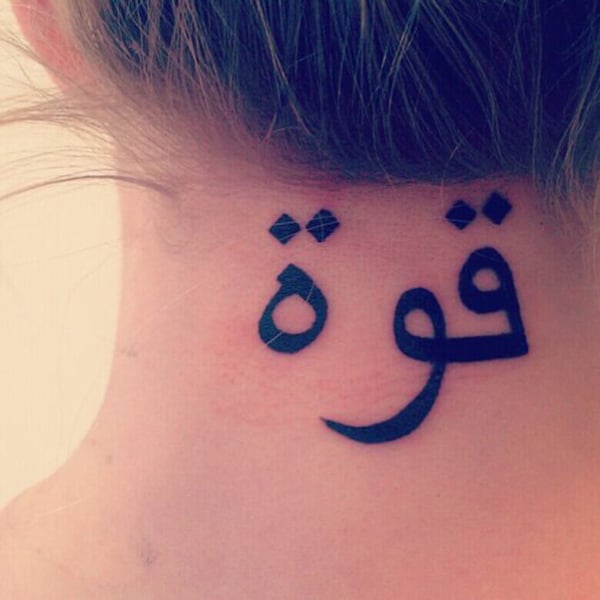 source
5. Dolphin tattoos
Dolphin tattoos are one of the most popular among couples or besties. They represent friendship and harmony.  Many couples or best friends decide to make their matching dolphin tattoos. Dolphins are one of the most intelligent animals and in Ancient Greece, they were considered god-like. When exploring dolphin tattoos and their meaning, you can see that they symbolize happiness, friendship, freedom, intelligence, connection.  Two dolphin tattoos inked together represent the sun and the moon. That is a symbol of partnership, duality, cooperation, and balance.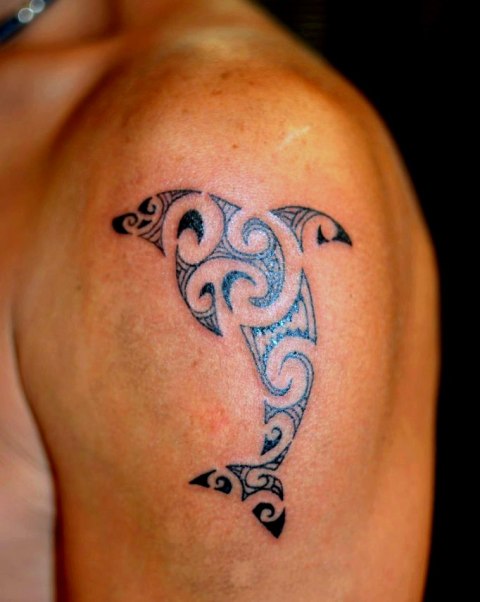 source
6. Butterfly tattoos
Another tattoo symbol that you can find common when exploring tattoos and their meanings for females is the butterfly. They can be a real masterpiece on the skin when painted in different colors. But they do look beautiful even when just drawn in black. Butterfly tattoos symbolize beauty, freedom, chance, and confidence. They present the transformation and the spiritual growth, as same as the butterfly itself. They are also symbols of female beauty and sensuality.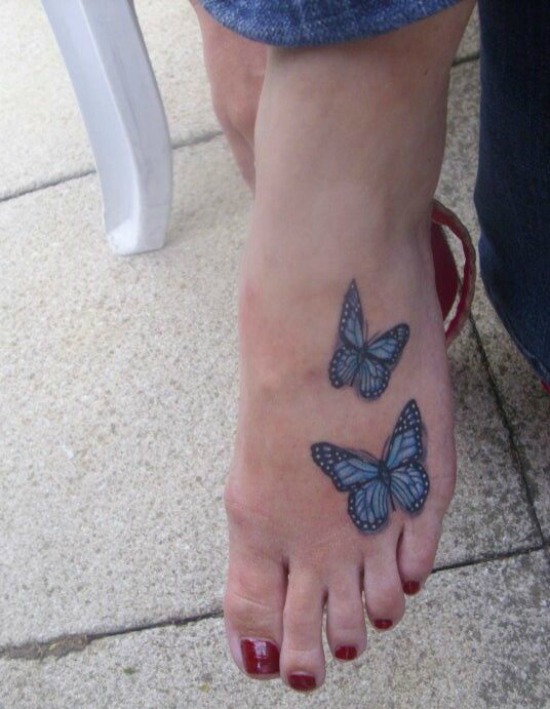 source
7. Star tattoos
Star tattoos are the symbol of accomplishment of a goal. They represent hope, ambition, success, an amazing moment in your life, a desire to achieve bigger goals, individuality, or the birth of your baby.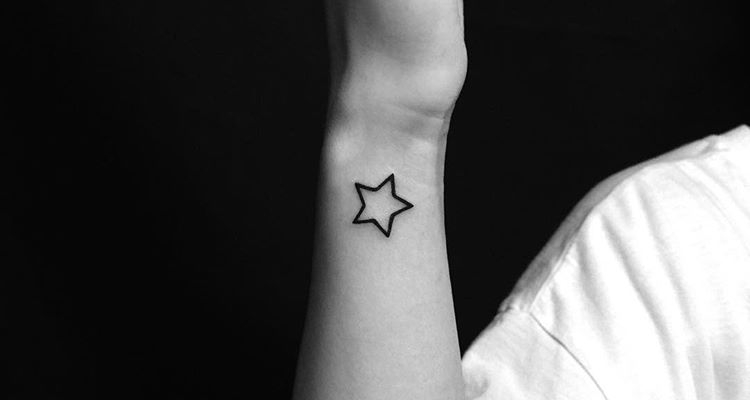 source
8. Sword Tattoos
If you make some research about tattoos and their meaning for guys,  swords will definitely appear at the top. Sword tattoos are symbols of knights, warriors, samurai, and ninjas. Their meaning is closely linked to justice, courage, honor, power, knowledge. They also represent valor, nobility, liberty, freedom. One of the most popular sword tattoo- the sword through the hearth tattoo means betrayal, lost love, and broken hearth.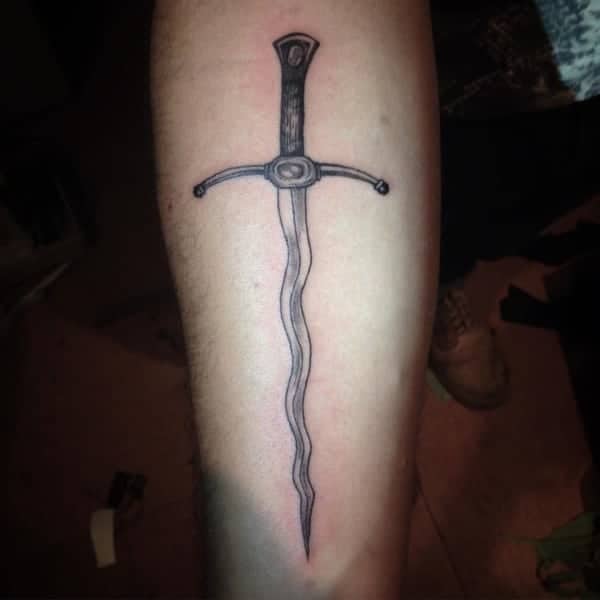 source
9. Positive quotes tattoos
Positive quotes tattoos are very popular nowadays. People ink positive quotes to feel motivated. They choose some quote that has meaning to them and inks it on their body. You can choose some timeless quote with positive meaning to get inspired by every single day. Also, you can select some quote that has affected your life, so that you will value it more.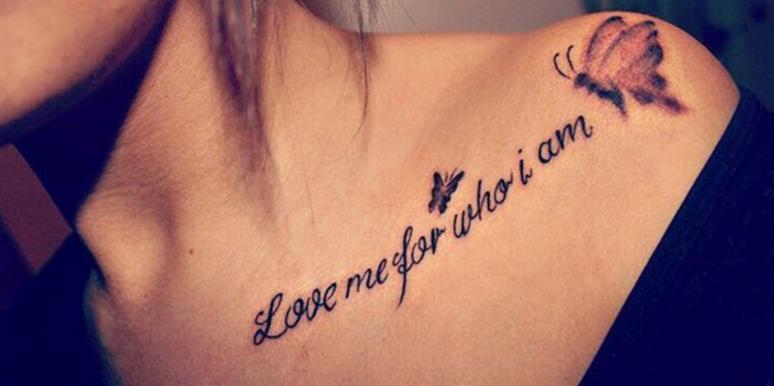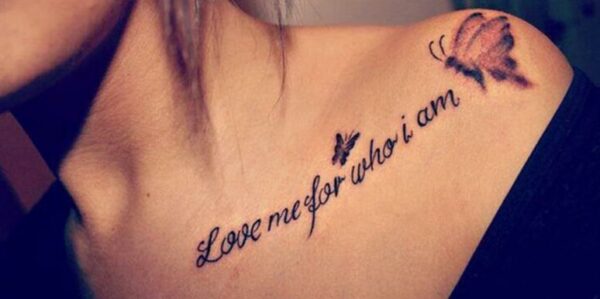 source
10. Lettering tattoos
Lettering tattoos are among the most popular ones. They have deep meanings for the one inking it on his/her body. Initial tattoos express deep love. Many lovers ink their partner's initials to express their strong emotions. Lettering tattoos are a perfect choice for matching tattoos. They are the perfect choice for small tattoos and their meanings are so noble.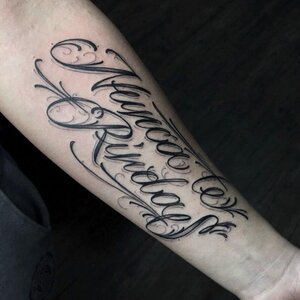 source