Have you always dreamed about having a tattoo? Most people would pleasantly have one immediately after their wishes to ink a tattoo appear. But, there are so many people that would think twice no matter the strong their wish is. If you belong to the second group and you are not too much interested in going under the needle, then henna tattoos are the solution for you. They are made from a plant-based ink or paste and it is completely painless. They would fade off naturally over a short period of time. Henna comes in shades of red, orange, brown, or blue-black. Women that love traditional Indian wedding tattoos would pleasantly like to try them. Here we are sharing with you some of the biggest henna tattoo trends for 2021, in case you want to try it this year. If you want to walk around as a modern and trendy woman this year, you will definitely want to try any of them.
Henna leg tattoo
One of the henna tattoos that have become very popular among women in the last year is henna leg tattoos. One of the reasons is because leg tattoos are so eye-catching, sexy, and feminine, and are perfect for the summer season when most of the legs are visible for the others. Women wearing shorts or dresses can easily show them off. A henna leg tattoo is a perfect thing to try if you are toying with the idea of getting a permanent leg tattoo. This way you will see if this kind of tattoo suits you or not.
source
White henna
When you first hear a tattoo you refer to a black or colored one. Well, think twice, because when you hear about henna tattoos you can refer to a white one too. White henna tattoo is ideal for women with deep skin tones. Also, the white henna doesn't contain any part of the henna plant and doesn't blench or discolor, or stain the skin. It is a mixture of a surgical-glade adhesive and skin-safe body paint. It is applied at the same time as real henna, but it won't last that long. Instead, it would wash away in three to ten days.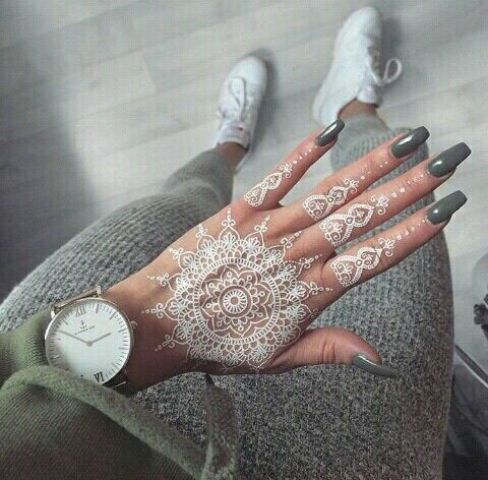 source
Henna with meaning
Henna tattooing originates from Indian culture. That is why one of the most meaningful tattoos among henna is the bridal mehndi in the Indian culture. Once you ink this tattoo on the palms, it is considered that the wearer is going to receive the blessings. Another henna symbol with meaning is the swan, which symbolizes success and beauty. The lotus flower is also very important, and it symbolizes eternity and divine purity in the Hindu culture.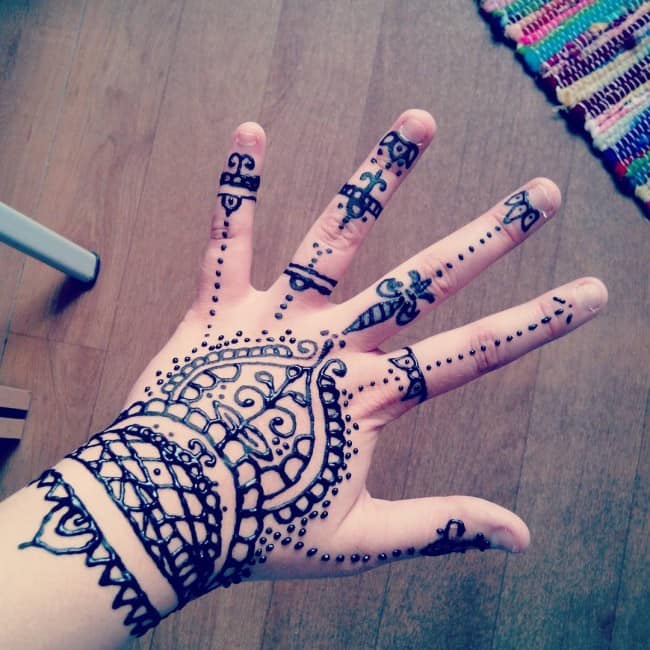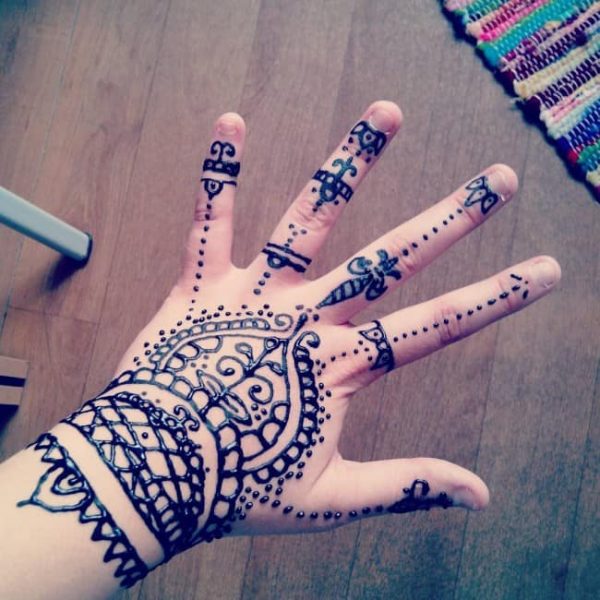 source
Henna flower tattoo
One of the most popular henna tattoos on hand for women is the henna flower tattoo. Flowers symbolize happiness and joy, while vines and leave represent devotion. That is one of the reasons why many brides choose flower henna as their wedding tattoo. Flowers also look so feminine and beautiful and are so easy to be combined with other symbols for getting real art, such as birds, butterflies, or dragonflies.
source
Small henna tattoo
If you are not a fan of a tattoo that will cover your whole hand or leg, then what do you think about a small one? Small henna tattoos are perfect for those trying it for the first time. They are also an excellent option for a matching group tattoo. The best about them is that they are so easy to apply. Also, the best place to apply a small tattoo is on your hand, the finger, or inner wrist. You can try some nature-inspired tattoos or some geometric patterns that have become very popular nowadays.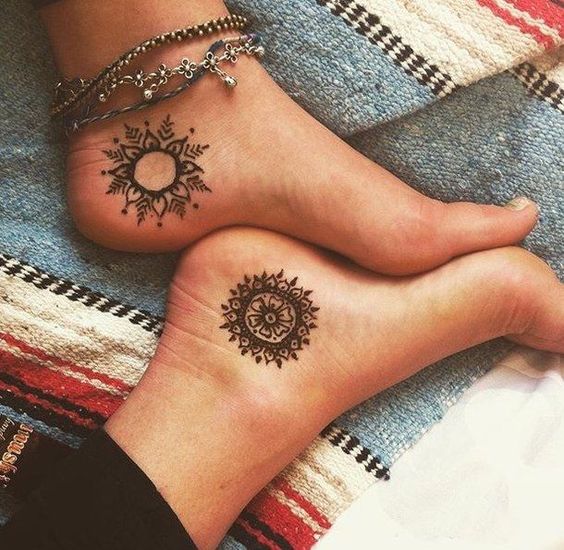 source
Henna finger tattoos
More and more women adore trying this new henna tattooing trend. Henna finger tattoos will look striking when applied to the fingers. Some of the most popular designs that are applied as finger henna are drops, dots, leaves, or full-color dip-dyes. When choosing to get your henna finger tattoo always try to choose an experienced henna artist to apply the tattoo, because your finger henna will be too visible all the time. You would like it to look perfect, right?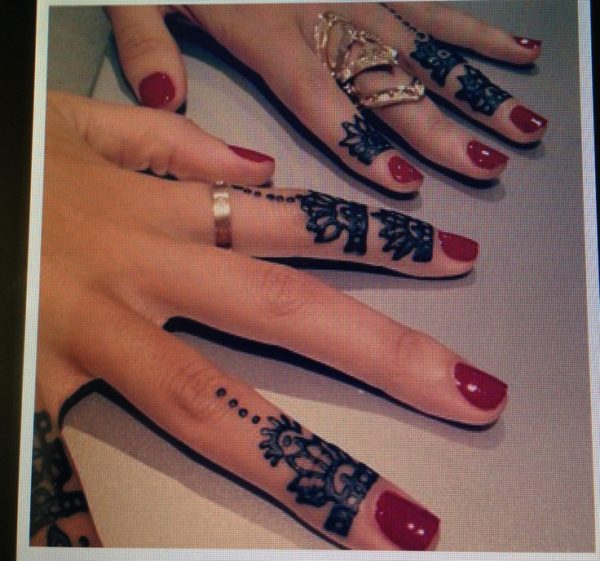 source
Foot henna tattooing
One of the most traditional tattoos in Hindu culture is the foot henna tattoos. If you are searching for some inspiring henna ideas, then you should definitely try this one.  They are that popular in the Hindu culture because feet are the part of the body that connects with the Earth the most. Foot tattoos represent people's connection with the natural world. The most popular designs among foot henna include peacocks, paisley, mandalas, etc. But, you can choose any tattoo that you want and wear it as a fashion statement this year. You will adore showing it off during summer while walking down the beach.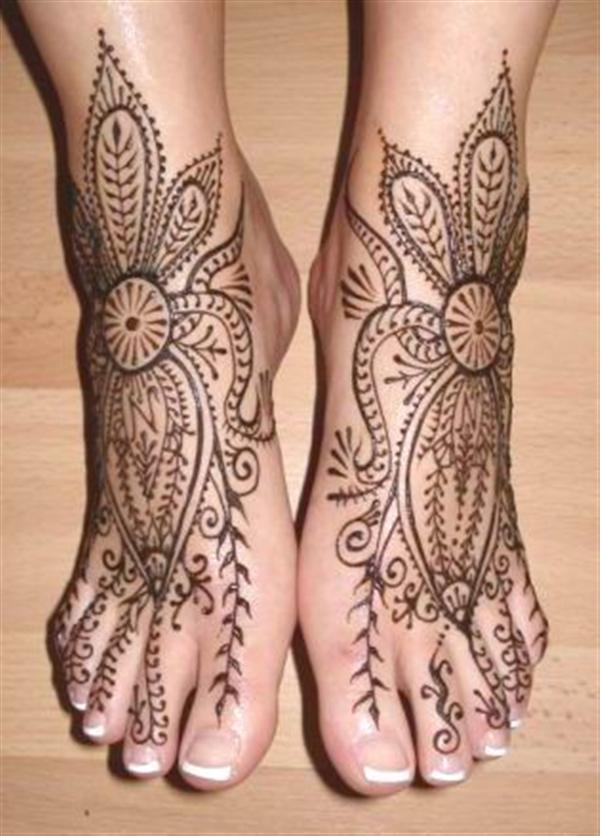 source