Big wedding parties have lost their popularity due to the pandemic. But, many couples still decide to celebrate the most important day in their life with their closest families and friends. Although the pandemic has changed our life a lot, there is one thing that has remained the same: any future "bride-to-be" biggest wish: to wear her dream wedding dress. Since the wedding parties changed, the wedding dress trends change a little bit too. Today we are sharing with you the biggest wedding dresses 2021 trends. Scroll down the page to see what is going to be hot in 2021. If you are going to say the faithful yes this year, don't miss these wedding dress 2021 trends. If you are a modern bride to be we are sure you will find your perfect gown among these wedding dresses. These new styles will make any bride-to-be fall in love with them immediately.
Short wedding dress
COVID-19 changed the way wedding parties are held by a lot. Many couples decide to take some online wedding party through Zoom. That means that you are not going to spend hours dancing on the dancing floor wearing your long wedding gown. Instead, you can opt for a white variant of a short dress. You will feel comfortable wearing it, and at the same time, the white color will give you the sensation of being a bride no matter the pandemic circumstances.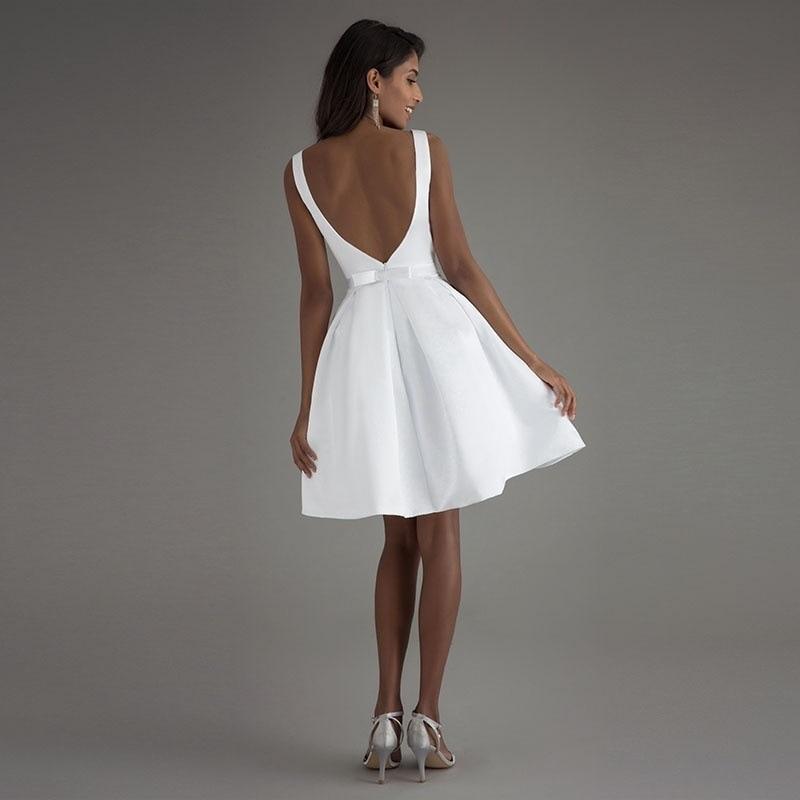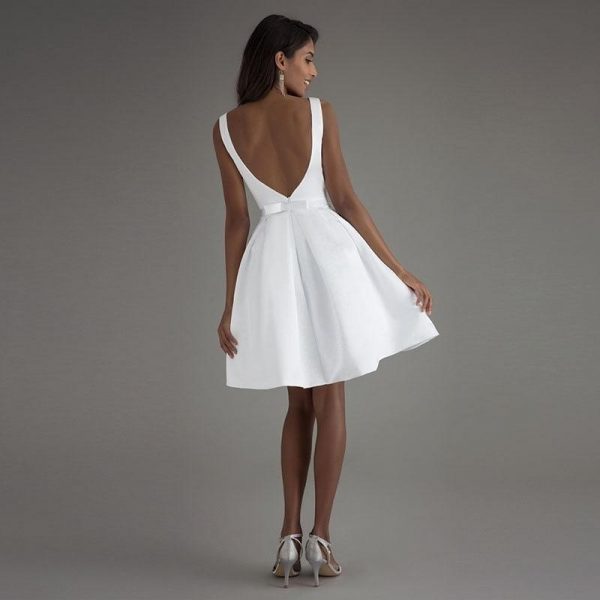 source
Capes
You are not a traditional veil fan? No problem at all. Skip the traditional veil and instead go for a cape veil. It will give you the same benefits as the traditional one offering you visual interest, extra coverage, and an optional train. Go for minimalism by choosing a sheer cape or just bring the dram by choosing a beaded or printed one.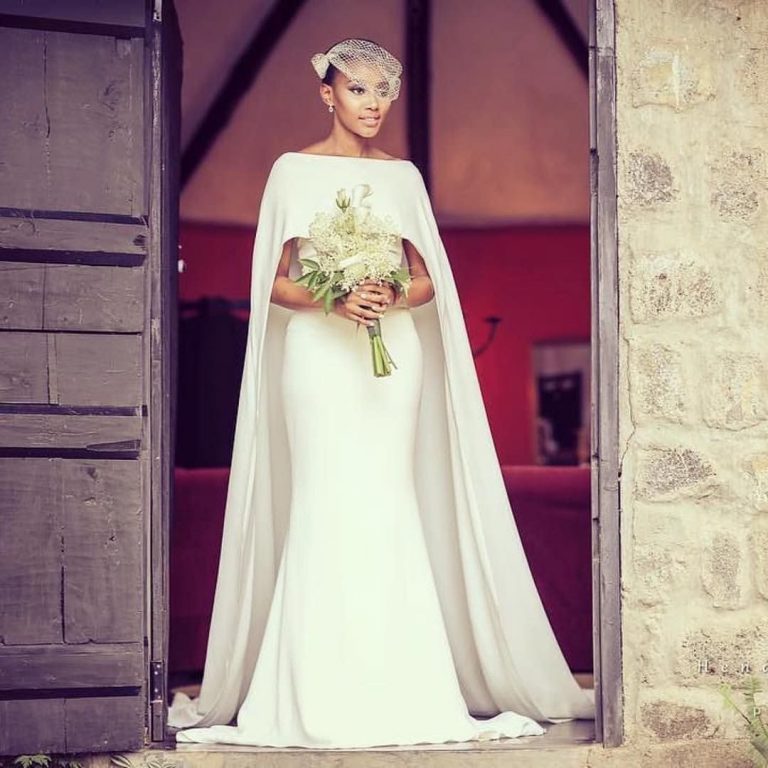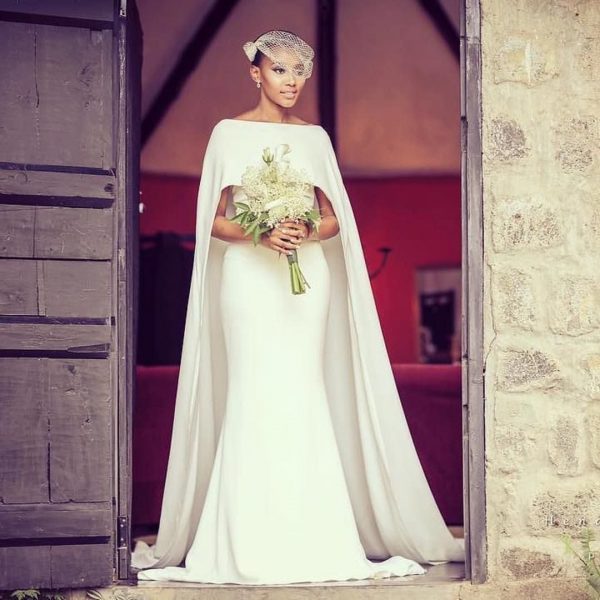 source
Crepes
Modern brides will simply adore this wedding dress 2021 trend. Imagine an unapologetically minimalistic look with clean and clear lines. Then open your eyes because you are having it in front of you. The crepe wedding dress made of silk, wool, or synthetic fabrics with a distinctly crisp appearance is your dream come true. Perfect for any season! Ideal for brides that enjoy simplicity and luxury at the same time! If you still want to add a little drama to your appearance, opt for a crepe skirt combined with a heavily embellished bodice or sleeves.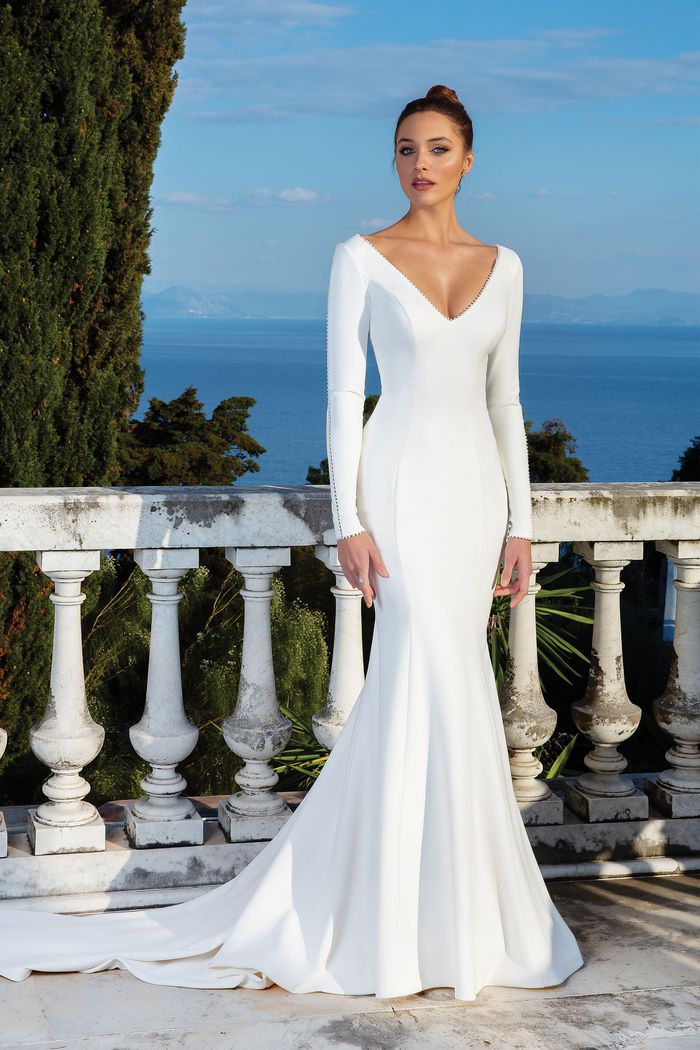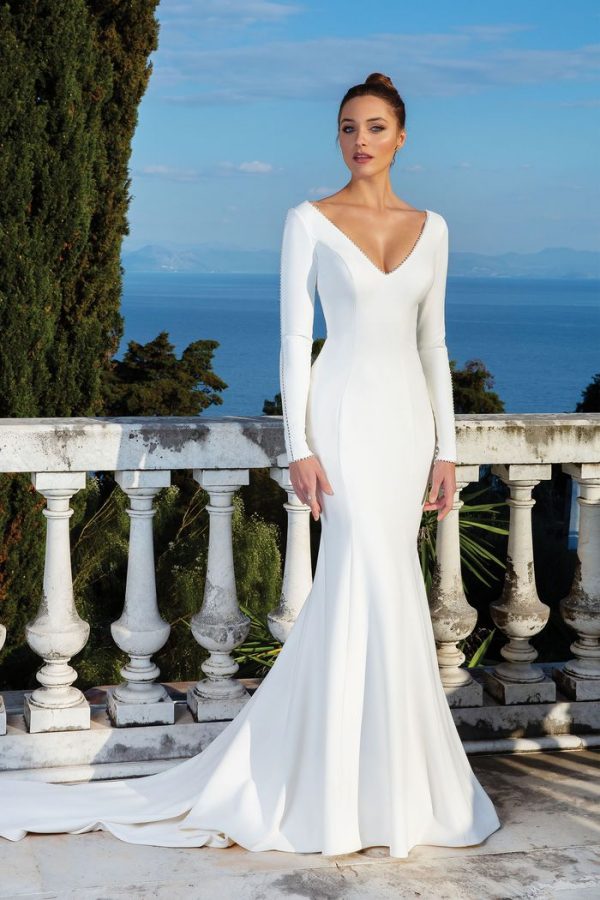 source
Pants
2021 is a perfect year to skip the traditional and changed it with what makes you happy and comfortable. You can't imagine yourself dressed in a traditional or any type of dress? Who says you need to go dressed in a wedding dress on your big day? If you feel like pants are your perfect choice, then choose wedding pants instead of a wedding dress. They are a perfect alternative more and more modern brides choose these days. For the 2021 wedding party, choose a modern wedding jumpsuit with allover lace, shimmery fabric, and detachable sleeves.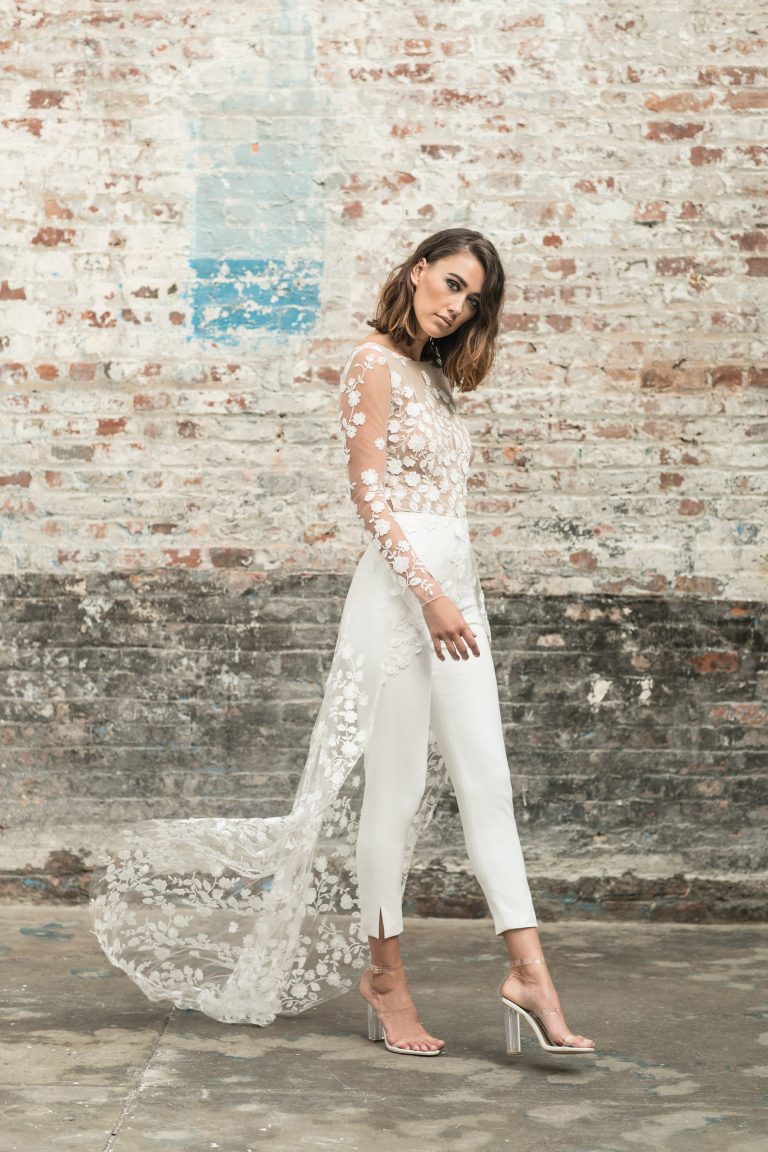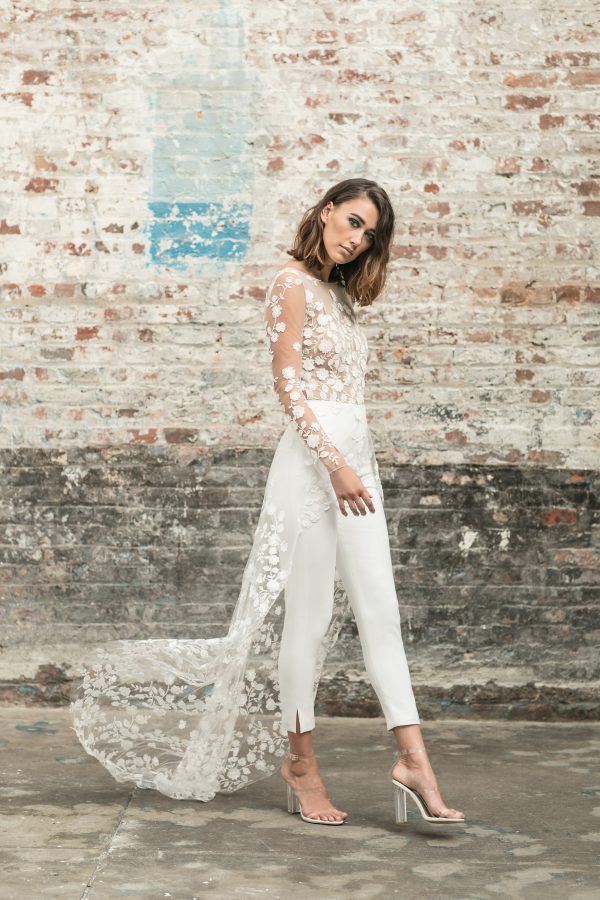 source
Square necklines
Sharp and geometric lines are a true throwback. They originate from the Renaissance era, but modern brides have brought them back to the scene. This year many brides will choose a dress with sharp lines that define their body lines perfectly. The best is to choose heavy satin combined with floral lace or simply crape for better effect.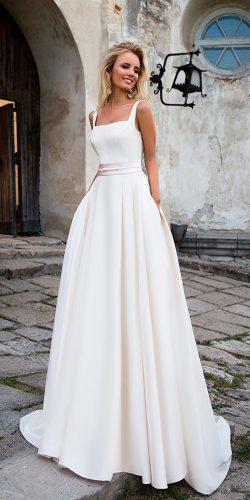 source
Bishop sleeves
If maximalist is not your style, but you are still obsessed with Princess Diana's puffy sleeves wedding dress, then here is good news for you. You can find a combination of them both in this slim silhouette with puffy sleeves wedding dress. It is about to become one of the most wearable wedding dress 2021 trends. The long sleeves that gather at the waist and flare at the shoulder are all about tasteful romance. The short sleeves are more appropriate for modern brides and wedding parties, or even better for an after-party or wedding reception. Just have in mind, not to over accessories. Puffy sleeves don't go with too many accessories, so keep them minimal.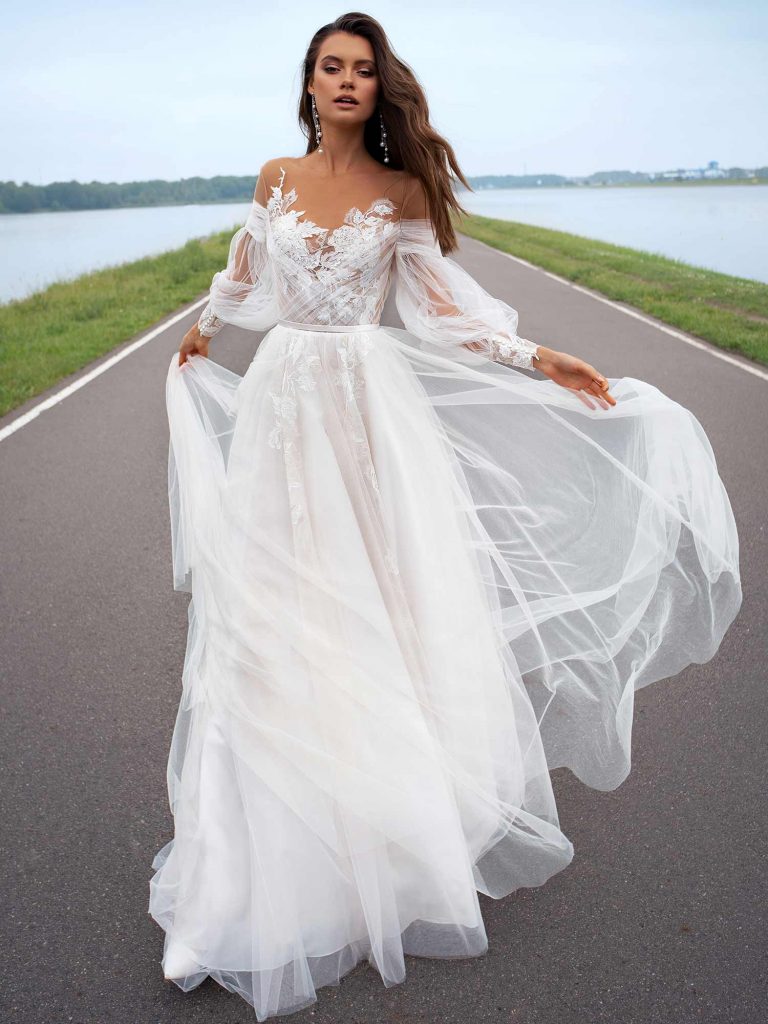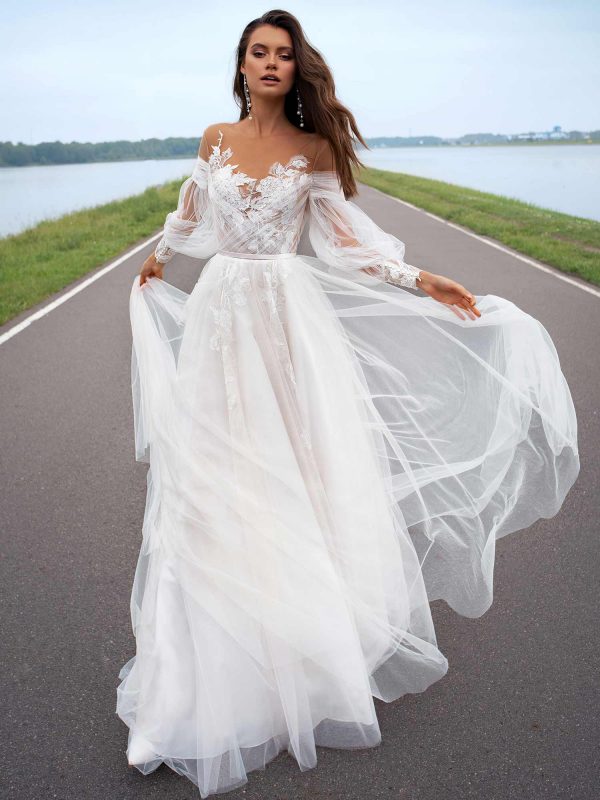 source
Layered skirts
If you want a dress with some added flair, but you are still too keen on to extra-full skirt or long train, then don's t miss a wedding dress with a layered skirt. The layers will give extra volume and dimension, but won't weigh too much and you will move easily while wearing it. This is your perfect princess gown. Layers perfectly fit both ball gown and A-line silhouette.
source
Subtle sparkle
Sparkling, shimmering, splendid! Do you want to literally shine on your special day? Choose a wedding dress made of glitter tulle and tonal sequins and beading. This wedding dress trend will add an ethereal touch to any silhouette and is a perfect choice for drama queen brides to be. If you want to show the world who is the queen of the night, don't miss this kind of wedding dress.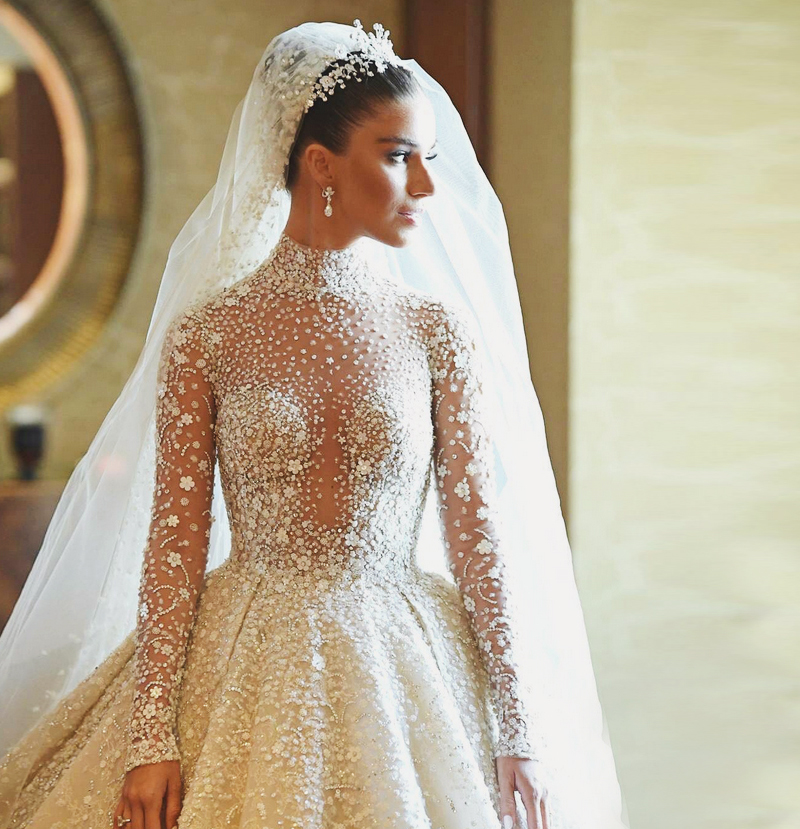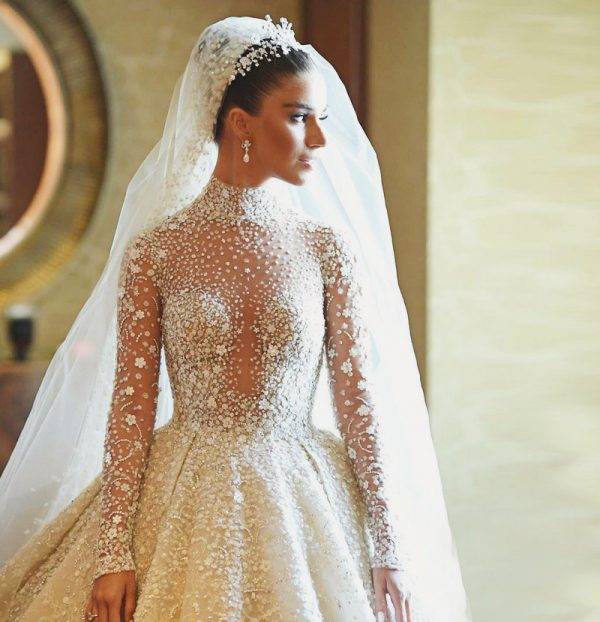 source