Image from Whiteflash – 18k White Gold Tacori Sculpted Tacori Crescent Eternity Wedding Ring
A momentous occasion is coming. Either you're choosing to propose to your other half or, you've already sealed the engagement. And now the wedding planning commences! With so many vital decisions to think about to perfect your big day, everything from the venue, to the outfit to the rings for most shall take careful thought and planning. Wedding rings hold a rich history thread in and amongst a variety of cultures and wedding ceremonies. With the ring as a symbol of love and eternity, still, a popular choice, particularly in western culture, choosing the right ring to propose or to seal your vows is essential. This post focuses on helping you to decide whether or not designing your own wedding ring is the right idea for you.
Pros
Sentimental Value
Of course, above all, you can't quite rival the romantic quality that's immediately attached to a ring that is designed by yours truly. With an active part in the creative process, you can choose something that you believe your partner will adore, or equally create something unique together.
Specific Design
For those who can't seem to find exactly what they're looking for from the jewelers, designing a ring might be the best option. For instance, maybe you envisioned a ring with rubies and diamonds blended together encrusted into the wedding ring. Or you wanted abstract speckles of copper on the backdrop of a white gold band. It's worth taking a little while to search if you can buy a ring you desire from the shop, such as the Tacori at Whiteflash range (we'll cover why below). However, if you're struggling to find what you're looking for, you can visit a jewelry designer to help you bring your idea to life.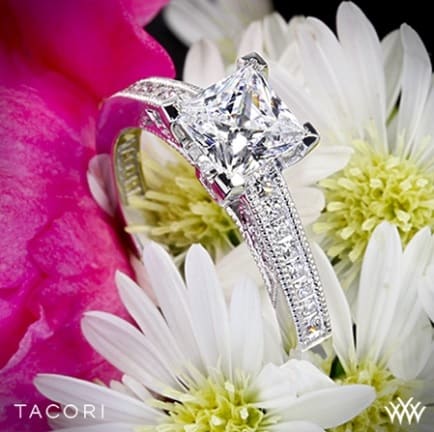 Image from Whiteflash – 18k Whitegold Tacori Simply Tacori Channel-Set Diamond Engagement Ring
One Of A Kind
To express the uniqueness of your journey as a couple this far, seeking to create your own rings could be an excellent choice for you. Perhaps you would like to add rare gems to the ring to represent each of your children. Or maybe opt for a design that instils your mutual love of nature with an emerald stone and a band with leaves engraved onto it. Designing a ring is an excellent idea for those with precise requirements that enjoy the thought of owning something unique.
Cons
Could Be Costly
One of the most considerable drawbacks of designing your own wedding rings is the cost attached! From the design to the creation, delivery costs, and alterations, you fund the entire ring making process. Which is why, if you have a specific budget in mind, it might be more cost-effective to browse and consider purchasing a ring from a jeweler.
Lengthy Process
Ready-made designs have the benefit of already being created. Sometimes you may need to adjust the size of your desired ring; however, this usually doesn't take very long to do. Also, by purchasing a ring that's designed, you won't have the stress of waiting for your rings to be created and delivered.
They May Dislike The Design
We can't possibly know every single detail our partner would like from their engagement or wedding ring – unless they show us of course. If they have already hinted at a ring they adore, it may be wise to stick with their choice or find something similar at least. Purchasing a ready-made piece of jewelry your other half has already fallen in love with is something you can be confident they will cherish.
Returns Policy
Depending on the jewelry designer you choose, there may be restrictions on returning custom jewelry. In consideration of this, it's more beneficial to select a ring that's already been designed, crafted, and perfected during the manufacturing process. You are also more likely to be able to receive a refund should you or your partner dislike your ring choices. However, with a custom design, you can never honestly know whether you'll like the ring you've designed until you see it in real life. Translating your vision to others can be quite tricky at times. Which is why it may be wise to spend time searching for a ready-made ring instead of venturing off to design your own.
Choosing to design your own wedding ring could be the better option for those who have the time, money, and an incredibly unique idea in mind of what they want. Otherwise, a range of professional jewelry designers have spent years mastering the appeal, comfort, and durability of wedding rings. And so you should feel confident a professional jeweler shall have something that will be perfect for you. The romantic element of the rings shall grow once you seal your commitment on your wedding day and spend your years together.