Summer weddings may be cheerful and wonderful and that may be the reason why many couples choose summer dates to say faithful yes to each other. But, there isn't anything more magical than a winter wedding. All those dancing snowflakes, frosted mountain peaks, and festive holiday season can make a winter wedding a real fairy tale. And, there is nothing more important at a wedding than the wedding photo-shoot. Many couples may decide to do a summer weddings just because of the uncomfortable few cold minutes they will have to go through while taking their winter wedding photos. But, believe us, winter wedding photos are all worth it. You will forget all the coldness you had to suffer while the photoshoot lasted, as soon as you set the magical winter wedding photos. Place a bride and a groom in a snow-covered field and that is all you need to get wedding magic. Winter can create a real snowy wonderland. Use it as scenery for your magical winter wedding photo moments. Here we are inspiring you with some creative ways to capture the most magical winter wedding photos ever. Use the seasonal spirit and the wonder of the snow and get your breathtaking winter wedding gallery, if you decide to wear some accessories you can try with a Hugging ring.
Wear custom accessories
Winter cold weather is the best excuse to incorporate your favorite winter accessories in the wedding photos. Custom jackets and cozy hats are the first choices for many brides getting married during winter. They can become part of some interesting winter wedding photos, and will keep you warm between the shots too.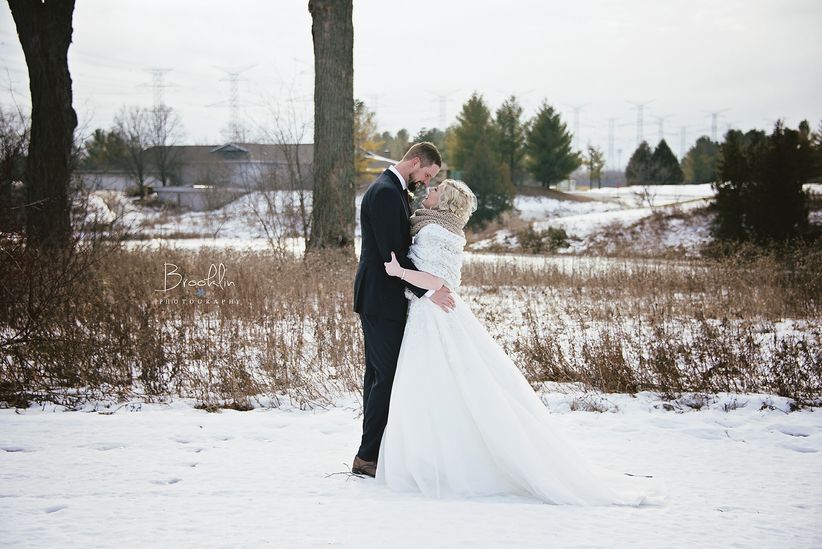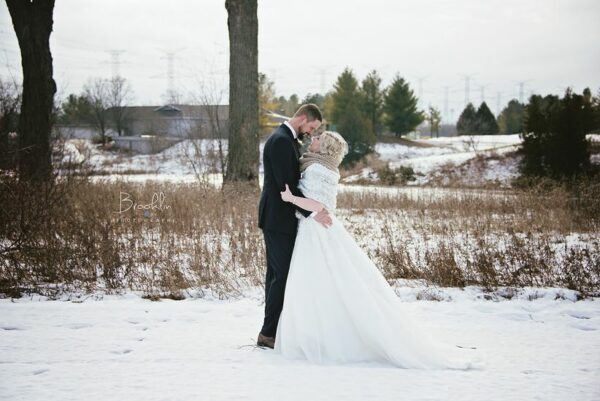 source
A romantic walk through the forest
There is nothing more magical than the frosty winter scenery. A walk through a frosty forest can be a wonderful winter wedding photo idea. Add a brightly colored bouquet and create a beautiful contrast against the whiteness behind you. Or, just choose some bold (such as red) tie for the groom and put the accent of the photo on it. If you can find a landscape that includes some bridge, then you are having all you need for the most magical wedding photoshoot. Frosted bridges can be as inspiring as the forest for a romantic walk holding your hands together. If this is not a fairy tale moment, then what is?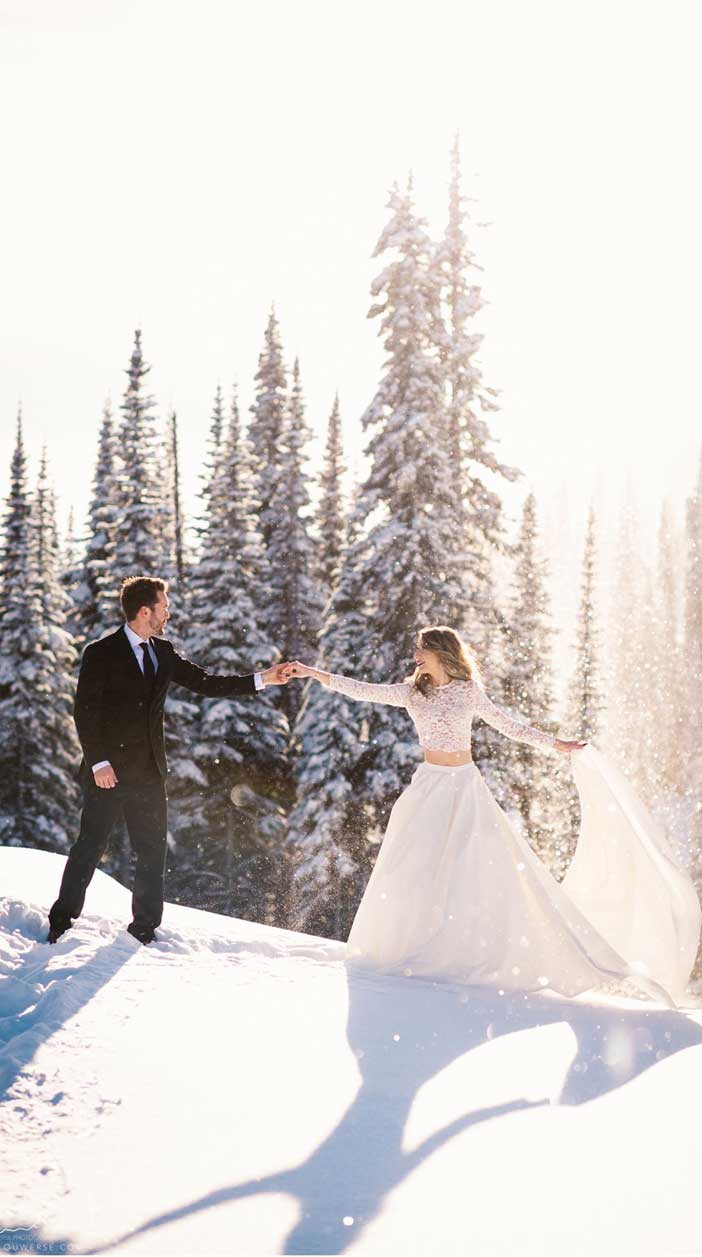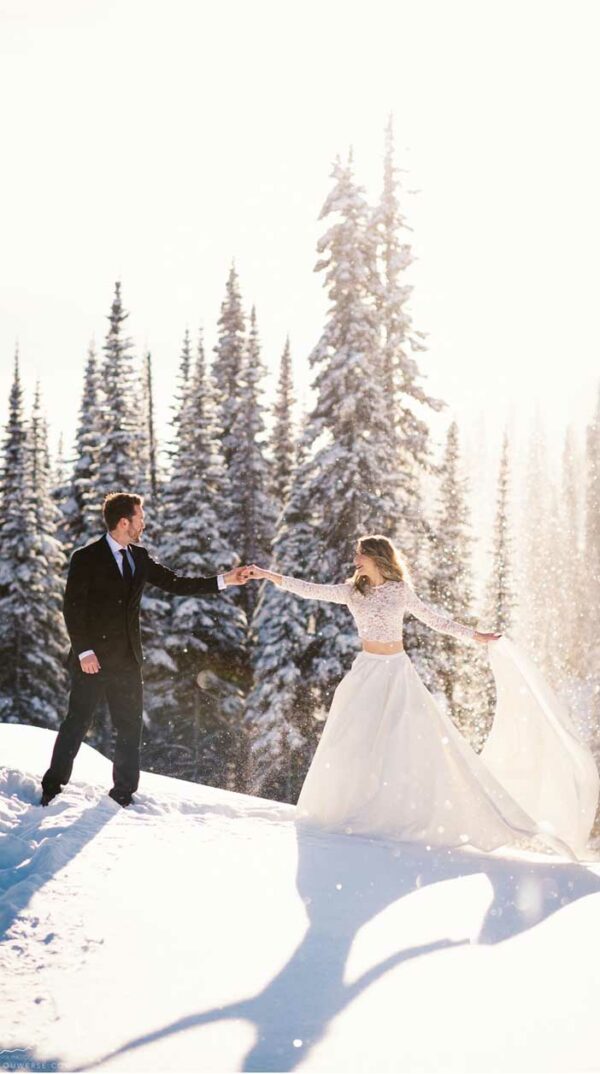 source
Choose breathtaking landscapes
That won't be difficult at all, because you can find them all around you. All you need to do is turn the head left or right, and there they come-the breathtaking winter landscapes. The winter sky itself is enough magical to use for a stunning photo. Snow-capped boulders are another of the elements you can use. A bare tree blanked in the snow is one of the best landscapes to choose. If there is a frozen lake behind it, the shot will be all winter romance. Damp fog can also add a mystical tone to your winter wedding photos. Wake up early in the morning when it is most foggy and use the scenic landscape to shoot the best winter wedding photos.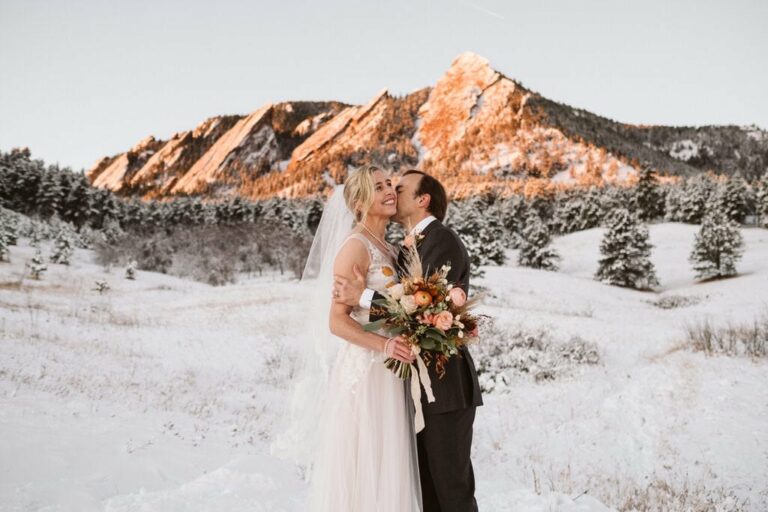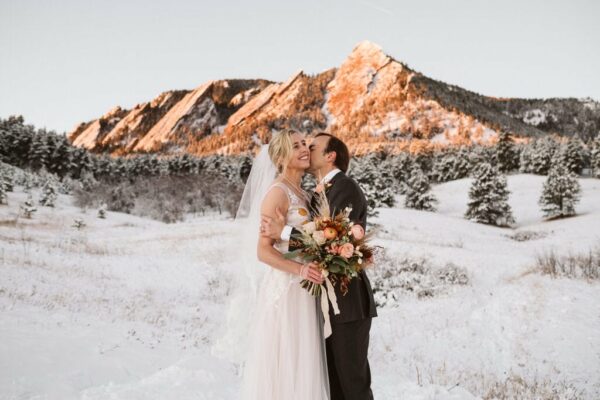 source
Share kisses under a snowstorm
Is there something more romantic than sharing sweet, snowy kisses? If you can capture a snowstorm then use the moment for creating magical winter wedding photos. If you can't, ask a friend to help you by creating a false snowstorm by throwing snowflakes all around in a snow-covered field. Wrapped up in the blinding white swirl of the snow you can create stunning photos that will awake cozy moments any time you look at them.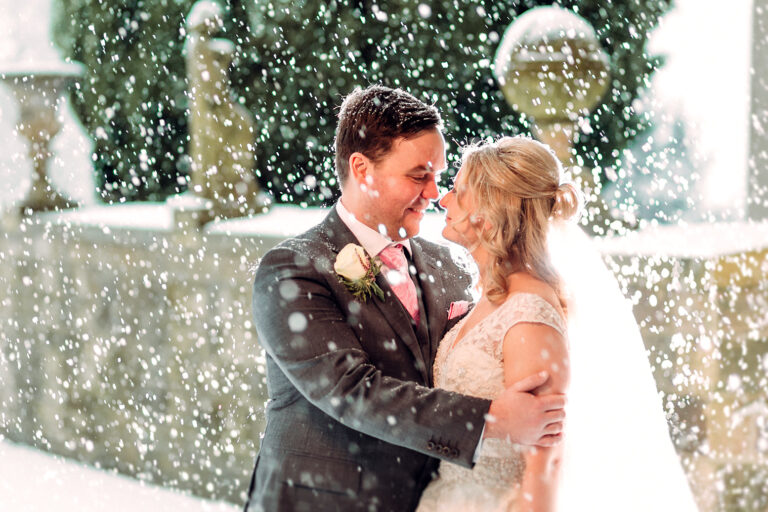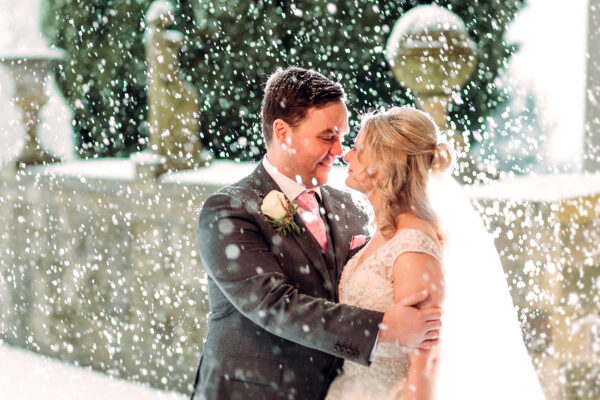 source
The night sky combined with a street lamp can create shining and dramatic scenery. Don't miss to take few photos under the light of the street lamps, while the snow falls down. Add some dancing under the snow moves and you will get the most magical shot ever.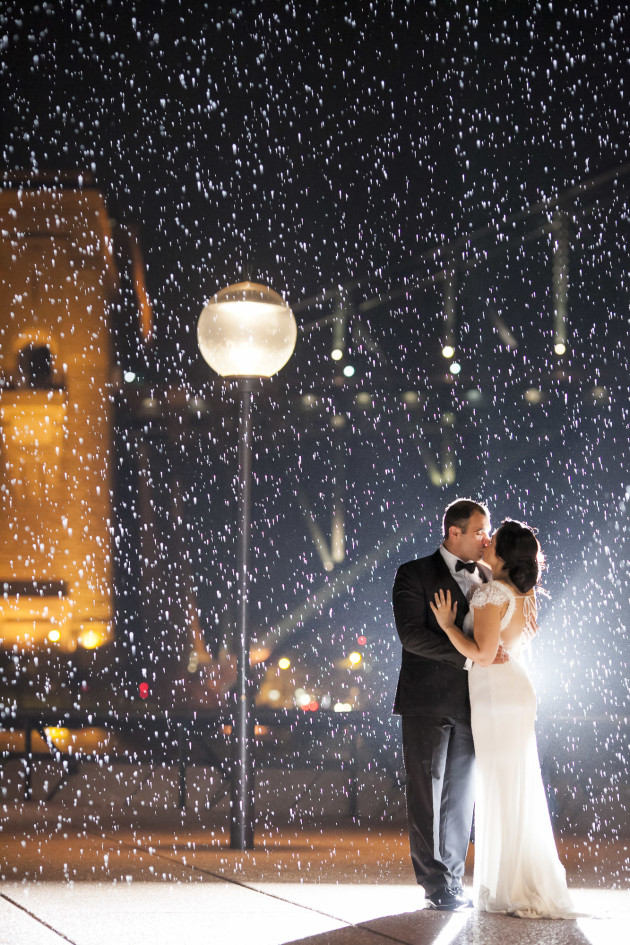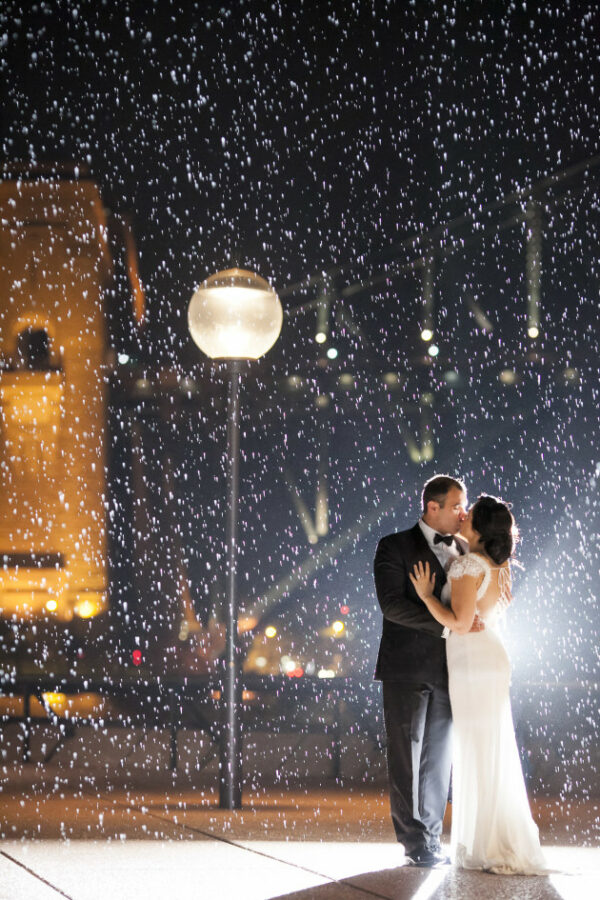 source
Bundle up with blankets
Cold weather outside can be an inspiration for many romantic photos. Wrapping up under a blanket can be one of them. Get a beautifully patterned cozy blanket with you on the photo shoot. Then get wrapped up together creating a romantic moment and a stunning photo too. The blanket will keep you warm during the photo session and can serve as a perfect prop. So, don't forget to put it on the "to carry with you on the winter wedding photoshoot " list.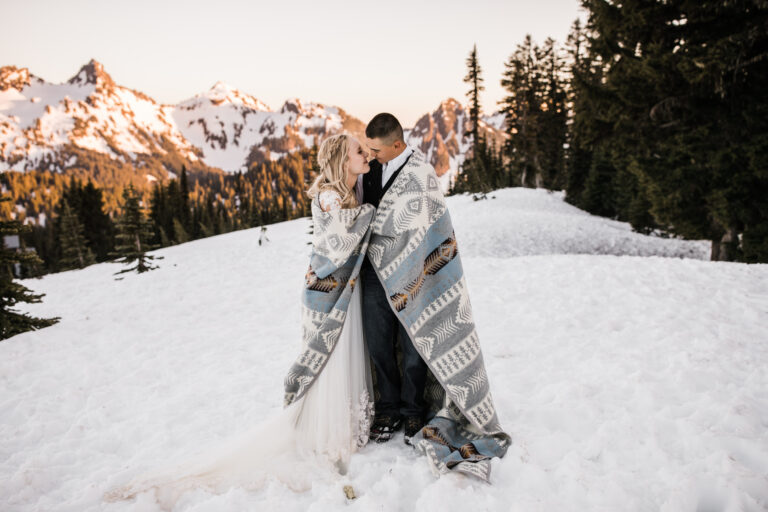 source
Skiing moments
If you don't dare to get married on a mountain, then you may dare to go for a fairy tale photoshoot in there. Don't forget to bring the skis with you. Show off the adventurous side of you and your partner by taking a photo skiing while wearing the wedding dress. Or simply place the wooden skis in the snow creating bunny ears. Then sit one next to the other, or just stay there holding your hand and looking somewhere far away. If you are even more adventurous and you dare to climb on the ski lift, use your adventurous spirit for even more breathtaking photos. The ski lift can offer you a bird's eye view of the scenery that is nothing less than magical. Use it to make your fairy tale moment even more wonderful.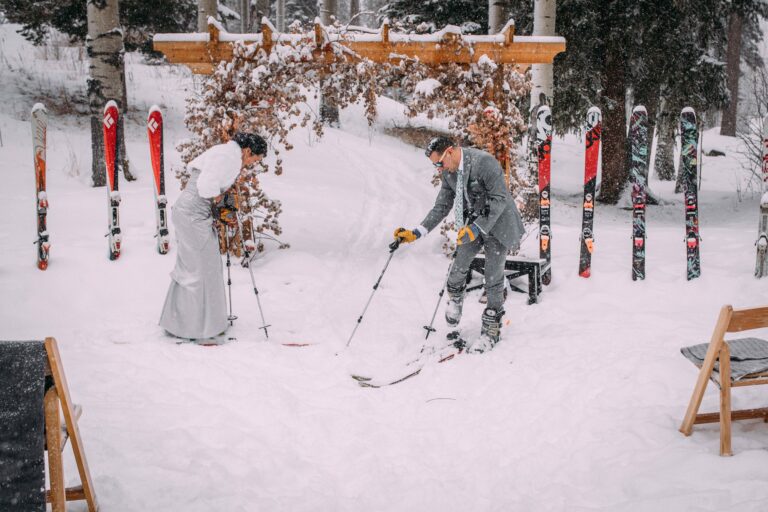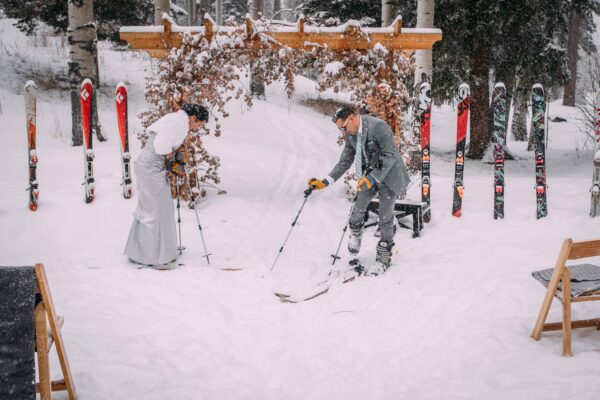 source
GO ICE SKATING
Add some adventure to your winter wedding with an ice skating session. You can capture some intimate moments getting ready in the snow or share your first dance on your ice skates as these two did for their Colorado elopement!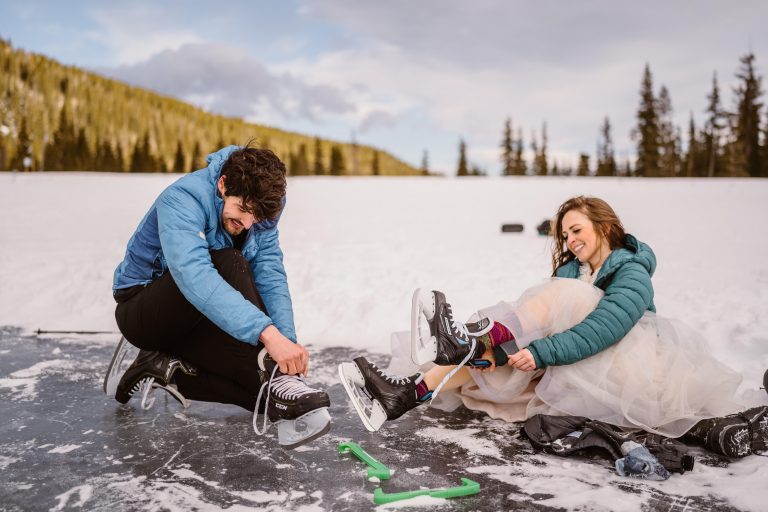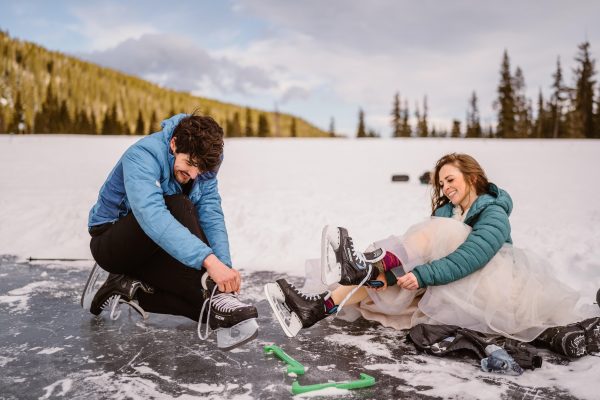 If you try out all the ideas we suggested above and spice them up with your own creativity, you will have a lot of stunning wedding photos by the end. But where can you keep them? You always have an option to put your wedding pictures in frames as home decor or add them to your family album.  But there is a better solution for you. Create a thematic slideshow to remind you and your partner of your special winter adventure. Or make it a wedding anniversary surprise instead. Imagine the cozy and warm moments, the hugs and kisses you will share rewatching it together in your living room. Had never done a video slideshow before and don't know where to start? Check out some tips and ideas on how to make a wedding slideshow and gain some inspiration for your own digital photo album.