Winter is the most wonderful time of the year. All those cozy fireplaces, mugs filled with hot cocoa, and fluffy white snow make it the most favorite season for most people. If it is your most favorite one, too, then it may be the best wedding season for you, too. A winter wedding can be utterly magical and romantic. But, there are a few issues that go hand in hand with planning the perfect winter wedding. If you are going to have a winter wedding, don't panic. The possible problems that can appear are small and totally avoidable when you make some preparations beforehand. Here we are sharing with you the ultimate winter wedding guide: what you need to know when planning a winter wedding. We hope this winter wedding guide will help you in organizing your fairy tale wedding even when the temperatures fall down extremely.
1. Visit your venue at night
Winter days last shorter than the summer ones, so the majority of your reception will take place after the sun is gone down. That is why you should consider the idea of arranging your winter wedding venue in the evening. Before you arrange it, consider the kind of lightening the place is offering, and whether the vibes are cozy and inviting. Also, don't forget to inform your photographer so that they can plan their shots.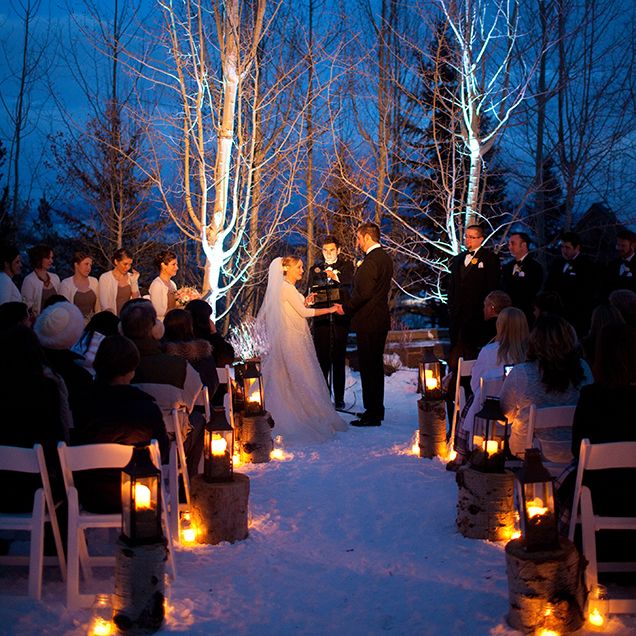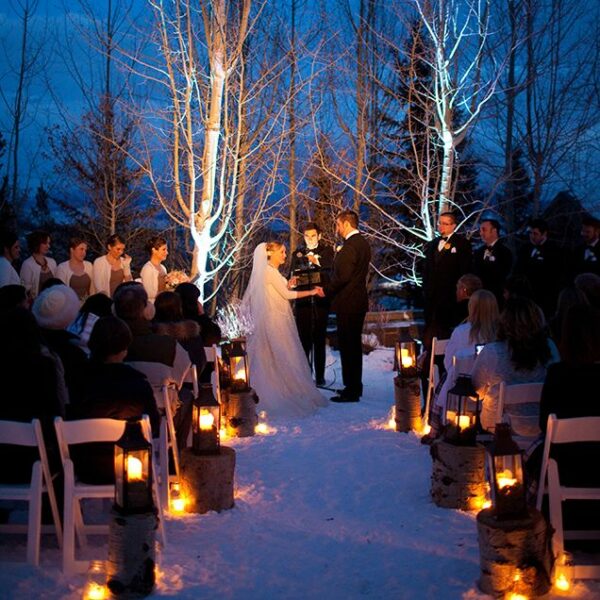 source
2. Try to negotiate a deal
January and February are not typical months for holding a wedding party, so most of the dates are usually off-peak. That means that they are also cheaper than the dates during summer. You are more likely to choose the better place, better caterers and suppliers, as they are not too busy during winter. The fact that most of the restaurants are free during the winter season, gives you a chance to negotiate a deal. In other words, you can get some money off offer, or "to get more for the same price" offer. You can even get a further discount on guest accommodation. Just, consider that the dates that are close to Christmas can be very expensive, so try to avoid them.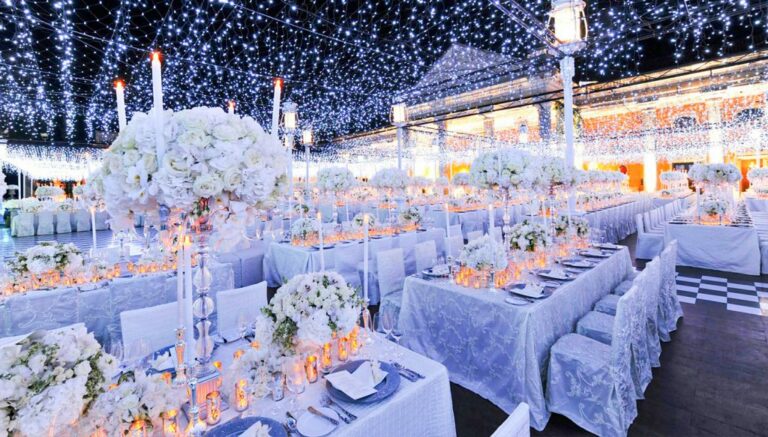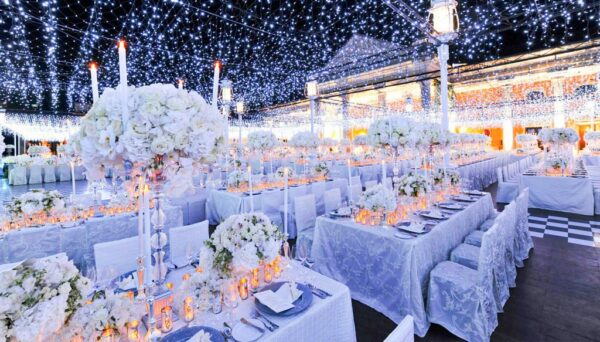 source
3. Plan an alternative for bad weather
Winter weather can go badly because of the probability of snow. That is why you need to plan an alternative if the weather gets worse than previously planned. Consider in mind some questions such as what if some of the suppliers are unable to arrive at the place of the wedding because of snowy roads. Is there someplace where the guest can park their cars in bad winter weather conditions? Or, will be there some alternative place where you can make your winter wedding photo session?  Is there somewhere alternative where you smokers guest can smoke cigarettes?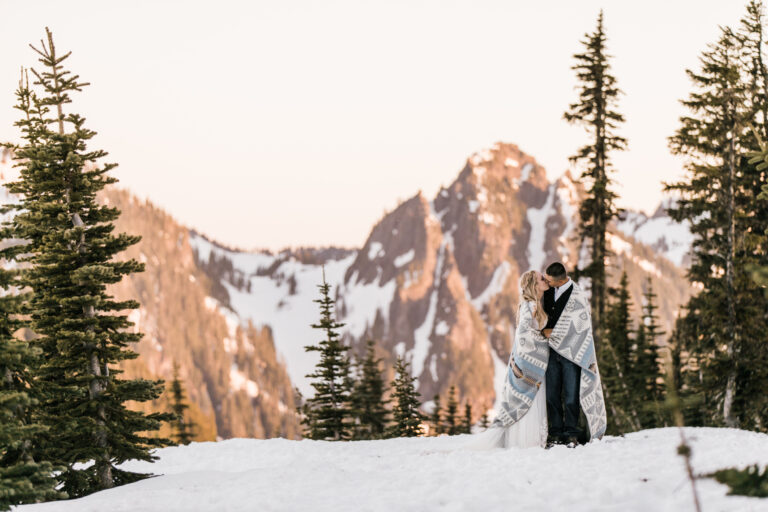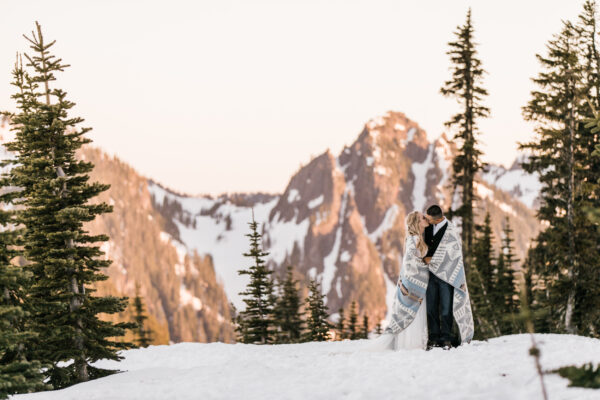 source
4. Check what decorations you can use
Decorations are the most important part of a wedding party. And, during winter, the Christmas season, there is an endless list of decorating ideas that you can use to get inspired. Most of them include typically Christmas supplies and the best is that they would look amazing for your wedding party, as the Christmas decorations are festive enough on their own. Green and red-colored decorations are perfect for winter wedding decor, but if you don't want a typical Christmas décor, you can go for a white variant which is the best choice for winter wedding decoration.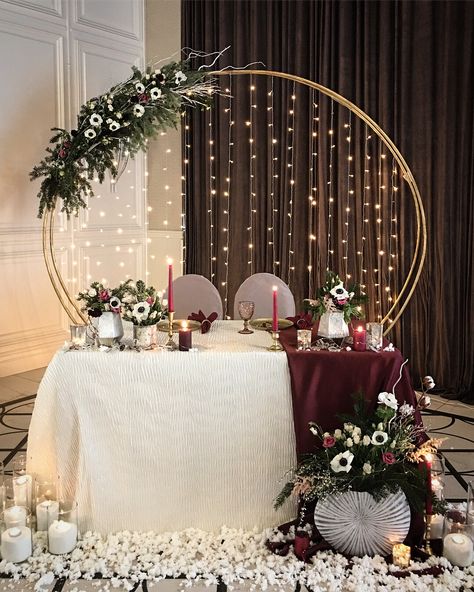 source
5. Winter wedding style: layer up!
Winter wedding dresses with metallic beading and beautiful sleeves can be the best choice for a bride to be, planning her wedding party during winter. Because of the cold weather, a winter bride should consider adding some layers are accessories to keep her warm even when the temperatures fall below zero. Capes have been very popular for brides getting married during winter. Most of the brides-to-be add a faux fur stole a chic shrug or white tuxedo-style jacket above their wedding dress to keep the warmth. Bridesmaids can try a pashmina or a bolero. Take it off when you are inside so that you don't get too hot while dancing on the floor.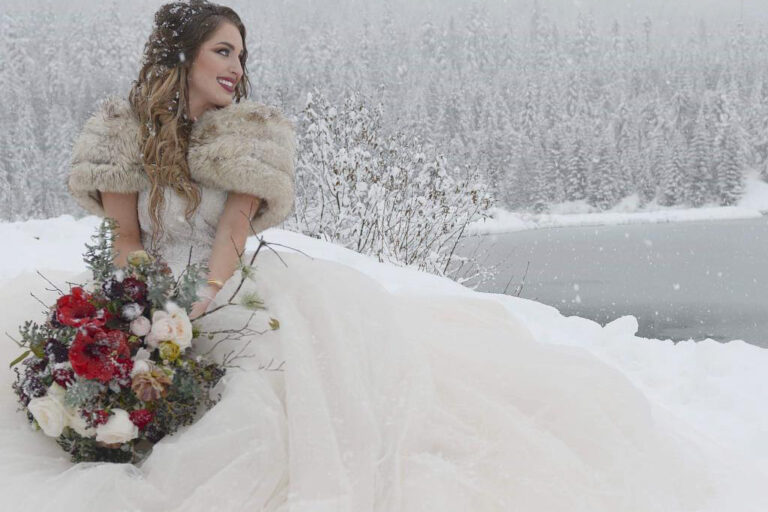 source
6. Suit your flowers to the season
Tropical, out–of–season flowers are not the best choice for your winter wedding bouquet if you want to look gorgeous. Every bride knows the importance of the wedding bouquet. So, for a winter wedding embrace seasonal blooms and arrangements. Stick to classic whites and dramatic reds arranged in a green base. The best choice of winter wedding flowers for your bouquet is wintry foliage, ivy, springs of yew, holly, and hypericum berries. When arranged with the professionalism they can't look anything less than gorgeous.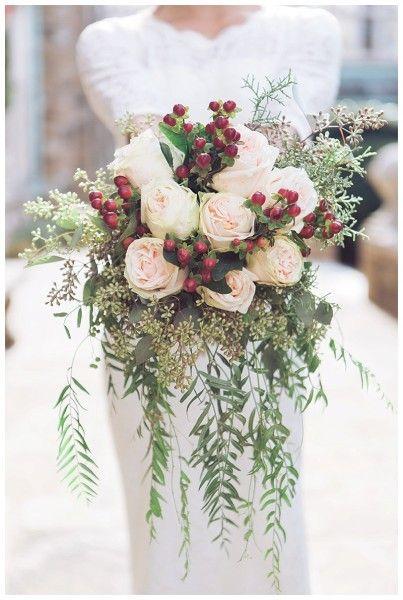 source
7. Winter wedding cake
If you want to add some glamour to your wedding party, then consider in mind that the biggest décor of a wedding party is the wedding cake. For a winter wedding, you can opt for a white and gold styled cake with fir and pine cone toppers. It is any woman's dream come true when a winter wedding cake is in question.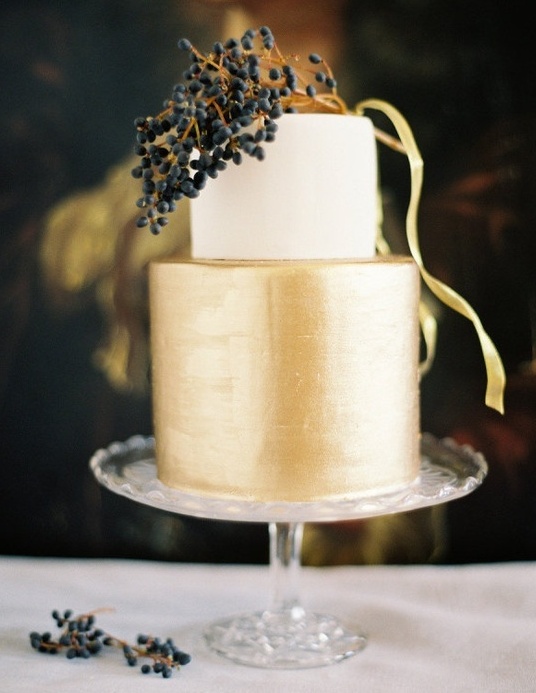 source