Winter is officially here. Welcome it in a fashionable way with these adorable DIY winter clothes ideas. You may love winter, but we should all admit that winter clothes and accessories can cost you a fortune. If you want to look stylish even during cold winter days, you need to open your wallet and spend a fortune shopping for all the winter essentials for a fashionable season. Or, you can instead keep the fashion style on a budget and try these DIY winter clothes and accessories ideas on your own. We have prepared this tutorial gallery to have you covered from head to toe.
The best about these homemade clothes is that they don't look cheap at all, and if you put a little much effort they will look like you have bought them from some expensive clothes. They are all easy to do and are the perfect way to fill the boring and cold winter days. And, your wardrobe will be full and fashionable. Can a woman wish for something more?  Scroll down the page to explore these DIY winter clothes and accessories ideas and choose the ones you will start making first. You will stay amazed by these homemade garments. Wearing these warm and comfortable pieces that you can make on your own is a magnificent feeling you will definitely enjoy. So, catch a glance at the gallery and start your own DIY project right now.
Fingerless gloves from old socks
Were you about to throw an old and unused pair of socks? Stop it immediately, because you can use them in a new and creative way. What can you make from them? Fingerless gloves! In order to make the best gloves, take some thick socks. They are warm enough for the cold winter season. Your hands will be thankful to you. Forget all those frosty cold mornings when you had your fingers almost frozen. With these DIY fingerless gloves from old socks, your fingers and hands will stay warm and cozy. The best is that the tops of your fingers will be free and you can use your smartphone without problems. All you need to DIY fingerless gloves form old socks are the following materials:
A pair of old thick socks
Scissors
Needle
Threads
Heart patches (optional: to decorate the gloves with)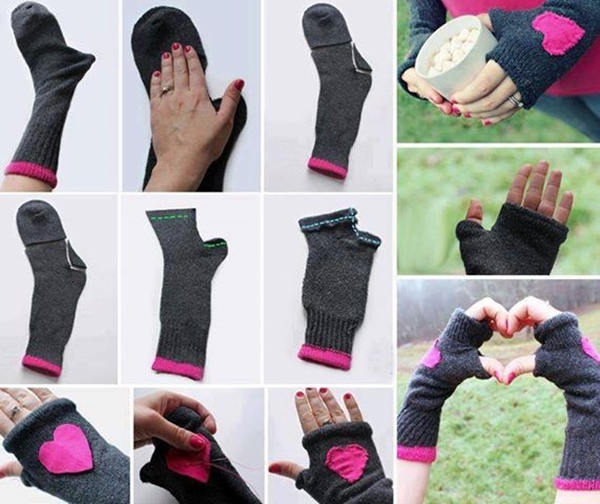 source
DIY slipper boots
One of the easiest DIY crafts for winter clothes is the one where you make slipper boots. Slipper boots are a must-have to keep your feet warm and comfortable. And, you can make them on your own by using just an old sweater. If you have some old sweater that you don't wear anymore or some that you have kept since you were a kid, repurpose it. You can use even two different sweaters to make even more colorful slipper boots.
Needed materials for the project:
One or two old sweaters
Darning needle
Yarn
Pins
Scissors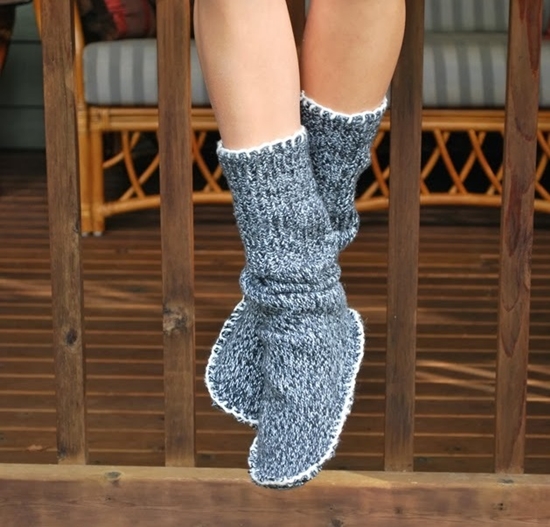 source
DIY blanket scarf
One of the most versatile winter pieces is definitely a scarf. The best winter accessory that will give a final touch to any outfit you style. Blanket scarfs are very trendy this winter, so don't miss to buy yourself at least once. Or, to DIY one on your own! The best about DIY a blanket scarf is that you won't need many materials. All you need is:
2-2.5 yards of Flannel fabric
Sewing scissors
It is so easy to make it. And you can't go wrong once you get it in your hands. You can find thousands of ways to style it. There is never a wrong way to wear a scarf, so don't miss to fill your wardrobe with one that you handmade.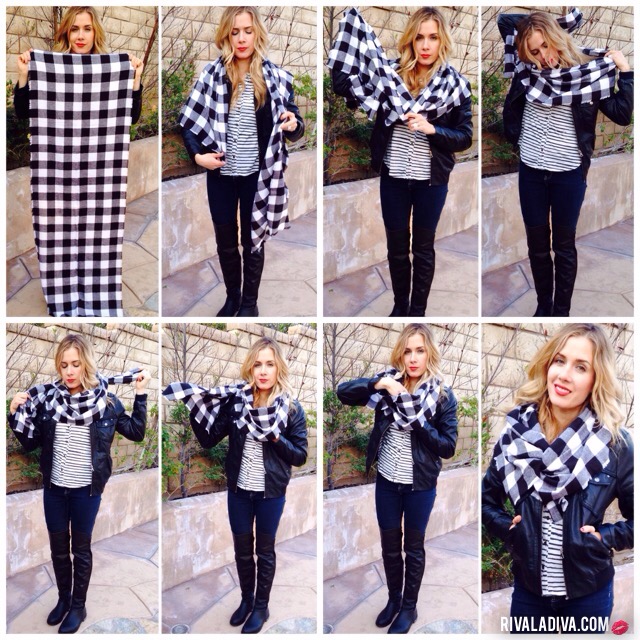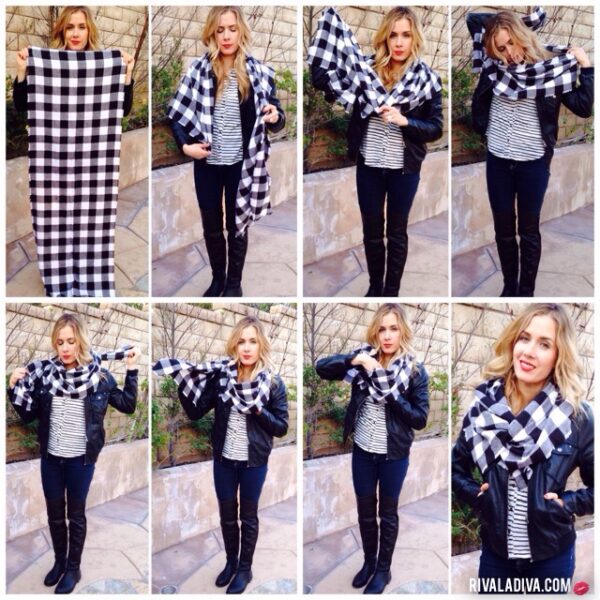 source
Sweater pants
Sounds a little strange? It is not at all. And the tutorial below is proof. Take some old sweaters and transform them into versatile pants in a few minutes. We are sure you will adore wearing these warm sweater pants while enjoying the cold winter days in front of the fireplace in your home. They are so colorful and stylish that you can't avoid loving them. Here is the list of needed items to DIY sweater pants:
An old sweater
Needle
Thread
Scissors
Safety pins
Shorts for sizing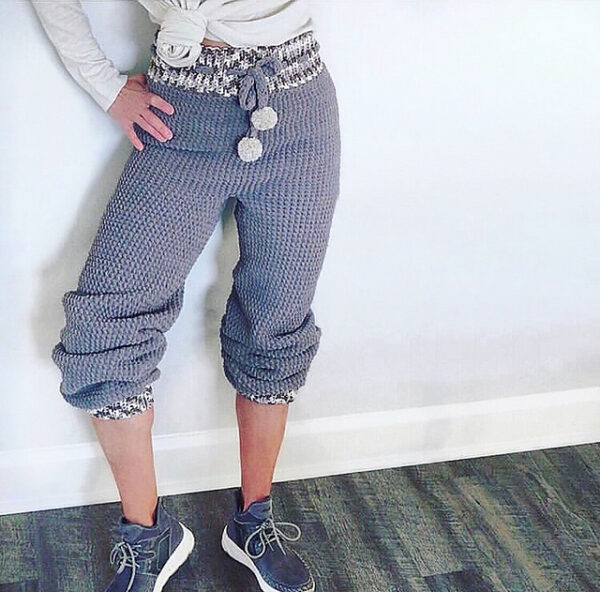 source
DIY circle cape
Are you looking for an extremely fashionable accessory to finish your modern winter outfit? Circle cape is definitely the piece for you. It is so fashionable and good looking and will perfectly fit any outfit you style. The best about a circle cape is that it is stylish and at the same time provides a ton of warmth, that you need the most when temperatures start falling down. Here is all you need to get in order to make your own DIY circle tape and look trendy this winter:
4 yards of thick fabric
Box cutter or scissors
Fabric glue
Needle
Thread
Button
Sewing machine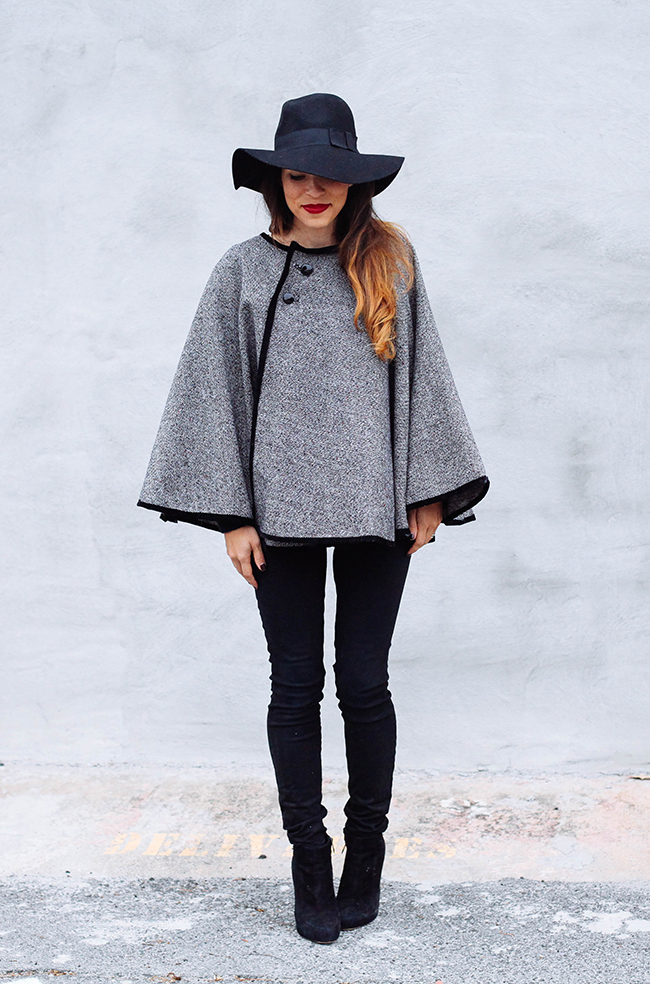 source