Are you wondering how to look extra in a party?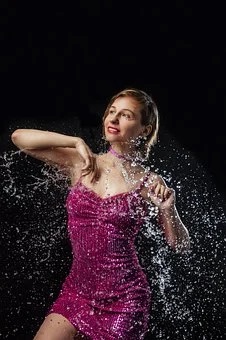 Going to parties feels better when you look classy with sparkling dresses. It will make you glamorous as ever and be the star of whatever party you join with. Picking the right dress with your desired level of glam matching your personality could be tricky. Here are some of the tips you should consider in buying sequin dresses.
The Do's in Buying Sequin Dresses
Keep in mind the following fashion do's to really get a nice sequin dress for parties approaching. You can ask for professional help if needed.
Buy a perfect fit dress.
No matter how good the dress looks if it does not fit you, buying the outfit is nonsense. Look for a sequin dress that suits your body type to showcase your style comfortably. The market offers various designs and sizes for this dress category to choose from.
Expect that most party-goers will be captivated by your shimmering outfit, so then pick what fits you. You can search what your body type is to have an idea of what sequin dress style will best suit you.
Consider the time of the event
Choosing a sequin dress will depend on when you will wear it. This will define your comfort when you wear the dress at that specific time.
For daytime wearing, go for dresses with a delicate style. Such as a lace dress with a sequined collar or waistband is a good option. It adds up the energy to your aura enough to brighten the day. Dresses with allover sequins, on the other hand, are all good for a fancy night out.
Check the overall design
Sequin party dresses need not be filled with sequins from neckline to edge parts. If you prefer semi-formal dresses, select those with sequined bodices. Some might prefer wearing two-piece outfits, for instance, pairing halter tops and sequined skirts.
Consider not looking overdressed at a party, because it won't look good either. The dress must have a balanced design from top to bottom and front to back.
Find the right hue
Most sequin dresses are in metallic tones, either gold or silver. The truth is, sequins are available in more colors.
Better pick a hue that will complement your styling, or maybe your skin color at its best.  You can choose bolder sequin colors or go lighter, depending on your mood.
Go for simple dress designs
Simplicity will always define beauty, even in terms of sequined outfits. The idea of sequins on a dress is already extravagant. Be careful not to look so extra with such a fancy outfit. Start looking for simple cut dresses while still considering sequin designs.
The Don'ts in Buying Sequin Dresses
The below details are simply the opposite of the prior statements. Here is a list of fashion don'ts in buying for sequin dresses:
Overlooking the event
Always remember to dress accordingly when going to any events. You are not always the star of the night, sometimes just invited. Keep the venue in mind to know the level of formality you should wear. The most obvious example is when you attend a wedding where sequin embellishments can be necessary.
Save up your fully-sequin dresses for formal events, while the subtle ones for casual or semi-formal parties.
Pay no attention to body type
One of the Dos in buying sequin dresses is to find the perfect fit. Ignoring your body type might end up with an unlatching outfit.
Do you know that adding sequins can boost your figure? Thus, not picking a dress not suited to your body type may affect your appearance.
If you do not want to weigh down your figure, light sequin accents are the best choice. Adding sequins to half of the dress design can achieve a more balanced figure. A chiffon skirt with a sequined bodice would fit well for pear-shaped bodies. And lastly, girls with curvy hips can wear a sequined skirt and a simple-cut top.
Adding various shades
Colorful dresses are nice to wear if the shades complement each other. It is mentioned that sequins come in different colors. Use not more than two color shades and make sure they are matchy. Also, check whether the coloring choice will complement your accessories or not.
Take note, sequin materials are already glistening so no need to overwhelm yourself with too many shades.
Get fancier with jewelry
Here is a fact, when people party they want to look so extra than anybody else. There is nothing wrong with that however remember that less is more.
Pieces of jewelry could add up more sparkle to your shimmering outfit, and it is eye hurting. You can wear jewelry but make sure it won't compete with your sequin dress. Maybe choose a simple bracelet, necklace, or any ornament that fits with your glam outfit.
Final Say
Wearing sequin dresses is as important as knowing the fashion's dos and don'ts. You can use these tips before deciding to buy sequin dance dresses and other sequin dress categories. That particular outfit is available in different styles and lengths to match your performance. These are custom handmade with high-end materials particularly made for shows.
If you are to join a dance routine, contact CHARISMATICO to place your order in advance for a timely delivery.