Summer is just around the corner. Right now is the perfect moment to shop beach fashion for your wardrobe. Then you can relish those sun-drenched moments on the beach, at the pool, in the garden or even on the rooftop in the perfect swim attire. But finding the right plus size swimwear isn't so easy. Before you wrestle your way in and out of the changing room in vain, read on for some fresh ideas.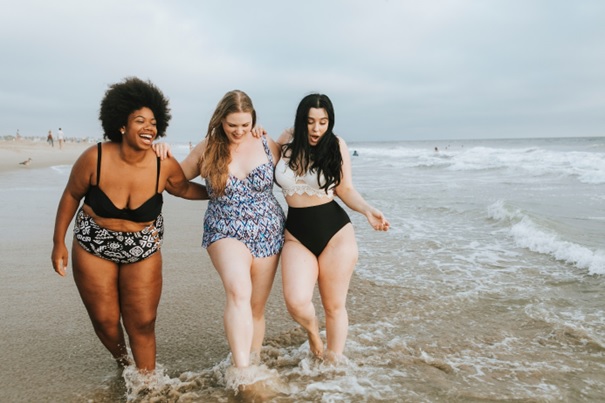 ©Rawpixel.com_shutterstock
Fun not a drag
Buying and wearing swimwear if you're plus-sized should be fun not a drag—never something to dread! Move on from those thoughts that you have to wear only dark and baggy, full-coverage swimsuits. It's important that you feel comfortable, the style suits you, and you like how you feel wearing it.
Many size-inclusive brands have swimwear collections. So, you can find the perfect plus size swimsuit or bikini to suit your shape, personality and the swimwear's function. These figure-flattering items are available in high-quality and comfortable fabrics. Beachwear should be long-lasting, affordable, and even eco-friendly.
Simple guidelines to remember
Focus on the fit—your swimwear shouldn't cut into you or slide off when wet. You need to be able to move freely and enjoy your day in the sun.
Don't obsess about the size tag—we all know that many brands have very different actual sizing, even if they have the same size number. Try on several and find the best fit for you.
Try and buy items individually. You can then buy one sized top and another sized bottom. Plus, if you buy them in different colors and patterns, you can mix and match to suit.
Make sure you love the feel of the fabric and that it's stretchy and comfortable enough for you. Lycra, Spandex, and Elastane are perfect fiber components to slenderize women of all shapes and sizes.
Find the right time to head to the fitting room. Avoid hot, suffocating days, and when you've just eaten of course. That way, you'll feel cool, positive, and relaxed about your shopping experience.
Emphasize your best assets
What is your best asset? Think about it and emphasize it with your swimsuit. Likewise, keep the attraction way from those areas you feel you need to camouflage.
Highlight your bust and ensure enough support with, wide straps, underwire cups and sturdy fabric. Wow with your cleavage with a plus size halter-style bikini top. Padded plus size bathing suits are also great since they naturally fill curvy swimsuit's cups.
Show off a slim waist by choosing a swimsuit with a belt or go for a wrap-around style.
Accentuate an hourglass shape with a one-piece plus size swimsuit that will bring emphasis to your natural curves, with a plunging neckline design and a high cut hip. A triangle bikini top is a perfect breast-enhancer. Simple bottoms that cut straight across the waist are wonderful for curvy hips.
Draw attention away using dark or block colors and emphasize your best body features with prints, florals, or ruffles.
Try a tankini if you're not ready to show too much skin with a bikini. Consider cut-outs if you feel that high cut legs or bikinis don't work for you. Cut-outs add a fun and attractive touch, with an alluring show of a tiny bit of sun-kissed skin.
Conceal a bloated tummy with high waist bottoms. That way you provide maximum coverage for your belly. Try a one-piece bathing suit or the addition of draping. If you've never tried swim cycling shorts, what are you waiting for?
Enroute to the beach
What can you wear for that trip to or from the beach or pool? Try a plus size tunic dress in lightweight cotton or rayon. Consider an oversized shirt, a kimono, or caftan. There's a huge variety of sarongs or pareos to suit every woman. For some evening drinks and fun at the beach hut or bar, go for a tantalizing maxi dress for maximum elegance and sophistication, especially in black!
Accessorize, accessorize, accessorize for the beach
Fashionable, size-including, and optimal comfort beachwear can be wonderfully combined with the latest in beach accessories. Think flip-flops and sandals, oversized beach bags, sun hats, bandanas, headwraps, and beach jewelry (you could even try to make yourself!). But that doesn't stop there… let's not forget sun eyewear.
Ultimately, you really shouldn't have to skimp on quality, style, or sustainability. Your ideal plus size swimwear is there waiting to be found. Live life to the full this summer…even after the sun's gone down!