Are you looking for a way to chop off your boring long hairstyle? Or, you are maybe willing to refresh your short hair with something new, fresh, and modern? The answer to both questions is unique: an inverted bob haircut! This cut which features a short back and longer front is the best haircut ever seen. It is both stylish and flattering and perfectly suits any face shape and hair type, so any woman willing to look chic can try it. Once you have decided to try an inverted bob haircut, let us first tell you that there are many different inverted bob haircut styles. All you need to do is to find the right version for you. In order to make it easier for you to make your choice, we have compiled a list of the chicest inverted bod haircuts for women. Scroll down the gallery and pick your favorite one. We are sure you will love your new chic look.
Long inverted bob
A long inverted bob is perfect if you are having long hair, and you are a little worried about copping it so much. This long inverted bod haircut is an extended version of the classic one and will help you maintain the length of your hair, in the front. The short back on the other hand will provide more volume and bounce. This haircut will give you more freedom to style your hair. It is also easy to shorten it further if you decide that you are ready to say goodbye to your long hair forever.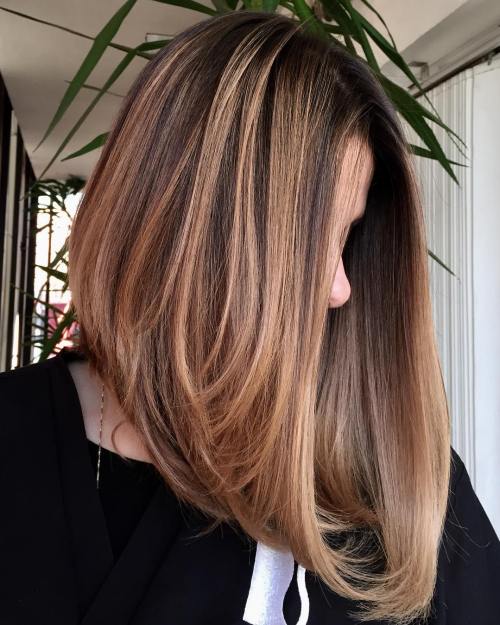 source
Short inverted bob
This is definitely what we say a classic inverted bob. The short inverted bob is the perfect choice for ladies who adore a cropped cut. In order to tailor the look to suit better your face, you need to decide where the front part of the hair should end: to your chin or to your cheekbones. Also, you can choose between a side part and a middle part. You can also try an inverted bob haircut with bangs. We are sure you will love it.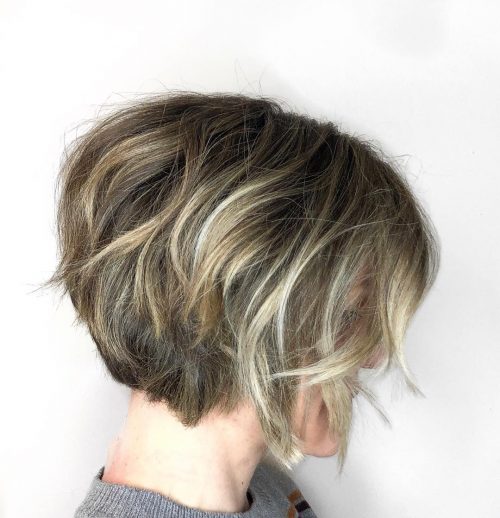 source
Layered inverted bob
Do you want to experiment with new modern styles? This is definitely the one that will give your inverted bob a modern boost: the layered inverted bob. If you add some choppy layers to the both front and back parts of your cut you can easily create more volume. An inverted bob haircut with layers is a perfect choice for thin hair because the layers will create a volume that does not exist otherwise. If you want an even more chic look to your layered inverted bob haircut, then don't forget to style some soft waves which will appear overly round and poofy when worn straight and boring.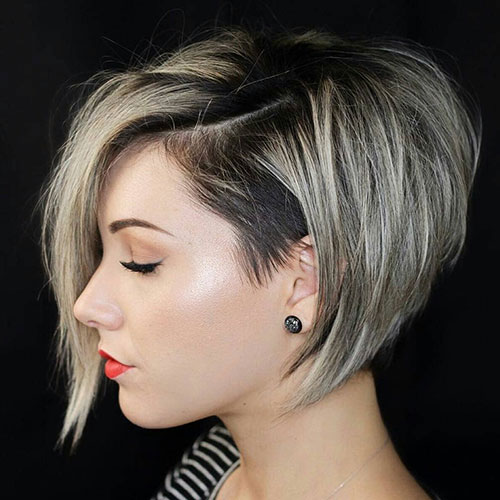 source
Curly inverted bob
This is proof that an inverted bob is a perfect haircut no matter the hair type. Having curly hair will not stop you from trying this hairstyle trend, because it looks amazing even on curly hair. Just try to find the best style according to your face shape. If you want to keep your volume and your curls, too, then why don't you try the curly inverted bob? This but will make your kinks look beautiful and full of volume and bounce.
source
Choppy inverted bob
If you ask any hairstylist what is the secret of a modern and flirty hairstyle, they would all answer you the same: the texture. This choppy inverted bob has the secret of a perfect haircut and has a lot of it. With all those choppy layers, the choppy inverted bob is definitely the perfect choice for you if you want to try an on-trend crop. This haircut will look great on you no matter your face shape. And another benefit of it is the fact that is so easy to style it, so you won't need more than five minutes in the morning to get ready.
source
Inverted bob for round face
Sometimes inverted bob can appear quite rounded due to their stacking and A-lines. That makes it not the appropriate haircut for a round face. But, there is a trick to how you can avoid this effect! One thing to do is to try a textured version of an inverted bob. Also, have in mind to select a longer bob that finishes at or below your chin. Otherwise, if you choose a shorter inverted bob you will draw attention to your cheekbones and the only effect you will get is making your face look even wider than it is.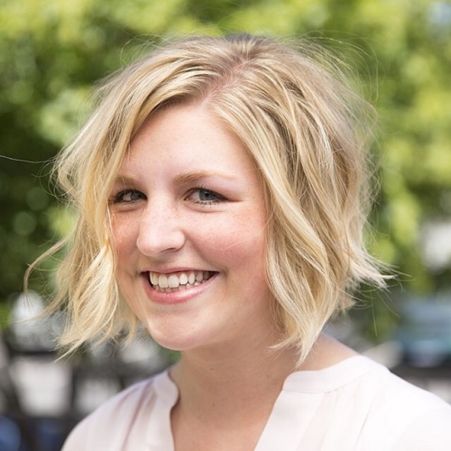 source
Wavy inverted bob
Many women adore waves, whether natural or not. But, when you pair them with an inverted bob, then you get the most flirting and flattering haircut ever existing. Thanks to the kinks and the curls, you get a look that is quite soft and relaxed that the straight styled haircuts. Try it, and you will see we are right.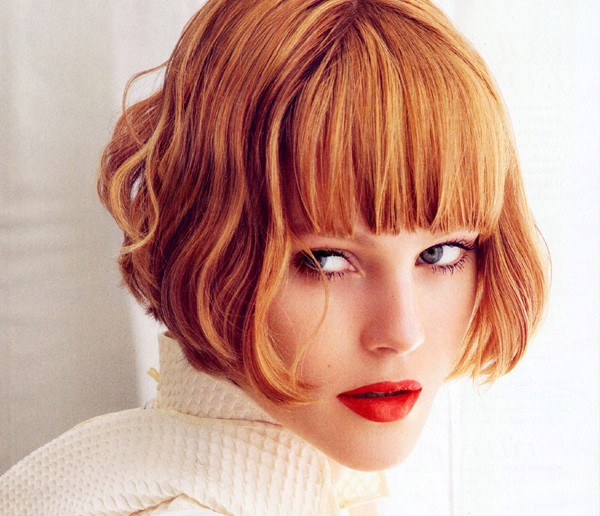 source