One of the crucial keys in choosing the right hairstyle for you is the face shape. Many people spend their entire life disappointed with their looks just because of the wrong hairstyle. Whether or not a hairstyle works for your face shape makes a dramatic difference to your whole appearance. Choosing the right hairstyle for your face will make you look more photogenic. The right hairstyle will bring out all your best facial features, and you will feel more confident the next time you look at the mirror. Are you having a round face? Do you believe that your round face shape limits the hairstyles you can try? If yes, you are definitely wrong. And we have proof. Here we are presenting you with these amazing round face hairstyles for a WOW look that you will adore trying. Scroll down the page to explore the best round face hairstyles that are going to mark 2020.
Side-swept beach waves
One of the most flattering round face hairstyles is the side-swept beach waves. This hairstyle is super sexy and glamorous.  If you have a round-shaped face, then you should know that long hair helps to balance the width of the round face. Sweeping the hair to one side will make your face seem narrower. The waves will make your face look longer than it is. If you have long hair, then don't miss to make some waves and experience the longer face appearance.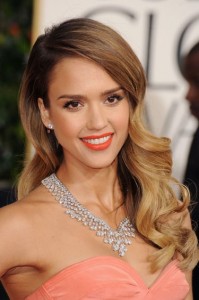 source
Short Afro haircut
One of the hairstyles that best fits a round face is the short Afro haircut. It is also so easy to maintain. So, if you hate spending hours styling your hair before you leave your home, here is the solution for you. Try the short Afro haircut that will make your round face look slightly longer, but not wider. On the other side, if you try the classic long 70's Afro haircut, you can create an opposite effect, because it will make your round face look even wider.  Ask your hairstylist to leave more length at the crown of the head, and shorter sides to balance your proportions. You will look simply amazing.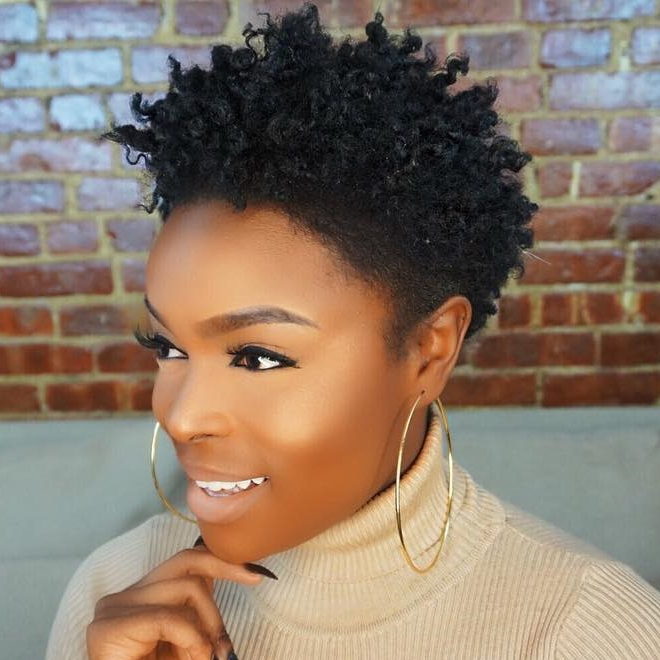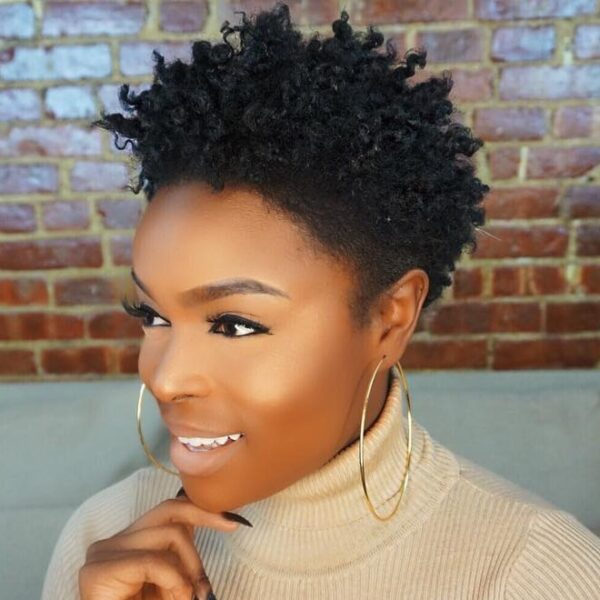 source
Asymmetrical Lob
Do you want to look chic and modern at the same time? Do you think your round face doesn't let your chance for it? You are wrong. One of the most modern round face hairstyles is the asymmetrical lob. And we all know that lob haircut is one of the most modern ever seen. It will look amazing on you and will make your face look around two-thirds of its real width. The asymmetrical lob angles are a perfect contrast to the full cheeks. The longer part of the haircut will catch all the attention, making no one look at the jawline. Try it.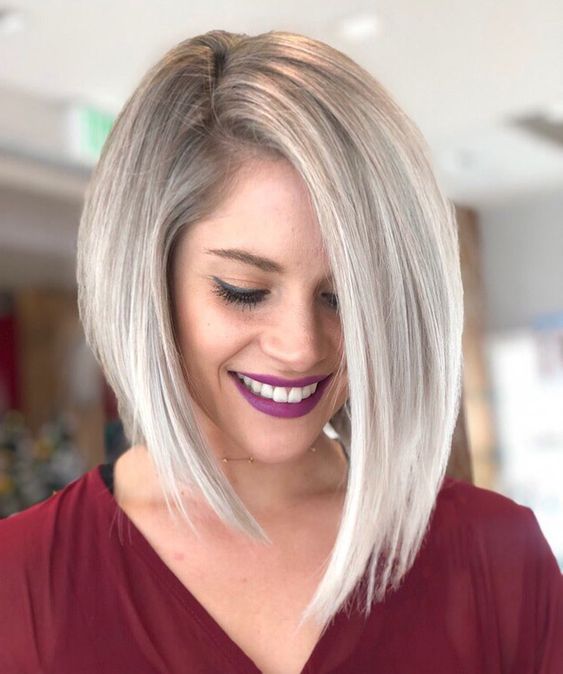 source
Half up Half Down
A half-up half-down hairstyle is a perfect choice for you if you have a round-shaped face. It is also a perfectly round face hairstyle for thin hair because it will add more volume to your hairstyle. This hairstyle draws the eyes up to the crown of the head, pitting the accent there. The down section helps your face look longer. And the best I that you don't need to put much effort into styling it. Just take part in the hair and secure the upper section with bobby pins. And voila, your hairstyle is done.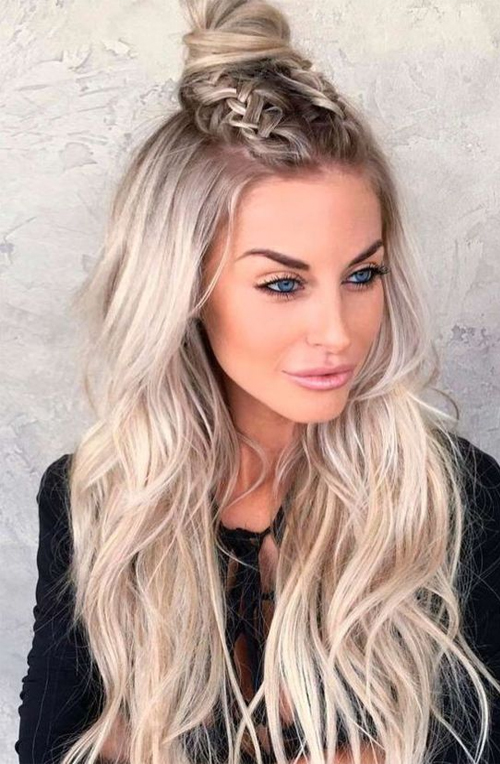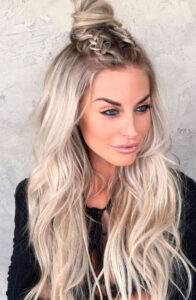 source
Side Undercut
If you dare to go bolder with your haircut, then a side undercut is an option you can try. It is a perfectly round face hairstyle. Get both sides of your head buzzed or shaved.  It will make your face looks slimmer. Another benefit of this haircut is that you can style the versatile top section in many different ways. You can try with a ponytail for example. A ponytail is always gain.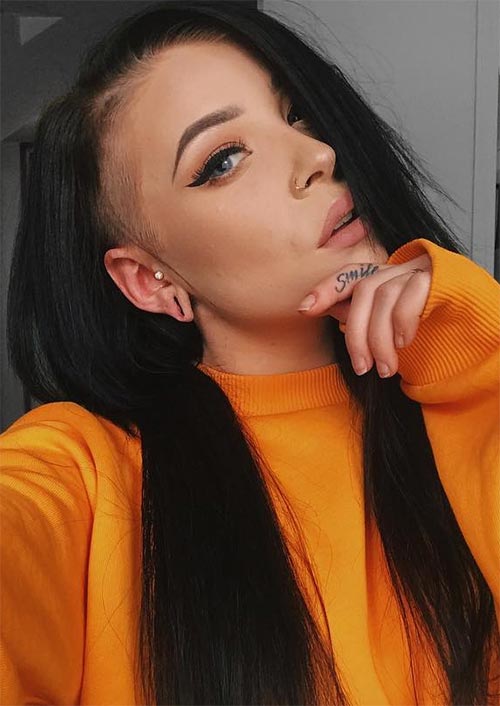 source
Bantu Knots
This is an iconic hairstyle for Afro-textured hair. But, the Bantu knots are prefect round face hairstyles too. The knots will draw the eye outwards in many directions making that way your face look longer than it is really. Bantu knots are the perfect choice for a day hairstyle, but they can be worn even on informal occasions. The best about this hairstyle is that it looks polished and sleek. It will allow you to show off the make-up and the jewelry, putting the accent on them, instead of the round shape of your face.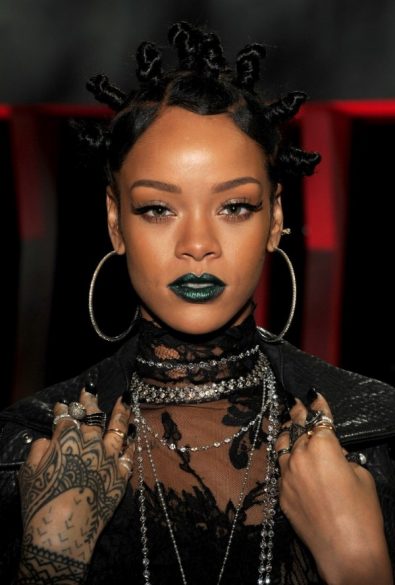 source
Straight Side Part Bob
Many hairstylists will recommend you avoid straight hair or short haircuts if you have a round face. And they are all right. But, there is an exception to the rule. The straight side-part bob hairstyle! Thanks to the way the hair falls straight to the shoulders, your face will look narrower. It will make your face appear longer. Ask your hairstylist to cut in subtle layers, so that avoiding your hair look overly flat and boring.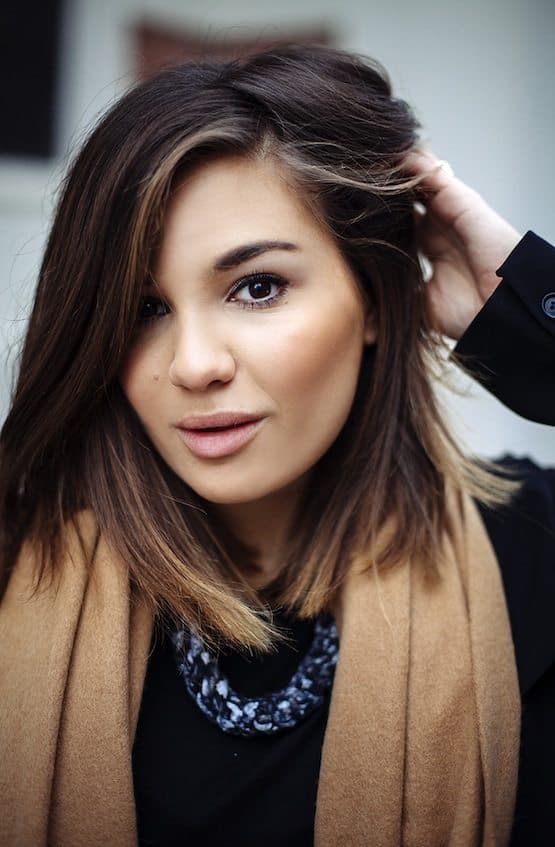 source