Are you ready to rumble? By that we mean, are you ready to put together an entire season's worth of game-day outfits with basically zero effort and a minimal investment? If the answer is yes, you're going to be over the moon about the outfit ideas below. Each and every one of these tailgating looks is designed to help you root for the home team on a crisp fall day—preferably while eating loaded nachos and drinking a fresh-cracked beer—everywhere from the parking lot to the stadium to the bar after the big win.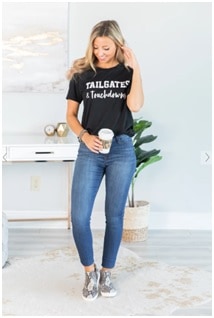 A Football Graphic Tee with Your Signature Jeans—Messages like "Saturdays Are For Football," "Game Day" and "But First…Football" make sports-themed graphic tees an obvious choice if you're looking to settle into a supremely spirited style. Although there are many ways to wear a casual screen-printed t-shirt, the best way, of course, is with your favorite pair of comfy jeans. You're going to be bopping from section to section and jumping up and down the entire day, so make sure you're rocking something on the comfy end.
A Casual Dress with Statement Booties—Who says tailgating has to be all tees and tennies? Not us! Of course, we're not suggesting that you show up in your finest night on the town ensembles, but your best casual dresses should definitely be considered contenders, especially if they're done in team hues. Flowy cotton, fuzzy plaid and warm sweater materials are musts this time of year. Shoes-wise, you can go one of two ways—either jazz things up with some cute statement booties or dial it down with a pair of crisp, white sneakers.
A Wearable Blanket with Leggings—Not big on team spirit? Don't worry! A painted face and head-to-toe mascot logos are not required for entry (though they are highly encouraged). One great approach to non-team-focused game-day fashion is going all-out fall with a super-comfy plaid pullover or fleece shawl that wraps you up in warmth and comfort when you're cheering in the cooler weather. Flannel is basically a given here, but you can take this one in many different directions, depending on the vibes you're going for. To keep it preppy and collegiate, go big and add a monogram!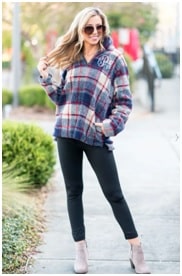 A Distressed Team Tee with Denim Shorts—Okay, this one is for those pre-season games and scrimmages where it's still warm enough to rock your favorite pair of cut-offs. Get ready for some rips, tears, slashes and gashes! It's a classic approach to team spirit, and we're not complaining one bit. Stop by the team shop and pick up an official shirt or—if you're on the budget of a college student like we are—hit up the local thrift store and keep your eyes peeled for vintage options. Once you learn how to distress a tee, this will definitely be one of your go-to game-day looks for showing your big personality.
An Oversized Sweater Dress in Team Colors—Comfortable, versatile and flattering to boot, sweater dresses will quickly emerge as some of the most valuable players of your tailgating wardrobe. Grab one that honors your school's colors for a subtle way to pay tribute to the guys on the field. We love the idea of jazzing things up with spirited accessories, too—perhaps a scarf with your team's logo or maybe even a cute temp tat on your cheek?
A Quilted Vest with Cropped Skinny Jeans—We sure hope that the quilted vest stays trendy for as long as humanly possible! This supremely versatile and warm outerwear essential gives any ensemble a fall flair, which means you can sport it to basically any autumnal affair, from the stadium on game-day to the pumpkin patch pre-Friendsgiving. This is another one of those special items that gets an academic-inspired, preppy upgrade when monogrammed.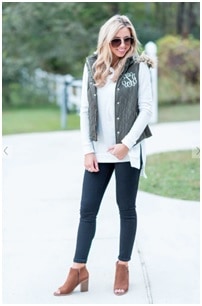 High-Waisted Jeans and a Team Crop Top—Whether you're for or against the ever-enduring crop top trend, it's hard to argue with the fact that it fits right in on game day, especially among college sports fanatics. And, though it seems like a summer-only option, the chic crop top actually transitions well into fall when you pair it with some high-waisted jeans and maybe even a slick bomber jacket. The key is to pick a crop featuring your team's colors or logo.
A Bedazzled Denim Jacket with a T-Shirt Dress—Have you seen the insane creations pro bedazzlers can make on Etsy? No matter if it's custom text you've come up with yourself or your favorite team logo, you can bring basically any graphic to life with some studs, rhinestones and other fun sew-on accessories. The best medium for this is the versatile denim jacket, which you can find basically everywhere for cheap, because it goes with everything you own. Pair it with a simple, solid-colored tee dress for a splashy look.
Designing the Perfect Game-Day Outfit
The ideal outfit for the big game checks multiple boxes at once. It's simultaneously comfortable, stylish, warm and tailored to the occasion. Oh, and one more thing—it's majorly creative! Remember that this genre of dressing is all about being clever, bold and spirited, so don't be afraid to break out all the rhinestones, monograms and iron-on letters. Anything you can do to show your love for the squad will help them earn a big win on game day this season.