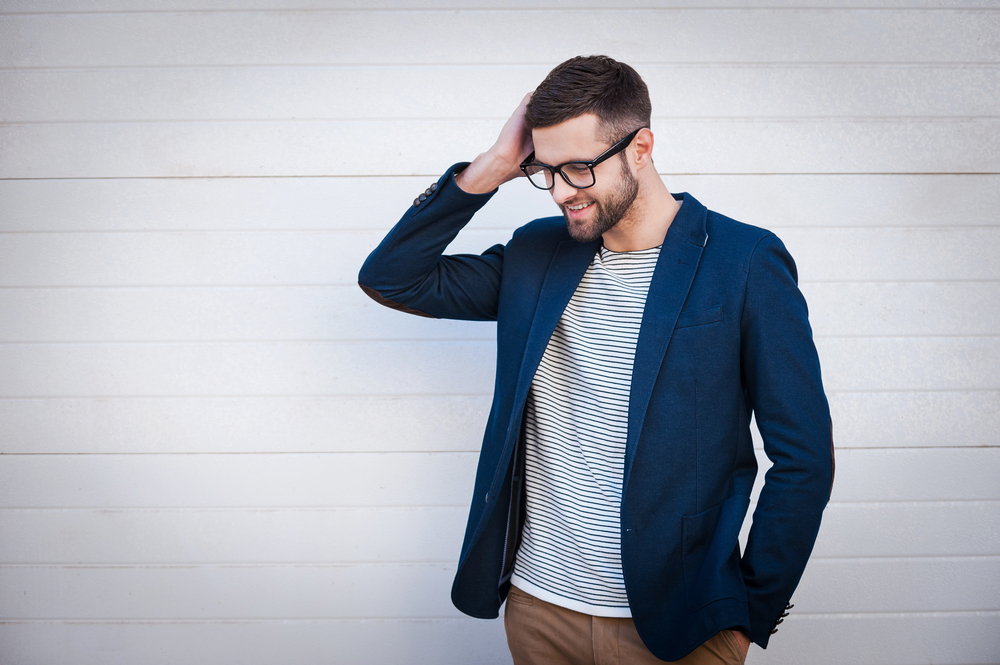 Source: G-Stock Studio/Shutterstock.com
During the pandemic, elevated casual style really came into its own. Professionals joined Zoom calls in style and comfort, dressed in loose-fitting dress shirts topped by cable-knit sweaters or unstructured blazers.
These days, work-life is slowly returning to normal, with in-person meetings replacing many of the Zoom calls we've grown used to. Still, elevated casual style remains a constant go-to in the ever-changing landscape of work and casual men's fashion.
What Is Elevated Casual Style?
Many men may not know dressy casual's new name, but they definitely know the style. It's the look that finally allowed them to dress up their favorite hooded long sleeve shirts or tailored joggers and wear them to work.
Pulling off this style rests on knowing how to swap pieces out. By adopting an elevated casual dress style, men communicate a sense of self-respect and approachability. They also show the people they're meeting with that they care enough about the person and the situation to dress well, even if it's just coffee with friends.
Additionally, instead of swapping out pieces, sometimes elevated casual calls for adding on a few key pieces to your wardrobe. Knowing which pieces to add often comes down to combining current fashion trends and your innate sense of good taste.
Here are some common swap-outs and add-ons: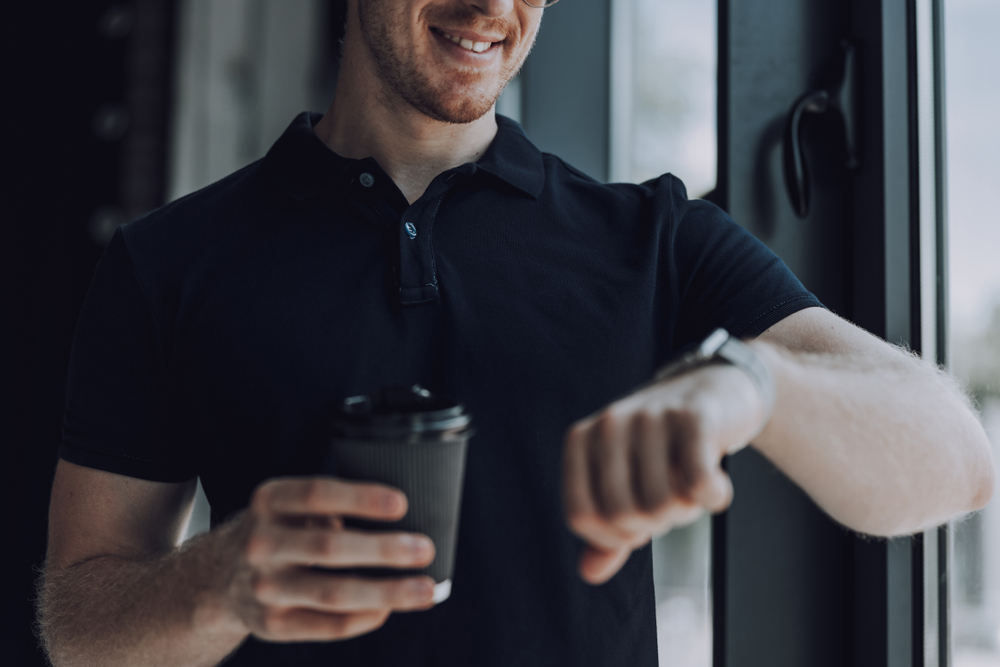 Source: Olena Yakobchuk/Shutterstock.com
Swap the Dress Shirt for a Polo…
Men are used to wearing the classic dress shirt to work. Don't get us wrong, we love a classic style! But if you're looking to add an elevated casual twist, swap the dress shirt for a sleek solid-color polo. Polos are great to wear because you can dress them up or down. Heading into a meeting? Throw a blazer over your polo to complete the look. Grabbing lunch with a colleague? Leave the jacket at home and feel comfortable in your casual polo.
… Or for Tailored T-Shirts
If you're looking for another option besides a polo, consider wearing a tailored tee. The t-shirt is a staple item in every man's wardrobe. However, instead of wearing a baggy t-shirt, elevate your style with a slim-fit tee. These t-shirts are more tapered around the body and arms, providing a more fitted feel that is both flattering and clean. Slim-fit t-shirts usually come in basic colors, so you have options to choose from.
Add an Unstructured Blazer
The unstructured blazer brings the best of both worlds into the elevated casual wardrobe. Because it's basically a casual version of the suit jacket, it's a smart addition to the elevated casual closet. Cool looks include pairing it with a hoodie and a baseball cap.
Add Slim-Fit Pants
In addition to slim-fit tees, opt for pants that have a more tailored fit. Two options to consider are slim-fit jeans and slim-fit chinos. Both work well in settings where elevated casual is appropriate. While jeans count as a go-to for many men, adding a few pairs of chinos to your lineup allows you to mix up colors and styles.
Try Out a Baseball Cap
While this look isn't right for every occasion, the baseball cap look brings a movie-director-in-between-cuts kind of vibe to an outfit. This works great for those who work in creative industries. Choose a cap with clean lines instead of one that's distressed or otherwise looks well-worn.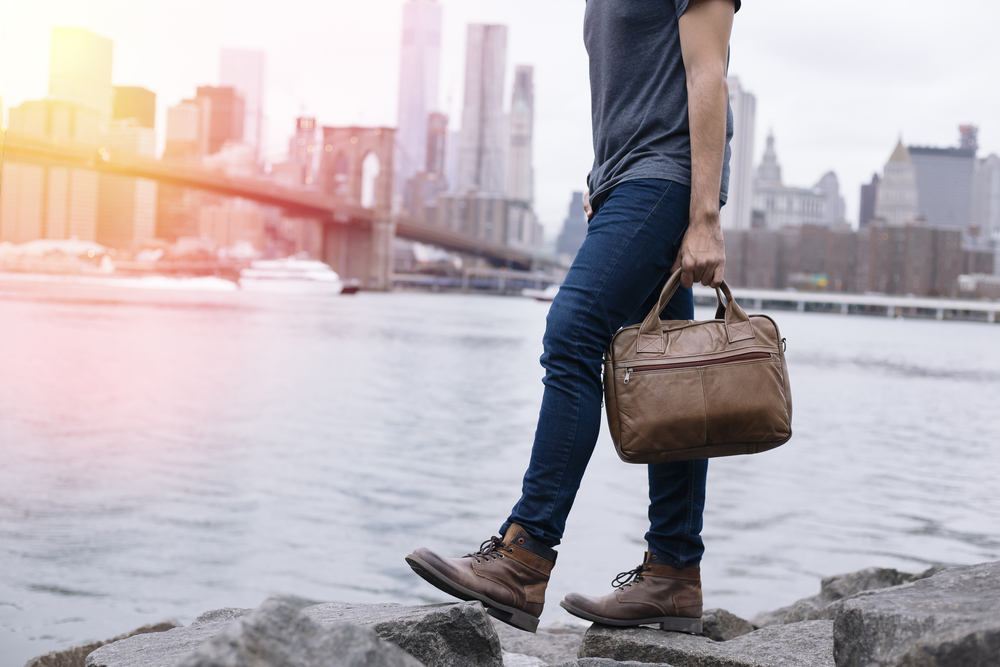 Source: Luna Vandoorne/Shutterstock.com
Up Your Shoe Game
If you're going for an elevated casual look, make sure to balance out the casual with a nice pair of shoes. If you wanna keep the dress shirt and chinos, opt for a pair of fashionable lifestyle sneakers. For those that like the polo and jeans look, try wearing Chelsea boots to give your outfit a nice finishing touch.
Add a Watch
Another go-to accessory is a cool watch. Enhance your look by adding a real timepiece to the mix, as opposed to using your phone to check the time. This accessory also allows you to add some real signature pieces to the elevated casual wardrobe without going overboard.
When to Wear Elevated Casual Clothes
The elevated casual style is strong enough to replace your go-to laidback style in most settings. For example, if your workplace has a Casual Friday, replacing your basic casual style with an elevated casual style gives your look a more pulled-together, professional look.
It's also an excellent option to wear on a date or dinner with friends. It looks great but isn't so over the top that you can't roll up your sleeves a bit and have some fun.
Finally, elevated casual is an excellent choice if you work in a creative field. It fits the casual vibe of the industry but still looks pulled together. Many creative careers, like filmmaking or journalism, require you to look great but not be hindered by the clothes you wear if you have to move quickly.
Elevated Casual Is In
Because work, life and everything around us has changed, men's fashion rules have had to adapt with the times. Elevated casual style smartly pairs the best looks from both the dress world and the casual world, bringing them together in a cool, snappy way. This style's versatility allows it to replace your outfits across the dress-casual spectrum, making it a look you'll want to adapt going forward.