Fall is definitely one of the most favorite seasons for many people. It is not hard to identify the reasons for that. It may be the turning leaves, the crisp air, and the pumpkin spice lattes everywhere… Fall is magical by itself. And it is also the best time to get back in shape. Now when the summer is over, set your perfect body shape as a priority and start building a strong fitness routine. One way to do it is with outside workouts. And fall definitely has so much to offer any outsides workouts lovers. Here are some reasons why fall is the best season for outside workouts. Make sure you take all the advantages fall has to offer you when your body shape is in question.
Cold weather is ideal for running outside
One of the best outside workouts to lose weight is running. And fall weather is ideal for running outside. It is not too hot or too cold. And the surrounding landscapes created by the leaves changing their color are breathless. Another benefit of outside workouts is that you can run in light layers and feel comfortable while doing it. Don't overdress, no matter the weather is cool because you will warm up soon.  You don't want to restrict your movements because of many layers, right?
It is easier to get back into a routine
Summer is definitely the season of long night parties, weddings, vacations… which means that you lose the previously build routine. Having time to make some workouts during summer can be a real challenge even for the most resistant of people. But, now when fall is officially here and vacations are over, it is easier to get back in the exercising routine. And with it to start practicing some outside workouts to build muscle. Don't forget that routine is essential for creating long-lasting healthy habits.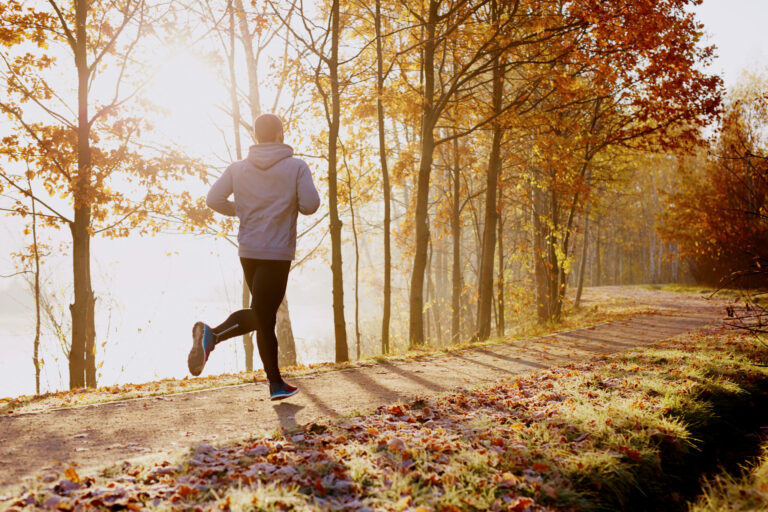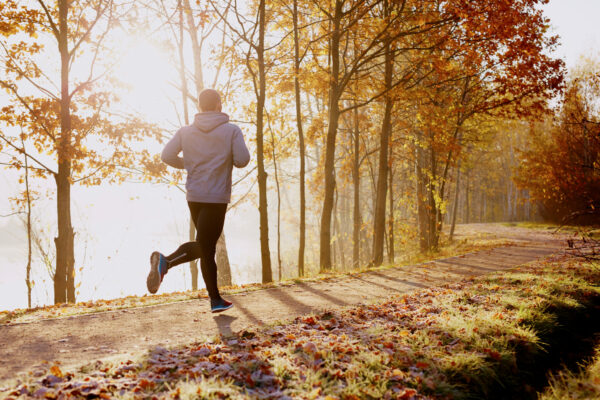 source
You don't have to get so sweaty
Once again, let remember you that the cooler weather outside is perfect for an outdoor workout. Even if you exercise outside, you don't have to worry about clothes saturated in sweat after 10 minutes. Also, the cool weather will help you in maintaining the body temperature to normal levels which is crucial for your health.
Additional Resource: What are the Benefits of Split Squats?
You can use outside workouts equipment
Because of the cool weather outside, during fall you don't need to visit a gym, because you can use the outside workout equipment. And all that for free! That is a benefit plus for yourself. You will both keep your body in shape and save money which is a plus after all the spending during summer, don't you think? Because many people try to practice healthy life habits, many city authorities have set outside workout equipment through parks and sports areas, that the citizens can use unlimited and for free.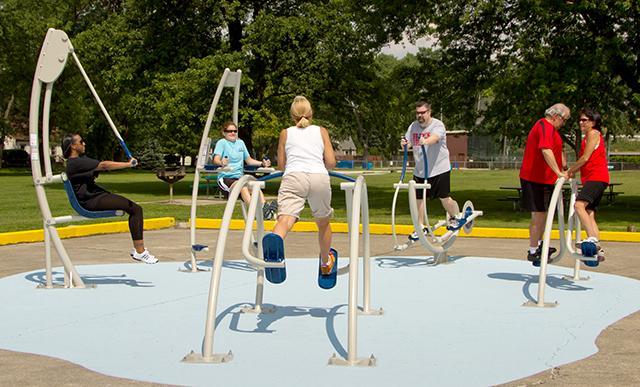 source
Many outside workout ideas to try
Fall is not perfect only for running surrounded by the eye-catching autumn landscapes. It offers so many different outside workout ideas you can choose from, starting for individual activities and continuing with group activities that you can try with your friends. Despite running, you can try riding a bike or hike a mountain. What do you think about jumping a rope? It is one of the best outside workouts to build muscle. And it is an interesting way to spend funny moments with your friends. Or, what about sunset yoga class in the backyard or in the nearest park? The "golden hour" is the best time to set balance with the environment and to spend some peaceful moments.
Halloween themed everywhere
There are many fun, out-of-the-ordinary ways to practice outside workouts and collect happy memories forever. The outside workouts options are endless. You can thank the Halloween magic during fall for many of them. What about going for a pumpkin picking or attempting to navigate a corn maze? Sounds a little scary or even crazy? It is not all. Remember, it is Halloween season and everything is allowed. You won't even look crazy dressed in a Halloween costume running around the neighborhood. You will look festive and you will keep your body shape too. Too beneficial, don't you think.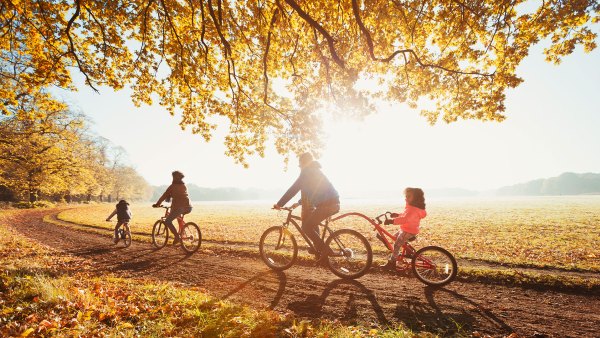 source
Are you now convinced why fall is definitely the best season to start with outside workouts? If your answer is yes, let us suggest to you some funny and "results giving"  outside workout ideas you need to try:
1. Kayaking– a wonderful way to spend time outside and to try some swift movements that raise your heart rate enough to help improve your cardiovascular health.
2. Trail Running – nothing will improve your heart health and your balance and core strength like the traditional running.
3. Hiking – if you are not a runner type of person, but you still want to burn calories, then why don't you try hiking the nearest mountain? It will low your body pressure and reduce heart disease.
4. Biking – take your bike and pave the roads of your city or the dirty surrounding mountains and spend the best outside workout moments with amazing results for your body shape.
5. Yoga – yoga's physical and mental health benefits are definitely endless. Don't miss to try some fall yoga during the "golden hour". You will definitely enjoy it.