Hello DIY lovers! Are you ready for a new DIY adventure? If decorating is one of your favorite activities at your home, then you will surely adore these DIY candle holders that we are sharing with you. In the article below you can explore some adorable DIY candle holders that you can do at your own home. These projects presented below won't cost you anything. All you need for them is your creativity turned on max. They are mostly done with supplies that you already have at home. So, if you are ready for some budget-friendly projects that are super creative, we have found the perfect ones for you.
Scroll down the page to explore some amazing DIY candle holders that will insert a touch of warmth into your home décor. Try any of them and share your results with us. Enjoy while creating our little DIY candle holder kingdom. Decorate your home with your own DIY candle holders and feel the magic of DIY decorations.
1. How to DIY Hanging Tin Can Candle Holder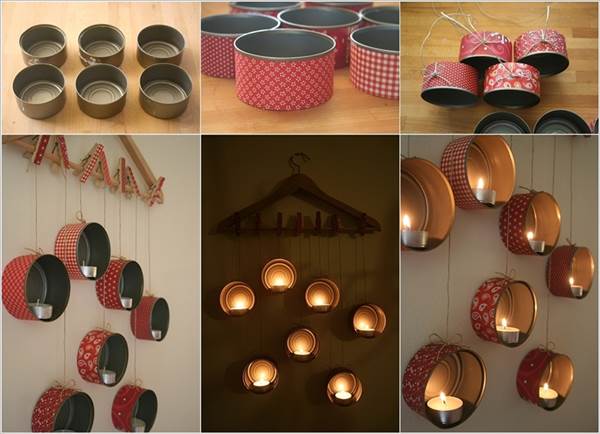 source
2. DIY Apple Candle Holders
There are so many different candle holders available over there. But there is some magic in the ones that you can do at your own home. Once you have some candles at home, it is time to DIY candle holders. This traditional-looking holiday décor that uses real apples as candle holders is something that you will certainly adore. And, it is so easy to make these adorable holders. All you will need are a few green apples, votive candles, and a utility knife to cut out the top of the apples. You can brush a little bit of olive oil on the cut section on the top of the apple core. This way you will avoid the browning of the apples. Try this inexpensive way to hold your candles that will insert warmth into your home décor.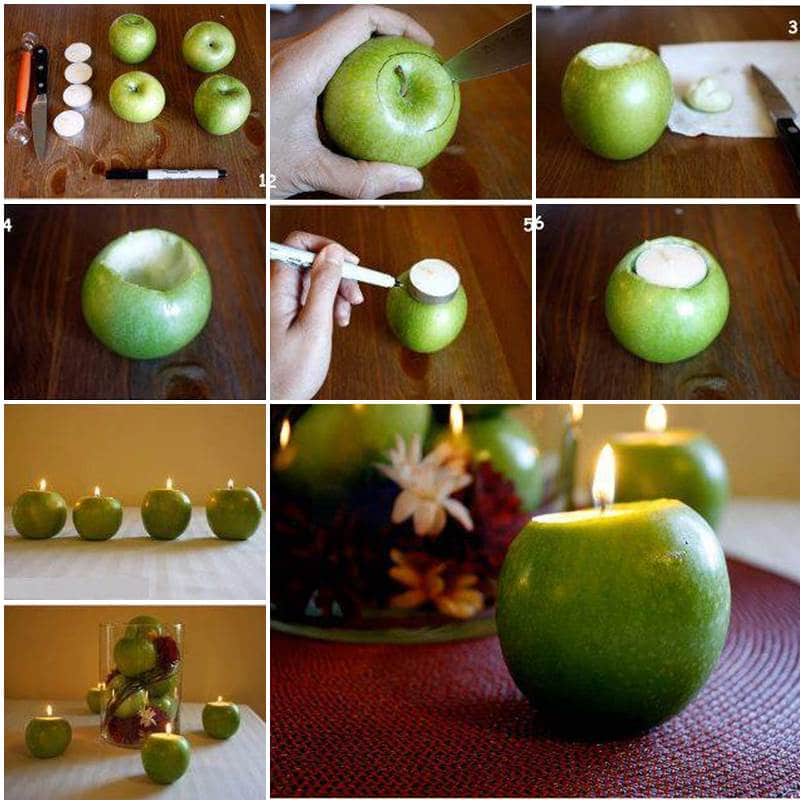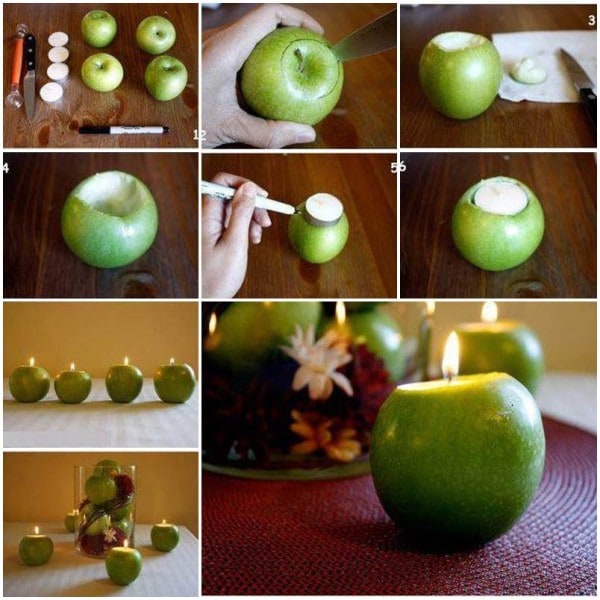 source
3. Orange Rind Votives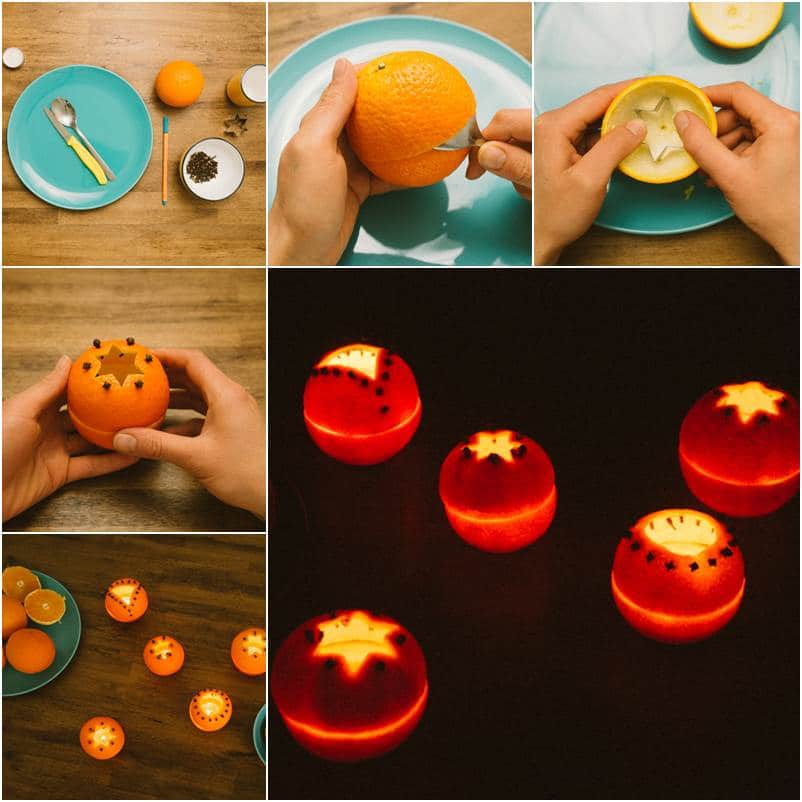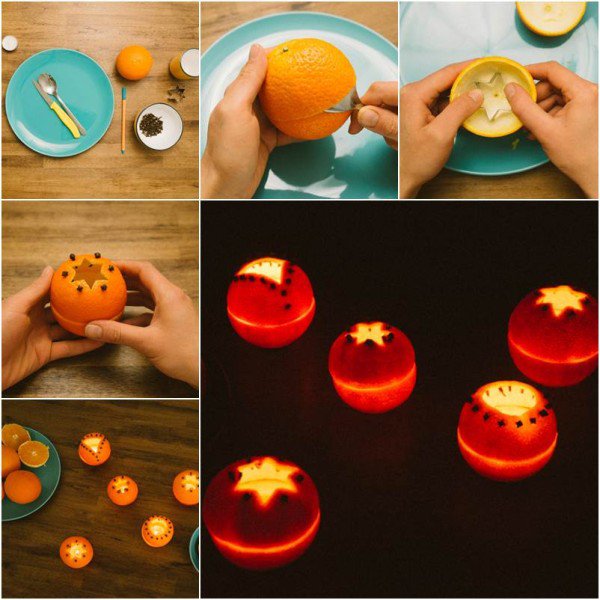 source
4. Creative DIY candle holders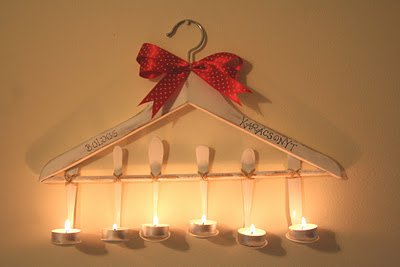 source
5. DIY: Burlap & Doily Luminaries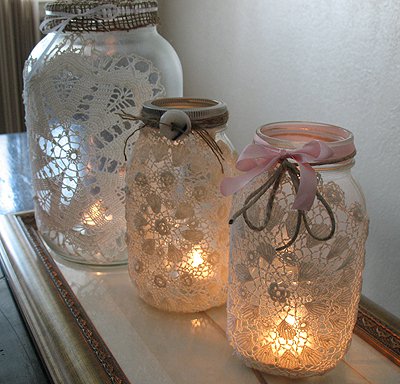 source
6. DIY Beautiful Plastic Bottle Flower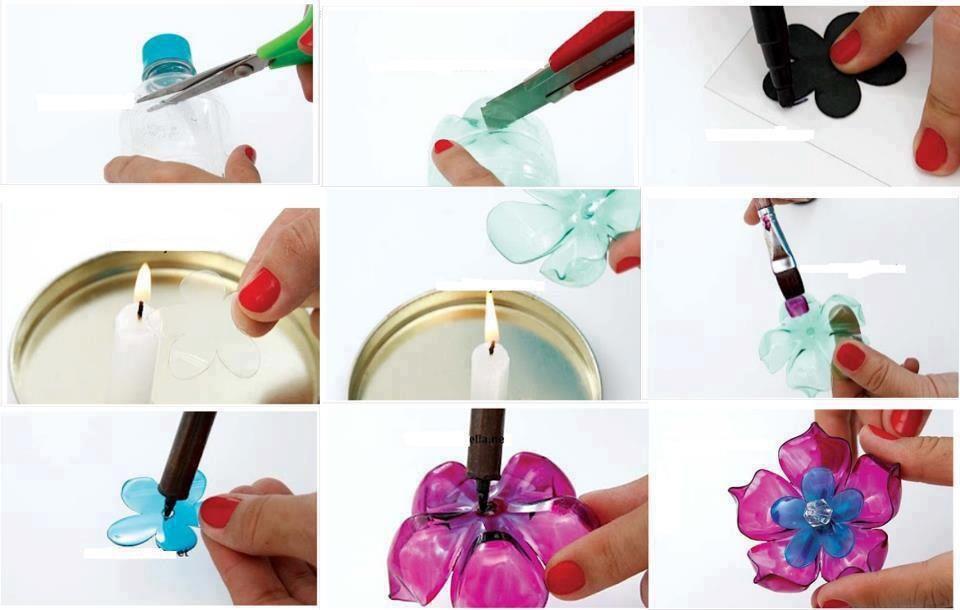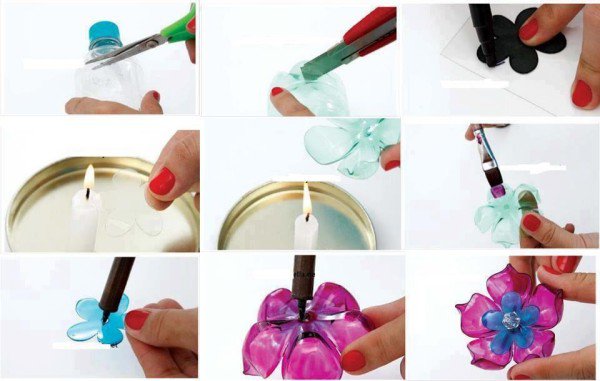 source
7. DIY Plastic Bottle Candlestick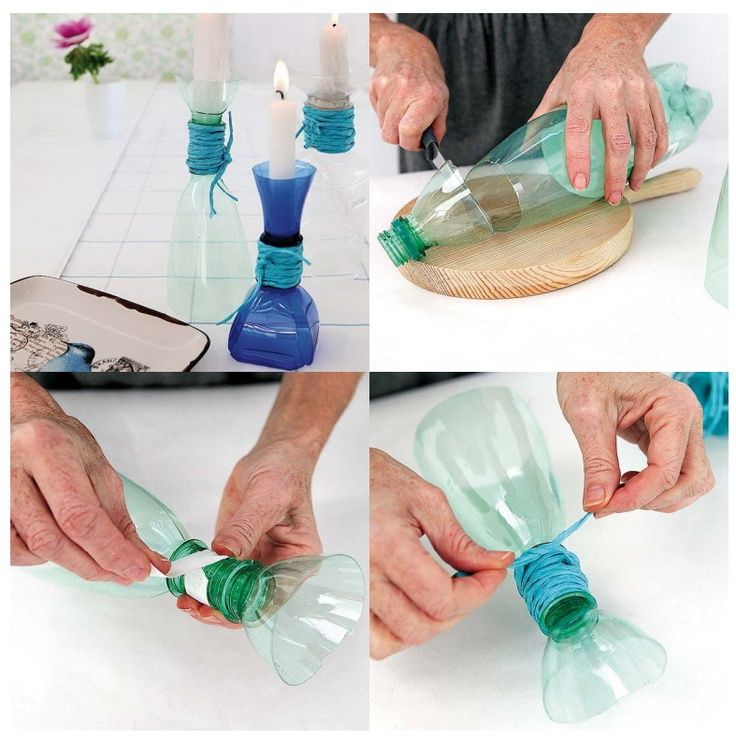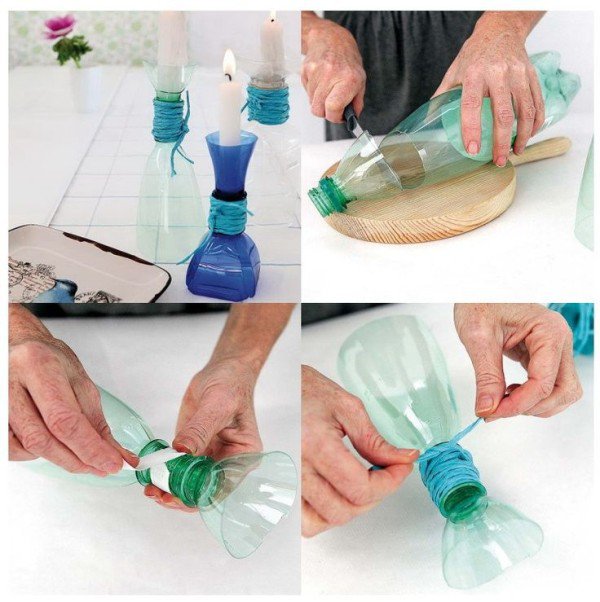 source
8. DIY cinnamon candles
9. Rustic wood candle holders
Are you ready for some rustic candle holders? You will adore these rustic wood DIY candle holders for sure. They will soon become your favorite table décor. For these DIY candle holders, you will need some wood blanks. Using a 2-inch Forstner Bit you can cut out holes for the candles in the wooden blanks. Then you can use candles in glass-like pictured below and place them in the holes. The final result will be simply adorable. You can then decorate the wooden blanks and the candles with different decorations according to the current season.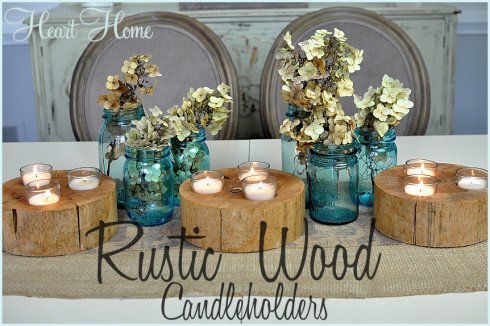 source
10. DIY creative ideas that can inspire you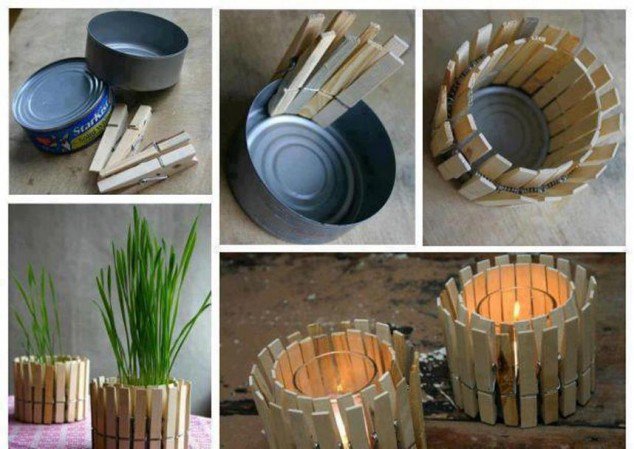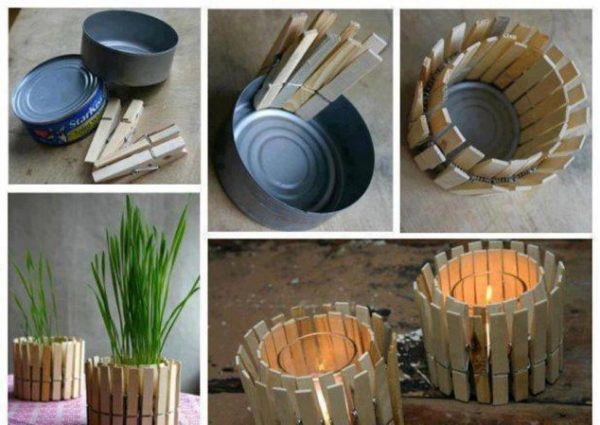 source
11. Cathrineholm Candle Holders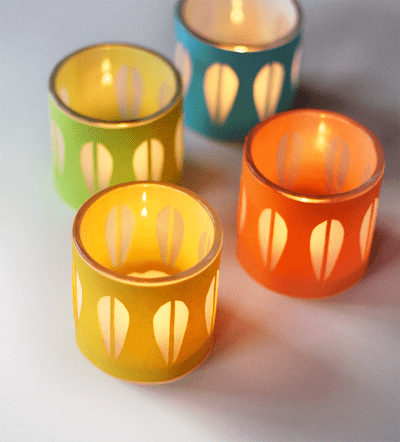 source
12. Make This: Modern DIY Candle Votives on a Budget

 source
13. DIY: easy rope-wrapped candle holder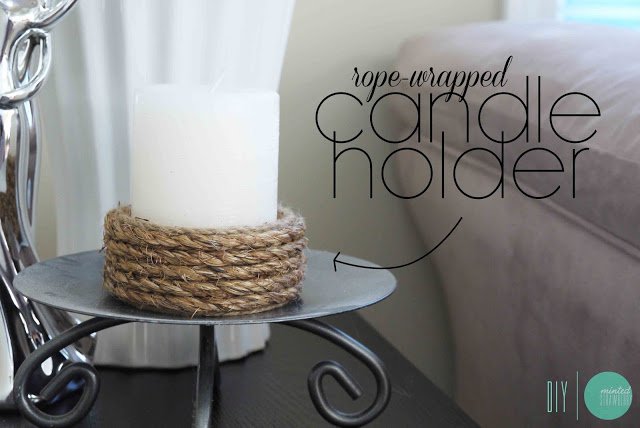 source
14. Have & Make: Glitter and Glow
Do you want to insert a little glitter in your home décor? Well, then you will adore these glittering DIY candle holders for sure. Making them is easier than you can ever imagine. All you will need is a small vase or candle holder and glitter. Spray inside the vase with spray adhesive, sprinkle, and shake around with glitter until the surface area of the vase is completely covered. You can use these DIY candle holders for decorating your home using books or flowers as a part of the décor too.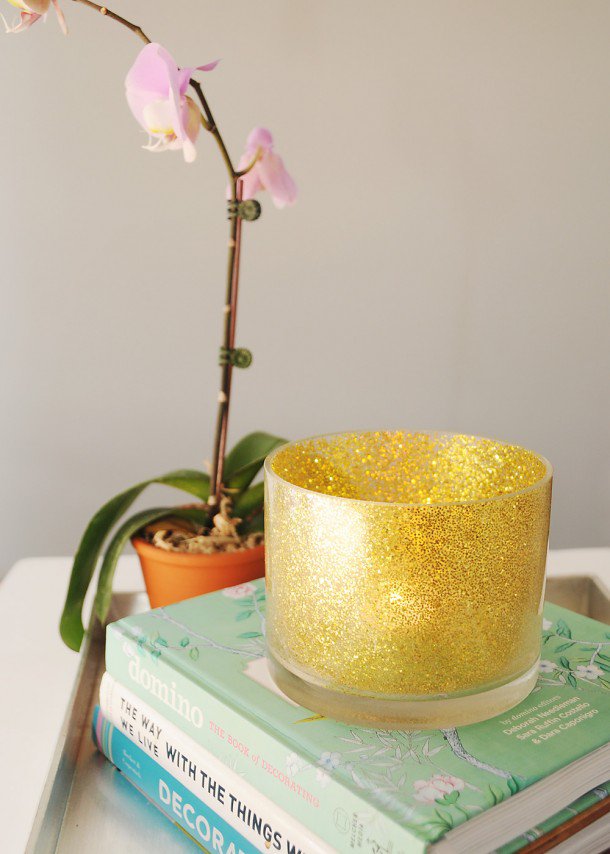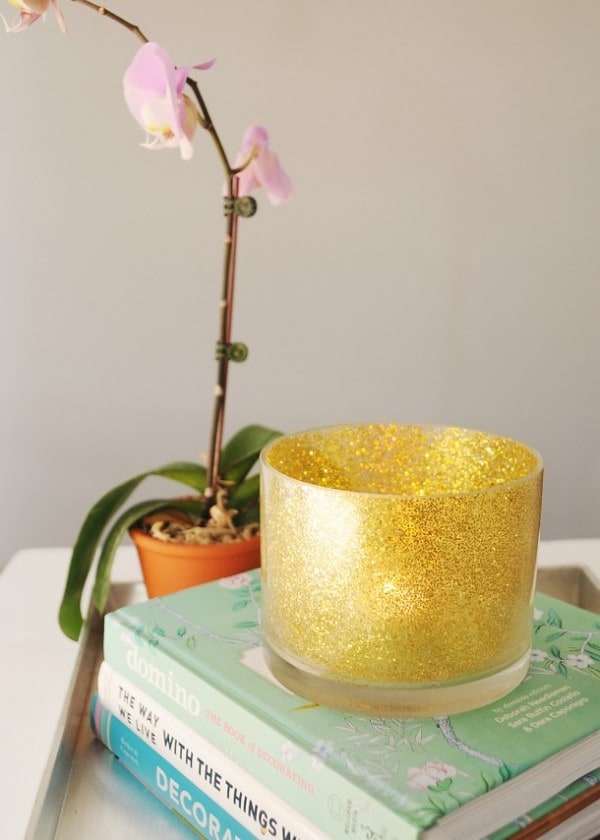 source
15. Scalloped Wooden Block Candle Holders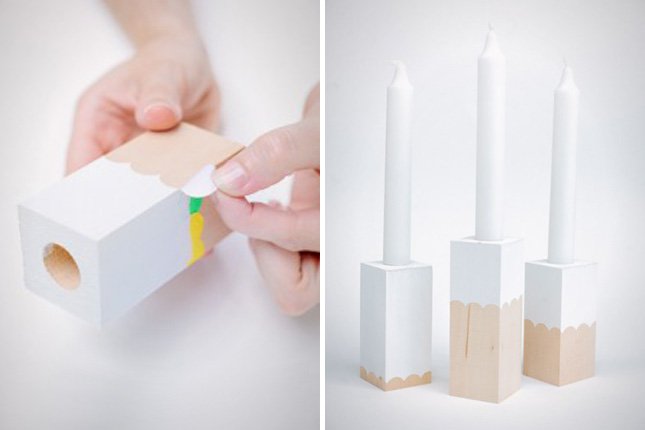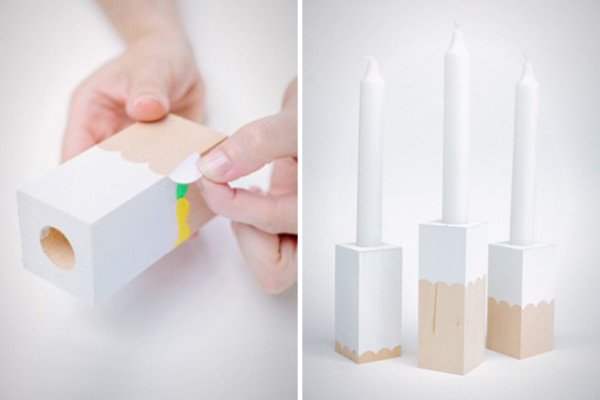 source
16. DIY: Cement Candleholders
This DIY candle holder project may take you more time and effort, but the final result is definitely worth the effort. You will simply adore your cement candleholders.  For them you will need the following supplies:
Plastics in various sizes for the outside mold
Yogurt cups for inside mold
Non-stick cooking spray
Plastic sheeting
Rapid set cement mix from home improvement store
Plastic bucket for mixing
Stir stick
Measuring cup
Sanding pad
Latex gloves
Outdoor "Patio Paints" in colors of your choice
The steps:
First, clean and dry your plastic molds and yogurt cups. Spray the inside of the plastic mold using a thin coat of cooking spray.
Then lay down the plastic sheeting on the workspace.
Mix the cement with 4 parts cement powder and 1 part water. Use latex gloves to mix the ingredients.
Pour the cement into the plastic mold and set your yogurt cups inside. You can use some pebbles or small rocks to weigh your yogurt cups down.
Let your mold sit for approximately 10 minutes. Then remove the yogurt cups.
Taka the sanding pad and gently rub away any rough edges on the surface and the sides. Allow the cement candle holders to be fully set for approximately 12 to 24 hours.
You can then paint the DIY candle holders using different colors. Apply two or three coats of paint to get better results. Allow dry between coats.
Done!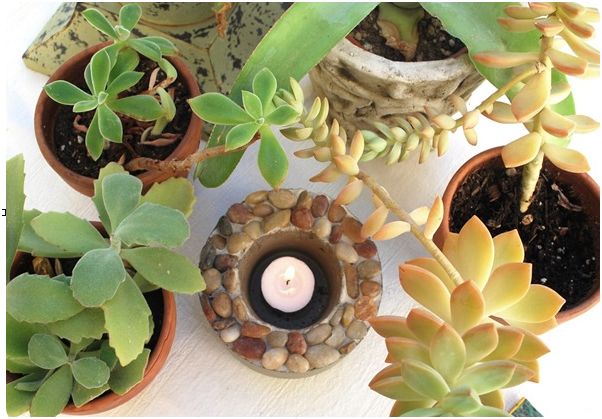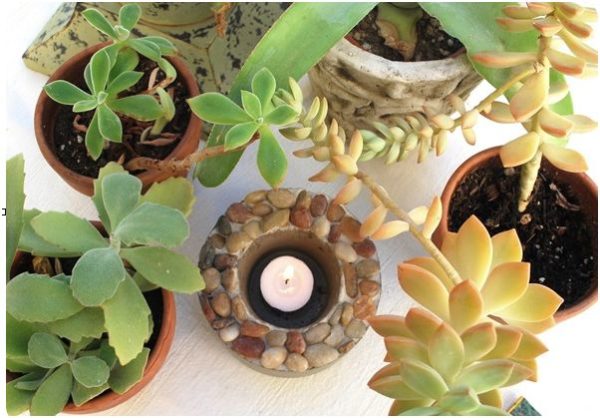 source