Christmas is right behind the corner. The season of gifts and happy moments under the Christmas tree is coming in a few days. If you haven't already planned what to give to your loved ones, let us tell you that it    I final time to plan all the presents. Looking for some inexpensive Christmas gifts? You are in the right place! When it comes to holidays and presents, the attention itself is always more important than the present itself. So, handmade and inexpensive Christmas gifts have become very popular nowadays. In the gallery below we are inspiring you with some adorable DIY inexpensive Christmas gift ideas that you can copy. They will certainly create smiles on the faces of your loved ones. Let's take a tour!
1. The Perfect Personalized Gift: DIY Tile Photo Coasters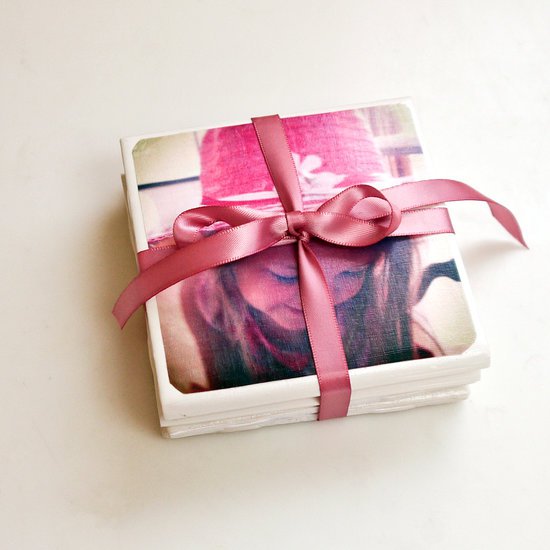 source
2. Monogrammed Hand Towel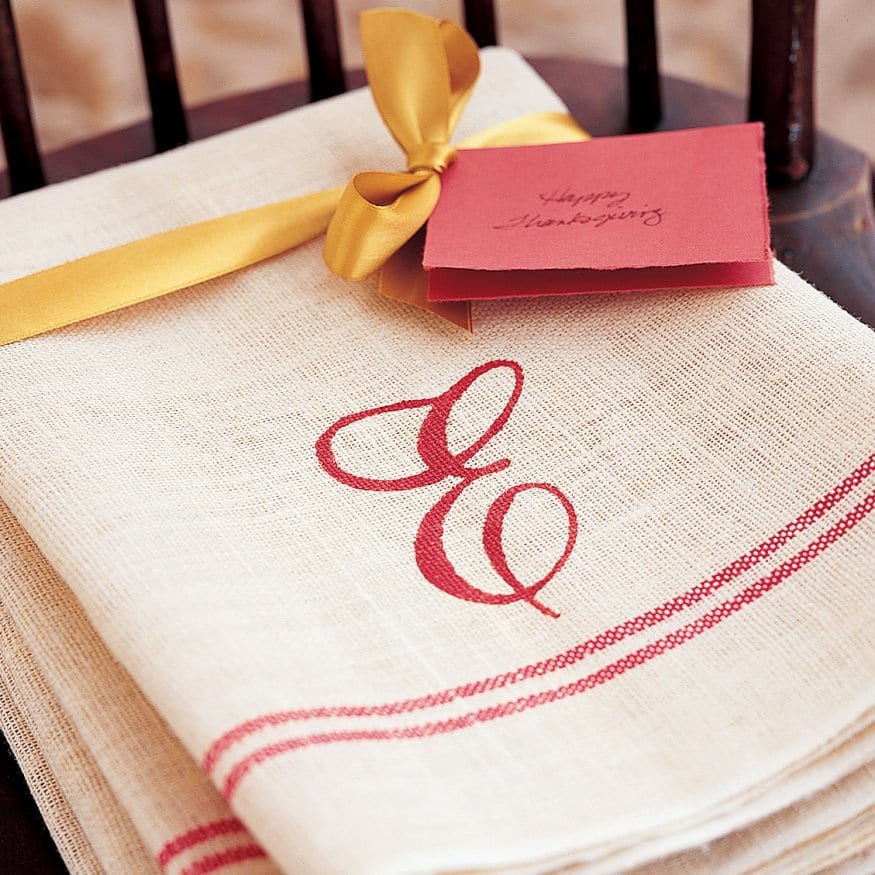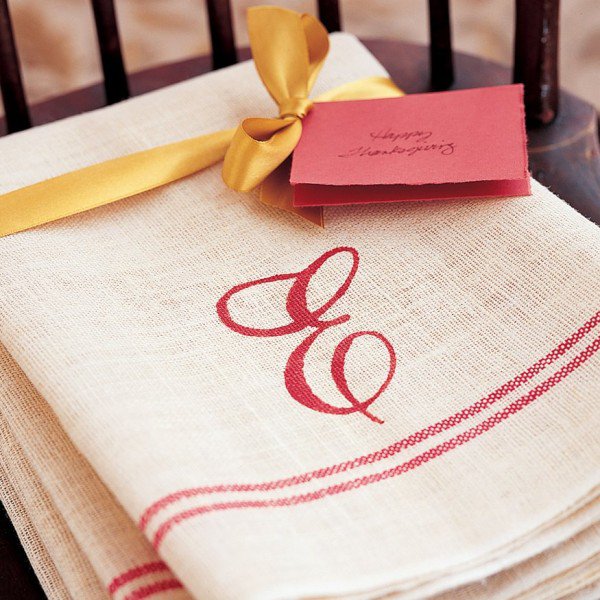 source
3. Candy sleighs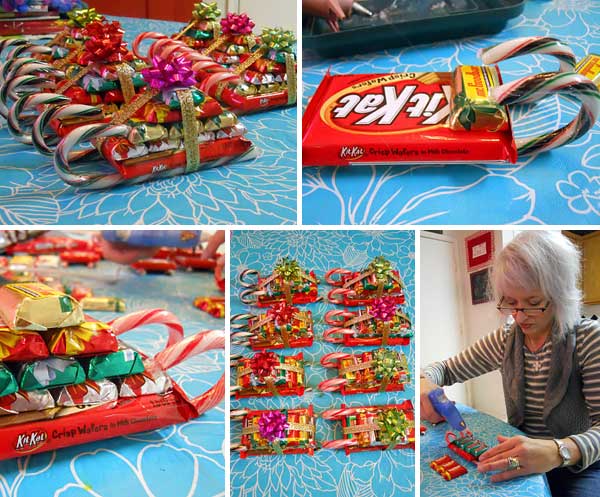 source
4. DIY Christmas Kitchen Towels
Are you looking for some inexpensive Christmas gift ideas for your mom or your grandmother? If you want to surprise them with some useful gift, then you will definitely adore this embellished kitchen towel handmade gift. For this project, you will need some towels to embellish, trim to embellish the towels, thread to match the trim, fray check, scissors, and sewing machine and iron to iron the final result.
To make it, first, pin the trim to the towel using ruler to make sure that each row is straight. Then stitch each row in place and trim threads carefully. Once you finish sewing, you can wash the towels and dry them well so they came out perfectly. Iron them and tie them in the perfect Christmas gift for your loved ones.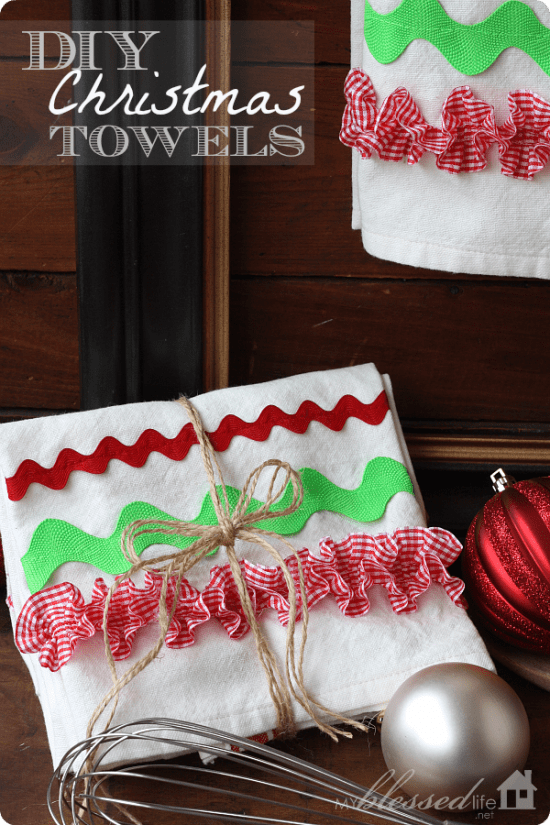 source
5. Friendship Bracelet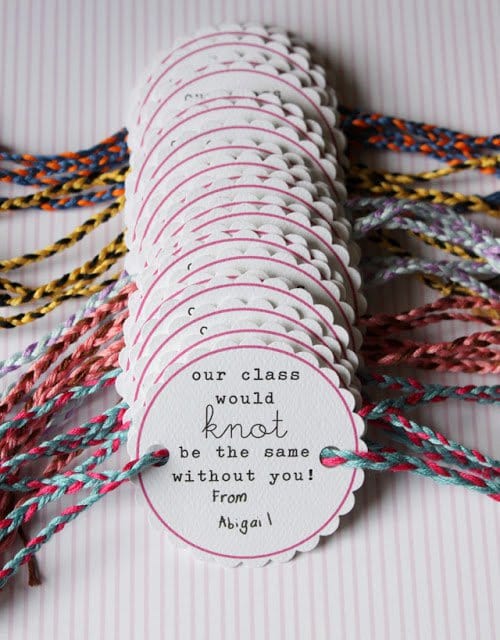 source
6. Bath Fizzies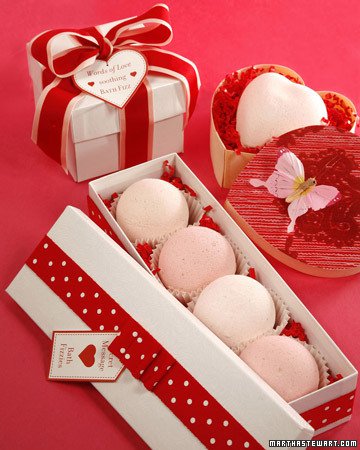 source
7. How to make DIY peppermint sugar scrub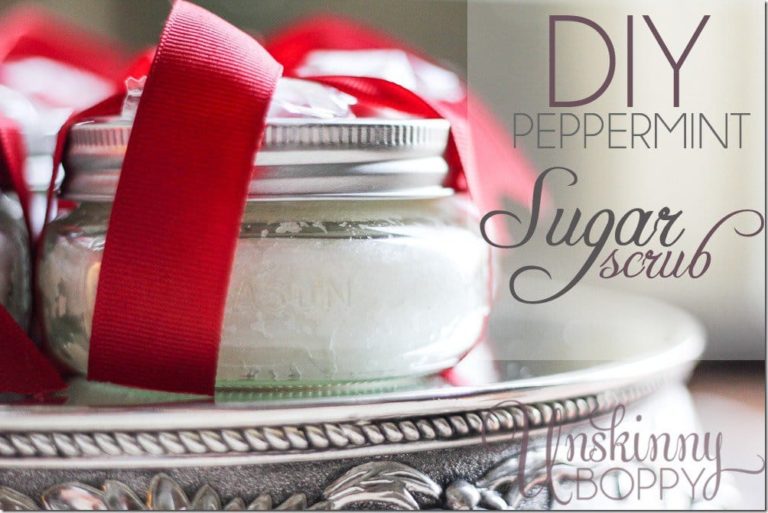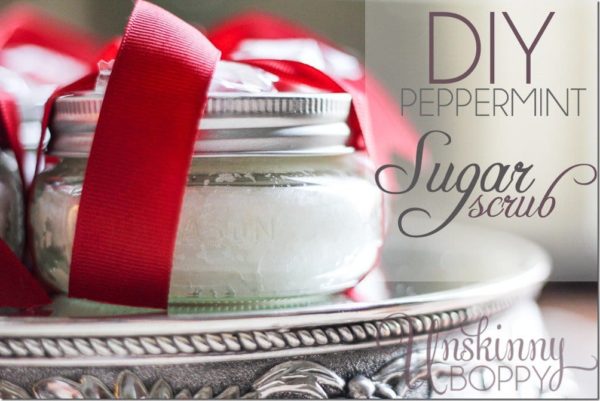 source
8. Small Homemade Beauty Packs
This is definitely one of the most original and inexpensive Christmas gift ideas ever. And, there is no woman that could resist this adorable nail polish package. Women can never have enough nail polishes at home. So, if your best friend is one of those women, then don't think twice and consider this Christmas present idea for her. It is absolutely on budget and is so creative that she will simply adore it. In order to make the gift as special as presented, you will need nail polish, pretty nail files, a glue dot, a wash tape, ribbon or anything to attach polish to the file, and a printable tag that you can download from the Internet and a ribbon or twine to attach the tag.
Print some cards that you can download from the Internet and then cut them using scissors to create the shapes you want. Then, place a glue dot on the nail file to give it a little extra staying power. Add the ribbon or some wash tape. Attach the tags to the nail file using either tape, twine or ribbon. Voila, you are finished!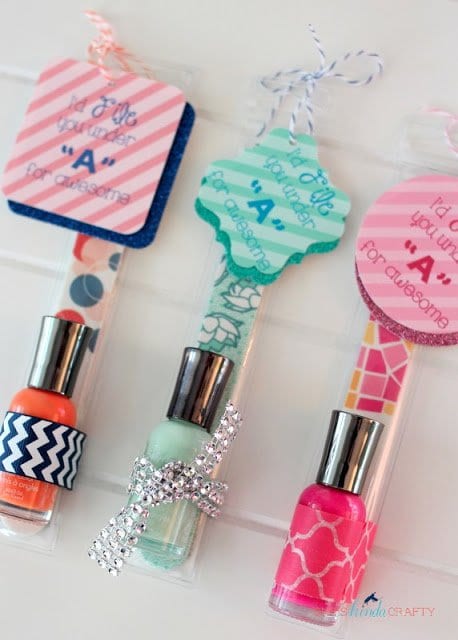 source
9. Creative Christmas Gift Wrap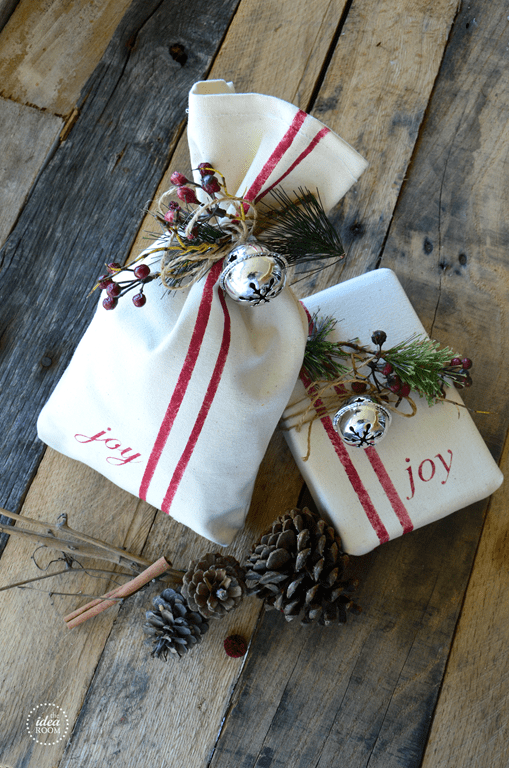 source
10. Peppermint sugar scrub
11.  Christmas Kisses Treat Jars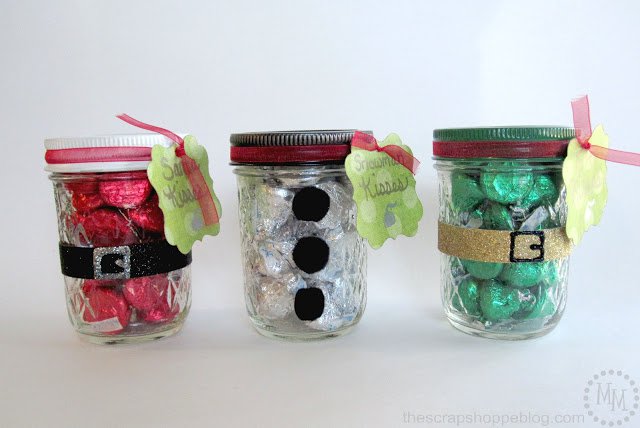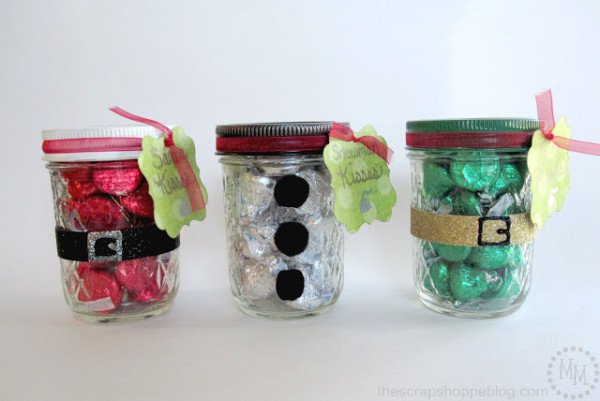 source
12. Easy hostess gift: how to make paint-dipped spoon sets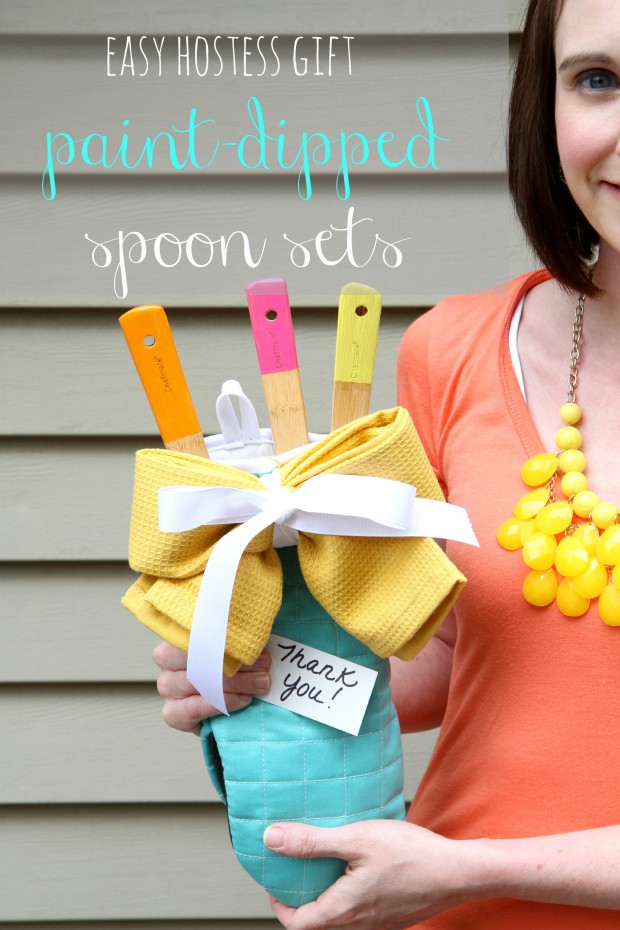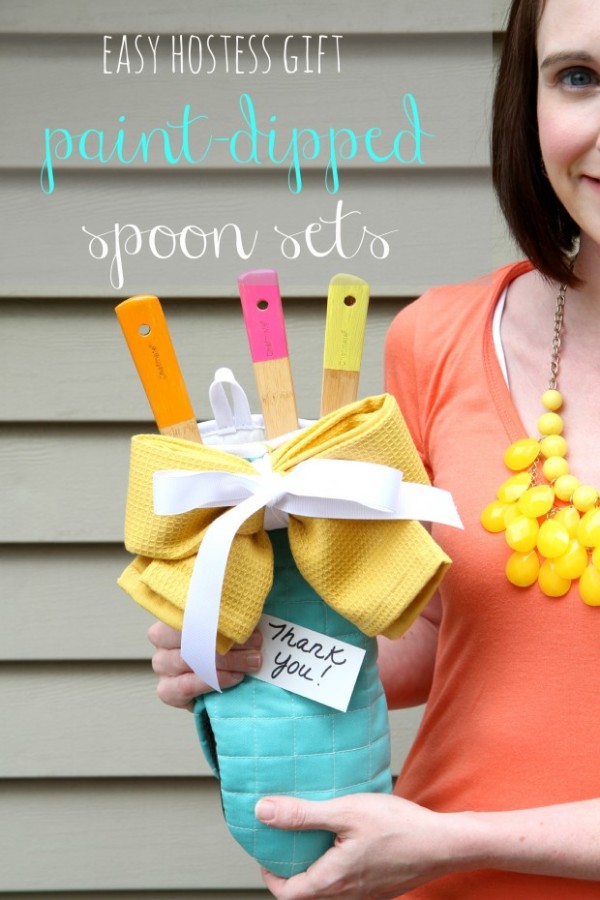 source
13. Santa Gift in a Jar
Looking for some inexpensive Christmas gift idea that is yet fun and very sweet? You have found t right here! This giant Santa gift in a jar is a perfect choice for you if you want to see smiles on the face of the person you are giving it to. To make this adorable Santa jar gift you will need a big mason jar, a small size red felt Santa hat, a Santa belt, and the gift you want to put in the jar.
All you need to do to get this adorable package is to just drop the gift in the jar and then decorate the jar. Put the Santa hat right on the top. You can secure it with hot glue to keep it in place. Then simply wrap the Santa belt around the center of the jar and secure it with the buckle. Add a small drop of hot glue to keep the bel in place. Voila, your handmade Christmas gift is already done!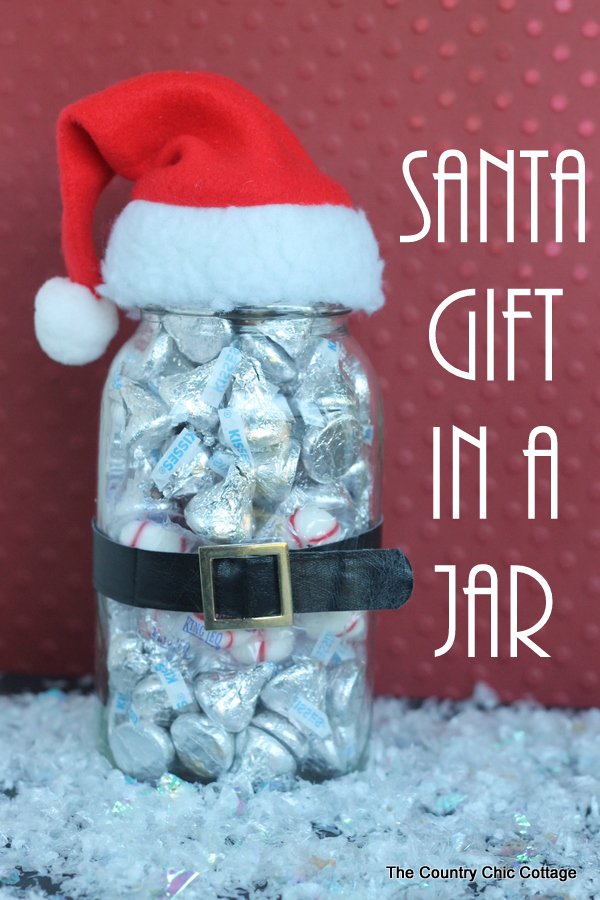 source
14. Christmas Hershey's Kisses FREEBIES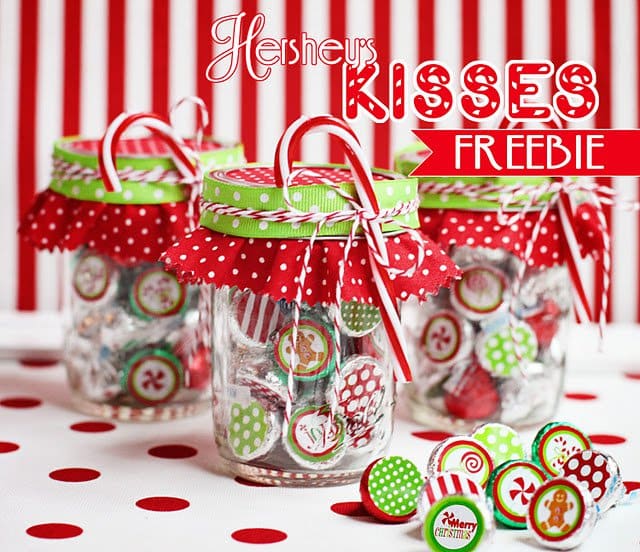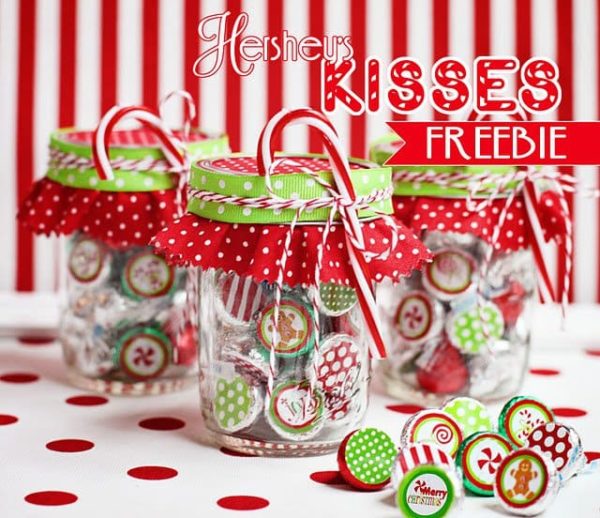 source
15. Monogrammed Soap–Teacher gift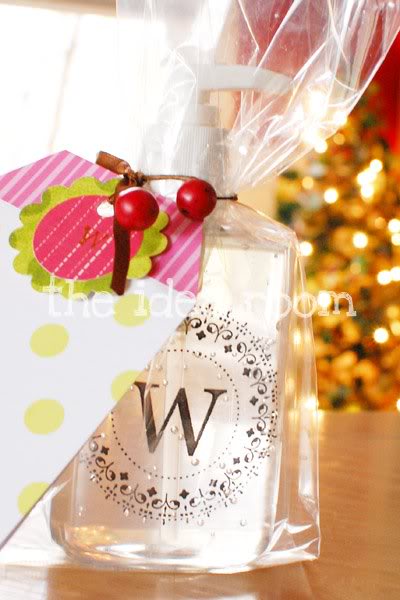 source
16. Merry Christmas Jar Gift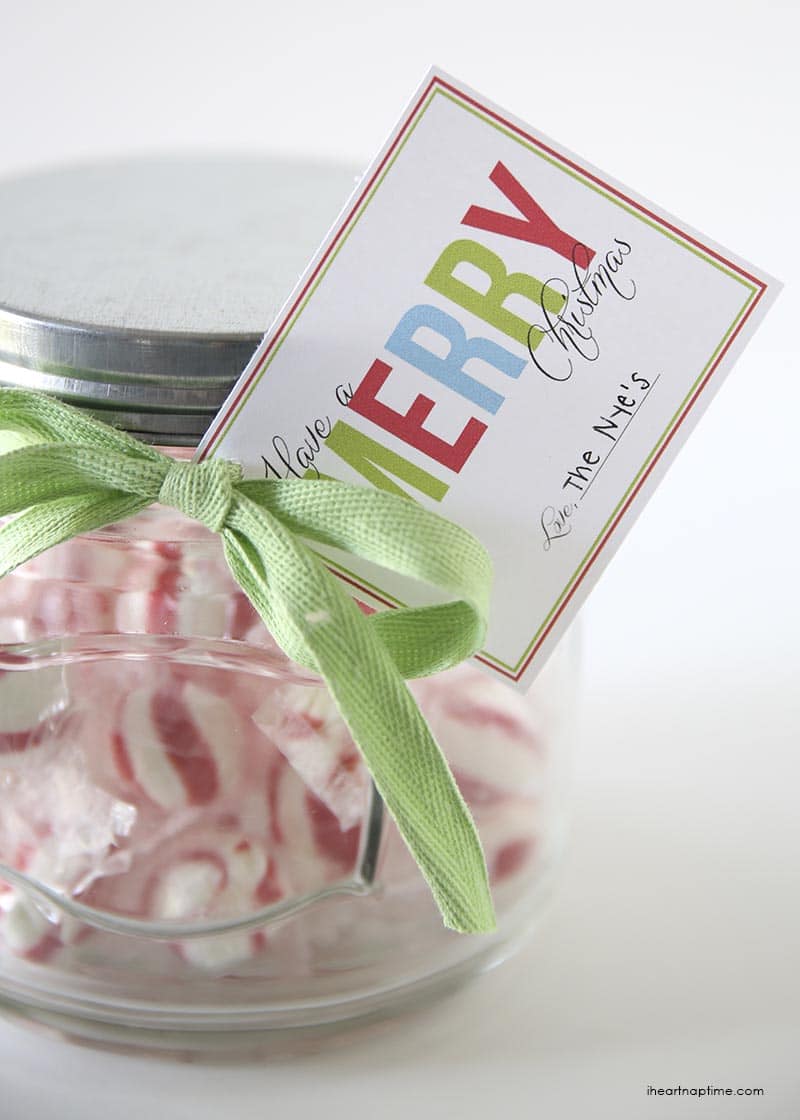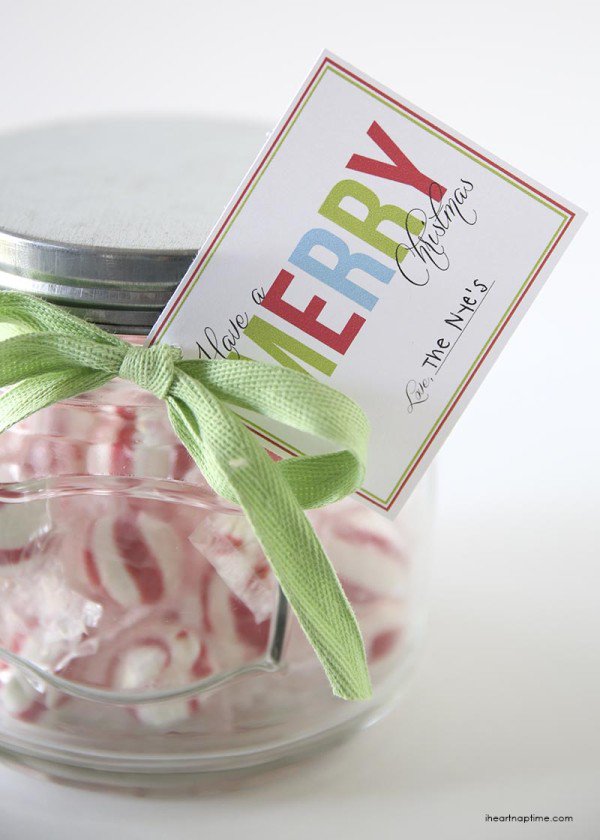 source
17. Hot Cocoa Gift Idea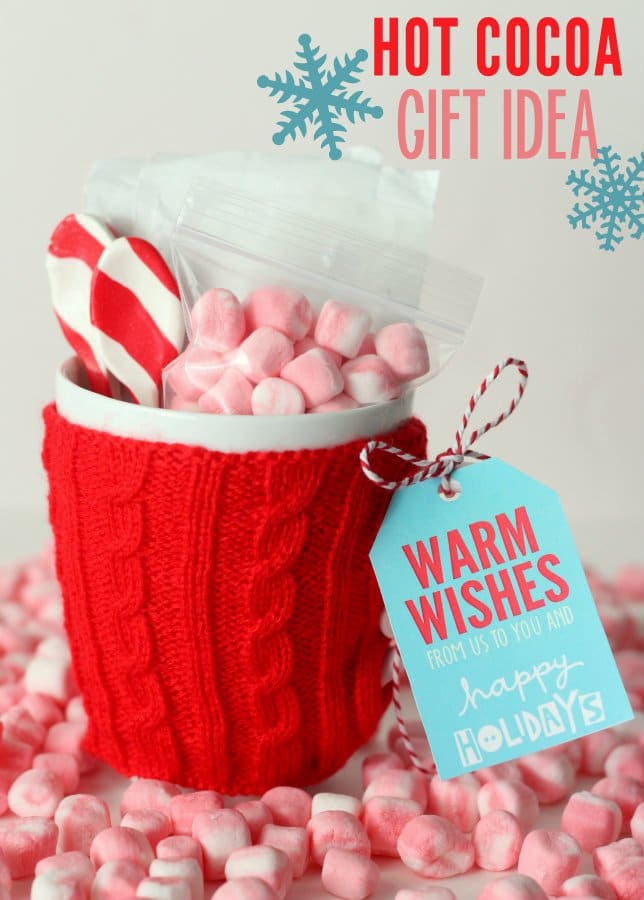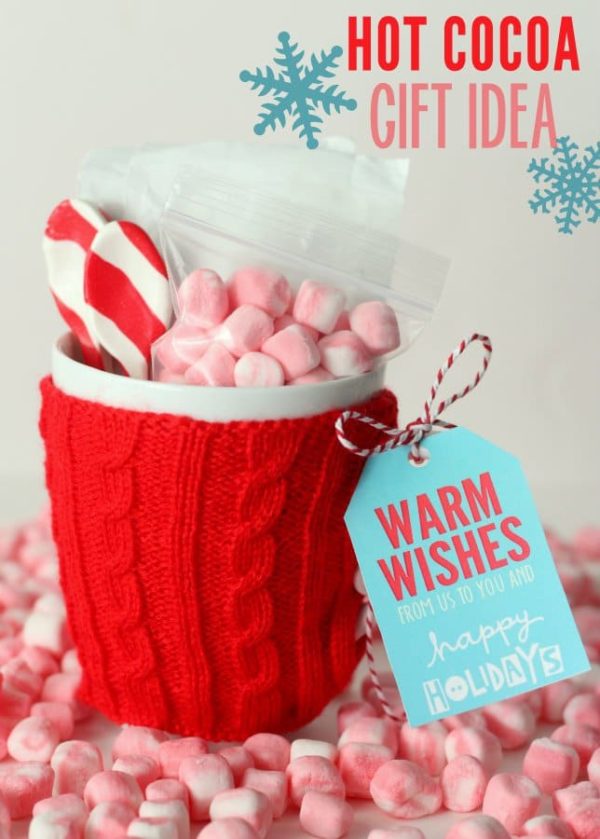 source
18. Christmas Jar Gift
Here is an inexpensive Christmas gift idea that you can make if you enjoy DIY projects including mason jars. We all have some old mason jars that we don't use anymore. Well, it is time to put them to use again. A mason jar can be a perfect way to package a gift for your teachers, coworkers, family members, or friends. There are endless options on what you can fill the mason jar with. You can choose the fillings according to the person you are giving them to. If you are preparing a Christmas gift for your best friend, and you want to surprise her well, then we recommend you fill her jar with her favorite nail polish, some body lotion, a lip balm, some festive Christmas socks… or whatever your think will make her happy.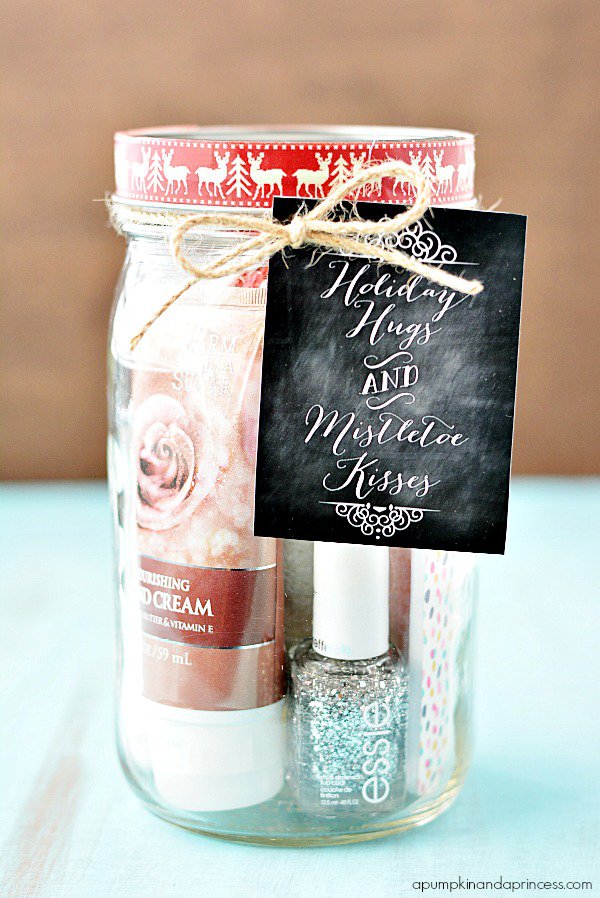 source
19. Winter survival kit- a fun gift in a jar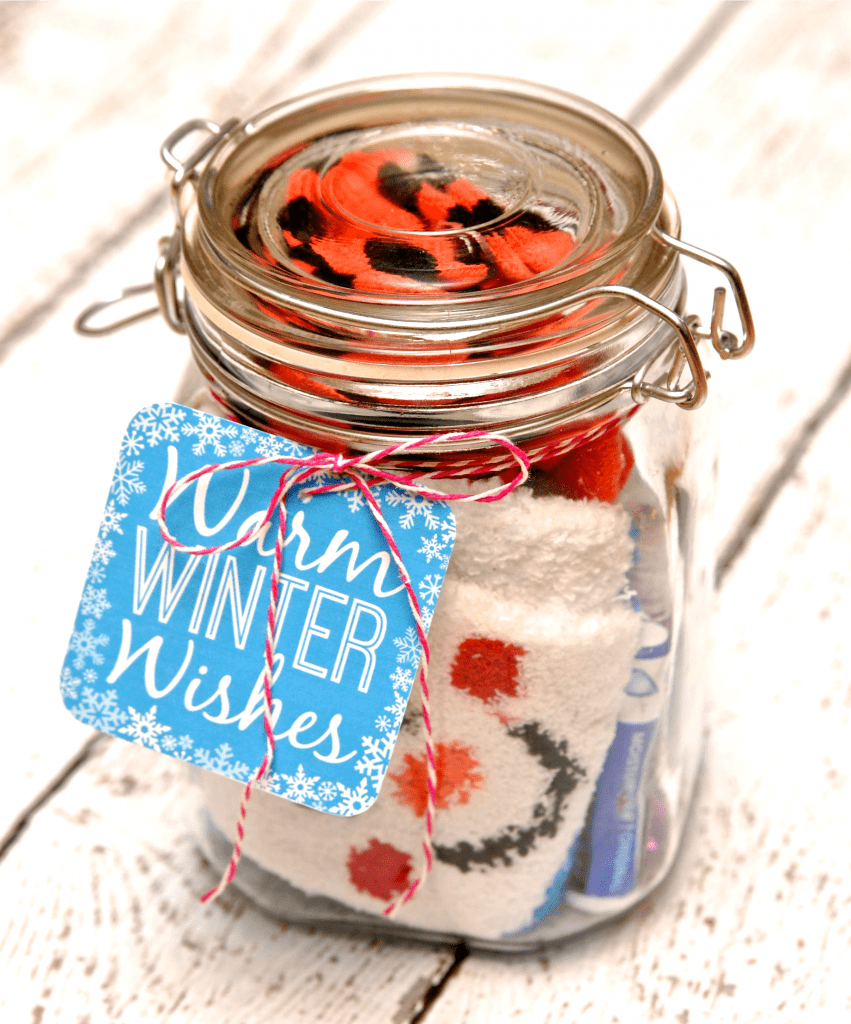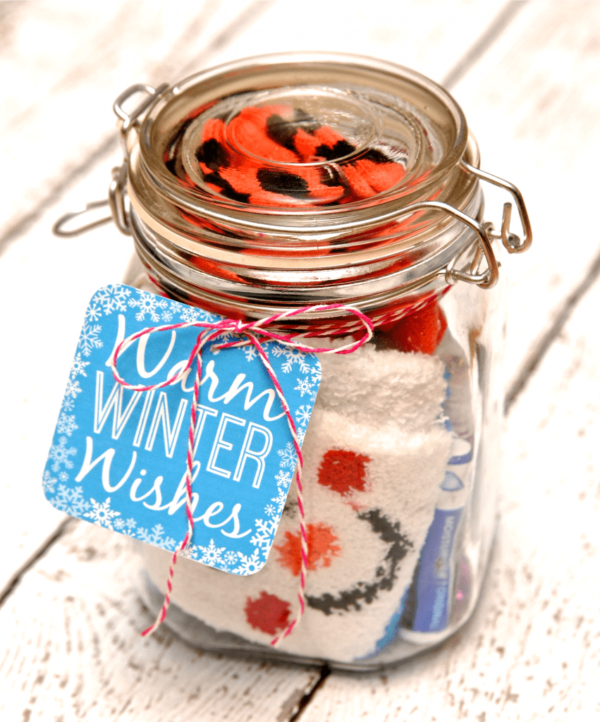 source