Hey ladies one of the most common problem for all of us not matter if have shot or long hair is the split ends. There are a lot of reasons why we have those problems like due to dryness, over exposure in the sun, frequent use of intensive hair products like hair spray, hair gel or hair colors and sometimes even a lack of proper diet also tends to cause dryness in hair, which results in split ends. There are 5 tips in the article below that would help you to get rid of this problem.
Well-groomed and beautiful hair is truly the most beautiful decoration. Many girls and women, especially those who are not in the mood for drastic cuts, are worried about the appearance of unpleasant split ends. This problem, everyone agrees, is an absolute nightmare for anyone who loves long hair. Cracked and dry ends create quite a headache for many ladies who don't want to hear the most common advice for a solution: a haircut!
However, there are some useful tips that will prevent hair from 'blooming' – and without going 'under the scissors'. So if you are among those who do not want to give up long hair, and have already tried all possible products that promise miraculous transformations, it is important to work on prevention, according to experts.
So, here's how to prevent split ends. As in many other cases, prevention is the best measure, and this also helps:
Do not wash your hair too often and make sure that the water temperature does not exceed 38 degrees. For washing, use a mild shampoo suitable for your hair type!
Moisturize your hair regularly. Treat the dry ends of the hair with a serum that hydrates the hair, and don't forget about a mask or pack once a week to give the hair additional nourishment.
Never rub your hair with a towel after washing. If you can, it's best to let it air dry or use a terrycloth turban to dry your hair.
When drying hair with a hair dryer, make sure that it is at least 8 centimeters away from the hair. The heat that develops can have a harmful effect on the hair. Before using the hair styling device, be sure to use products with heat protection.
Head Massage
It stimulates blood circulation in the scalp and it gives strength and shine to the hair. To get rid of split ends, massage your hair by combining almond oil, olive oil and coconut oil in equal proportions. Heat the oil and massage it in your scalp with the help of your finger tips.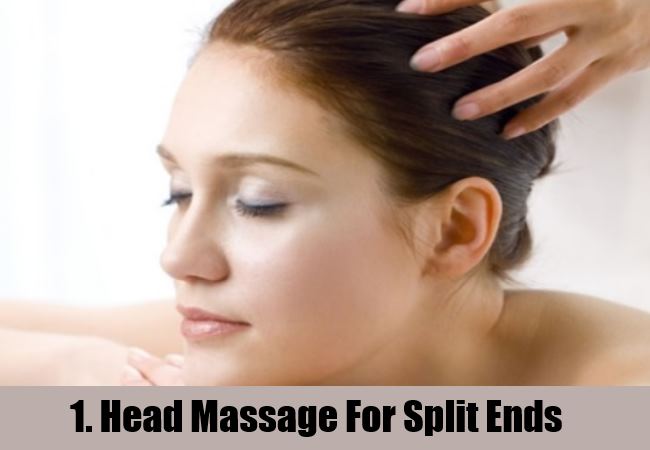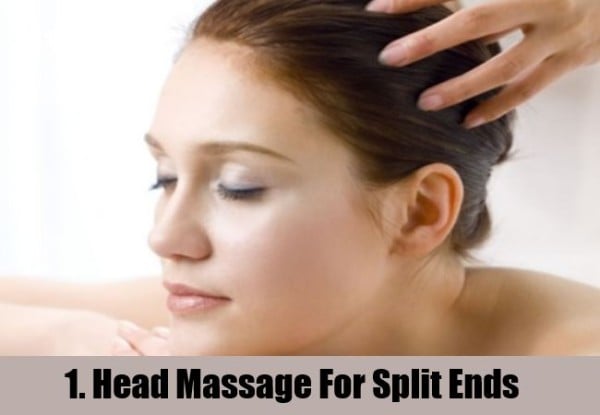 source
Using The Right Hair Products
Always use a mild or herbal shampoo to wash your hair.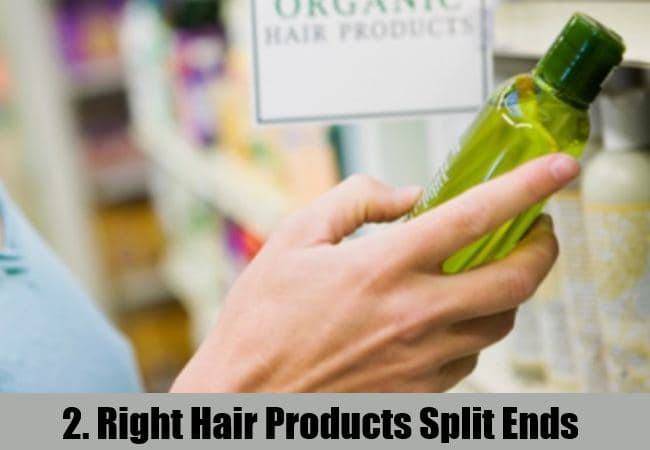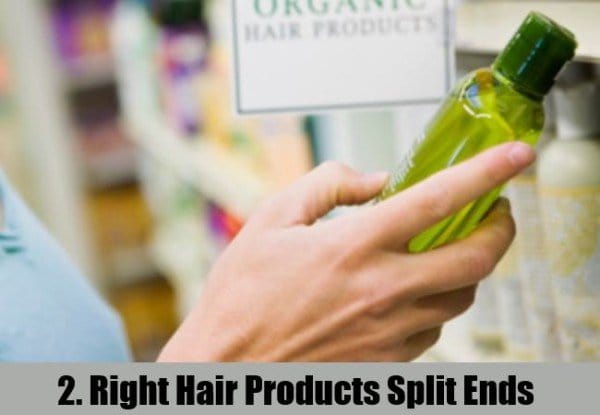 source
Proper Way Of Brushing And Drying Hair
Avoid using metal combs in hair as they cause friction and make the ends split. Use wide toothed wooden or plastic combs to untangle your hair. Always start from the ends and move upwards while removing tangles from the hair. This will prevent unwanted breakage and split ends in hair.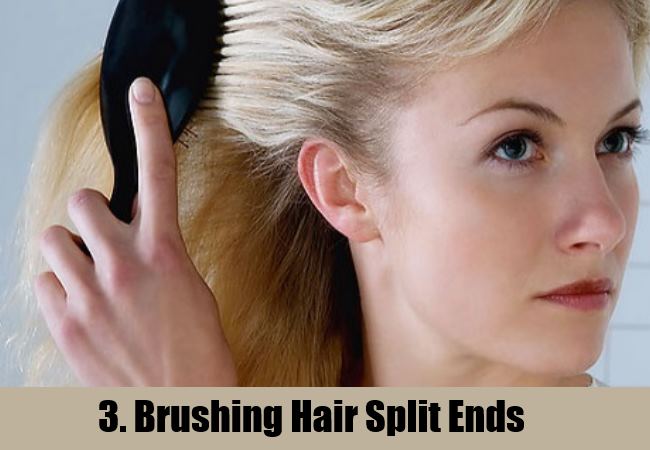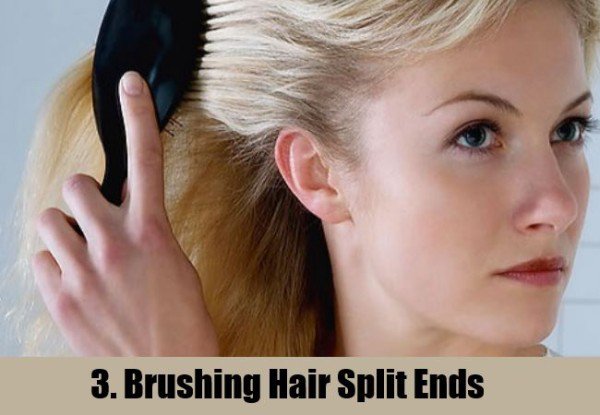 source
Mashed Banana For Split Ends
Take one full ripe banana, mash it well. Add 2 table spoon curds, a few drops of lemon and a few drops of rose water to it. Apply the paste to your hair starting from the scalp to the ends of hair. Leave it on for 1 hour and wash hair with a mild shampoo.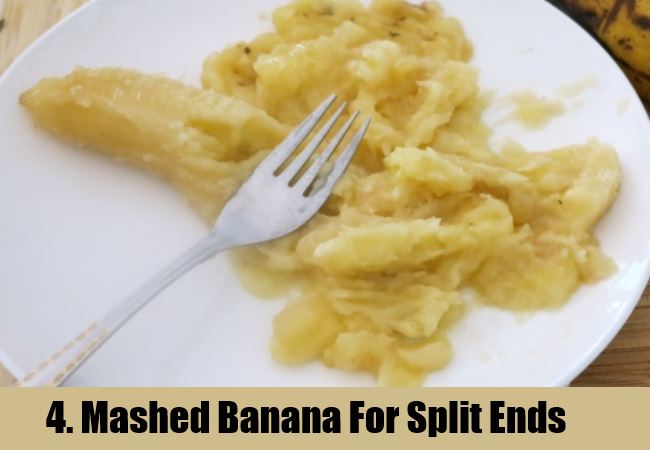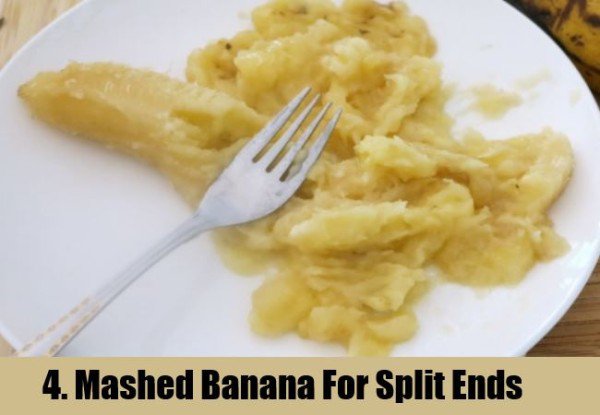 source
Avoid Hot Water Wash For Split Ends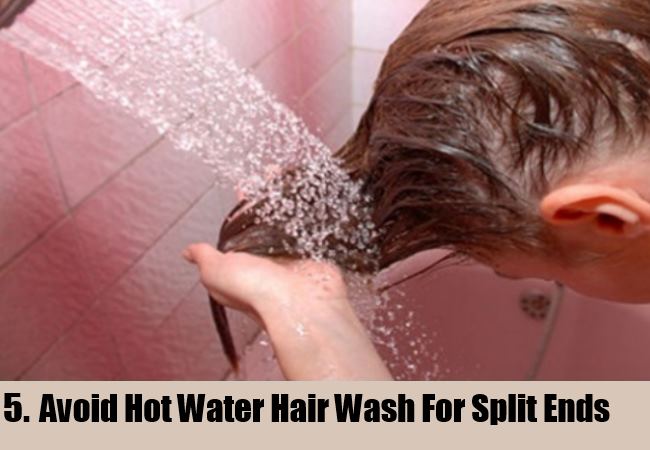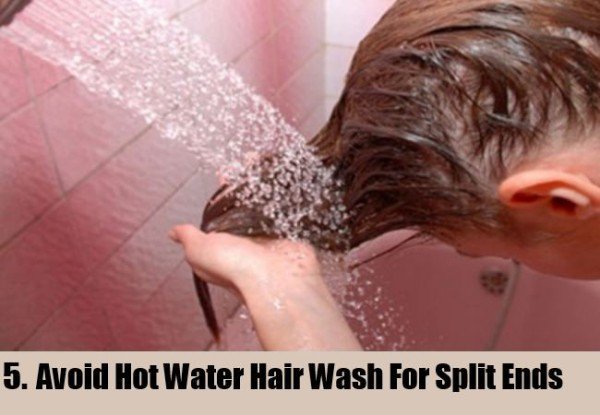 source