Choosing your wedding hairstyle is the finishing touch of your overall bridal beauty look. The best hair accessory for a spring bride? Flowers! Fresh Flowers! If you are looking for an extra special bridal hairstyle, then consider floral hairstyles as one of the most favorites for brides having their wedding in spring. And, we do not refer to flower crowns, but to inspiring bridal hairstyles with flowers that are perfect to suit any bride type. If you are not up to wearing a full headpiece of blooms, you don't need to. You can add as many flowers to your hairstyle as you want. Almost any blossom can be incorporated into your wedding hairstyle. The best is to try roses, orchids, gardenias, or other similar flowers.
Whether you are opting for an elegant rose look or you are more of a bohemian bride style, fresh flowers are incredibly versatile. They can easily fit any bride's style.  For classic brides, you can try tucking a single flower into a chignon or high bun. If you are planning to wear your hair down, then pin few stands back and secure them with a bright, lush bloom.  A bohemian bride can try a flower crown fitting her head size. No matter which style you choose, bride hairstyles with flowers will add utterly romantic vibes to your bridal look.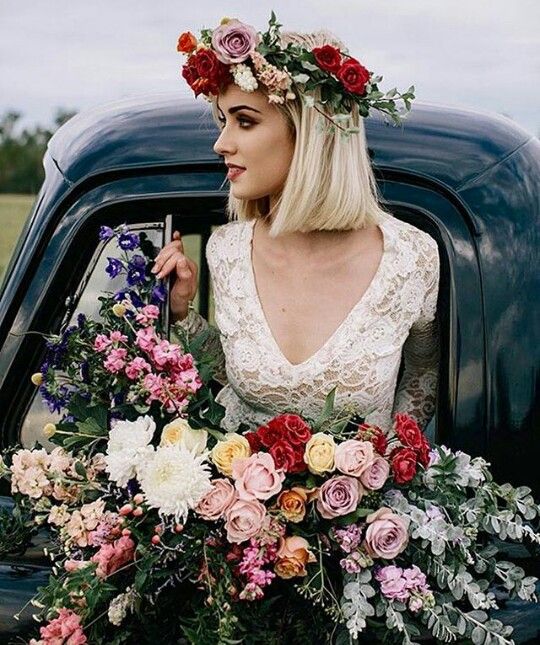 Few simple tips to consider when choosing  bridal hairstyles with flowers
Wearing fresh flowers on your wedding day can be a little tricky. In order to make it easier for you to wear them and make them stand in their place during the whole day, follow these few simple tips.
If you want your fresh flowers to last until the evening, try dryer varieties of flowers. Baby's breath, heather, or lavender paired with herbs like rosemary or succulents are the best option to choose.
Consider in mind that flowers may contain allergens. Before you choose the flowers for your wedding hairstyle, consult with your florist first. You don't want to walk down the aisle sneezing, right? Then try to avoid flowers that can provoke allergy to you.
Avoid using any setting products near the flowers. Ask your hairstylist not to add the flowers until she or he is spraying hairspray to your hairstyle. Also, try not to get any perfume near the blooms.
Bridal hairstyles with flowers are enough for an eye-catching bridal look. So, once you choose fresh flowers as hair accessories for your big day, try to keep the rest of the look quite natural. You don't want to go over-accessorized on your special day, right?
Keep the flowers in water or in the refrigerator until the last possible moment. Take them off of the water seconds before the hairstylist adds them to your hairstyle. Also, ask the photographer to take few hairstyle shoots before the ceremony. The flowers will still look fresh and the wedding photos will look amazing. Later, the fresh flowers can lose their freshness.
Don't miss taking a lot of pictures. Fresh flowers can look amazing in photos. Bridal hairstyles with flowers are the biggest inspiration for the florist, the hairstylist, and the photographer.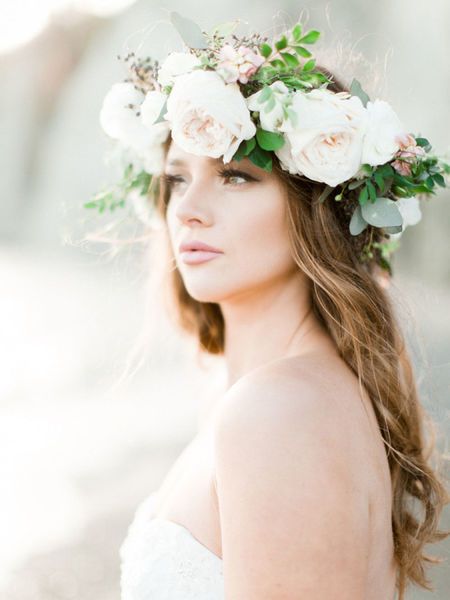 source
A monochrome flower crown
If you want a unique look, then opt for a monochromatic flower crown. The best to do is to choose flowers that match the color of the flowers in your wedding bouquet. You can also try a monochromatic flower crown in a neutral color (white roses, for example) that will match your wedding dress color.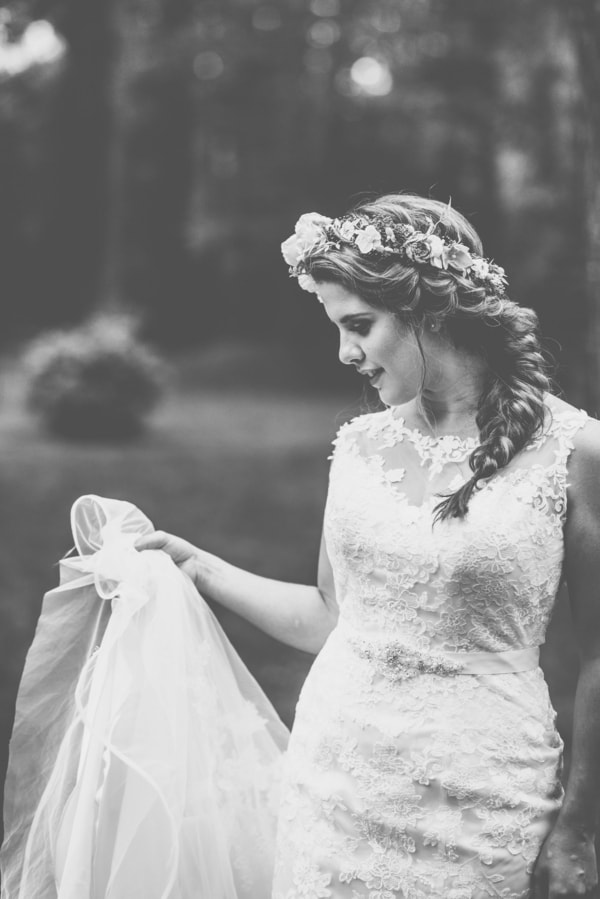 source
A romantic updo with flowers
For a romantic touch on your bridal look, try a hairstyle with a lot of flowers waved in an updo.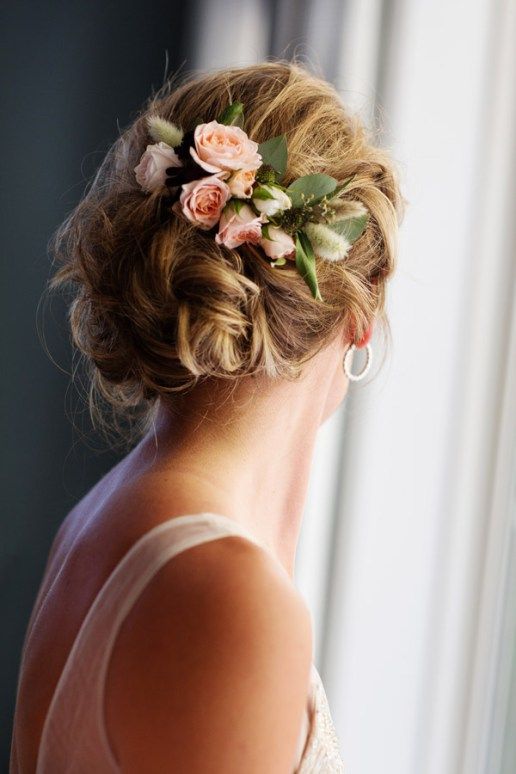 source
Accentuate your hair texture
If you want a wedding hairstyle with flowers that is more subtle, then you can opt for few tiny blooms into a curly updo. Choose differently sized and colored tiny blooms, starting from miniature ones and culminate with a large crimson blossom.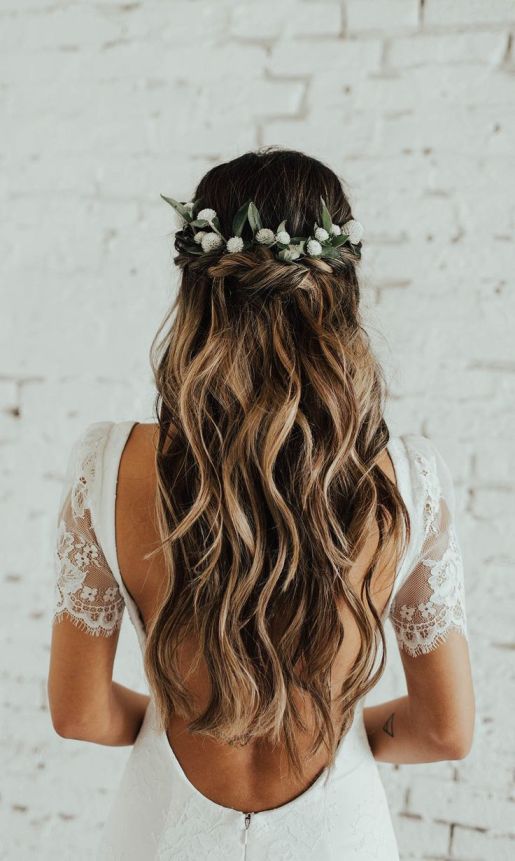 source
A bun framed with a halo of greenery
For a  goddess bridal look choose a floral hairstyle with sprigs of greenery wrapped around a simple twisted 'do.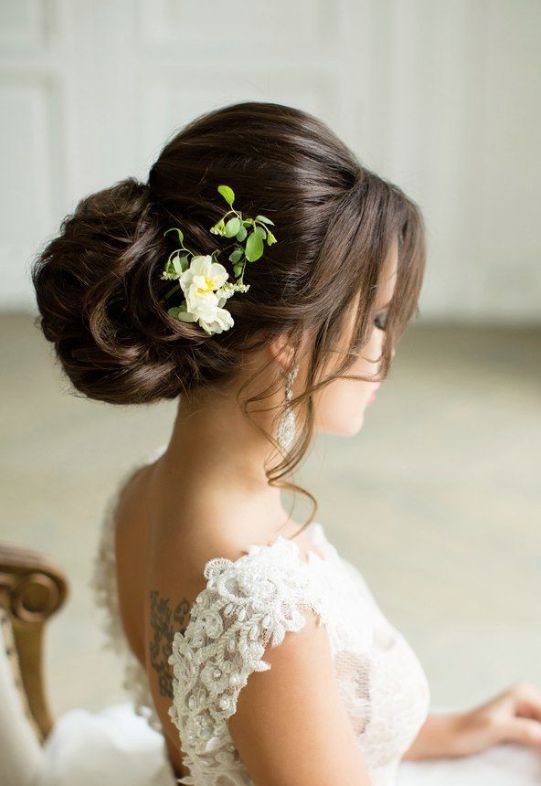 source
An effortless ponytail with a touch of femininity
If you are planning a beach wedding ceremony, then this effortless ponytail with few buds incorporated in it is the choice for you. This look is cool-girl in the most effortless way. For brides that want to look chic and feminine at the same time, this hairstyle will instantly add a touch of femininity.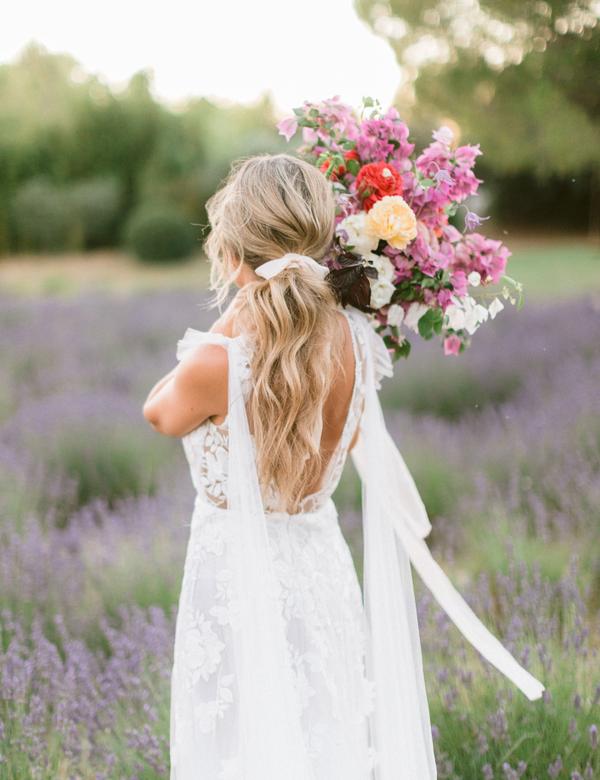 source
Boho styles with succulents and sage
Rock on on your wedding day by choosing boho bridal hairstyles with flowers. And, when we say boho, we mean that a lot of greenery will be included in there Choose selected springs of greenery, succulents, and sage to add more bohemia vibes to the hairstyle.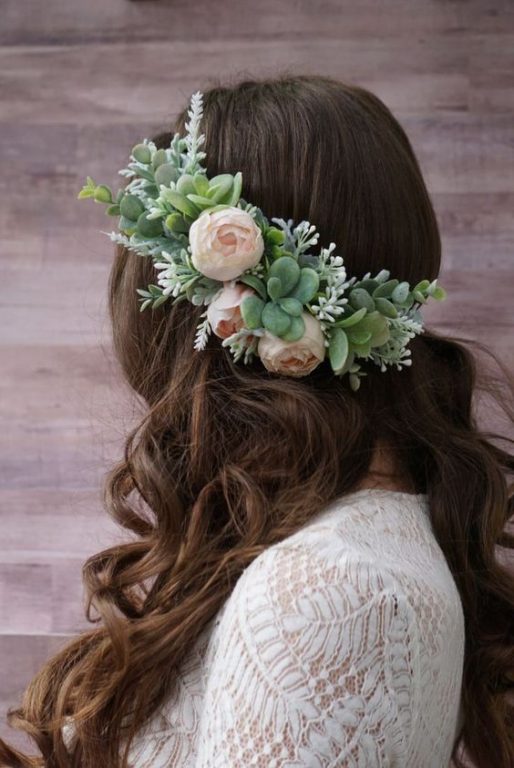 source
Wildflowers tucked into a simple ribbon
This hairstyle is a perfect alternative to a full-fledged flower crown. Simply tuck some tiny buds into a ribbon that can match your sun-kissed hair and voila, you are having the best floral wedding hairstyle ever possible.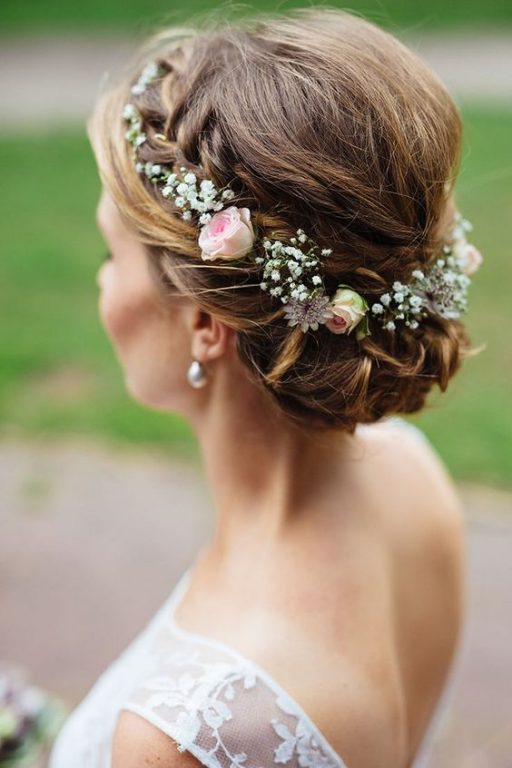 source