Let's be honest. It's hard bringing your full fashion game front and center in the dead of winter. Sure, you may rock a sweater dress with tights and boots every now and again for a change of pace but–and who can blame you–more often than not, the desire to spend those snowy days warm and cozy wins out over chic and stylish, at least until the first thaw of spring. It's hard to feel inspired by your clothing when it seems like your wardrobe options are limited to sweaters, boots and pants. That's where accessories come in. No need to resign yourself to a fate of fashion limbo during the long months of winter. Use these six simple accessories to elevate any winter outfit. Breathe new life into your everyday wardrobe once again.
Stack Your Jewelry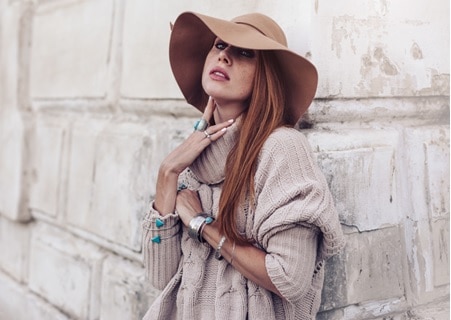 When you hear the term "accessorize," your first instinct may be to add a little bling. For most seasons, adding a statement necklace or fringe earrings would be enough to bring a little sass to an otherwise basic ensemble. Adding statement jewelry to your tired winter attire, however, takes a newer, bolder approach. Thanks to biting winds and below freezing temps, we have to rethink how we dress in the winter and tend to cover up every possible inch of skin, which makes it harder to spotlight simple jewelry pieces. This winter, choose pieces you can wear together for a stacking or layering effect. Think gold or silver necklaces of varying lengths that can be worn together over a turtleneck or sweater. Try stacking several bangles over a sleeve or several simple rings on your fingers. Oversized hoop earrings or dangle earrings in bold colors also make great additions to any winter ensemble.
Tip Your Hat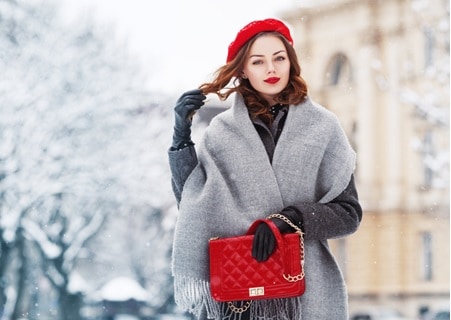 You may be all over the fun sun hats of summer, but when it comes to winter, we can see how you may feel limited. After all, if hats aren't usually in your accessory wheelhouse, then chances are good you don't even think of wearing one unless you plan on being elbow-deep in a snowball fight. Well, luckily, there's so much more to the winter world of hats than just snow beanies and baseball caps. The truth is, a stylish hat can elevate any outfit. From sleek brimmed hats to cozy knit caps, there's no doubt a hat fit for your crown is out there somewhere. And, if you're worried about the dreaded "hat hair," don't be. When you wear a hat as an accessory, it means you fully intend on wearing it as part of your outfit–outdoors or in. Try pairing a vibrant cable knit hat with a solid white tee and layered cardigan or don a cute pom hat with a matching sweater and jeans with ankle boots. When you style your winter hat, less as a cold-weather necessity and more as a too-cute-to-resist accessory, you can't lose.
Highlight Your Scarf
Chances are good you're already wearing a scarf every day in the winter, so why not make it a part of your outfit? After all, scarves can do so much more than just keep our necks warm. They're great for adding a pop of color or bringing much-needed flair to a functional but basic outfit. You don't have to just wear it around your neck. Try draping a long knit scarf over your shoulders or cinching the same long scarf at your waist with a thin belt. Both looks can instantly transform an everyday look from drab to fab with minimal effort. On less chilly days, trade your cozy wool scarf for a vibrant silk one instead. Don't be afraid to have fun with the ties. With so many possibilities to choose from, it's practically impossible not to stand out when you know how to tie a scarf fashionably.
Layer Up
When the cold weather hits, layering is often less of a fashion choice and more of a way of life. Make the most of your shivering months-long fate and give yourself permission to get creative with your layers. On those brutally cold days, you just can't fathom the idea of getting out of bed, layer up with a sweater to bring the consolation of cozy comfort. Think outside of the box (and inside your closet) and wear a long cable knit over a fun floral sundress with tights for a throwback to warmer days gone by. Try layering a chic moto jacket over a cashmere top. But why stop there? Add a long wool trench and vibrant scarf for a truly steamy look guaranteed to heat things up in spite of those dropping temps.
Showcase Your Handbag
For those blistery cold days where you have no choice but to bundle up, bring a little sass to your outerwear bulk with a detailed and stylish bag hanging from your shoulder. An embellished crossbody bag–like chunky chains or a faux fur texture–is a great choice if you want to add dimension to your basic coat/gloves/scarf ensemble. You can also spice things up with a bold color or pattern. Similar to scarves, handbags and purses are a great way to bring a pop of color to your everyday wear.
Wrap on a Skinny Belt
When it comes to adding a little something extra to your look, don't underestimate the power of a skinny belt. They can bring so much more to an outfit than just the simple service of keeping your pants up. Cinch a skinny belt over a long, button-down flannel slightly above your waist to create a curvy look. Create an empire waist effect with a favorite dress by cinching it below your bust. Use a belt to make a tired wool coat look like new by wearing it over your coat around the waist to show off your stylish figure.
Don't let your savvy self slip into a slump this winter. Use a few of these simple accessories to elevate your everyday look and play it cool all season.