We all know a great pair of shoes can make an outfit and–adversely–most of us are all too familiar with the sad reality that comes when an outfit fails because of a pair of shoes that just don't work. It's heartbreaking enough to almost make a girl give up on staying trendy altogether. Almost.
Having a uniquely perfect pair of shoes for every outfit in your wardrobe isn't realistic, but having a collection of classic shoes you can wear all-year-round that are guaranteed to work with everything in your closet is oh so doable. Read on for our take on the essential footwear you need in your shoe collection and kick your personal style up a notch.
Fabulous Flats
As far as we're concerned, having a great pair (or two) of flats in the closet just makes sense. Not only are they often more comfortable than some higher heeled shoes, but they're one of the most versatile items you can own. Seriously, flats can go with any outfit.  Want to dress them up for a night on the town? Wear them with a gorgeous lace midi dress or even a floor-sweeping maxi and a fantastic clutch. A comfy pair of flats is also smart footwear for the office where the last thing you need is sore feet stopping your glass-ceiling-busting momentum on a busy day you can also check some amazing Adidas Yeezy Boost deals. But don't take the name too literally. Even "flats" should have some heel to them and plenty of arch support to prevent back and foot pain.
Kicky Sneaks
By now, you've mastered the trend of wearing sneakers with just about anything, but really it's the kind of sneaker that makes the outfit. Of course, you should keep your serious workout shoes in the gym–after all, those were made more for working than playing. When you're using sneakers to make a fashion statement, an easy rule of thumb would be to stick with solid colors like white or black that are well-kept and in good shape. It may sound too simple, but a pair of crisp white sneakers can make even the most basic jeans and tee outfit seem fresh and sassy.  You could also switch it up and grab a pair of the latest sneakers. If you're looking to make a statement about your sneakers, purchase matching apparel from online retailers like Sneaker Release Tees. If you want something with a little edge that highlights your fun-loving personality, try sporting a pair of sneaks with a bold animal pattern or eye-catching shimmer to liven up any everyday look.
Stylish Boots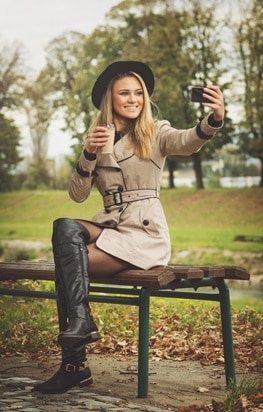 Who doesn't love rocking a good pair of boots in the fall and winter? Seriously, the sweater/leggings/knee-high boot look against gorgeous fall foliage is basically what Instagram was made for. What you may not realize is that a great pair of boots looks great in all seasons–not just the chilly ones. You probably already know how sexy a pair of knee-high boots can look with a simple LBD, but did you know that ankle boots are perfect for any season as well? We know you typically like to show off those fresh pedicures in the summer and spring, but pairing a favorite sundress with some chunky-heeled ankle booties can add an element of flirty fun you just won't be able to resist.
Slip-On Sandals
Yeah, you read that right. Slip-on sandals can be for so much more than just lazy summer days at the beach and long, laugh-filled Sunday brunches with the ladies. As much as we love a sleek pair of sandals in the summer, we love them just as much (if not more) on those unexpectedly warm days of fall and spring. Channel the airy, casual fun of summer when you pair stylish flat sandals with skinny jeans and a tunic top or sweater. Add a chic moto jacket and a vibrant scarf, and you'll be sure to heat up any room regardless of the weather.
Closed-Toe Heels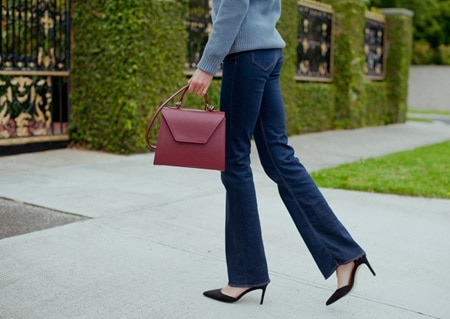 If you want to kick your outfit up from drab to fab in an instant, add a pair of heels. Great for both casual and dressy settings, classic closed-toe high heels bring an element of class you just can't get from any other shoe. They work wonders at the office with corporate power suits and are equally boss when worn with more business casual jeans and a tailored jacket attire. Owning more than one pair in different colors isn't a bad idea either. After all, you'd be amazed at how many outfits are completely made by the addition of a simple (yet powerful) nude heel. Of course, you'll want a pair of sexy black high heels, too–you know, for those nights you have no choice but to be the center of attention.
Ankle Strap Heels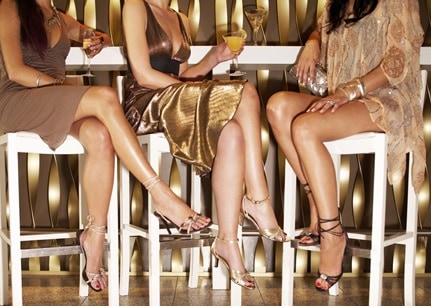 And, of course, what kind of must-have shoe collection would it be without a pair of ankle strap heels? Ideal for highlighting those long legs (or giving the illusion of long legs at the least), ankle strap heels are the ultimate dressy shoe. Practically perfect worn with sexy midi and maxi dresses alike, strappy heels also look fantastic worn with shorts, skinny jeans or capris. It's true. Just make sure the pant hem falls at or slightly above the ankle strap, and you'll truly look like the fashionista we always knew you could be.
From spring to summer and fall to winter, these six shoes are just the kind of fancy footwear you need to get you through the seasons in flat out style. Don't waste another day wondering what to wear. Start shopping today to get every shoe you need to walk your own personal runway all-year-long.