Nothing can be perfect than having a manicure to match and enhance the look of your outfits whenever you are going somewhere. And things can be even more ideal when your stylish appearance is on point according to the latest fashion trend.
When considering all this, it is pretty safe to say that every outfit and fashionable appearance is incomplete without the fun element of a chic and stylish manicure. Even many celebrities and fashion experts have been seen carrying different types of nail polish styles every day.
So, here are some of the best and top most-liked nail polish designs or manicure fashions that anyone can try this time of the year to enhance their look like never before. Read more below to find your personal favorite right away.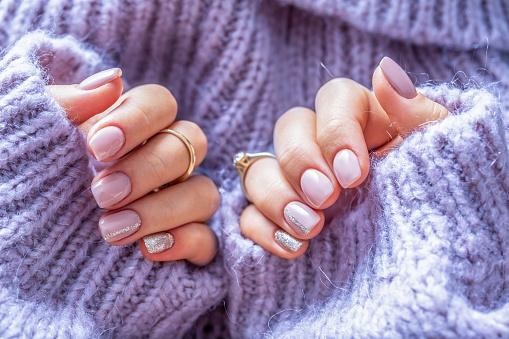 Nude and Minimals
For all the people who like to stay minimal yet classy in their fashion choices, nude nail designs are the perfect answer to their style query. These are basically some of the best picks of subtle and nude tones and are available in a wide range of colors.
One of the greatest things about getting a nude shade manicure is that these kinds of colors not only look sophisticated but also go with every dress style and color. This means that you do not have to get into the hassle of deciding on an explicit nail paint shade with it every day.
All you would need to do is just decide what nude shade would go best with your nail design and skin color to create a perfect manicure look and enjoy impressing everyone in the room with your ultimate fashion choices and gorgeously styled nails like an ultimate fashionista.
Graphic Details
If you have been a fan of graphic design and its artsy styles, then the good news for you is that not only in clothes, graphic details are also becoming quite famous these days in the manicure world because of its jazzy and modish outlook.
The amazing style of graphic details in nails is the new bold and beautiful boss of the town. You can also try to enhance the element of fun in this nail design by using a contrast of amazing colors, or you can also simply use matching colors.
The main point is that you can never go wrong with the sleek fashion of this trendy manicure detail, which will make everyone fall in love with your gorgeous hands and turn heads for you like you might not have ever imagined. So, go get what you might have always dreamed of.
Geometric Art
For people who want to look out of this world all the time and want to embrace their inner geek, geometric nail design is the perfect match for their personality. All you would need to do is to draw geometric shapes and lines on your nails that will look jazzy and stylish.
These nerdy yet chic style-inspired nails have been popping out in the fashion world a lot lately, and there are also several tutorial videos circulating on several online platforms to help you gain a great look without getting into much hassle.
Just like you love to blend your makeup and lipstick shades with gorgeous eyeliner as well as other perks, getting geometric nails will help you to achieve an ultimately flattering look without getting into much effort of designing.
Colored French Tips
The iconic style of French tips is something that never goes out of the fashion books, but this year what is even more amazing about this is the jazzy twist of colored French tips that has increased the demand for this manicure design even more in the style industry.
This means that if you want to go all chic and classy, just like Gigi Hadid and Dua Lipa did on the last fashion show, getting colored French tip nails is a great option for you to be near the appearance you want to style up for you.
You can also add a perk of your own fashion choice in this by going single yet bold-colored tips, or you can also mix and match different quirky nail paint shades to make it look fun just like the way you are. Just get some different nail colors for yourself, and voila! You are good to go.
Pastel Rainbow
If you are one of those people who are tired of the same old boring and dull style of regular manicure and want to give your mood an instant boost, then the joyful hit of pastel rainbow nail colors is what you might have been looking for, to cheer you up.
This dapper style of subtle yet impressive nail paint design is here to stay in the fashion world. You can mix and match a combination of several colors without getting into any doubt, which will also look perfect with every outfit of yours.
No matter if you are going out with your friends on a rocking concert, a weekend getaway trip, or about to take a stroll outside just for fun, the pastel rainbow nail color combination will make your hands look utterly jazzy and gorgeously stylish.
Neon and Beautiful
After a whole year of pandemic and sitting back home, it is now time to unleash your creativity in a way that everyone can notice your art skills. For this, neon and beautiful nail designs have been brewing for some time among women of all ages.
The best part about this trend is that it not only looks versatile but is also a perfect pick if you are into something that looks both luxe and stylish at the same time. This will also help enhance your glam quotient as well as it will also help you to gain all the spotlights for your top fashion picks in the best possible manner.
In addition to that, the bright and bold fashion of neon nail paints will certainly bring out your fun personality with whatever you match.