One of the most crucial considerations you'll have to make when searching for wedding bands or rings is the metal. Before selecting the ring you'll wear almost every day, consider the benefits and drawbacks of each metal used in men's wedding rings. There are many different wedding ring metals to pick from, and it might be challenging to determine the difference simply by glancing at a handful of bands. We encourage doing some research before entering a jewelry store so you may be an informed customer.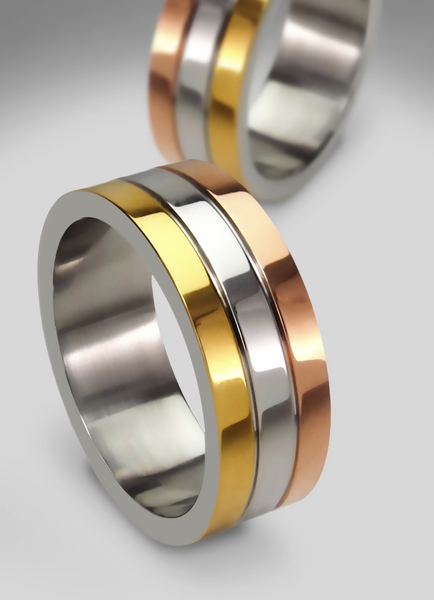 Here, we'll go through the metals benefits and drawbacks of the most popular wedding rings so that ring purchasing will be a snap.
1.     Gold
Gold is the most classic choice, and it comes in a variety of finishes, like white, rose, and yellow gold. Higher karat golds have greater brilliance and are less prone to tarnish. Mens gold wedding bands may also be resized quite easily. However, gold scratches readily, making it unsuitable for individuals who work using their hands.
2.     Platinum
Platinum is heavier and stronger than gold, and it is hypoallergenic. Platinum's white coating will not tarnish, which means it will endure indefinitely. The disadvantage is that platinum is the most costly metal, frequently costing twice more than gold.
3.     Palladium
Palladium has a similar look to platinum but is less costly. It is also tougher and lighter than gold and platinum, and this is another non-tarnishing hypoallergenic metal. On the other hand, Palladium scratches more readily than most of the other elements on this list.
4.     Titanium
Titanium is the toughest natural metal and comes in a variety of finishes. It resists scratches and tarnishes, making it excellent for individuals who work with their hands. Furthermore, it's relatively light for individuals who aren't accustomed to wearing jewelry. Titanium is less expensive than gold or platinum because it has a lower density than other metals. The negative is that titanium is one of the hardest metals to resize.
5.     Tungsten Carbide
Tungsten carbine is even tougher and sturdier than titanium, and it is more scratch-resistant. It also has a better brilliance than titanium and is exceptionally tarnish-resistant. This is another excellent metal for those who work with their hands. This metal, however, cannot be resized. It's also denser than titanium, which might also make it feel more uncomfortable.
6.     Stainless Steel
Stainless steel is used for more than simply cutlery, and it's becoming a popular jewelry metal. In terms of the benefits of this men's wedding ring metal, stainless steel is scratch-resistant and lightweight. This metal is not just hypoallergenic but also reasonably priced. It is also one of the most environmentally friendly metals to manufacture. However, since it's still a relatively new material for wedding rings, your stylistic possibilities will be restricted. It's also challenging to resize.
7.     Cobalt
If you like the appearance of white gold but want a more durable and cheap metal for your wedding ring, cobalt may be a good choice. Cobalt is a tough metal that is yet relatively light. Still, cobalt, like some other metals on our list, is a relatively new metal, so there aren't many diverse types to choose from. Cobalt is also very challenging to resize.
Conclusion
So, which metal is ideal for men's wedding bands? By now, it should be evident that there is no one solution to this topic. The term "best" is a subjective term that relies on what you consider to be the most significant — its price, status, durability, or uniqueness? However, this comparison essay should make it easy for you to go out and get the most incredible wedding ring for you.