Intro
If you've ever created your own Halloween costume, you know that it's not always as easy as it looks. There are lots of things you have to get right — the costume's only the first part of it. Makeup, of course, is another important part, and it's hard enough to come up with a makeup and costume combination that you can actually pull off. But ensuring that you get the costume of your dreams includes everything about the costume, which includes even the littler things. One thing that you may have not thought about yet, but that's incredibly important if you want to really sell your costume, is setting up the right hairstyle. If you haven't thought about it yet, you should, because it's what will really put your costume over the top.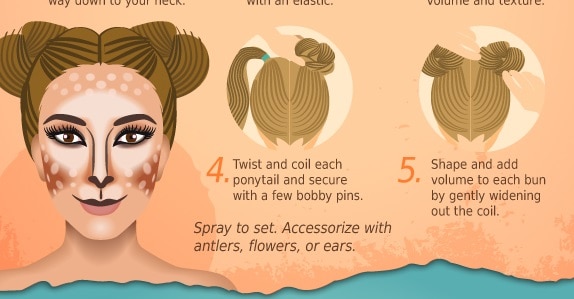 But how do you do it? What can you do to make sure that you get the right costume hairstyle? Some costume hairstyles look more difficult than they actually are. Though many of these hairstyles do require a lot of work for the costume designers to get right every time the cast goes to shoot, you have a much lower bar. All you have to do is make sure it looks amazing for one night, and you'll be set. It doesn't matter how intricate it seems, you can probably recreate a variety of the hairstyles that you see on your favorite TV shows. If you're looking for both a costume and a hairstyle, this list will also have those. Try one of the costumes on this list or adapt them into something that you want to wear — no matter what you choose to do, the end result will still look just as gorgeous as you want it to look.
Article
No matter what costume you're doing, pairing it with the wrong hairstyle might make it look a little bit strange or even completely unrecognizable. That's why it's so important that you get the hairstyle right. With these tips and tricks to completing the ultimate Halloween hairstyles, you won't have to worry about whether it'll all pan out in the end.
Daenerys Targaryen
This Game of Thrones beauty has everyone in a tizzy, and it's only natural that some people would want to copy her this Halloween. The costume can definitely be tricky, but that's a tutorial for another day. You need to be able to copy her trademark locks.
Start with dry shampoo to prepare your hair and make sure it's a little worn. Section off the top half of your hair, then separate the bottom half into two pigtails and secure them with a rubber band. Part the top section in the center. Place two braids on each side in a "half-Dutch" manner, only taking additional pieces of hair from the top and not the bottom. Tie each braid into the back.
Now, take the bottom out of the pigtails and curl it loosely using a medium-barreled curling iron, making sure that you curl the strands away from your face. Separate the curls gently using the end of a comb and spray the hair to finish.
Snapchat Deer
The Snapchat deer is sure to be everywhere this year. If you want to make it your own Halloween costume, you'll need to pair it with an equally cute hairstyle, and "space buns" works perfectly. Plus, this hairstyle also works well with a variety of other styles.
Use texturizing spray to give your hair some volume, then part your hair down the middle from top to bottom. Gather your hair into two high, tight ponytails, secured with an elastic the same color as your hair. Tease each ponytail near the top to add a bit of additional volume.
Take each ponytail and tightly twist it around into itself, tucking the bottom under and securing it with a few bobby pins. Add a bit more depth and volume by pulling out the bun once it's finished. Spray to set and accessorize to really add something to your look.
Elvira, Mistress of the Dark
Elvira's campy, tongue-in-cheek character has netted her quite a few fans over the years, and her huge beehive is one of the most easily-recognizable things about her. If you want to recreate her look, you're definitely going to need to master that beehive.
Part your hair in the center and comb it down. Near the very back, at the crown of your head, take a section and tease it heavily. Add a prop, like a dark loofah wrapped in cloth, to add the iconic height. Fold your hair over it, pin it down, and hairspray to keep it in place.
Repeat this process with a few additional strands around the crown of your head, making sure to leave the very front smooth. Once it's finished, use the end of a comb to lock the layers together and hairspray once more.
Marie Antoinette
There are plenty of reasons you might be drawn to this old-timey hairstyle, and the deposed French queen isn't the only one. With Hamilton so recently in vogue, it might work perfectly with the rest of your 1776-style costume.
Start by separating your hair into a top half and bottom half. In the bottom half, create a beehive by teasing hair close to your roots and pinning the pieces up.
For the top half, create around six very strong curls, pinning each to your head. Unpin each curl, tease the roots slightly, then pin it back again by the end of the curl. Gently swoop the hair back in place and hairspray to set.
Honorable Mention: '80s Layers
The '80s were a huge time for hair — literally and figuratively. Though you can definitely get the messy hair look on your own, it requires a very special cut and style that's not always manageable and can do a number on your hair. Instead, grab a big, poofy wig like Tina Turner did and rock your costume this year.