If it seems to you that camo prints are all over the fashion scene, you're not hallucinating. The military-inspired style is super-cute and chic when done right.  An added plus: it looks ultra-cool on just about any clothing item, from shirts and blouses to pants and leggings.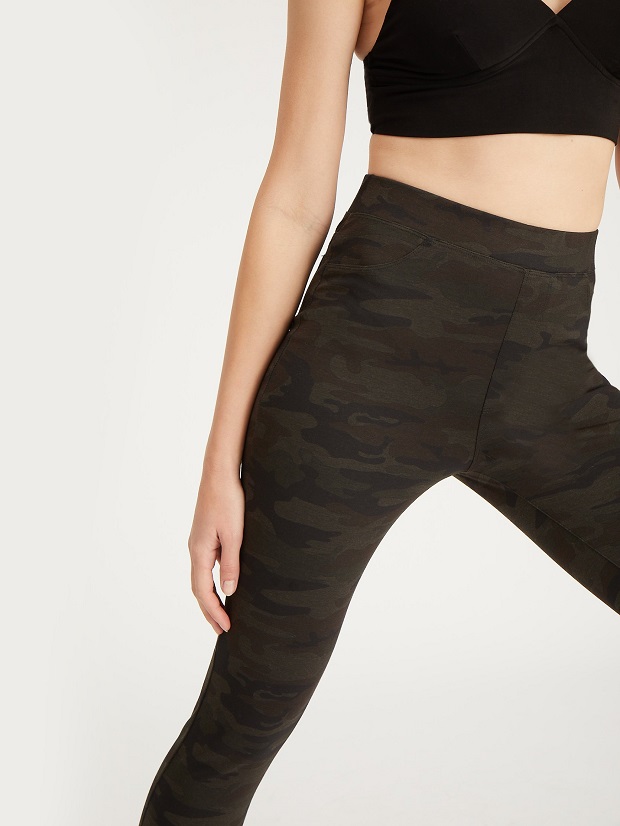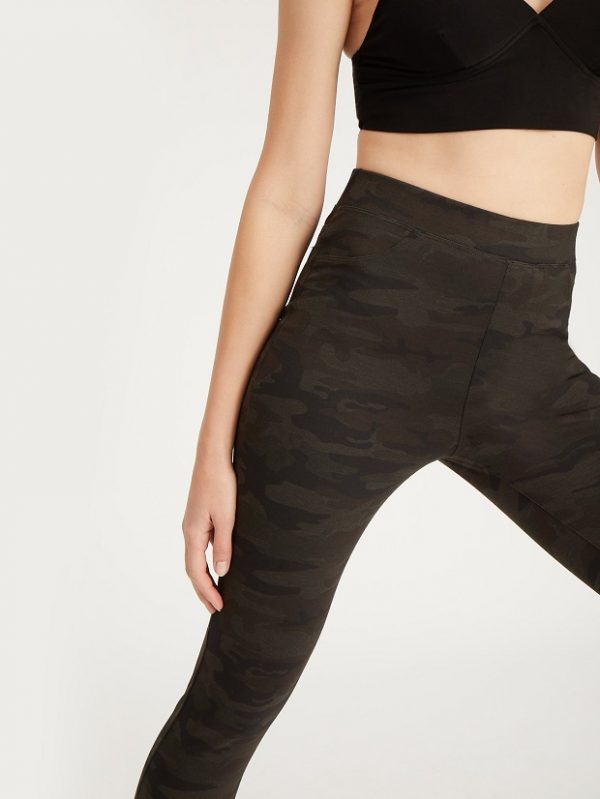 Every season, scores of designers and brands issue camo leggings to customers—and this fall season is no different. Camo leggings obviously shine brightest when pulling together a stylish and practical workout outfit.  But they can also be great for running errands, traveling, and putting together a last-minute get-up.
Camo leggings can be the best of both worlds – the motif introduces some character to your outfit, while the leggings offer the comfort and support you want while staying active.  And when these leggings fit snugly, they can be an excellent confidence booster!
Scoring a fresh pair of camo leggings can perk up your motivation or renew your interest in embracing an active lifestyle – be it hitting the gym, taking a spin class, exploring exciting hiking trails, or going for a jog.  You'll feel guilty allowing such superb-looking and comfy gear to collect dust in your closet!
Camo leggings can be worn with almost anything – the pairings are endless and go well beyond traditional picks like sneakers.  Let's find out why camo leggings are the go-to activewear every girl needs this fall.
Step into the Gym in Style
Camo leggings are the workhorse of activewear fashion, and there are a ton of plausible reasons why.  Here are just a few of them.
They boast a second-kin feel. It's true; well-made camouflage leggings are so comfortable that they feel like your second skin.  Camo leggings from Sanctuary, for instance, are made from soft and breathable fabrics, making them buttery smooth to your skin for a whole-day of comfortable wear.
The leggings' form-fitting, stretchy construction makes them feel as if you're not wearing anything. Although they offer plenty of stretchiness, they feel snug and won't cut into your skin or restrict circulation – two dreamy features every girl looks for in fall activewear.
Easy to wear.  As with most leggings made from a blend containing stretchy materials like spandex, camo leggings are effortlessly easy to wear. For starters, they can be paired with almost any gym gear. If you tend to spend a long time getting ready for your workouts, these gems can make the whole process faster.
When you're gearing up for the gym or other forms of workouts, you may be more inclined towards comfort and fit over fashion. Camo leggings are a great choice because they tick both boxes and will have you right out of the door in a flash.
They don't ride up/down behind. Is there anything more annoying and uncomfortable than pants or shorts that ride up your butt? The good news is that the majority of camo leggings sport high-waist designs that stay put no matter the type or level of activity.  Whether you're planning on doing sit-ups, yoga, deep squats, or dead-lift weights, you won't have to worry about them riding up or down.
With the right fitting camo leggings, everything that you wish to cover remains covered from start to finish.  Having to pull pants up or down instead of focusing on your workouts can be pretty disconcerting and uncomfortable.  With camo leggings, you know you can keep your focus where it should be: on your exercise form, not on your clothes.
Camo leggings have a flattering fit. If you're tired of workout pants creating a "muffin top" at your waistline, it's high time you switch to these beauties.  They are usually high-waisted, helping kiss up to your curves and create a flattering look. The leggings have excellent stretch; they will fit your body like gloves.
Variety at its best.  Though the trend is usually associated with military-inspired patterns, camo leggings come in a dizzying variety. The shopping options are simply endless, making it easy to find something that will match your style and workout needs.
For instance, compression camouflage leggings are prized for their superior tummy control. When it comes to seamless, high-waisted camo leggings, ultimate comfort is the name of the game. They're irritation-free because the design lacks seams.
A high-quality pair of scrunch bum camo leggings are sure to sculpt and accentuate the shape of your bump. The thick waistband can also help shape your tummy and enhance your workout experience.
Camo leggings come in many different cool colors and beautiful patterns, all of which boast the same subtle and chic print.  For those who prefer the classics, forest camo, deep blue camo, onyx camo, and deep green camo will fit the bill. If you're after something unique, consider MultiCam camo, scorpion camo, digital camo, woodland camo, and other exciting prints in many different colors.
Camo leggings come in quite a number of length options, including footed, stirrup, mid-calf, knee-length, and full-length camo leggings. Some of the options include side pockets for housing your keys, cards, phone, and other on-the-go essentials.
They're incredibly breathable. Most popular camo leggings you'll find on the market have some moisture-wicking material woven into the fabric. This helps wick away sweat and keep you dry and comfortable during those heavy workouts.
Celebrities Look to Camo to Go Incognito
Camo leggings help you stand out by blending in with the fashion crowd. Little wonder many A-list celebrities, personalities, Instagram influencers, and other fashionistas have been spotted wearing camo leggings.
One of the biggest celebs who can't seem to get enough of camo leggings is Jennifer Lopez.  The If You Had My Love singer was seen rocking Last Sprint sneakers with midnight camo leggings on her way to the gym.
Jennifer Garner is another ardent fan of camo leggings.  She prefers taking a neutral approach to pairing her camo yoga leggings; opting for a beige t-shirt and blue-and-orange sneakers to round off her ensemble.
The camo leggings bug has also bitten Reese Witherspoon.  The internet is awash with gorgeous photos of the actress rocking the athleisure look. She's been quoted as saying that she pairs camo leggings with black sneakers when heading out for a quick run, making a case for this unique twist on military couture.
Other celebrities known for hopping on the camo leggings trend include Nikki Bella, Irina Shayk, socialite Amber Rose, Alessandra Ambrosio, and Bella Thorne — just to mention a few.
Why Camo Leggings Will Become Your Fall Essential
Camo leggings are perfect for layering. When it comes to fall fashion, it's all about layering.  Camo leggings shine brightest when worn with layers.  You can wear them with classic layers, such as flowy tank tops, oversized cardigans, button-up dress shirts, crew-neck sweaters, coats, and even tunic tops.
Don't forget that some days in the fall are rather chilly. So these layers are crucial to keeping you warm and cozy. You can even wear camo leggings under a warm dress to provide additional coverage.
Curves for days! The arrival of cooler autumn days doesn't mean that you should hide your flattering curves. Camo leggings can help accentuate your curvy silhouette, making you feel more secure and confident in your skin.
For killer curves, opt for high-waisted options, such as camo leggings with tummy control. Figure-shaping leggings can also help with issues like hiding cellulite.
It's all about fall accents. You can take advantage of camo accents to make the motif cool this fall. For instance, you can pair your camo leggings with frills, add bold hues, make it neutral, or play with prints to ensure your fall outfits are edgier, more relaxed, and more sophisticated.
Camo Leggings Go From the Gym to the Club
Versatility is one of the biggest reasons why camo leggings remain popular season after season. In the past, these stretchy pieces were restricted to the gym, yoga studios, spin classes, and other work out areas. Today, however, you can rock the camo pants style to hit the gym, go to the club, run errands, or just lounge around the house.
Where to Find the Most Flattering and Comfortable Camo Leggings
You can score a fresh pair of top-notch camo leggings at many brick-and-mortar spots and online stores.  These include Sanctuary, LuluLemon, Lotus, Ryderwear, Spanx, Forever 21, Jed North, Amazon, Walmart, Target, Nordstrom, Anthropologies, and Leggings Depot, among many, many other outlets.