'90 fashion is back! And many women are in love with it. One of the most favorite trends copied from the '90 is mom jeans. Women adore wearing mom jeans as they are both comfortable and too stylish. What is even better is that you can style mom jeans in many different ways, creating both casual and elegant outfits. Here we are going to share with you some of the most fashionable ways to style mom jeans that you will adore. Try some of them and find your favorite ones.
Style mom jeans with white sneakers and a basic tee
If you want an outfit that never fails, then go for basic: denim and sneakers always do the work. Choose a white tee to compliment the outfit and you will never what to take this outfit off of you. You will adore wearing this basic outfit while walking with friends for the upcoming spring season.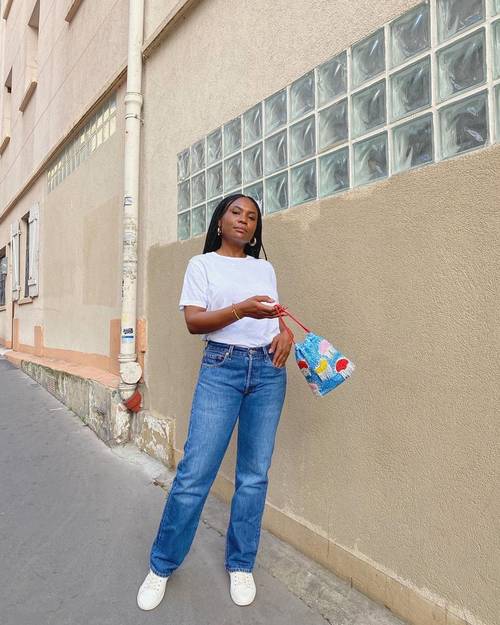 source
Combine mom jeans with booties and a knit sweater
Winter is still here, and we are going to wear booties and warm sweaters for about a month at least. One of the best ways to style mom jeans is if you combine them with your favorite ankle booties and a knitted sweater. Don't doubt to try this fashionable outfit while the winter cold is still here. We are sure you will love the way mom jeans look when combined with ankle booties and sweaters.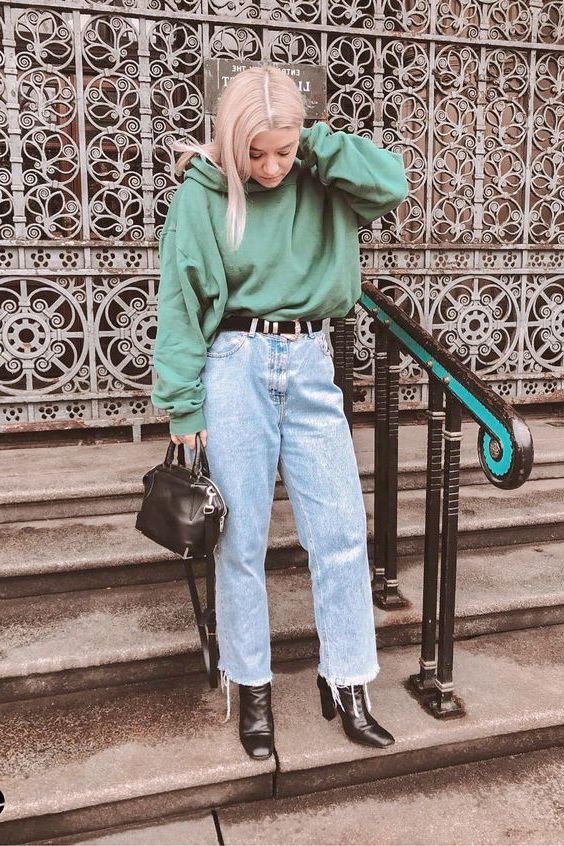 source
Wear mom jeans and a leather jacket
Denim, especially distressed denim is back and it doesn't seem to be going anywhere anytime soon. If you are a fan of denim jeans you will be glad to hear that for the upcoming spring, you can combine your jeans with a leather jacket. This is one of the coolest and edgy looks that will make you look stylish, trendy, and young. Don't miss to try it.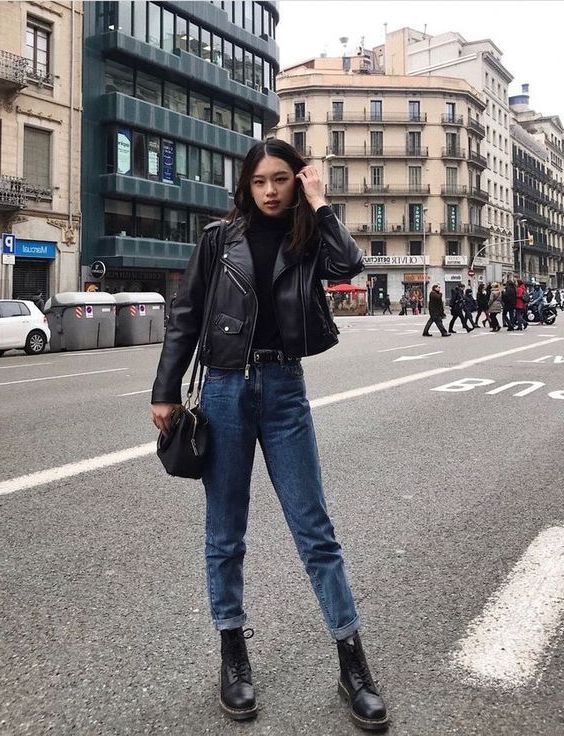 source
Try mom jeans with a crop top
Crop tops have become very popular in the few past years. And rocking a crop top can either be a hit or a miss. If you do want to wear crop tops and want to get the hit look, then try to combine it with mom jeans. You can never go wrong with this combination. Just be careful with the length of the crop top, because you don't want to show off a lot of unwanted skin, right. Once you get the perfect length of the crop top, be sure that your jeans are ultra-high-waisted and comfortably sitting on your hips.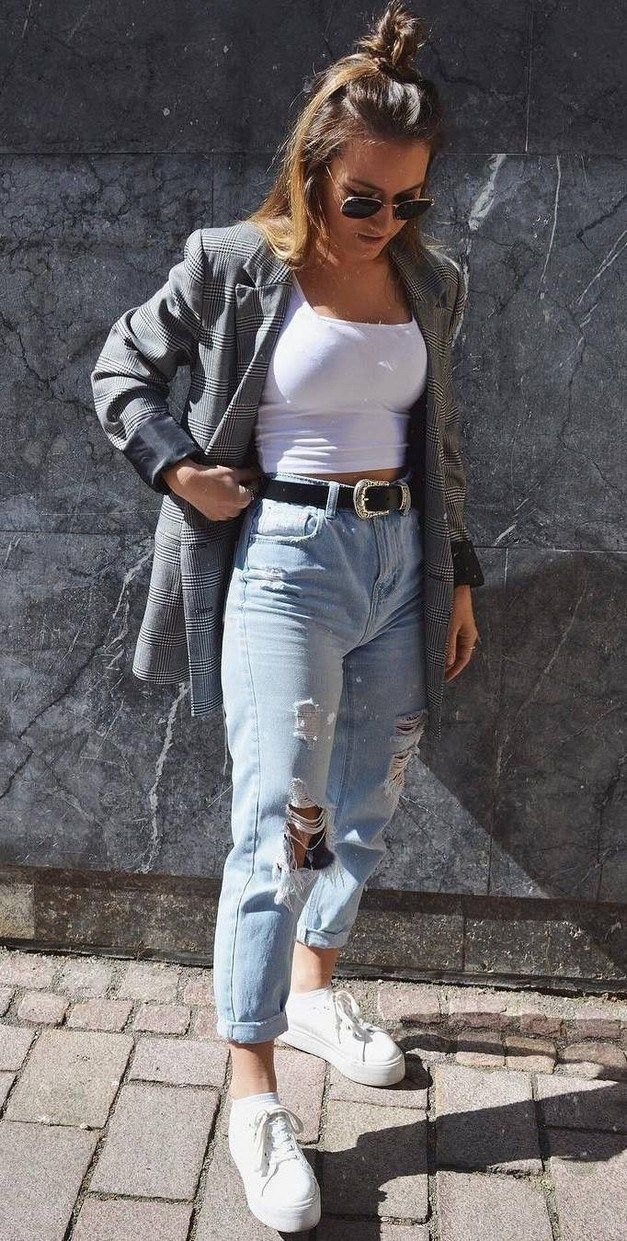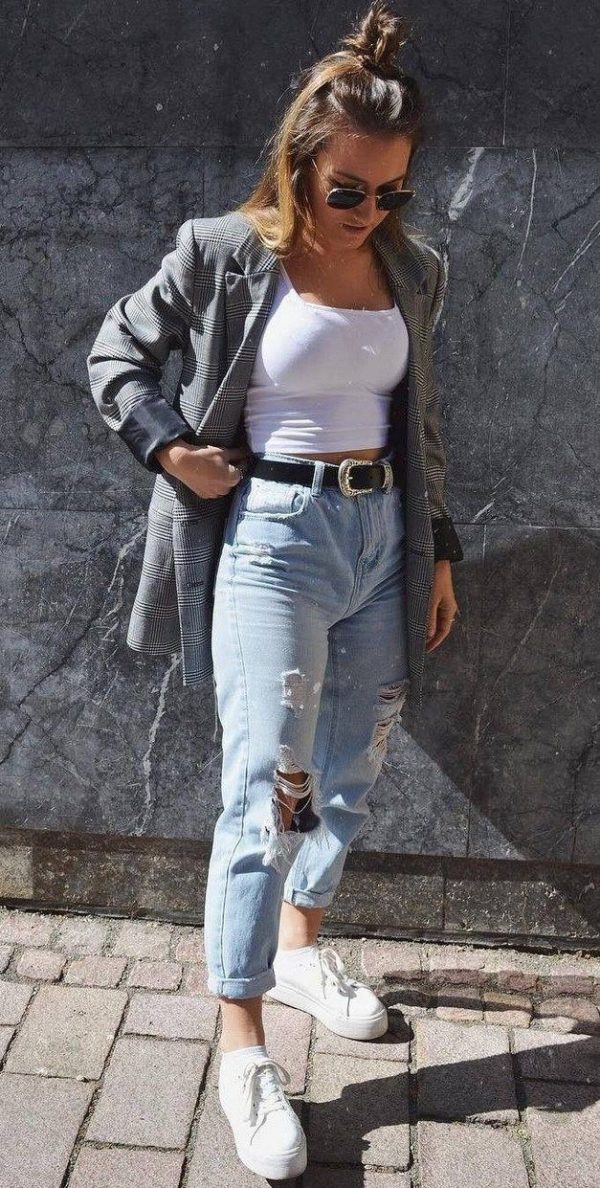 source
Style mom jeans with a chic blazer
Do you want to add a level of sophistication to your mom's jeans outfit? Add a blazer! It will never fail you. A structured blazer will always add an elegant note to your casual look making you look modern and sophisticated even when wearing these simple pieces. If your work dress code is not too strict, then you can use this combination even for the office. Try it! once you do it, you will immediately fall in love with it.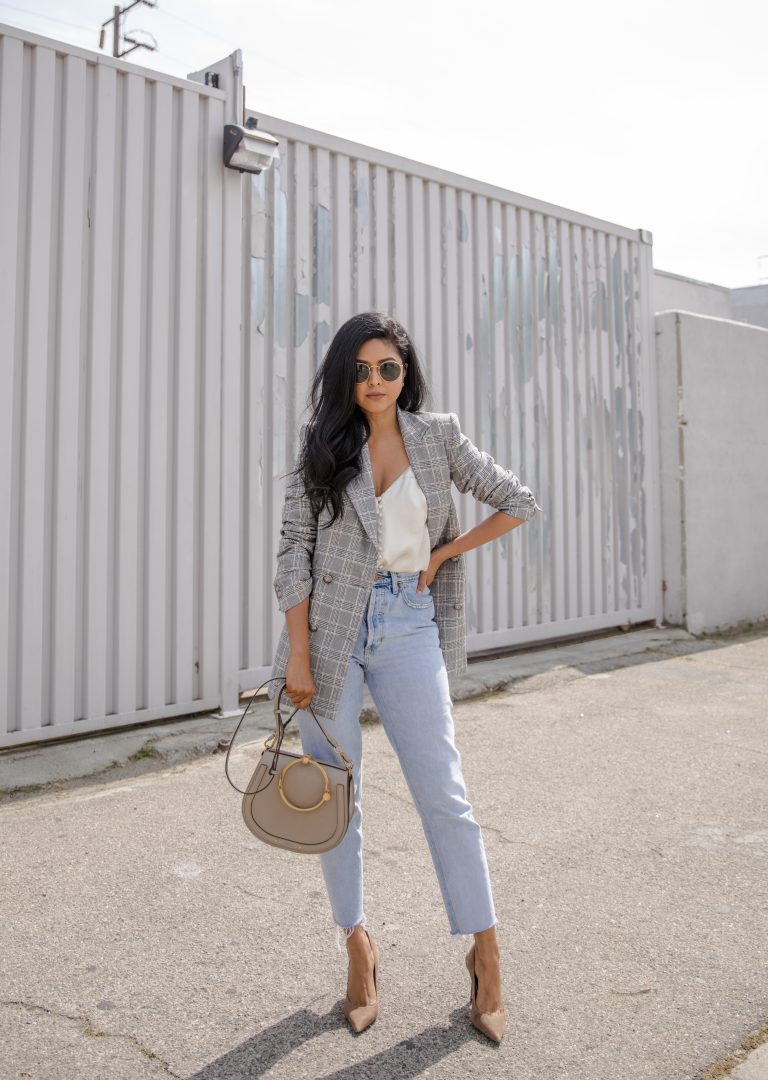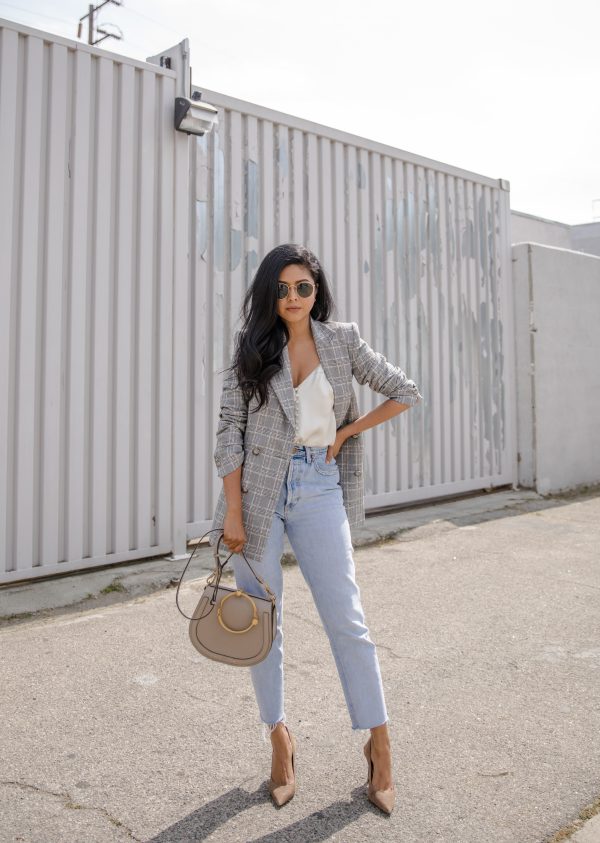 source
Mom jeans with a bodysuit is never a bad idea
Spring is about to come in a month. Many women adore wearing bodysuits, and the spring sun is the perfect time for styling your favorite one too. If you are obsessed with wearing bodysuits, try any of them with high-waisted jeans, they will suit perfectly with each other. And, what is even better you will never have to worry about your shirt coming untucked. You will also look super flattering. And what else you can wish for?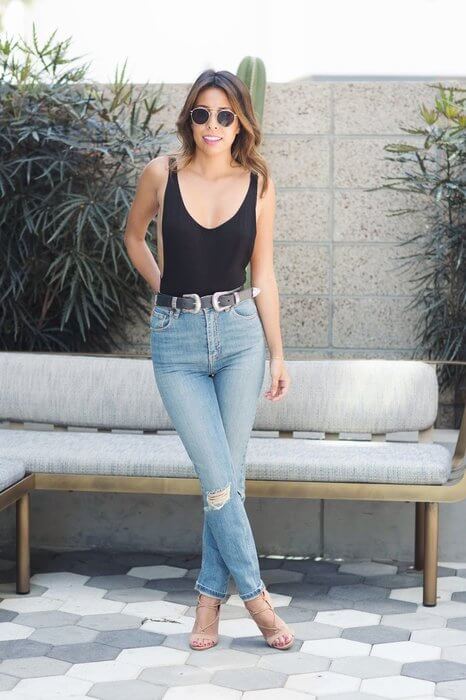 source
How to style mom jeans with boots?
If you want to overpass the basics and get a more elegant look, then try styling mom jeans with boots. The best way to do it is to choose some boots that let see just a tiny hint of the ankle or nothing at all. That will keep the outfit looking seamless and chic. Don't miss trying this combination these days, until there is still coldness outside.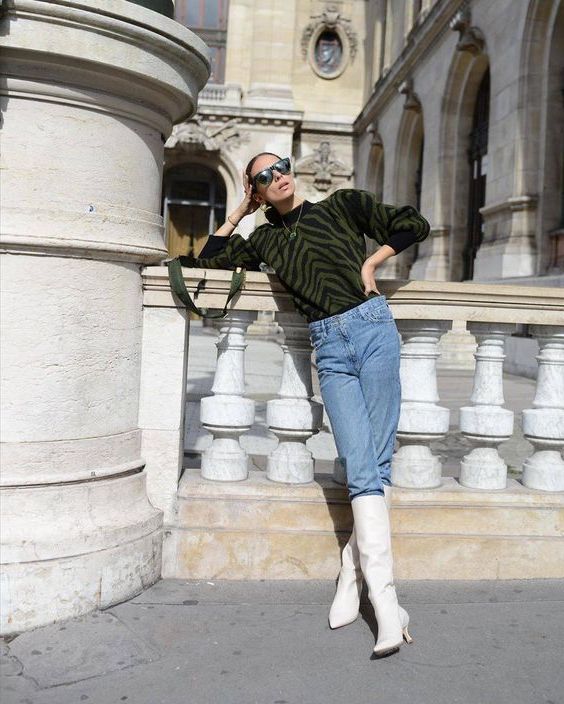 source
Mom jeans styled with a tank top for summer
Summer is also the perfect season to wear mom jeans. One of the best ways to style them during hot summer days is with a spaghetti strap top. Rock this outfit during the summer days and you will never be wrong at all. Demonstrate the world your sense for perfectly styled outfits even when the temperatures rise so high.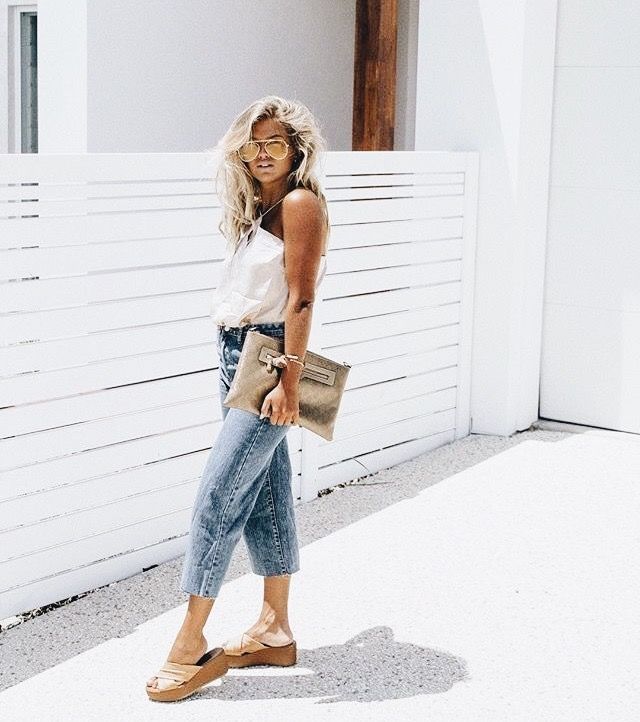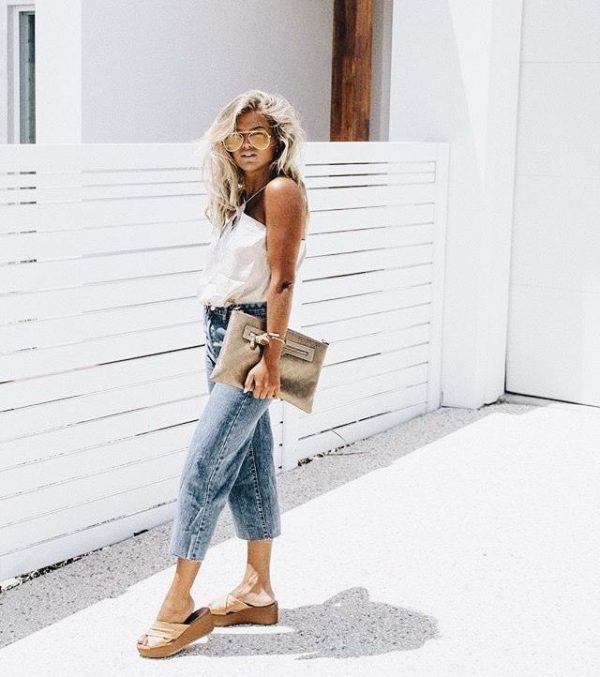 source
Mom jeans combined with a graphic tee will always make a cool look
Summer is perfect for trying cool and edgy styles. One way to achieve it is by wearing a graphic tee that will express your sense of fashion. Combine it with mom jeans and create a cool and casual, easy-to-wear outfit that will fit you nicely. This outfit is perfect for hot days, so put it on your summer "what to wear" list.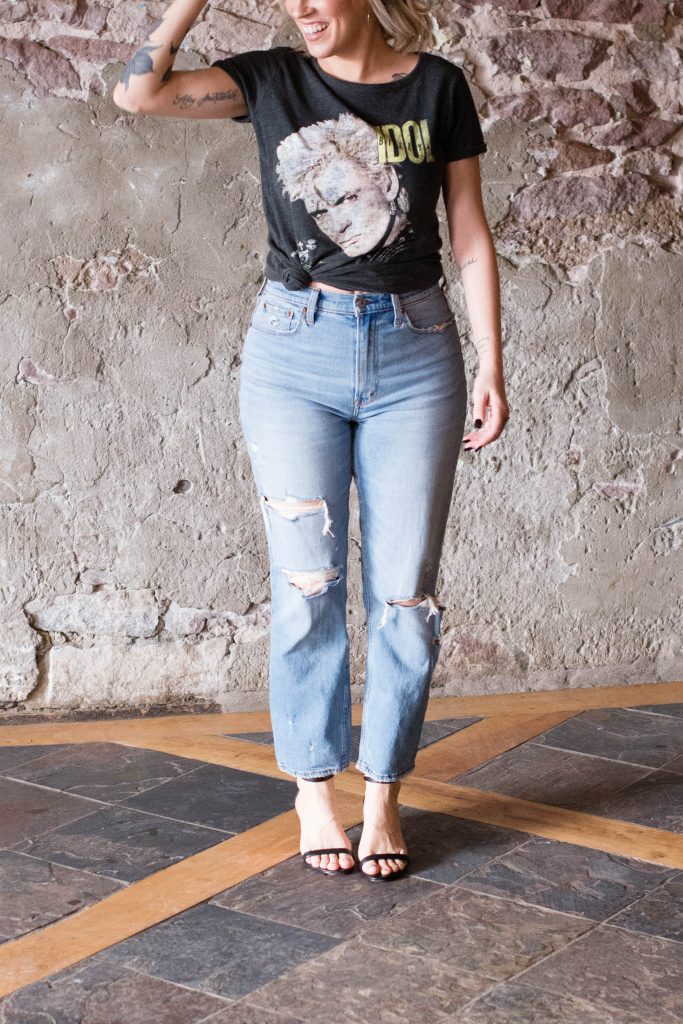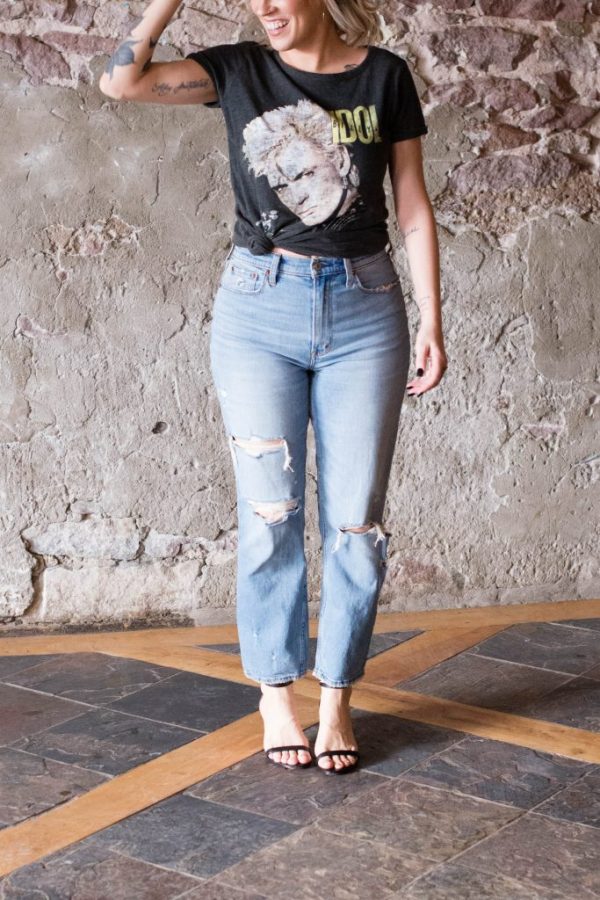 source